Here are some dinner ideas for this week - I think you'll love them! They're all easy to make and delicious.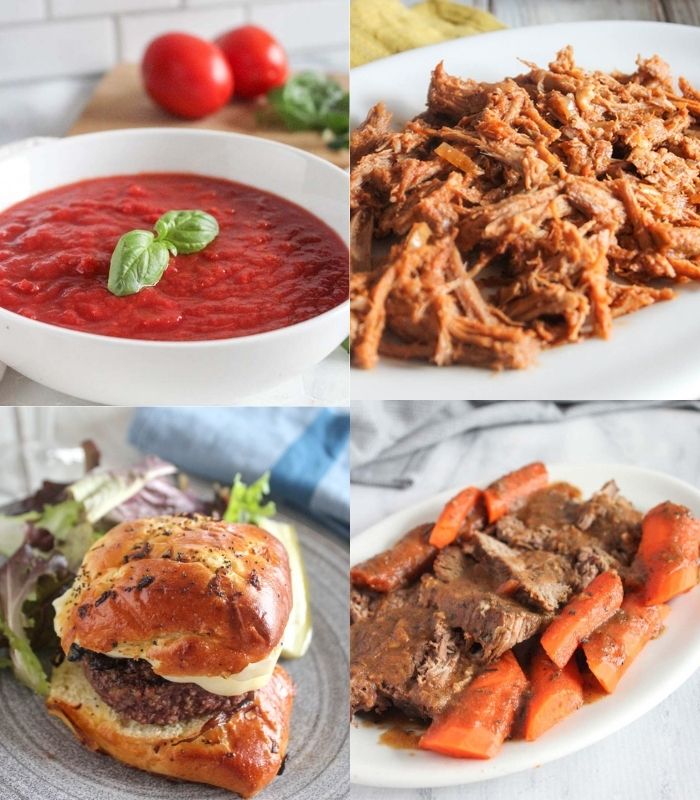 Tips For Meal Prepping and Using Leftovers
Caramelize your onions for the burger and the marinara sauce at the same time. Caramelized onions taste amazing in pasta sauce.
Pulled needs time to cook, so make it when you have time, and use up leftovers during the week.
Simple Dinner Salad Ideas
Salad for dinner is a great way to use up leftovers in your fridge. A hearty salad also makes an easy and healthy meal.
You can add all of your ingredients to a bowl or make your own salad bar and let everyone add what they want to the salad. Here are some suggestions for ingredients to make a hearty salad.
Leafy greens such as lettuce, arugula, spinach, kale
Raw cabbage or brussels sprouts
Raw veggies such as cucumbers, bell peppers, onions, carrots, celery
Beans
Olives
Chicken, beef, pork or shrimp
Hard boiled eggs
Cheese
Whole wheat pasta or whole grains
Serve it with simple oil and vinegar or ranch dressing and enjoy!
Make Your Meal Planning Easy!
To make your meal planning easy, I put together a meal planning sheet and a shopping list which you can grab below.
Save Your Recipes
Did you know that you can bookmark and save your favorite recipes on Simple and Savory? Just click on the share icon on the bottom right screen on the recipe post.
To find the recipes that you bookmarked, simply click on the heart or share icon and your saved recipes will appear along with a search bar!