When you're busy, cooking dinner can feel like a chore. But there are so many delicious, healthy dishes out there that are easy to prepare and taste great. These recipes for dinner this week will have your family asking for seconds!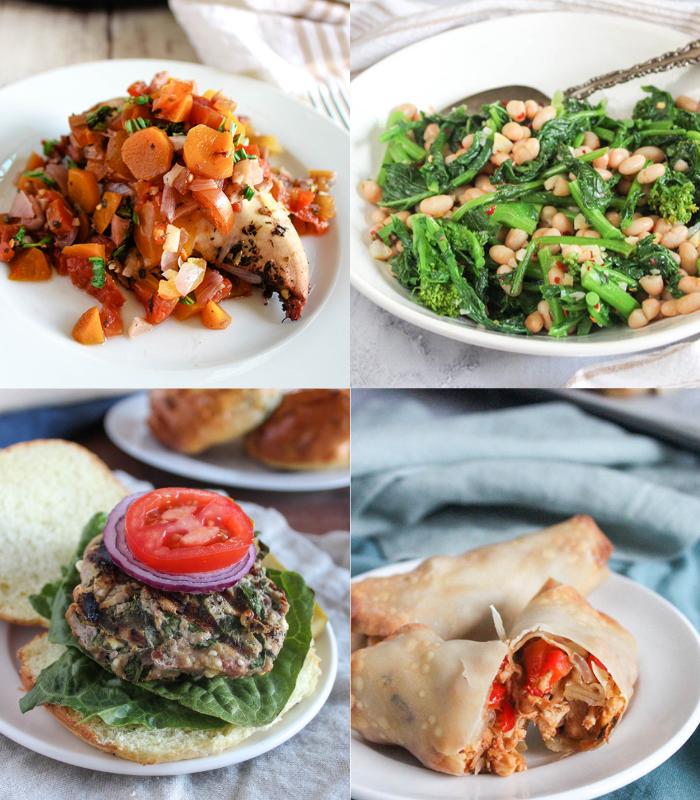 Tips For Meal Prepping and Using Leftovers
As an Amazon Associate, I earn from qualifying purchases.
Make dinner prep fast! Chop up all of the vegetables for the week early in the week and store them in separate reusable airtight containers like these Stasher Bags in the refrigerator so that they are ready when you need them.
Greek Turkey Burgers are so easy to freeze! Make a double batch and freeze the second batch for a busy night.
Serve the broccoli rabe with beans on pasta for a vegetarian dinner or with a side of grilled chicken breasts.
Greek Chopped Salad also tastes great with grilled or shredded chicken on top.
Easy Steamed Vegetables
Steaming vegetables is an easy way to cook veggies and it retains their water-soluble vitamins. Almost all vegetables can be steamed except for starchy veggies such as potatoes. When steaming them, make sure that they are cut into equal sizes so that they cook evenly. To steam them, place them into a steamer basket on top of boiling water with a lid. Once they are cooked enjoy them with a little bit of citrus juice, olive oil, or butter.
Make Your Meal Planning Easy!
To make your meal planning easy, I put together a meal planning sheet and a shopping list which you can grab below.
Save Your Recipes
Did you know that you can bookmark and save your favorite recipes on Simple and Savory? Just click on the share icon on the bottom right screen on the recipe post.
To find the recipes that you bookmarked, simply click on the heart or share icon and your saved recipes will appear along with a search bar!