Your dinner Ideas for the week are here! You can find all your dinner needs in this week's list. This includes delicious dinner recipes, meal prep & freezing suggestions.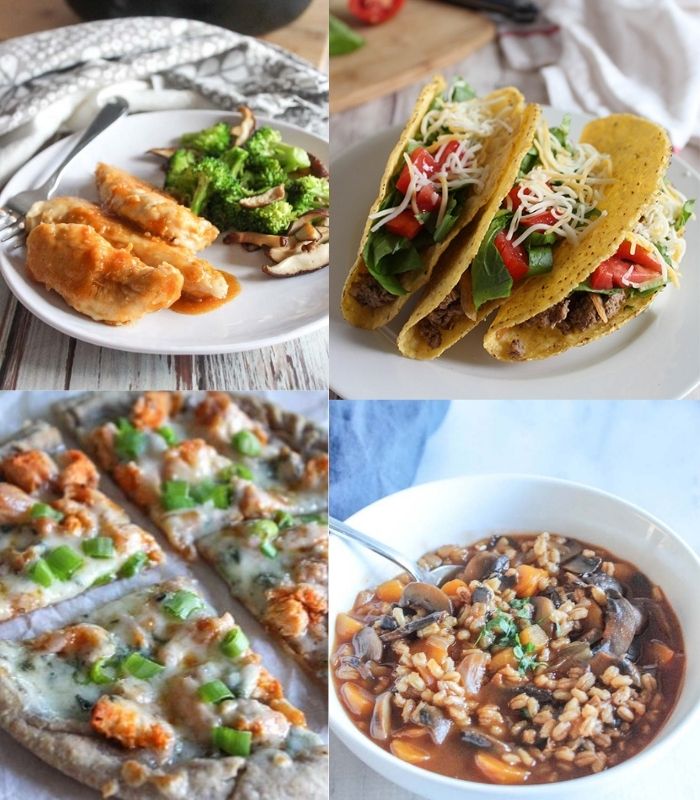 Tips For Meal Prepping and Using Leftovers
Make a double batch of the mushroom barley soup and freeze it for later or lunch during the week.
Serve broccoli pesto with grilled chicken. Make extra chicken to use later in the week on the buffalo chicken flatbread.
How to Peel Garlic Easily
If you use a lot of fresh garlic like we do, you know it can be frustrating to peel it! Here's a tip that makes it much easier. Lay a clove of garlic flat on a hard surface and place the widest part of a large knife on top of it. Use the bottom portion of your hand to apply pressure to the widest part of the blade. When you hear a pop, that tells you that the peel has been separated from the clove.
Make Your Meal Planning Easy!
To make your meal planning easy, I put together a meal planning sheet and a shopping list which you can grab below.
Save Your Recipes
Did you know that you can bookmark and save your favorite recipes on Simple and Savory? Just click on the share icon on the bottom right screen on the recipe post.
To find the recipes that you bookmarked, simply click on the heart or share icon and your saved recipes will appear along with a search bar!