We all like to minimize our time cooking during the evenings, this week I have gathered some delicious recipes that are healthy and easy to prepare. These recipes are great because they require very little prep time and can be made in less than 30 minutes.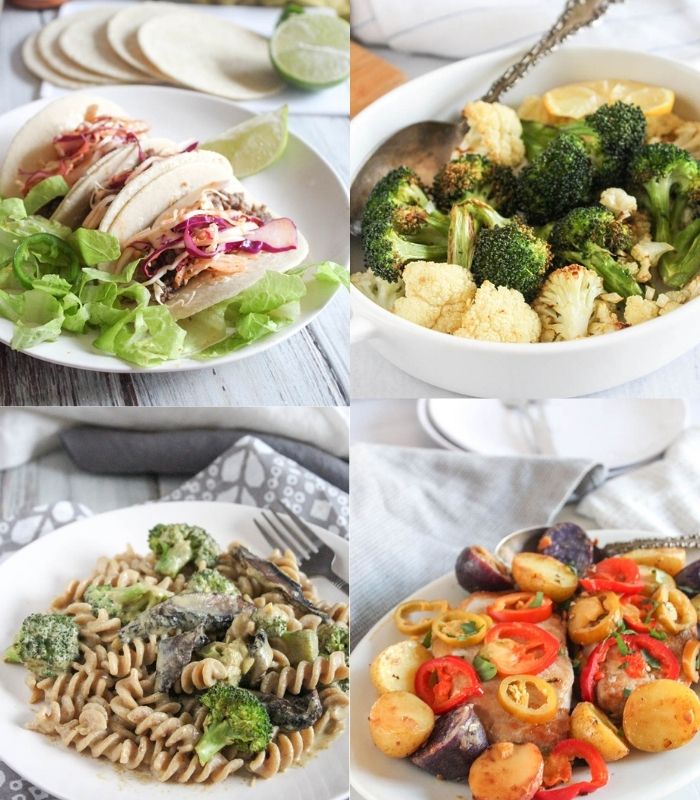 Tips For Meal Prepping and Using Leftovers
Make a double batch of vegan mac and cheese and eat it for lunch during the week.
Start the bolognese sauce when you have time to let it simmer, and be sure to have extra to freeze or use up another night.
Tired of Cooking Every Night?
If you cook dinner most evenings, give yourself a break and put something easy together, set out some prosciutto, cheese, hummus, fresh veggies and fruit and let everyone make their own plate. See my tips for a healthy charcuterie board.
Make Your Meal Planning Easy!
To make your meal planning easy, I put together a meal planning sheet and a shopping list which you can grab below.
Save Your Recipes
Did you know that you can bookmark and save your favorite recipes on Simple and Savory? Just click on the share icon on the bottom right screen on the recipe post.
To find the recipes that you bookmarked, simply click on the heart or share icon and your saved recipes will appear along with a search bar!