Welcome to this week's healthy dinner ideas! This week is filled with healthy comfort food. Homemade manicotti is delicious but takes some time to make, but some things a just worth the time!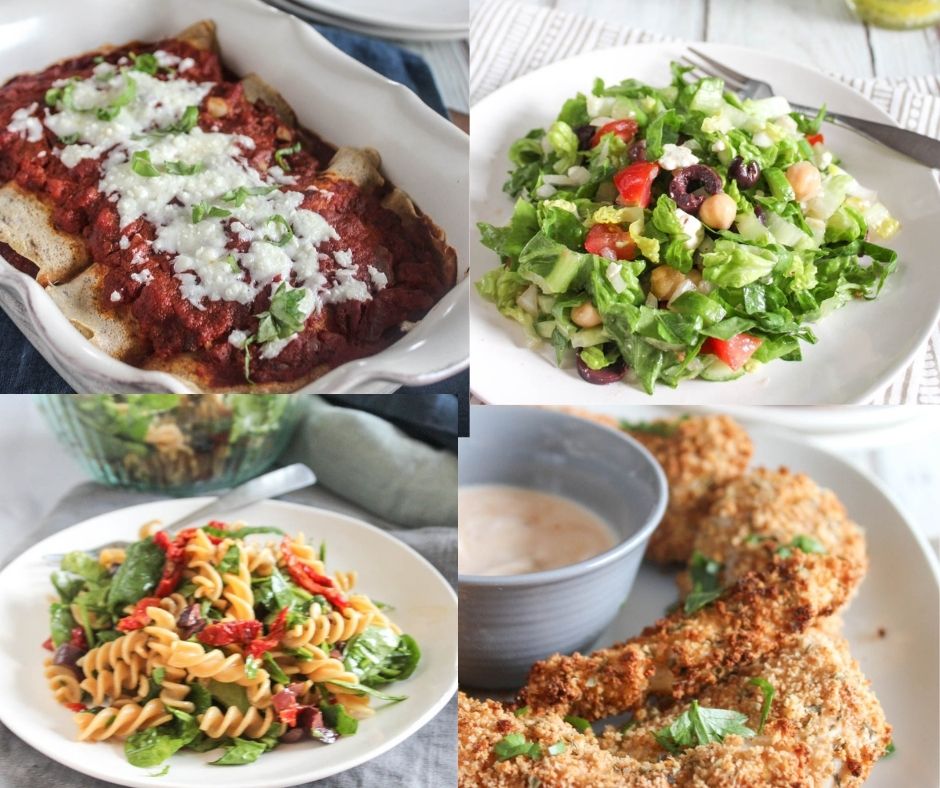 Meal Prep Tips!
If you spend the time making homemade manicotti including the crepes, make a double (or triple) batch during the weekend, freeze one batch and use the others up during the week.
Tomatillo and pork chili is quick to make during the week and always tastes better the next day. Double up on this and use it up during the week for lunch in a salad, or turn it into quesadillas for a quick and easy dinner.
Chicken tenders are perfect for leftovers too. Toss them into a salad or stuff them into pita bread or a crusty roll with lettuce and tomatoes for a tasty sandwich.
Cut up the ingredients for the chopped salad ahead of time and store them in the fridge for two the three days.
Easy Dinner Ideas
Side Dish Idea - No Recipe Required
Quick and easy salad - Most of the recipes this week will taste great with a side salad. We love salads because you really don't need a recipe.
For a quick and easy salad idea, tear up romaine leaves and toss them with sliced onions and cherry tomatoes. Sprinkle the salad with garlic and onion powder and dress with extra virgin olive oil and a splash of fresh lemon juice.
Make Your Meal Planning Easy!
To make your meal planning easy, I put together a meal planning sheet and a shopping list which you can grab below.
Save Your Recipes
Did you know that you can bookmark and save your favorite recipes on Simple and Savory? Just click on the share icon on the bottom right screen on the recipe post.
To find the recipes that you bookmarked, simply click on the heart or share icon and your saved recipes will appear along with a search bar!