Many of this week's recipe picks are recipes that can be doubled and frozen or used up during the week. Plus a breakfast for dinner recipe!
Even though we usually think of eggs for breakfast, they are a great option for a quick dinner too. Eggs are an excellent source of inexpensive high-quality protein. The vegetable breakfast casserole is filled with vegetables, potatoes and eggs and you can add a little bit of sausage or bacon if you like.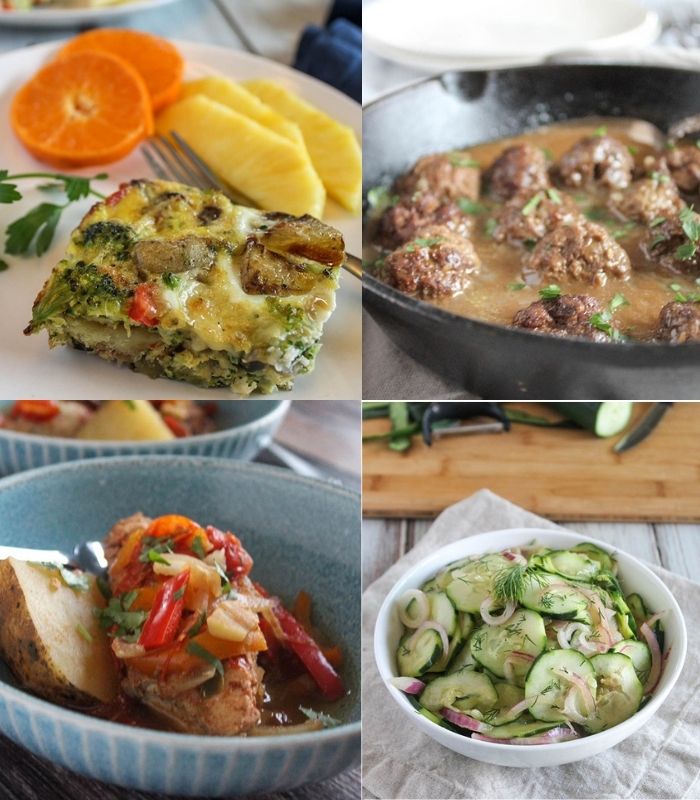 Tips For Meal Prepping and Using Leftovers
If eggs for dinner is not for you, make up this casserole and use it for breakfast during the week.
Swedish meatballs always taste better the next day. Be sure to make enough for lunch or dinner for another day and don't forget to serve them cucumbers and vinegar.
Broccoli pesto is a great way to use up leftover cooked broccoli. Steam a large batch of broccoli to serve with your swedish meatballs and use what's left for broccoli pesto.
Cut up the veggies for your soup and the chipotle chicken while you are making the vegetable breakfast casserole (if you have time) and store them in the fridge until it's time to make your soup.
Easy No Recipe Side Dish - Steamed Veggies
Steaming veggies is so easy and healthy too. You can steam just about any vegetable that you like. We like steamed broccoli, cauliflower or green beans the best.
Here's how to steam vegetables: Wash and trim the vegetables, and place them in a saucepan. Pour water in the pan so that it just covers the bottom of the pan and not the vegetables. Place the lid on the pan and cook the vegetables over medium to low heat until the vegetables are the texture that you like.
Tip! If you have a steamer basket, you can place your vegetables in the steamer basket above the water. Cover and cook on medium to low heat.
Make Your Meal Planning Easy!
To make your meal planning easy, I put together a meal planning sheet and a shopping list which you can grab below.
Save Your Recipes
Did you know that you can bookmark and save your favorite recipes on Simple and Savory? Just click on the share icon on the bottom right screen on the recipe post.
To find the recipes that you bookmarked, simply click on the heart or share icon and your saved recipes will appear along with a search bar!
Join our Facebook Group Make it Healthy, Keep it Simple for kitchen tips!