Many of this week's healthy meal picks have a Mediterranean flair. Mediterranean chicken and the bolognese recipes are great recipes to make on the weekend or earlier in the week and use up the leftovers during the week.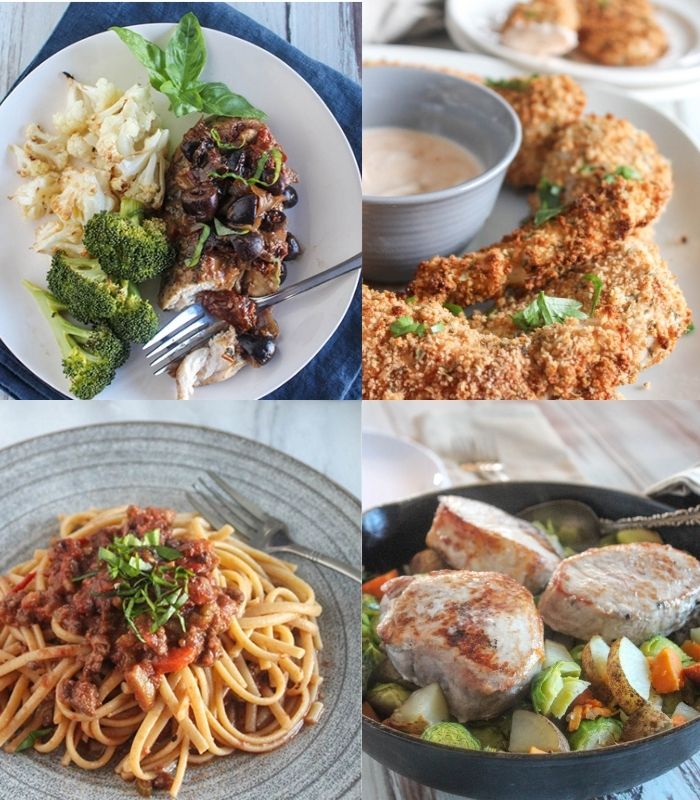 Tips For Meal Prepping and Using Leftovers
Serve the Mediterranean chicken with a side of steamed broccoli for a quick and satisfying dinner.
Cut up all of the veggies for meals you are making this week early in the week when you have time so that they are ready to go when you are cooking your dinner.
Brown extra ground beef when you are preparing the bolognese sauce and freeze it for later to use in tacos, nachos, meat sauce or chili.
Double up on the chicken tenders and serve them for lunch or dinner in a salad.
The eggplant parmesan casserole freezes well. Place in the cooked casserole into the freezer after it has cooled off. Bake it in a 325 oven covered from frozen until it is heated through.
Easy No Recipe Quesadillas
Quesadillas are a quick and easy way to use leftover meat that everyone will love. We like them because they can be customized. They are also a good way to use up those veggies!
Here's how to make quesadillas: Chop up ½ to 1 cup of vegetables and saute them in a pan with a little olive oil until they become soft. Remove them from the pan and place a tortilla into the skillet spread shredded cheese on one side of the tortilla, top the cheese with veggies and chopped leftover meat.
Fold the tortilla over the filling mixture and let it cook for a few minutes until the underside starts to brown. Carefully flip the tortilla over and cook for a few minutes longer.
Make Your Meal Planning Easy!
To make your meal planning easy, I put together a meal planning sheet and a shopping list which you can grab below.
Save Your Recipes
Did you know that you can bookmark and save your favorite recipes on Simple and Savory? Just click on the share icon on the bottom right screen on the recipe post.
To find the recipes that you bookmarked, simply click on the heart or share icon and your saved recipes will appear along with a search bar!
Join our Facebook Group Make it Healthy, Keep it Simple for kitchen tips!