Roasted Pork With Apple Puree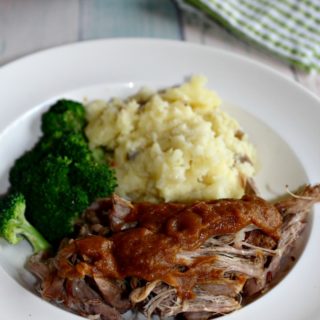 6 medium apples - of any variety I prefer gala or honey crisp
1 small onion rough chopped
3 to 3½ pound pork loin, rib end or boneless ribs
1 tablespoon olive oil - divided
2 cloves garlic - crushed
1 teaspoon fresh rosemary chopped
1 teaspoon fennel
¼ teaspoon sea salt
½ teaspoon cracked black pepper
½ teaspoon dijon mustard
up to ½ cup white wine or water
Preheat oven to 325
Add the garlic, rosemary. fennel, salt, and pepper to oil rub over meat
Heat a dutch oven over medium heat with remaining oil and brown the meat on each side and transfer the meat to a plate and set aside
Slice the apples and onions and layer in the bottom of a dutch oven, and ads.
Remove from oven and place set meat aside and cover with foil
Carefully remove the apple mixture and add it to a blender with the mustard and remaining wine or water gradually and blend to the desired consistency.
Shred the meat using 2 forks and serve puree on the side or pour over meat.
Recipe by
Simple And Savory
at https://simpleandsavory.com/roasted-pork-with-apple-puree/