This week's meal picks are here. They are filled with flavor, and most of them are easy. The manicotti recipe is the most time-consuming, but homemade crepes are with the extra time!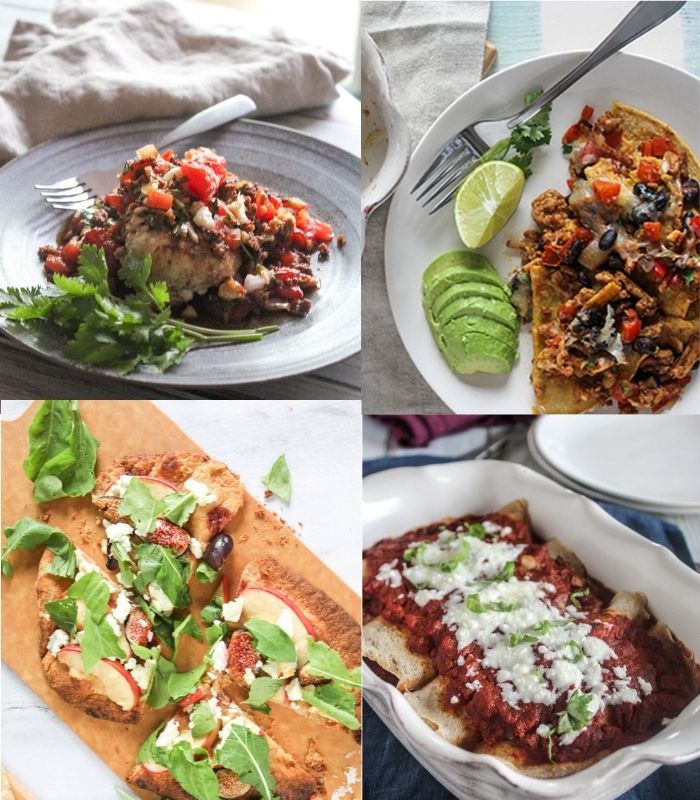 Tips For Meal Prepping and Using Leftovers
Use leftover arugula pesto to smear onto the apple and fig flatbread.
Chicken and bean casserole freezes well, so make a double batch and freeze what's leftover.
Manicotti also freezes well and tastes great leftover.
Easy Caesar Salad
This is a lighter version of Caesar salad, with a homemade light and lemony dressing.
Chop a head of romaine lettuce into bite-sized pieces and place it into a bowl. Add chopped onion, bacon crumbles, freshly grated parmesan cheese, garlic powder, fresh lemon juice and olive oil. Add a handful of croutons and toss everything together; garnish with a little more parmesan cheese.
Make Your Meal Planning Easy!
To make your meal planning easy, I put together a meal planning sheet and a shopping list which you can grab below.
Save Your Recipes
Did you know that you can bookmark and save your favorite recipes on Simple and Savory? Just click on the share icon on the bottom right screen on the recipe post.
To find the recipes that you bookmarked, simply click on the heart or share icon and your saved recipes will appear along with a search bar!
Join our Facebook Group Make it Healthy, Keep it Simple for kitchen tips!