This week's dinner inspiration is filled with make-ahead and flavorful ideas. The lasagna, stuffed squash and turkey sausage are great ideas to double the recipe and use up during the week or freeze.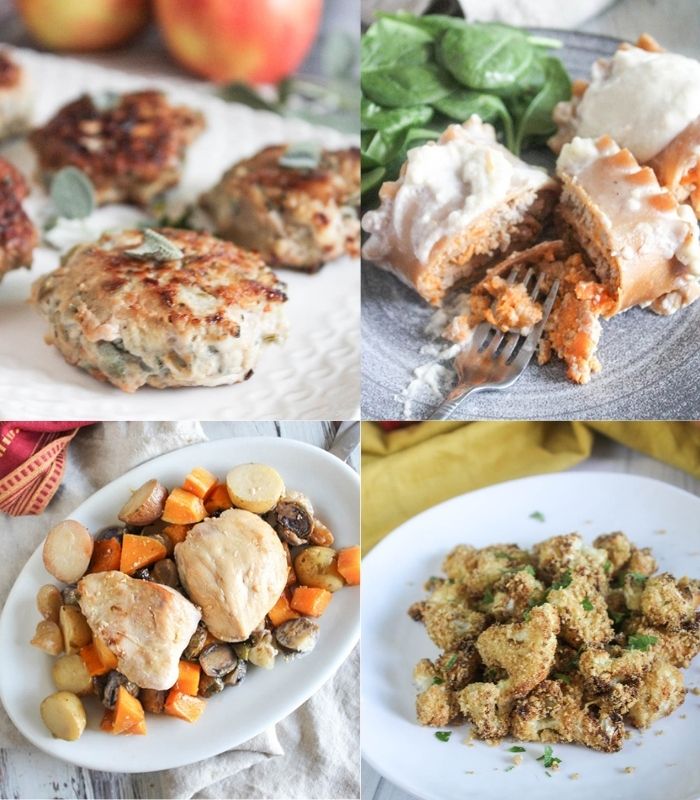 Tips For Meal Prepping and Using Leftovers
Save some time and cook enough ground turkey for both the acorn squash and the lasagna at the same time. You can store the cooked turkey in the fridge for up to three days.
The homemade turkey sausage patties are not just for breakfast. They taste great on a hard roll. They also freeze well after they are cooked, so make a double batch of these too! They are perfect to use for quick dinner.
Make a double batch of lasagna and freeze it for another day.
Chop up the vegetables for the sheet pan dinner when you are prepping another dinner. Or buy pre-cut butternut squash to save even more time.
How to Easy Peel and Cut a Butternut Squash into Cubes
Butternut squash isn't an easy vegetable to prepare. They are dense and difficult to handle. Here are a few tips for preparing a butternut squash for cooking:
Slice off the ends (top and bottom) of the squash with a sharp kinfe. This will helpt to keep the squash stable when cutting it.
Next, use a Y vegetable peeler to peel the skin off of the squash.
Stand the squash in an upright position and cut the squash in half down the middle of the squash
Use a spoon th scoop out the seeds.
Cut the squash halves in half horizontally
Cut each half into vertical slices, and then while holding the vertical slices, cut them horizontally to form cubes.
Make Your Meal Planning Easy!
To make your meal planning easy, I put together a meal planning sheet and a shopping list which you can grab below.
Save Your Recipes
Did you know that you can bookmark and save your favorite recipes on Simple and Savory? Just click on the share icon on the bottom right screen on the recipe post.
To find the recipes that you bookmarked, simply click on the heart or share icon and your saved recipes will appear along with a search bar!
Join our Facebook Group Make it Healthy, Keep it Simple for kitchen tips!