This week's dinner inspiration is filled with fresh and delicious dinner ideas. Be sure to make extra of the soup and picadillo to use up during the week for lunch.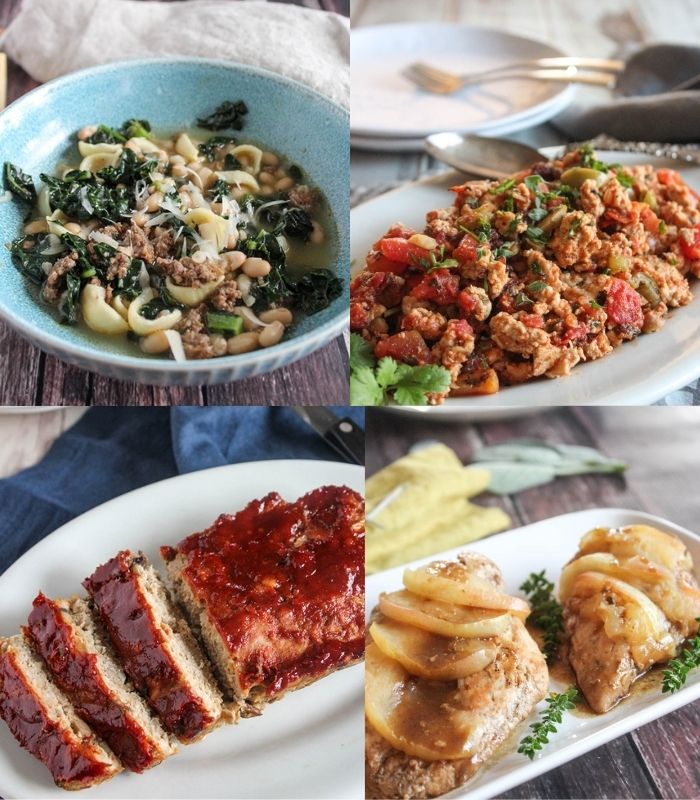 Tips For Meal Prepping and Using Leftovers
Make a double batch of chicken picadillo and use it again during the week in salads, wraps or with a bowl of rice or cauli rice.
Tea infused apple chicken can be made ahead of time and baked just before serving. If you have any left over turn it into chicken salad.
The sausage and kale soup is a meal all by itself, and it is the kind of recipe that tastes better the next day. Make up a double batch for another dinner or freeze it.
Vegan mac and cheese is a super quick dinner to make and is the perfect comfort food.
How to Roast Vegetables
There are lots of vegetables that can be roasted such as carrots, parsnips, turnips, beets, sweet potatoes potatoes, onions, pepper, squash, Brussels sprouts, cauliflower, cabbage, broccoli, and asparagus.
They are perfect for meal prepping too. Roast up a big tray of veggies and use them up during the week.
Here's how to roast veggies in the oven:
Coat the vegetables evenly in oil and add seasonings such as garlic, dried herbs.
Line a baking sheet with parchment paper and arrange the vegetables on the parchment lined pan.
Roast the vegetables at 400, give them a toss after 10 minutes. Continue to roast until they are cooked to the way that you like them. Depending on what type of vegetables you are roasting, the roasting time can vary.
Make Your Meal Planning Easy!
To make your meal planning easy, I put together a meal planning sheet and a shopping list which you can grab below.
Save Your Recipes
Did you know that you can bookmark and save your favorite recipes on Simple and Savory? Just click on the share icon on the bottom right screen on the recipe post.
To find the recipes that you bookmarked, simply click on the heart or share icon and your saved recipes will appear along with a search bar!
Join our Facebook Group Make it Healthy, Keep it Simple for kitchen tips!