This week's meal picks have a variety of delicious International flavors. Korean tacos have an Asian flair, while the chicken tostadas and chili are Tex-Mex and the shrimp cakes and stuffed butternut squash are American. They are all easy to put together, and some freeze well, which is perfect for meal planning.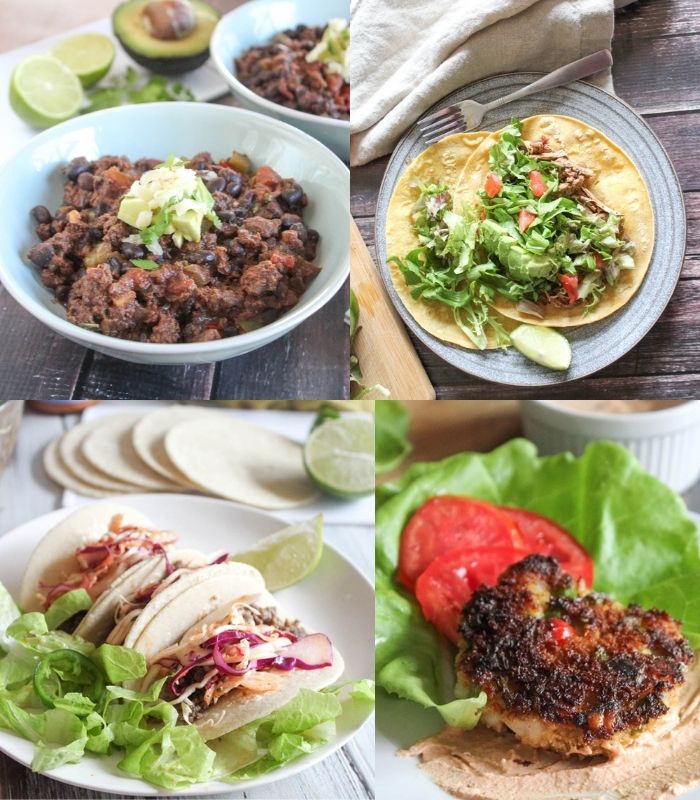 Tips For Meal Prepping and Using Leftovers
Brown the ground beef at the same time for both the chili and Korean tacos. Refrigerate the unused meat for 2 days or toss it in the freezer for next week.
The chicken in the chicken tostadas has many uses. Prepare extra and use it during the week for lunch in salads or wraps.
Make extra beef chili and freeze what's left or use it during the week in salads, or nachos.
Easy No Recipe Nachos
Last week I shared a quick and easy quesadilla recipe. This week it's easy no recipe nachos. Nachos are also a quick and easy way to use leftover meat or vegetables.
Here's how to make nachos: Arrange tortilla chips on a baking sheet. Spread leftover chili, shredded chicken or any type of ground or shredded meat (pulled BBQ Pork is good for this too!). Top the meat with shredded cheese and place it in the oven and cook until the meat is heated through and the cheese melts. Top your nachos with any combination of shredded lettuce, sliced onions, diced tomatoes, or hot peppers.
Make it vegetarian and use chopped cooked veggies instead of meat, or add veggies to the meat.
Make Your Meal Planning Easy!
To make your meal planning easy, I put together a meal planning sheet and a shopping list which you can grab below.
Save Your Recipes
Did you know that you can bookmark and save your favorite recipes on Simple and Savory? Just click on the share icon on the bottom right screen on the recipe post.
To find the recipes that you bookmarked, simply click on the heart or share icon and your saved recipes will appear along with a search bar!
Join our Facebook Group Make it Healthy, Keep it Simple for kitchen tips!