Grilled Peruvian Marinated Chicken Breasts with Peaches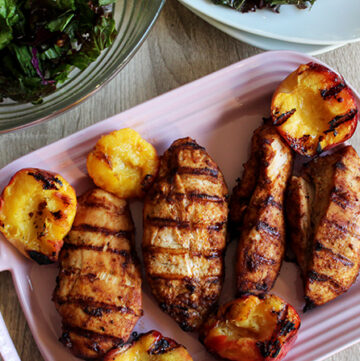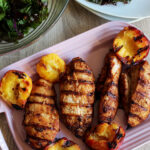 Boneless chicken breasts are marinated in a Peruvian style marinade and grilled with fresh peaches.
Place chicken in an oblong glass dish
Mix together all of the ingredients and pour over chicken  – marinate for at least 2 hours
Pre-heat a gas grill to medium heat.  Place chicken on one side of the grill and allow them to begin to brown about 6 to minutes depending on thickness.
Turn them over and grill until browned and internal temperature is 150 degrees.
Add the peaches to the other side of the grill flesh side down after you have turned the chicken over.  Allow to grill about 5 minutes, flip over and grill 5 minutes more.
Remove chicken from grill when done and allow to rest for 5 minutes
Serve peaches alongside chicken.
Keywords: grilled chicken, grilled peaches, boneless chicken breast