Homemade cashew milk is a rich and creamy dairy milk alternative that is super versatile. It can be enjoyed all by itself, in coffee, with cereal or any other way that you would use dairy milk. It tastes so good even dairy lovers will drink this up!
This homemade cashew milk recipe is easy to make with only two ingredients, here is what you will need to make homemade cashew milk: cashews, filtered water, a high-speed blender and a nut milk bag.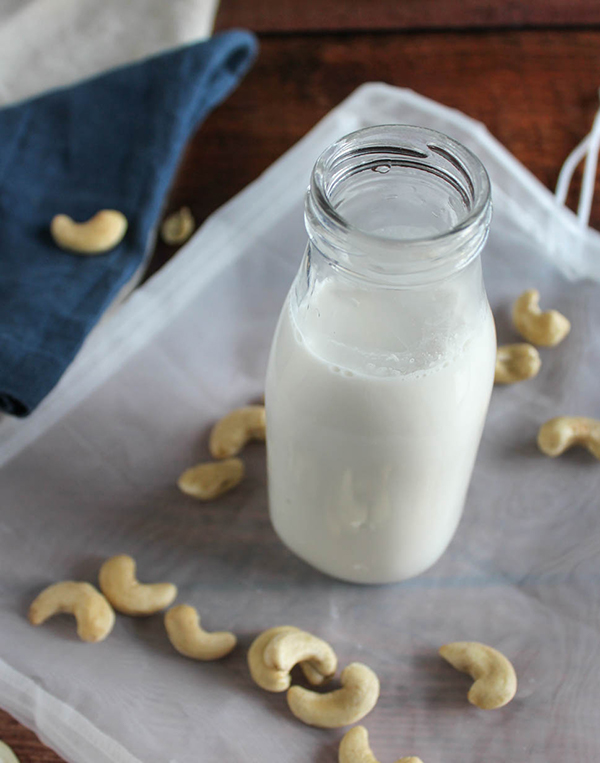 There is always some kind of milk in our fridge mainly for cooking and coffee, and we like to switch them up. Sometimes it's regular cow's milk and other times it's nut milk. Recently I've tried making my own nut milks and love the creaminess they add to coffee.
Cashew milk is my favorite nut milk to make. I've also tried making almond milk, but there is a lot of leftover pulp and I wasn't quite sure what to do with it all. Cashew milk is creamy and has very little pulp left over which I am able use when I make cashew cheeses like this vegan queso or this cashew cheese.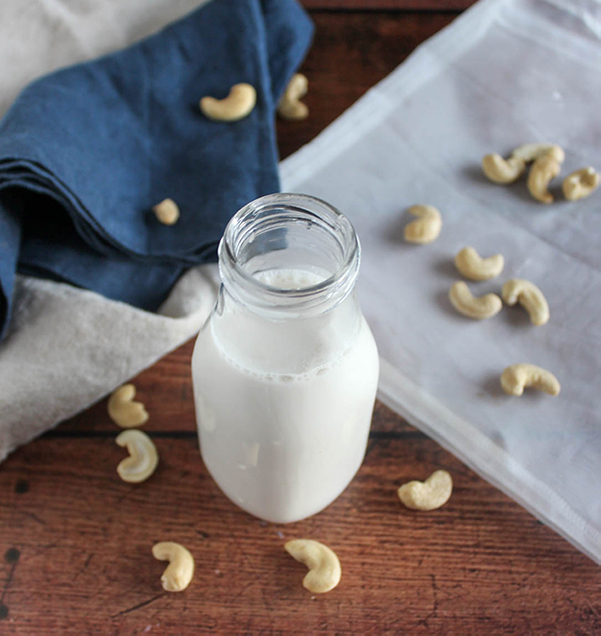 How to Make Cashew Milk
Soak the cashews for at least two hours up to overnight
Drain the Cashews
Place the Cashews and filtered water into a high-speed blender and blend
Pour the milk into a nut milk bag over a large bowl and squeeze
Pour the milk into a pitcher and serve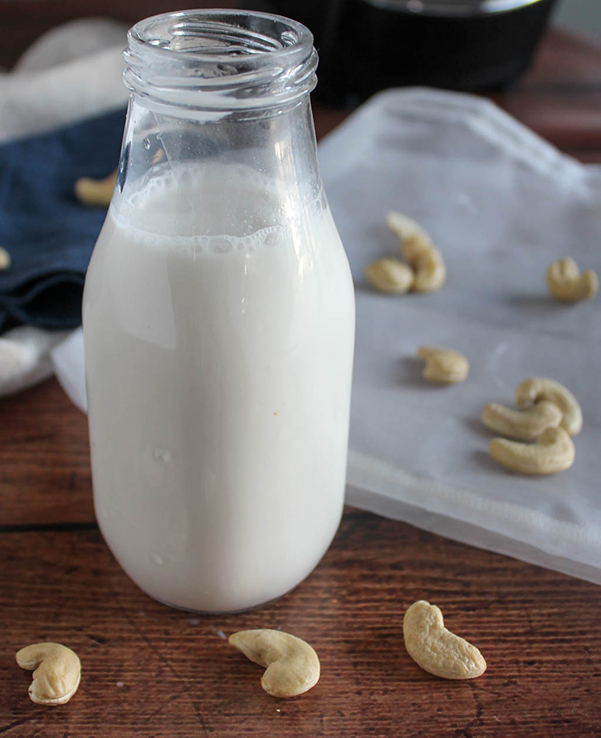 Tips For Making Homemade Cashew Milk
A nut milk bag is a must!
The first few times that I made nut milk, I used a strainer. I had to pour in batches because the strainer wasn't big enough. Using a nut milk bag is so much easier! Once your pour the milk into the bag, all you have to do is squeeze and twist the bag until all of the liquid is released. I love this bigger better nut milk bag from Ellies Best. If you order one today, you will receive 10% off!
Sweet Cashew Milk
We prefer our nut milk unsweetened, but you can add 1 to 2 pitted medjool dates or a teaspoon or two of maple syrup to the blender if you prefer sweet.
Storing Nut Milk
Store nut milk in a pitcher or jar in the refrigerator for up to three days. You may notice that the nut milk separates, just give the milk a a shake just before using.
How to Make thick nut milk
This cashew milk recipe will yield a milk similar to 1% milk. If you prefer a thicker milk add ½ cup LESS water. If it's too thick gradually add water until it reaches the consistency you like.
The Best Cashews to use to make Cashew Milk
Organic, raw cashews are the best kind of cashews to use. If they aren't available, toasted cashews will work to, just be sure they aren't salted.
Chocolate Cashew Milk
Add ¼ cup cocoa powder to the blender and 3 to 4 tablespoons of maple syrup to the blender, blend and strain.
Uses for nut milk pulp
Make cashew cheese or add to smoothies or add it back to the milk and blend and strain one more time.