Cooking dinner every day can become a chore, especially if you have a busy schedule. I hope that these meal ideas will make your dinner adventures stress-free! The recipes this week can be re-purposed as leftovers.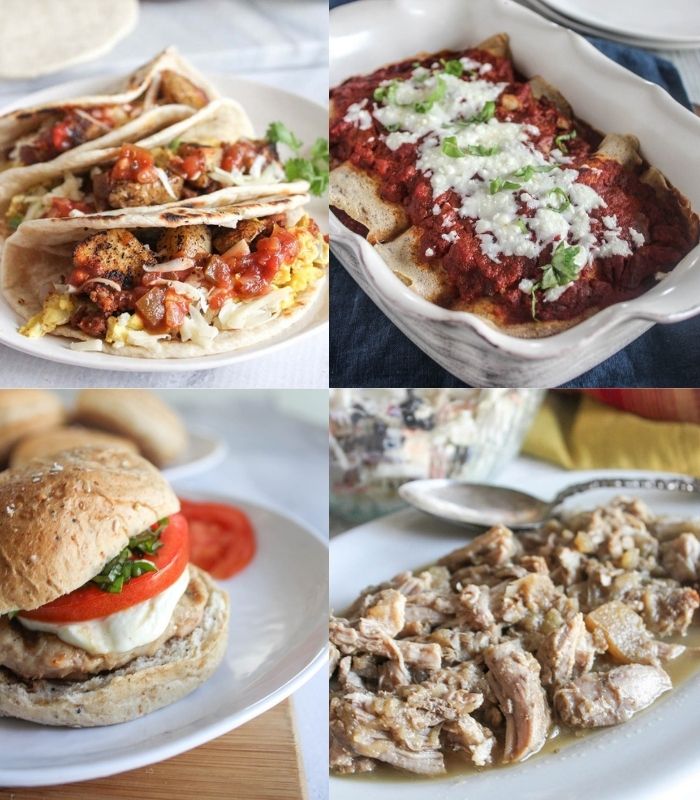 Tips For Meal Prepping and Using Leftovers
The manicotti recipe takes time and is best to make on the weekend or whenever you have extra time. Make a double batch and freeze the leftovers.
The pulled pork recipe can be used up during the week in salads and sandwiches. Hello quick dinner or lunch.
The chicken burgers also freeze well so make extra and pop them into the freezer.
Breakfast tacos don't have to be for breakfast! Make these for dinner and a few extra to for a grab and go breakfast during the week.
Quick Baked Potatoes
Have you ever waited too long to put baked potatoes in the oven? You can cooke them in the microwave, but they don't turn out that great, the oven is always better. Here's a quick and easy way to bake your potatoes quickly:
Clean and slice the potatoes in half lengthwise.
Smear some olive oil on a baking sheet and arrange the potato halves on the oiled baking sheet with the flat side facing down.
Bake them at 375 for about 30 minutes.
Make Your Meal Planning Easy!
To make your meal planning easy, I put together a meal planning sheet and a shopping list which you can grab below.
Save Your Recipes
Did you know that you can bookmark and save your favorite recipes on Simple and Savory? Just click on the share icon on the bottom right screen on the recipe post.
To find the recipes that you bookmarked, simply click on the heart or share icon and your saved recipes will appear along with a search bar!