This pork chop and rice casserole recipe is a simple one-pan pork chop recipe that is made with only 7 ingredients and takes very little time to prepare!
One-pan dinners are so convenient to make and easy to clean up too. And this recipe couldn't get much easier. The pork chops are quickly seared and then cooked slowly in the oven with a mixture of tomatoes and peppers which helps to keep the pork moist for a super flavorful and comforting pork chop dinner.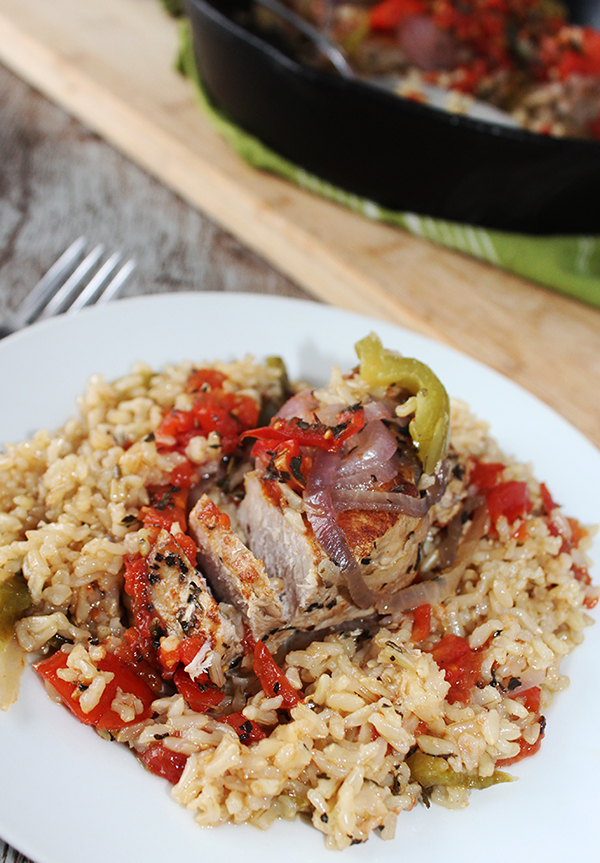 Recipe Highlights
It's easy to make! Just place all (7) of the ingredients into a skillet and then into the oven.
It's healthy, made with fresh peppers, onions, tomatoes, and brown rice.
Here is What You Will Need
As an Amazon Associate, I earn from qualifying purchases
This is an overview of the ingredients and steps to make this recipe, scroll down for a printable recipe card with exact measurements and instructions.
This is an overview of the ingredients and instructions that you will need to make this recipe. Scroll down a bit further for ingredient substitutions and complete printable cooking instructions which are on the recipe card at the bottom of this post.
---
Ingredients
boneless pork chops (1 pound)
uncooked brown rice (¾ cup)
medium-sized onion
bell peppers (2 of any color)
chicken broth (1 cup)
diced tomatoes (1 cup fresh or low sodium canned)
herbs de Provence (2 teaspoons)
olive oil (2 teaspoons)
---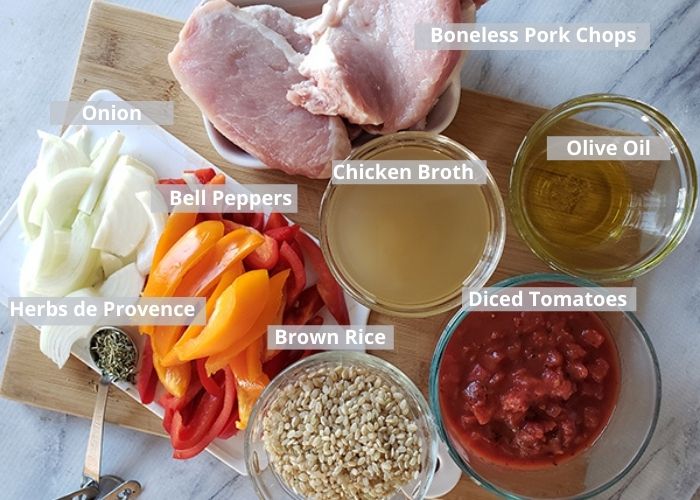 Here is How To Make This Pork Chops and Rice Casserole with Tomatoes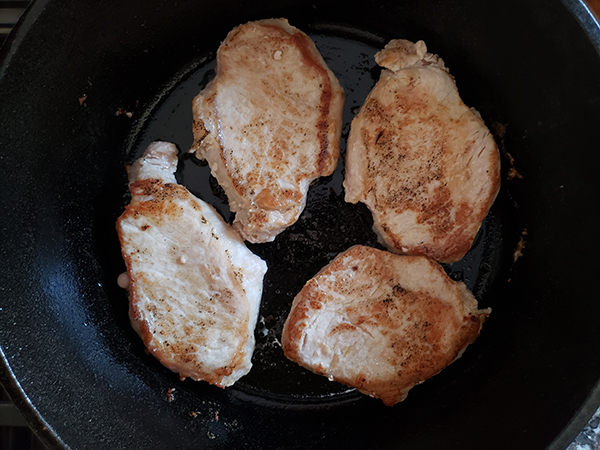 Heat oil in a skillet over medium to high heat. Add the boneless pork chops and sear the pork chops on each side (about three minutes) until they turn brown.
TIP! Pat the pork chops dry with a paper towel before placing them in the pan, this will help in the searing process.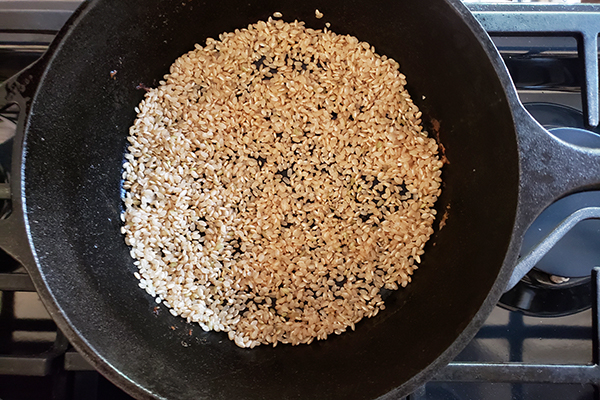 Remove the chops from the skillet and set them aside. Reduce the heat to medium and add the rice. Toss the rice around the pan for a few minutes to lightly toast it, and turn the heat off.
TIP! Toasting the rice adds a rich and nutty flavor. It also gives the rice a quick jumpstart in the cooking process.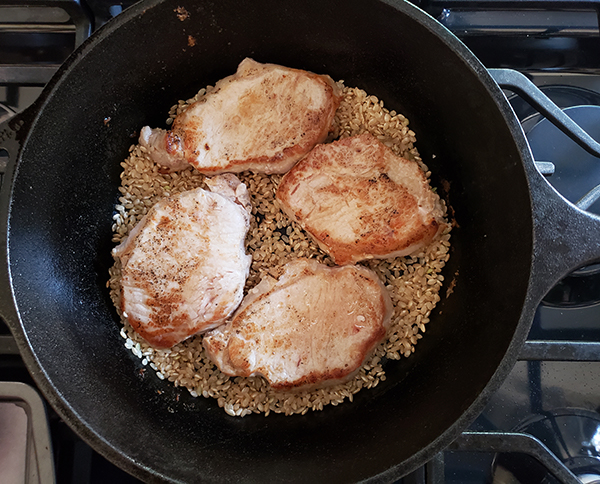 Place the browned pork chops on top of the rice.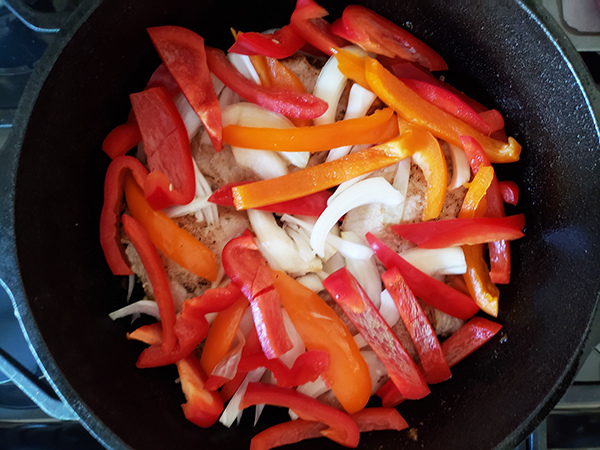 Top the pork chops with slices of peppers and onions.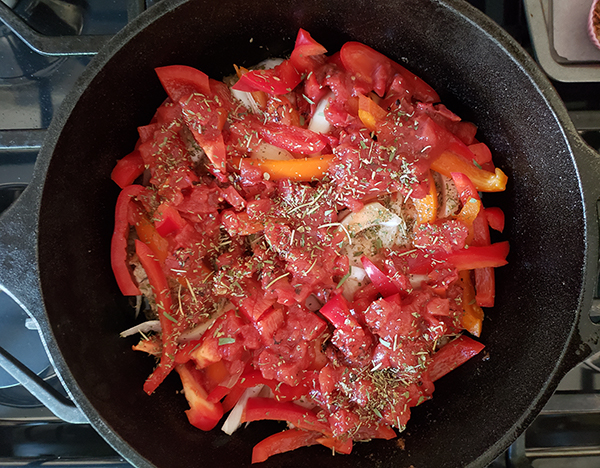 Add the broth, tomatoes onions, and herbs de Provence; cover and bake.
TIP! Make sure that the meat is completely covered with broth and tomatoes to keep it moist.
This recipe can also be browned in a skillet and the ingredients placed into a covered casserole dish.
Total Estimated Time to Make this Recipe: 60 to 75 Minutes
Ingredient Notes & Substitutions
Pork - We like boneless loin chops that are approximately ¾ inch thick. You can also use bone-in pork loin chops or boneless chicken breasts or thighs.
Brown Rice - I use long or short-grain brown rice in this recipe. Brown rice has a nutty flavor and has more health benefits than white rice. You can substitute white rice for brown rice, and reduce the cooking time by about 10 minutes.
Bell Peppers - Any color of bell peppers can be used in this recipe, all green, all red, or mix them up. The red, yellow and orange peppers will have a sweeter flavor than green bell peppers.
Broth - Chicken broth can easily be substituted with vegetable or beef broth.
Tomatoes - Fresh chopped tomatoes or low sodium diced tomatoes can be used in this recipe.
Herbs de Provence is an aromatic spice blend typically made with thyme, basil, rosemary, tarragon, savory, marjoram, oregano and bay leaf. If you don't have this spice blend, you can add a pinch of any combination of rosemary, basil, oregano, thyme or marjoram.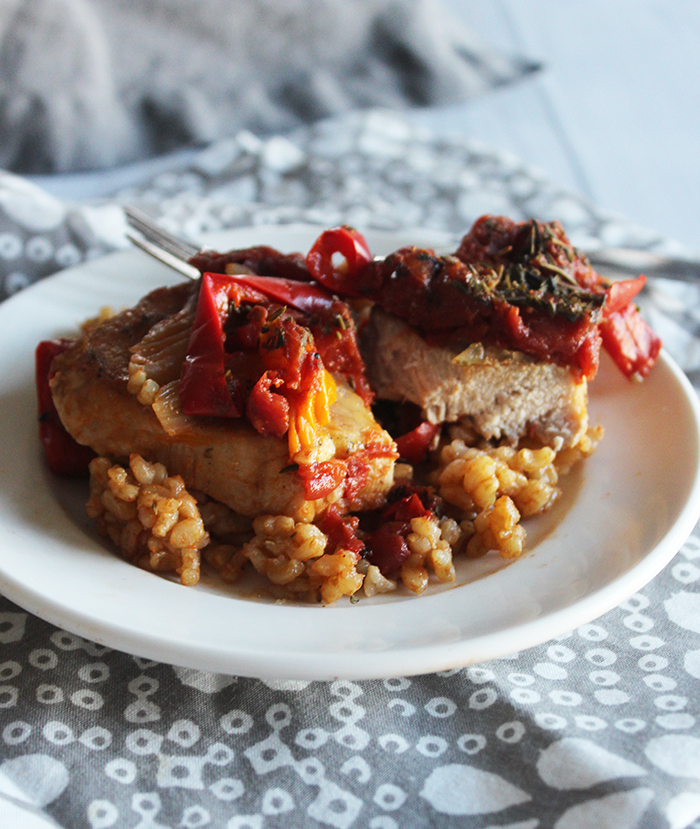 Serving Suggestions
One pan pork chop and rice casserole with tomatoes is almost a meal in itself, but we like to serve a side of vegetables with it such as sauteed or steamed zucchini, steamed broccoli, arugula salad with pistachios, or green beans with almonds.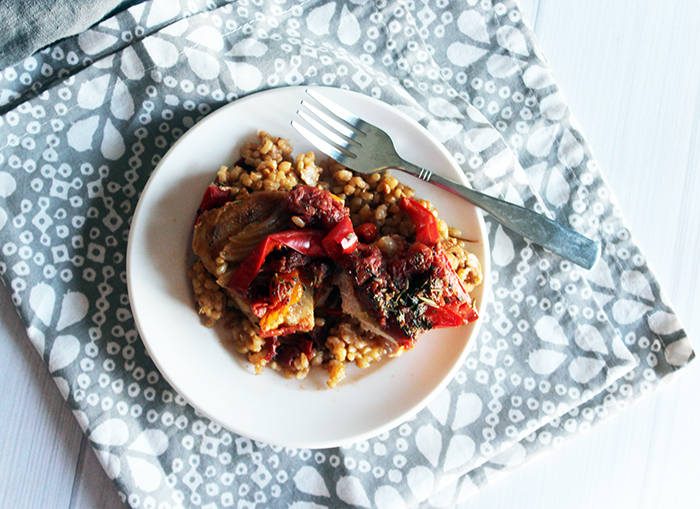 Storing and Using Leftovers
Store leftover pork chop rice casserole in the refrigerator in an airtight container for up to 4 days.
Reheat it in the oven covered at 350 with a little bit of added liquid such as water, tomatoes or broth until it is heated through, or you can reheat it in the microwave.
Freezing is not recommended.
You Might Like These Recipes