Shaved asparagus, carrots, and arugula are topped with a dairy-free creamy and garlicky dressing to make up this delicious shaved asparagus salad.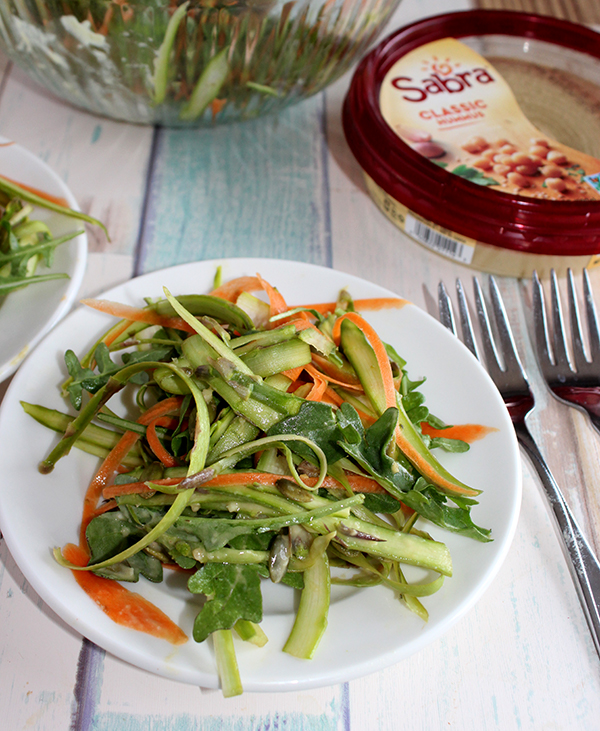 I received samples of Sabra hummus mentioned in this post.  By posting this recipe I am entering a recipe contest sponsored by Sabra and am eligible to win prizes associated with the contest. I was not compensated for my time, all opinions are my own.
Even though spring arrived over a month ago, it finally feels like it in the Northeast. One of the many things I like about the spring is asparagus.  After a few warm days, it's suddenly popping up out of the ground in New Jersey,  even in my small backyard garden.
Asparagus season is so short, I find myself eating it every chance I can get once it's in season.  Shaved asparagus salad is one of my favorite ways to enjoy asparagus because when it's freshly picked there is absolutely no reason to cook it.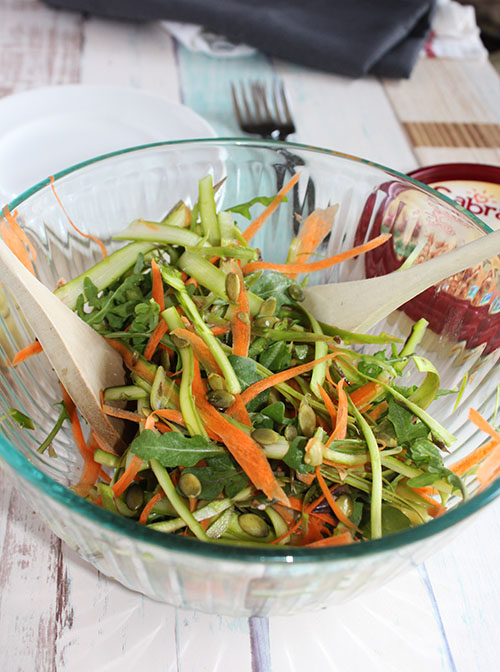 To welcome spring, I am sharing my love of asparagus with this raw shaved asparagus salad.  Even though I was just raving about asparagus, the dressing is what really makes this salad come together. It's creamy and garlicky and made with hummus! Sabra hummus adds just the right amount of creaminess and flavor to compliment those fresh veggies.  And a bonus, hummus adds some protein and it's plant-based.
When I want a creamy texture in my salad dressing Sabra Hummus is what I reach for.  Sabra hummus has over 12 different flavors to choose from, so if you don't feel like mixing a lot of ingredients together for a flavorful salad dressing, one of the many flavors of Sabra hummus will have you covered.
Shaved Asparagus Salad with Creamy Garlic Dressing

This salad is really easy to make, shave the vegetables with a veggie peeler, add a few handfuls of peppery baby arugula and pumpkin seeds.  Just before serving, add some of this creamy dressing.   Serve shaved asparagus salad as a side with these black bean burgers or these gluten-free baked chicken tenders.
Print
Shaved Asparagus Salad with Creamy Garlic Dressing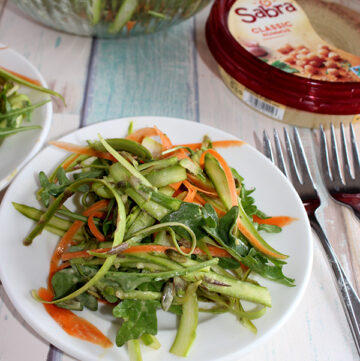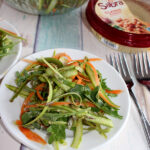 shaved asparagus and carrots are mixed with baby arugula and topped with a creamy and garlicky salad dressing that's plant-based
Scale
Ingredients
1 pound asparagus
2 to 3 carrots
1/2 cup of baby arugula
1/4 cup pepitas
DRESSING
2 tablespoons Sabra Hummus
2 tablespoons olive oil
1 tablespoon fresh squeezed lemon juice
1 to 2 cloves garlic
Instructions
using a vegetable peeler shave the asparagus and carrots and add to a bowl
toss in the arugula and pepitas
mix the ingredients of the dressing together and pour over salad just before serving