Welcome to Simple Dinner Ideas with a Summer Flair! It may not be summer all where you are, but these recipes can be enjoyed any time of the year!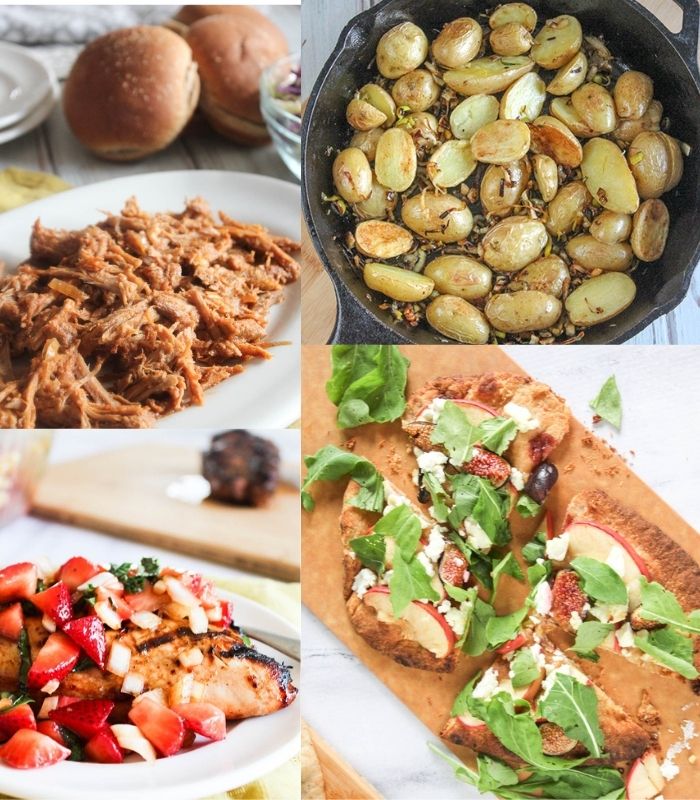 Meal Prep Tips!
Serve the chicken with strawberry salsa early in the week and while you are at it, grill extra chicken to use in the chicken pasta salad later in the week. Note: If strawberries aren't in season, frozen strawberries work in this recipe too!
Double up (or at least make extra) of the pulled pork recipe to use later in the week. Pulled pork is so versatile. Add it to a salad, make nachos, quesadillas, sandwiches or wraps with leftovers.
End your week with an easy apple and fig flatbread. You can make this recipe using homemade dough or use pre-made flatbread. We like to use Naan bread for flatbreads.
Shred extra cabbage when making the coleslaw and dress half of the cabbage with Asian dressing (instructions included in the coleslaw recipe) and serve it with the Asian pasta salad.
Side Dish Idea - No Recipe Required
Grilled Potatoes - If you have the grill going for the chicken, cut 2 to 3 potatoes into wedges or chunks making sure they are large enough to not fall through the grates of the grill. Toss the potato pieces in a tablespoon of olive oil until they are coated in the oil. Season them with salt, garlic and pepper, cook over medium heat until they are soft on the inside and golden brown on the outside.
Make your Meal Planning Easy
To make meal planning easy, I put together a meal planning sheet and a shopping list which you can grab below.
Save Your Recipes
Did you know that you can bookmark and save your favorit recipes on Simple and Savory? Just click on the share icon on the bottom right side of your screen on the recipe post.
To find the recipes that you bookmakred, simply click on the heart or share icon and your saved recipes will appear along with a search bar.