Menu ideas this week are an assortment of burgers, wraps, and ground chicken recipes. They are all plain and simple recipes that can easily be frozen or used up for leftovers.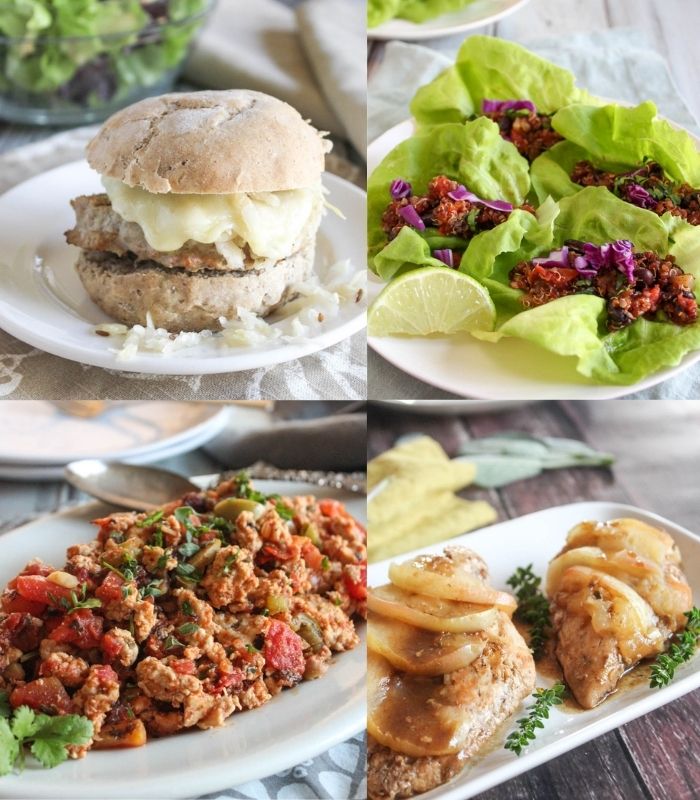 Meal Prep & Leftover Tips
Make a doube batch of the turkey burgers, and freeze half to use later.
Chop the vegetables for the picadillo, and lettuce wraps at the same time. Store the chopped vegetables in the refrigerator for up to three days.
Make enough filling for the lettuce wraps to use up during the week, it tastes great in a salad or in a tortilla.
Side Dish Idea - No Recipe Required
Quick baked potatoes. Baked potatoes can take about an hour to cook in the oven. When you are short on time, forget about the microwave for your baked potatoes. Cut the potatoes in half, brush the flesh with olive oil and place them flesh side down on a baking sheet lined with parchment. Bake for about 25 to 30 minutes at 400.
Make Your Meal Planning Easy!
To make your meal planning easy, I put together a meal planning sheet and a shopping list which you can grab below.
Save Your Recipes
Did you know that you can bookmark and save your favorite recipes on Simple and Savory? Just click on the share icon on the bottom right screen on the recipe post.
To find the recipes that you bookmarked, simply click on the heart or share icon and your saved recipes will appear along with a search bar!
Join our Facebook Group Make it Healthy, Keep it Simple for kitchen tips!