This week I picked out some comforting dinner recipes for you that are light and flavorful. They're easy to make in less than an hour with fresh ingredients!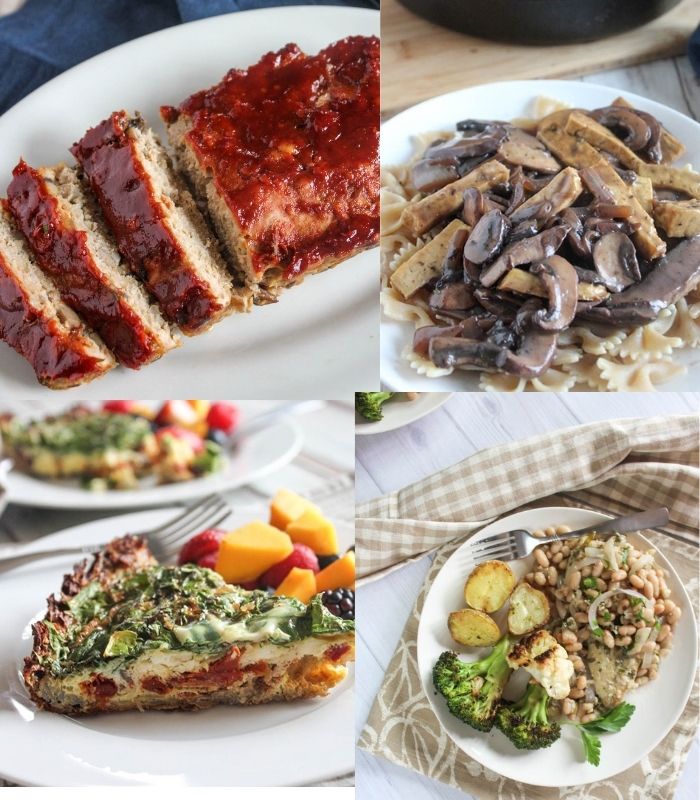 Meal Prep & Serving Tips
Slice the mushrooms for both the meatloaf and stroganoff together. Store the unused sliced mushrooms in the fridge for two to three days.
Chop the onions for the meatloaf, quiche, chicken and stroganoff and store them in the refrigerator for three to four days.
Leftover chicken tastes fantastic in a large crusty roll for lunch or dinner.
Leftover meatloaf is also delicious on a toasted bread sandwich.
Serve the meatloaf with pan-seared cauliflower and a baked potato.
Serve the stromboli or quiche with the spinach salad.
Side Dish Idea - No Recipe Required
Pan-seared cauliflower. Cut cauliflower into two-inch pieces that are no thicker than one inch. Heat olive oil in a cast-iron skillet over medium/high heat. Add the cauliflower and cook until it begins to turn brown on one side, and flip it. Cook until brown on the other side. Sprinkle with bread crumbs, toasted walnut crumbs, or parmesan cheese and serve.
Make Your Meal Planning Easy!
To make your meal planning easy, I put together a meal planning sheet and a shopping list which you can grab below.
Save Your Recipes
Did you know that you can bookmark and save your favorite recipes on Simple and Savory? Just click on the share icon on the bottom right screen on the recipe post.
To find the recipes that you bookmarked, simply click on the heart or share icon and your saved recipes will appear along with a search bar!
Do You Like to Cook Without a Recipe?
Have you signed up for our Cook it Without a Recipe Challenge? Get all of the details here, and sign up!