Once again, simple healthy dinners are on the menu this week. They are all easy and made with minimal ingredients. Double up on your favorite recipes and repurpose them during the week or freeze to use later.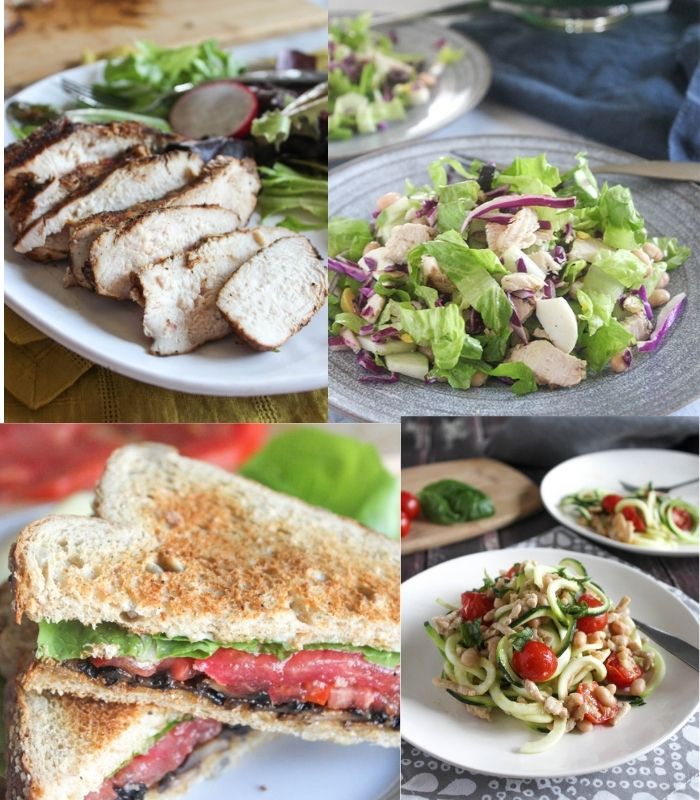 Meal Prep Tips
Clean, cut, and store your produce for the week ahead, and it will be ready to grab and use in your recipes this week. This will work well for the chopped salad, steak sandwich, Vegan BLT and pasta salad.
Make the marinade for the jerk chicken the night before so that you will only have to cook it, plus the extra marinating time will make the chicken taste better!
Be sure to make extra of the jerk chicken recipe; leftover jerk chicken tastes great on salads, sandwiches or wraps. I like to serve this with a pasta salad.
Brown the chicken for the zucchini noodles while you are preparing another dinner during the week (BLT Night?) and store it in the fridge for a day or two until you are ready to make the zucchini noodle with the chicken recipe.
The salad recipes are side dish suggestions, but can easily be turned into a main course with added protein.
Side Dish Idea - No Recipe Required
Steamed garlic broccoli. Cut up broccoli into bite-sized pieces. Add it to a saucepan and add enough water to cover it halfway. Cover the broccoli and cook it until it is at a texture that you like. Drain the water from the broccoli, add butter and crushed or garlic powder, cover until the butter melts. Add a splash of lemon and enjoy!
Make Your Meal Planning Easy!
To make your meal planning easy, I put together a meal planning sheet and a shopping list which you can grab below.
Save Your Recipes
Did you know that you can bookmark and save your favorite recipes on Simple and Savory? Just click on the share icon on the bottom right screen on the recipe post.
To find the recipes that you bookmarked, simply click on the heart or share icon and your saved recipes will appear along with a search bar!