This week I picked out a few of our favorite hearty recipes that you are going to love.
Each one of these recipes tastes great leftover, so why not double the recipe and freeze leftovers or use them up during the week?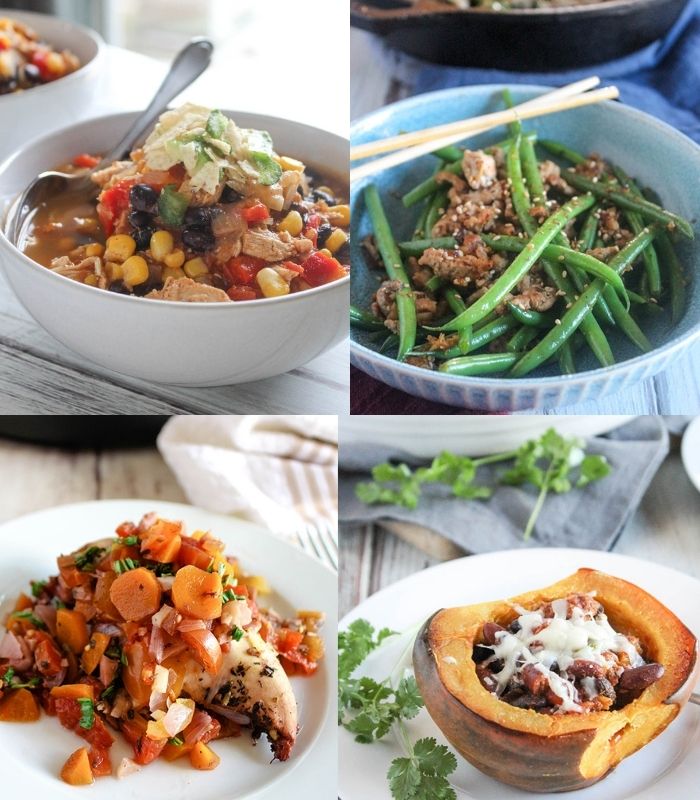 Meal Prep & Serving Tips
When you have time early in the week or on the weekend, cut up the onions for all of the recipes that have onions in them (chicken tortilla soup, eggplant meatballs, chicken with red wine & stuffed squash). Store them in the fridge and grab what you need when you need them.
If you have even more time, chop up all of the veggies for the week and store them in separate containers in your refrigerator.
Make double batches of the chicken tortilla soup and the eggplant meatballs. Freeze them for later or use them during the week.
Use up your Leftovers Dinner- No Recipe Required
Clean out the fridge fried rice: This is usually our dinner when I have vegetables that need to be used up.
Cook up a few servings of rice, any whole grain or even cauliflower rice. Cut up any vegetables that are in your fridge that need to be used up (zucchini, broccoli, cauliflower, peppers, etc). Cook them in a skillet in oil, remove them from the pan once they are crisp-tender.
Wipe out the pan and scramble one or two eggs in the skillet; remove them and add them to the vegetables. If you have leftover meat such as chicken, pork or beef, dice that up and toss it in the skillet too.
Add the cooked rice, cooked veggies and eggs back to the skillet and toss with the rice. Add a teaspoon or two of sesame oil, sprinkle on grated ginger and a few drizzles of tamari or soy sauce.
Make Your Meal Planning Easy!
To make your meal planning easy, I put together a meal planning sheet and a shopping list which you can grab below.
Save Your Recipes
Did you know that you can bookmark and save your favorite recipes on Simple and Savory? Just click on the share icon on the bottom right screen on the recipe post.
To find the recipes that you bookmarked, simply click on the heart or share icon and your saved recipes will appear along with a search bar!
Do You Like to Cook Without a Recipe?
Have you signed up for our Cook it Without a Recipe Challenge? Get all of the details here, and sign up!