This week I picked out some dinners for you that are light and flavorful, and easy for meal prep. They are filled with fresh ingredients and most of the recipes take less than one hour to prepare.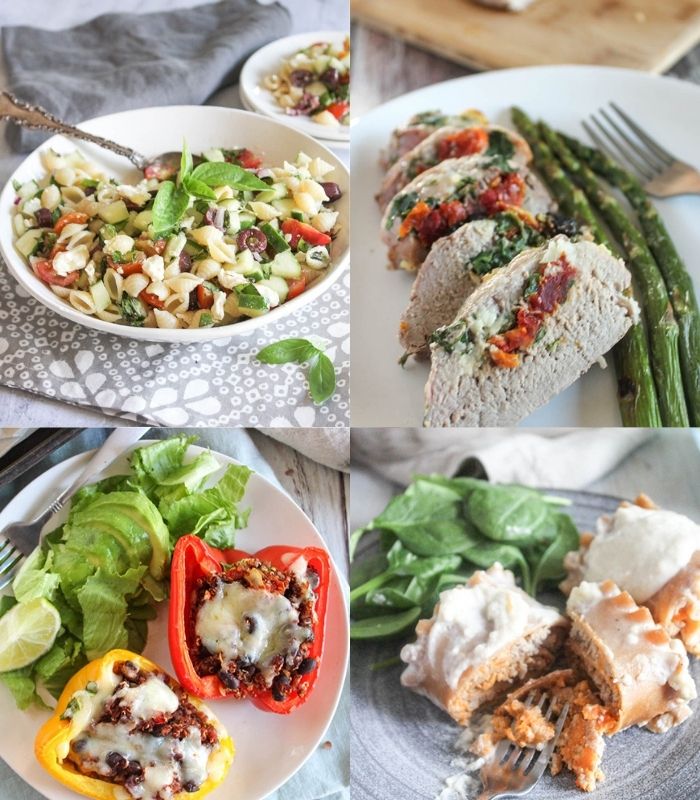 Meal Prep Tips
Lasagna rolls are time-consuming to make, cook them on the weekend when you have time. Be sure to make extra to use during the week for another dinner.
Cook up a big portion of quinoa when you are making the stuffed peppers to use during the week in salads and side dishes.
Serve leftover chicken (parmesan or lemon) in or with the Greek pasta salad for a full dinner. Or use it up in a green salad.
Side Dish Idea - No Recipe Required
Grilled Zucchini Slice zucchini lengthwise into strips about ⅛ inch thick. Brush both sides with olive oil and place them on a heated grill or grill pan. Cook for a few minutes on each side, sprinkle with a little bit of parmesan cheese and serve.
Make Your Meal Planning Easy!
To make your meal planning easy, I put together a meal planning sheet and a shopping list which you can grab below.
Save Your Recipes
Did you know that you can bookmark and save your favorite recipes on Simple and Savory? Just click on the share icon on the bottom right screen on the recipe post.
To find the recipes that you bookmarked, simply click on the heart or share icon and your saved recipes will appear along with a search bar!
Do You Like to Cook Without a Recipe?