This week is a dinner soup and salad theme. Soups and salads are quick and easy to make for dinner, and they can be made ahead of time. You can make them hearty or light depending on your mood. As always these recipes are plain and simple and can be used for lunch or dinner.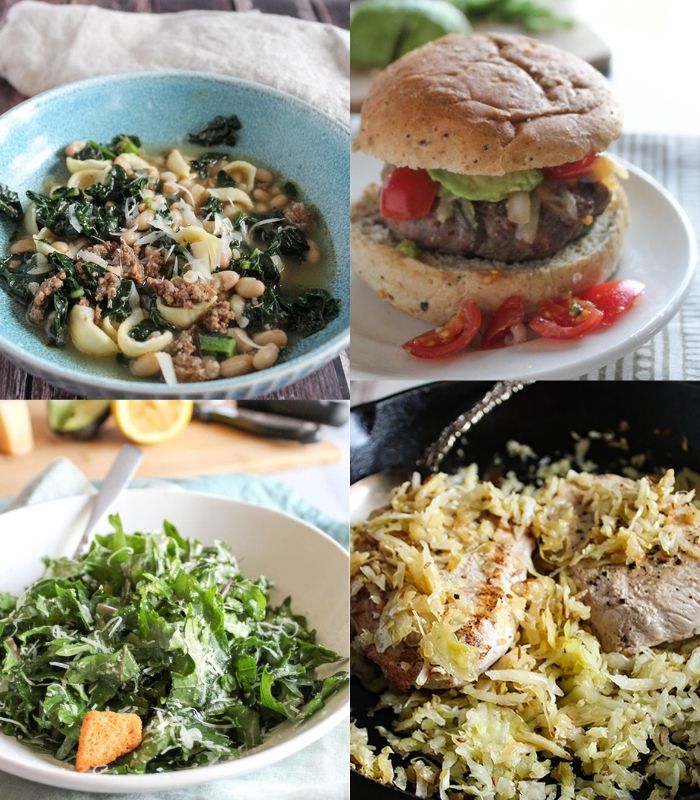 Meal Prep & Leftover Tips
Prepare the chicken early in the week, you can grill it or shred it. Here are tips for making shredded chicken. Make enough to use in the chicken salad, and extra to toss in the Greek pasta salad and the kale salads.
Serve the pork chops and sauerkraut with a side of green beans with bacon and a baked potato for a filling dinner.
Clean and prep the kale early in the week and store it in the refrigerator so it's ready to use for the salad and the soup.
Make a double batch of the sausage and kale soup without the pasta. Freeze half and add pasta to the other half and enjoy!
Homemade Salad Dressing
Homemade Salad Dressing. Packaged salad dressings can have some questionable ingredients in them. If your salad is made with fresh produce, all you need is a simple dressing.
This is one of my favorites: 2 tablespoons freshly squeezed lemon juice, 4 tablespoons extra virgin olive oil, ½ teaspoon garlic powder and ¼ teaspoon onion powder, and an optional drip or two of honey. Shake it up and pour over your salad. Store leftover dressing in the refrigerator for a week.
Make Your Meal Planning Easy!
To make your meal planning easy, I put together a meal planning sheet and a shopping list which you can grab below.
Save Your Recipes
Did you know that you can bookmark and save your favorite recipes on Simple and Savory? Just click on the share icon on the bottom right screen on the recipe post.
To find the recipes that you bookmarked, simply click on the heart or share icon and your saved recipes will appear along with a search bar!
Join our Facebook Group Make it Healthy, Keep it Simple for kitchen tips!