Homemade smoky chipotle baked beans are slightly sweet and a little bit smoky.  They are a quick and easy side dish, perfect for your next summer party.
This post is sponsored in conjunction with #BBQWeek. I received product samples from sponsors to use in creating #BBQWeek recipes. However, all opinions are mine alone.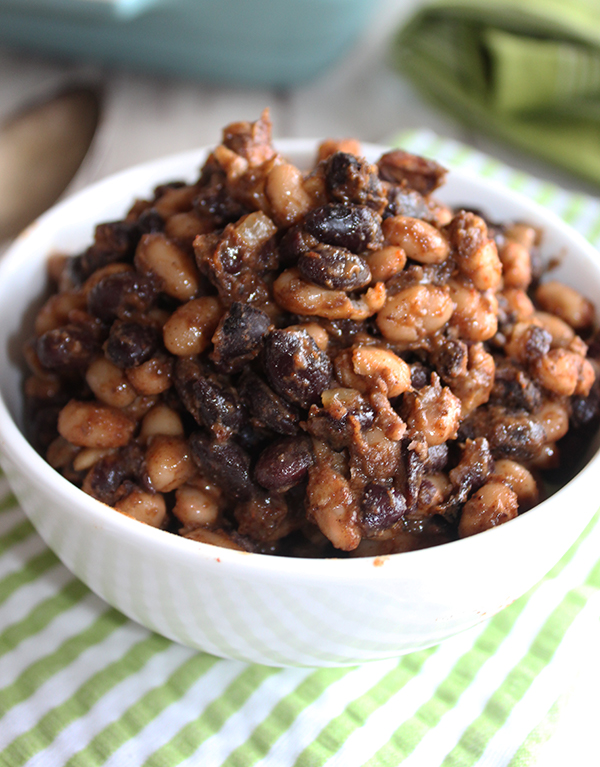 Baked beans are a classic side dish for summer barbecues, and there are so many ways to make them; smoky, spicy, sweet, savory or a combination of all.  Unfortunately, most recipes n contain a lot of sugary ingredients like ketchup brown sugar or molasses.  These beans are not like that at all, thanks to cherry chipotle not ketchup which is made with no added sugar, corn syrup or artificial sweeteners.  That's my kind of sauce!
Smoky Chipotle Baked Beans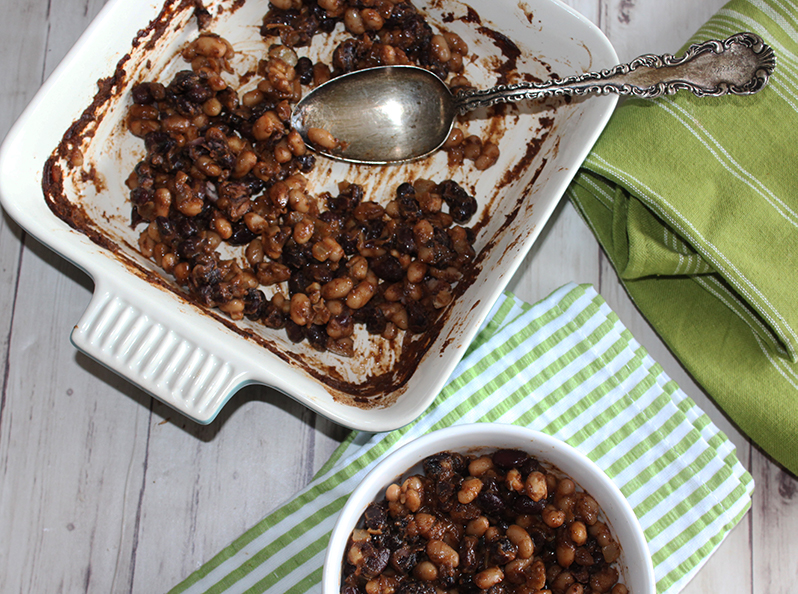 These beans are so easy to make, they will be in the oven baking within 15 miniutes.  The most time-consuming part of this recipe is sauteeing onions, garlic, and pepper in a little bit of oil, then add the beans and sauce and bake.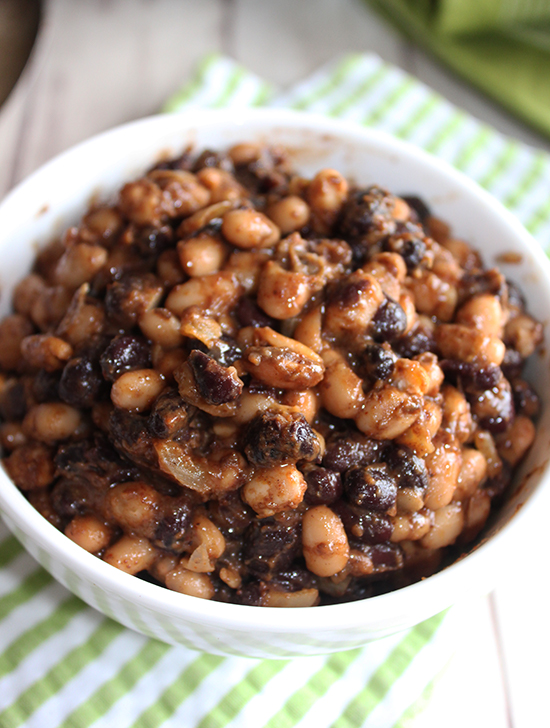 Serve these beans with your favorite burgers like this veggie burger or this bison burger if you are a meat lover. Here's how to make the baked beans…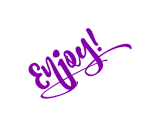 Print
Smoky Chipotle Baked Beans
slightly sweet and smoky baked beans are easy to make, they can be on the table within and hour.
Scale
Ingredients
2 teaspoons of olive or avocado oil
1/4 cup chopped onion
1/4 cup chopped red bell pepper
1 clove chopped garlic
3 cups cooked beans – we like black and white but any kind will work
1/4 cup cherry chipotle not ketchup
1 cup of your favorite craft pilsner beer or water
1 1/2 teaspoons sea salt
1 1/2 teaspoons mustard powder
1 teaspoon chipotle chili powder
Instructions
sautee the onion, garlic and pepper in a pan until they become soft.  Remove from heat and add to a bowl
toss in the remaining ingredients and turn into a baking dish and bake at 350 for 45 minutes
Notes
Try This!
for a slow cooked version – add all of the ingredients to a slow cooker and cook on low for 6 hours
for a meaty version – add 3 slices of cooked crumbled bacon to the beans
It's the last day of #bbq week, I hope you enjoyed more than 70 recipes from more than 20 bloggers. It's not too late to enter to win one of three great prizes from our sponsors. Thank you to Michigan Asparagus for providing bloggers with freshly harvested asparagus, to Adams Extract & Spice for wonderful rubs and spices for grilling and Not Ketchup for bloggers choice of sauce.
Prize Number 1: $100 Gift Card Courtesy of Michigan Asparagus (Value $100)
Michigan Asparagus is known for its hand snapped fresh asparagus. It is available May – June and grown mostly in Oceana County along the shores of Lake Michigan. Michigan Asparagus has excellent flavor and a long shelf life. It is a nutrient-dense, low-calorie vegetable with no fat, no cholesterol, and very little sodium. Approximately 120 local Michigan farmers produce approximately 20 million pounds of Michigan Asparagus during the state's 6-7 week harvest. Remember to buy U.S. for the freshest of the fresh.
Prize Number 2: Not Ketchup Sampler 5-Pack (Value $40)
Not Ketchup is a line of fruit gourmet grilling and dipping sauces with no added sugar, no corn syrup and no artificial sweeteners. They are gluten-free, dairy-free, soy-free, paleo, vegan, low-carb and Whole30 friendly.
Flavors in the sampler pack:
Tangerine Hatch Chile Not Ketchup blends sweet-tart California tangerines with a touch of heat from authentic Hatch chiles from New Mexico. Favorite pairings: fish, chicken, turkey
Cherry Chipotle Not Ketchup combines ripe cherries with the subtle, smoky heat of chipotle pepper. Favorite pairings: burgers, steak, salmon, ribs, meatballs
Blueberry White Pepper Not Ketchup takes blueberries to the savory side with a touch of mustard and a little kick of white pepper. Favorite pairings: lamb chops, shrimp, scallops, pork tenderloin, goat cheese
Smoky Date Not Ketchup mixes the natural sweetness of sun-ripened California dates with aromatic smoked paprika. Favorite pairings: pork chops, roast turkey, rotisserie chicken, ham, sausages
Spiced Fig Not Ketchup blends rich California Mission figs with warm spices like cinnamon, anise and black pepper. Favorite pairings: Leg of lamb, steak, roast chicken, cheddar cheese

Prize Number 3: A bottle of vanilla and a selection of rubs from Adams Extract & Flavors (Value $30)
From humble beginnings in Battle Creek, Michigan, to a rooted history in Texas, one thing has stayed the same: a commitment and passion to provide only the highest quality and innovative products and services. For over 125 years it's really been that simple…make great food taste even better! Today, Adams proudly manufactures and markets under several Adams Brand banners, including Adams Best®, Adams Extract®, Adams® Seasoning & Spice, Adams Reserve®, Flavor King™, Pantry Basics™, Sear-n-Crust®, ClearVan™, Carniceria®, Cocina del Rey®, Naturals™, and Urban Canner™ along with the Adams Frozen Skillet Desserts and Adams Premium Ice Cream lines.
_______________________________________________________________________________________________
Thank you to #BBQWeek Sponsors Adam's Extracts, Michigan Asparagus, and Not Ketchup for providing the prizes free of charge. These sponsors also provided bloggers with samples and product to use for creating #BBQWeek recipes. All opinions are my own.
The #BBQWeek giveaway is open to U.S. residents, age 18 & up. There will be three winning entries that will be verified. The prize packages will be sent directly from the giveaway sponsors. The #BBQWeek Bloggers are not responsible for the fulfillment or delivery of the prize package. Participating bloggers and their immediate family members cannot enter or win the giveaway. No purchase necessary. Void where prohibited by law. This promotion is in no way sponsored, endorsed or administered by, or associated with social channels mentioned in the #BBQWeek posts or entry.
See what the bloggers served up Friday for #BBQWeek
Boozy Grilled Pineapples by Everyday Eileen
Brisket Baked Beans by Palatable Pastime
Easy Raspberry Jello Pie by Jonesin' For Taste
Everything Bagel Pasta Salad by Hezzi-D's Books and Cooks
Grilled Brown Sugar Peaches with Vanilla Mascarpone Cream by The Chef Next Door
Grilled Lemon Parmesan Asparagus by Cookaholic Wife
Grilled loaded Veggie Pizza by Red Cottage Chronicles
Grilled Peach Tea by 4 Sons 'R' Us
Grilled Pineapple Mai Tai by A Kitchen Hoor's Adventures
Grilled Pineapple Parfait by Family Around the Table
Grilled Pound Cake with Spiced Whipped Cream by Culinary Adventures with Camilla
Honey Rum Grilled Banana Split by Jolene's Recipe Journal
Smoky Chipotle Baked Beans by Simple and Savory
S'mores Layered Bars by The Freshman Cook