This Tabbouleh salad recipe is light, refreshing and full of vibrant flavors. It's an easy no-cook salad that tastes great all by itself or as a side.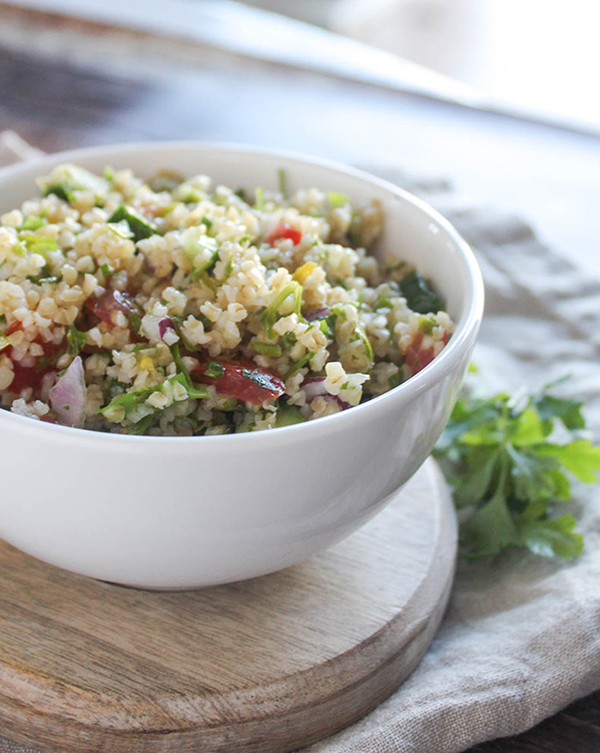 Click Here to Pin This Recipe
This post may contain affiliate links, For more information, please see our Disclosure.
So Many Ways to Make Tabbouleh Salad
Sometimes the simplest ingredients taste the best when they are combined. That's how it is with tabbouleh salad, a few simple ingredients and you have a bowl full of flavor.
Traditional tabbouleh salad is made with bulgur wheat, parsley, mint, tomatoes, and green onions. The vegetables are chopped into small bits and mixed with the bulgur and then combined with a light garlic, lemon and olive oil dressing.
The traditional version can take a step aside, because there are so many ways make tabbouleh salad. The fresh parsley and mint add a ton of flavor, but it's fun to add different combinations of fresh herbs to make tabbouleh salad even more flavorful. Scroll down to see my herb suggestions, but you can add any herb that like, there are no rules here.
I also like to switch out the bulgur for quinoa or cauliflower rice. The quinoa version is more substantial and filling. and It is higher in protein and gluten-free.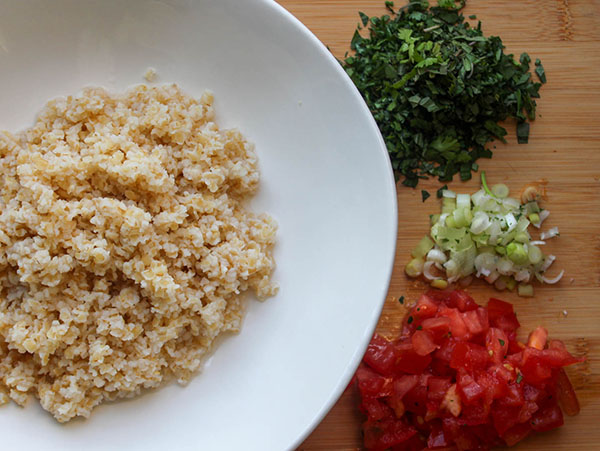 The Ingredients
The key to perfect tabbouleh salad is to use fresh herbs and vegetables. Here is what you will need to make this recipe:
Bulgur Wheat or Quinoa
Fresh Parsley
Fresh Mint
Green Onions
Olive Oil
Garlic
Lemon Juice

Recipe Steps to Make This Tabbouleh Salad Recipe
Please note that this a list of steps to give you an idea how to make this recipe. Full details are in the recipe card below.
Prepare the bulgur wheat, quinoa or cauliflower rice
Chop the herbs
Chop the vegetables
Mix up the dressing
Combine all of the ingredients and enjoy!
Total Estimated Time to Make this Recipe: 45 to 50 minutes

Tips and Variations for Tabbouleh Salad
Tips
The best tomato to use in this salad is plum or Roma tomato, they are thick skinned and contain less water. They are perfect for dicing into small chunks for this salad.
This salad can be made ahead of time and stored in the refrigerator for up to two days.
Variations
Change up the herbs any combination of fresh herbs works dill, cilantro,chives, tarragon, thyme or basil
Add any of the following to the salad:

½ cup cooked chick peas
¼ to ½ cup crumbled feta cheese
¼ cup kalamata olives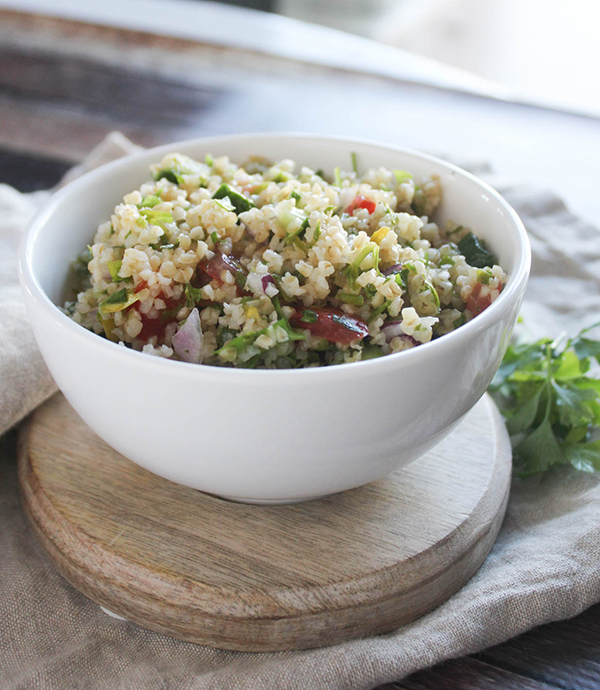 If you Like this Recipe, You will Love These Salads