We have a list of 5 entrees and two side dishes for dinner inspiration this week. As always, they are easy and made with minimal ingredients and delicious!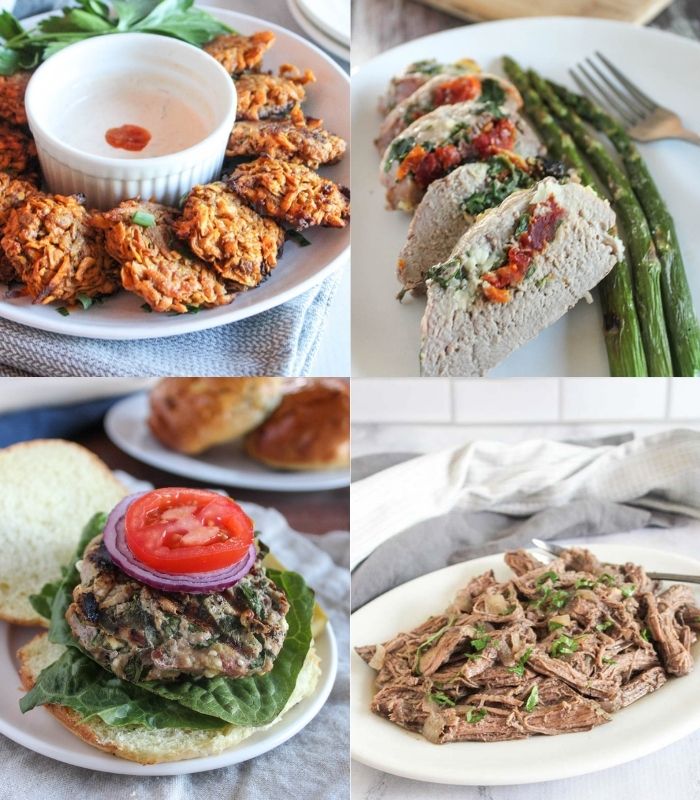 Tips For Meal Prepping and Using Leftovers
To save time, make your buffalo chicken egg rolls in a bowl. Instead of rolling each egg roll, add the filling to the bowl and toast a few egg roll wappers in the oven. Crumble the toasted egg roll wrappers and sprinkle the on top of the bowl.
Slow cooked tri tip roast can be served many different ways. Double the recipe and serve it with mashed potatoes one night and in a sandwich another night.
Make a double batch of turkey burgers and freeze the extra burgers before cooking them.
Turn the sweet potato fritters into an entree by adding black beans, instructions are in the recipe.
Add grilled chicken to the arugula salad for a dinner salad.
Healthy Snack Ideas
Make carrots and celery an easy-to-grab snack. Prepare three to four days' worth of carrot & celery sticks in advance and store them in a glass container with cold water for maximum freshness.
Roll peeled banana chunks in toasted coconut, cocoa powder, peanut butter, mini chocolate chips or chocolate sprinkles for a healthy sweet treat.
Make Your Meal Planning Easy!
To make your meal planning easy, I put together a meal planning sheet and a shopping list which you can grab below.
Save Your Recipes
Did you know that you can bookmark and save your favorite recipes on Simple and Savory? Just click on the share icon on the bottom right screen on the recipe post.
To find the recipes that you bookmarked, simply click on the heart or share icon and your saved recipes will appear along with a search bar!