We have a list of 5 dinner ideas ranging from grilled pork chops to homemade sausage and more. They are all easy, and delicious!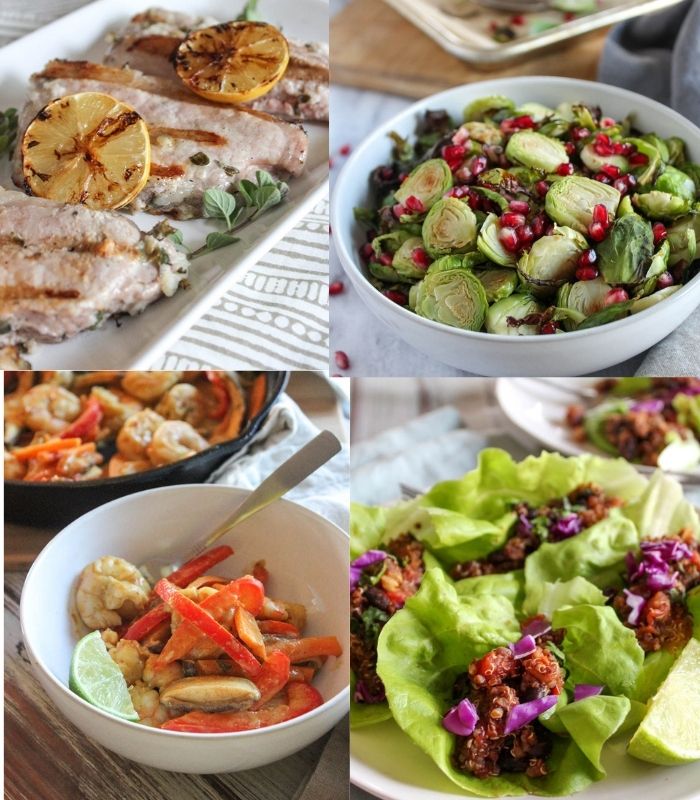 Tips For Meal Prepping and Using Leftovers
Double up on the filling for the taco lettuce wraps and use it up during the week in salads or wraps- it also freezes well!
Double up on the turkey meatballs and freeze half of them before adding the gravy (instructions are on the recipe page).
Homemade sausage also freezes well, and makes great sandwiches or a side with eggs.
Thai shrimp curry is delicious and super easy to make. If you can't find Kevin's sauce, Trader Joe's has a great selection of curry sauces too.
How to Measure Fruits and Vegetables for Recipes
Following a recipe is not always straightforward. For example, if it states "one cup of diced carrots" then you want to dice them first and measure out one cup. If it calls for one carrot diced, then it wants you to dice up one carrot. Most recipes are pretty forgiving though, so don't stress too much on the perfect amount.
Make Your Meal Planning Easy!
To make your meal planning easy, I put together a meal planning sheet and a shopping list which you can grab below.
Save Your Recipes
Did you know that you can bookmark and save your favorite recipes on Simple and Savory? Just click on the share icon on the bottom right screen on the recipe post.
To find the recipes that you bookmarked, simply click on the heart or share icon and your saved recipes will appear along with a search bar!