This week's quick, easy and healthy meals are recipes that you can make extra and use up during the week. I've also included a vegetable sandwich which can be served for lunch or a light dinner. As always these recipes are plain and simple and can be used for lunch or dinner.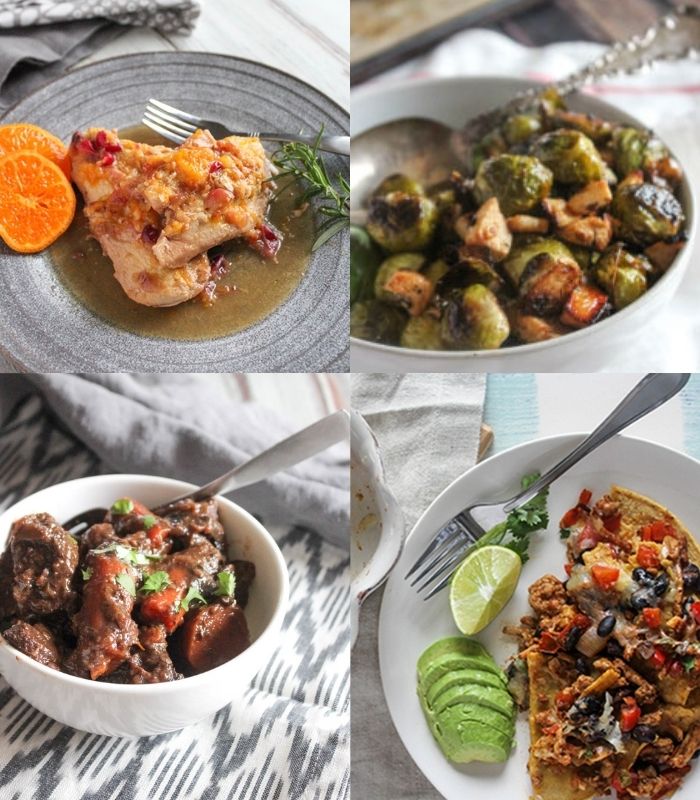 Meal Prep & Leftover Tips
The beef stew takes a little more prep time, so make it on the weekend, and use the leftovers during the week. This stew tastes great with a side of balsamic roasted brussels sprouts.
Orange chicken is made in the slow cooker, and just perfect for a weekenight dinner.
Clean and prep the vegetables for all of the recipes early in the week and store them in the fridge in separate containers so they are ready to use when you are cooking.
The southwest chicken casserole is one that you can make a double batch of and freeze one for another night. See the instructions in the post.
Easy No Recipe Side Dish - Stir Fried Vegetables
Stir-fried vegetables are a quick and easy side dish option, or you can serve them over noodles or rice for a quick dinner!
Here's how to make them. Add your favorite vegetables to a hot skillet with oil (good choices of veggies are peppers, mushrooms, onions, carrots, snow peas, broccoli). Stir fry until they are crisp-tender. Season them at the end of cooking with a splash of tamari or soy sauce or your favorite sauce.
Tip! The secret to stir-frying is to have the pan very hot and add the vegetables cut into similar-sized pieces so that they cook evenly.
Make Your Meal Planning Easy!
To make your meal planning easy, I put together a meal planning sheet and a shopping list which you can grab below.
Save Your Recipes
Did you know that you can bookmark and save your favorite recipes on Simple and Savory? Just click on the share icon on the bottom right screen on the recipe post.
To find the recipes that you bookmarked, simply click on the heart or share icon and your saved recipes will appear along with a search bar!
Join our Facebook Group Make it Healthy, Keep it Simple for kitchen tips!