A fresh and tasty salad that is perfect for the summer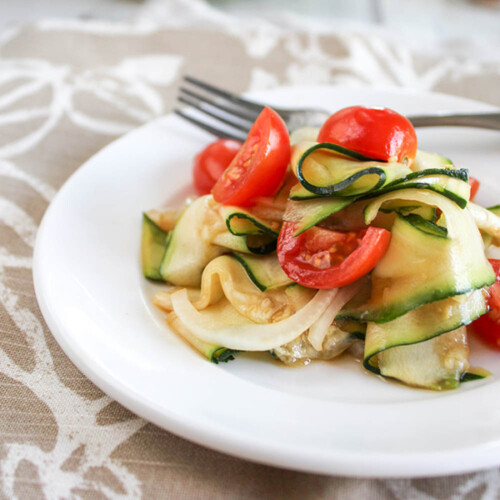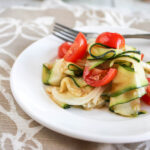 This Asian zucchini ribbons salad is the perfect summer dish. The light and refreshing dressing is soaked up beautifully by the tender zucchini and creates a delicious mix of flavors when combined with the fresh tomatoes.
This salad is guaranteed not to disappoint!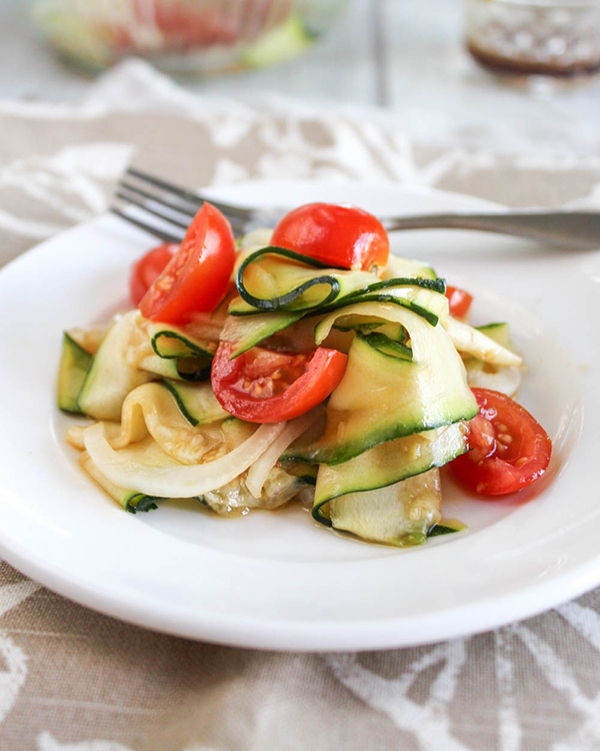 I always like having some fresh produce around so that I can create recipes with just about anything we want. That's how this zucchini ribbon salad recipe and my peach arugula salad came to be.
Here is What You Will Need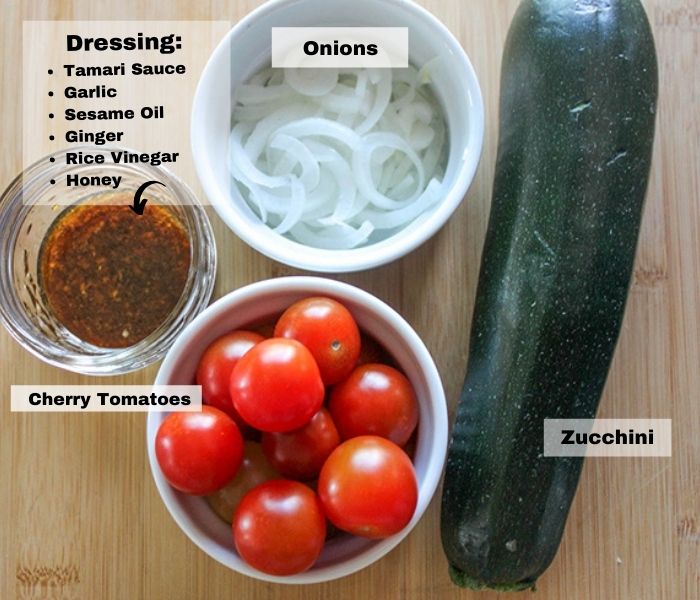 ---
Ingredients
Zucchini
Onion
Cherry tomatoes
Sesame oil
Honey
Fresh ginger
Fresh garlic
Optional ingredients: sesame seeds, red pepper flakes, fresh herbs
Equipment
Here is How To Make Zucchini Ribbons Salad
Prepare the Ingredients: Rinse and dry the zucchini and tomatoes. Mix up the dressing ingredients in a small bowl or mason jar.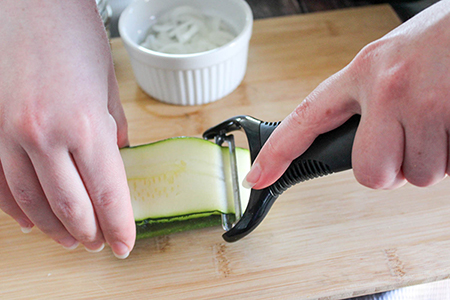 Step 1. Make the zucchini ribbons
Use a Y-vegetable peeler to cut thin ribbons of zucchini and place the strips in a medium bowl.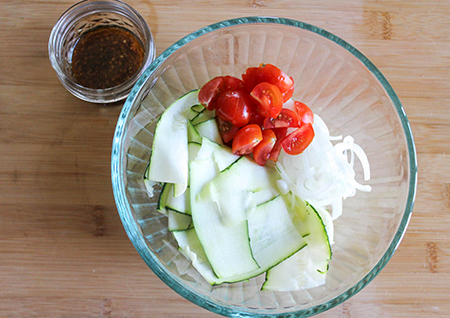 Step 2. Add onions and tomatoes
Slice the onions into thin slices and the cherry tomatoes in half. Place them into the bowl with the zucchini strips.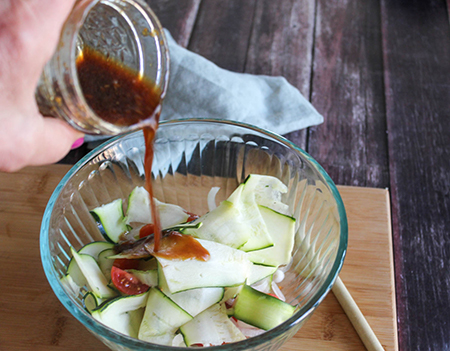 Step 3. Add the dressing
Shake up the dressing and pour it over the salad.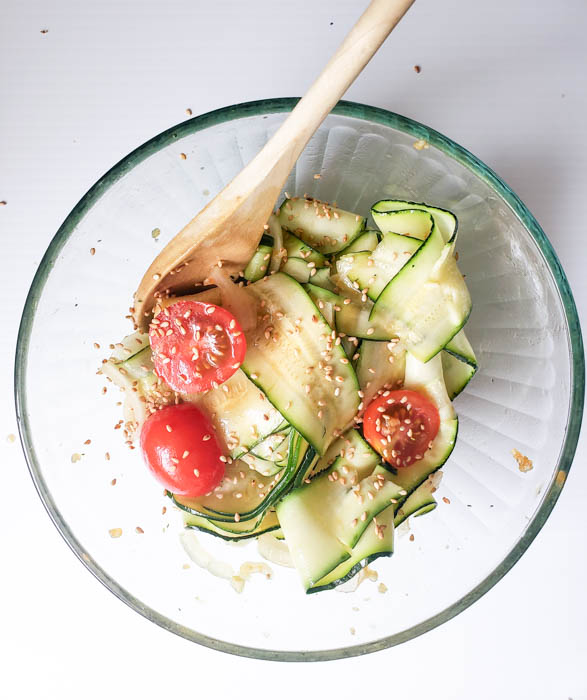 Step 4. Stir in sesame seeds
Mix everything together; sprinkle the salad with sesame seeds.
Ingredient Notes & Substitutions
Zucchini. Look for small to medium zucchini with dark green vibrant skin to make this salad. The smaller zucchini is more tender with a softer texture and smaller seeds; perfect for making zucchini ribbons.
Substitute zucchini with ribbons of yellow summer squash or cucumber ribbons.
Onions. All-purpose, sweet or red onions work in this recipe. My preference is sweet for the flavor that they add to the salad.
Cherry tomatoes. Cherry or grape tomatoes work well in this salad. Cherry and grape tomatoes are bite-sized and sweet tasting.
Substitute cherry tomatoes with quarters of plum tomatoes.
Tamari sauce. Is a Japanese soy fermented soy sauce that it typically gluten-free and has a more robust flavor.
Substitute tamari sauce with an equal amount of soy sauce or coconut aminos.
Rice vinegar is a lighter-tasting vinegar and can easily be substituted one for one with white wine vinegar.
Honey. Adds a touch of sweetness and can be substituted with an equal amount of maple syrup or brown rice syrup.
Fresh ginger adds a vibrant flavor to this recipe. I like to keep ginger root in my freezer and use a small grater to shred it.
Substitute fresh ginger with ⅛ teaspoon of ginger powder.
Fresh Garlic. Brings all of the flavors together in this zucchini salad.
Substitute fresh garlic with ¼ teaspoon garlic powder.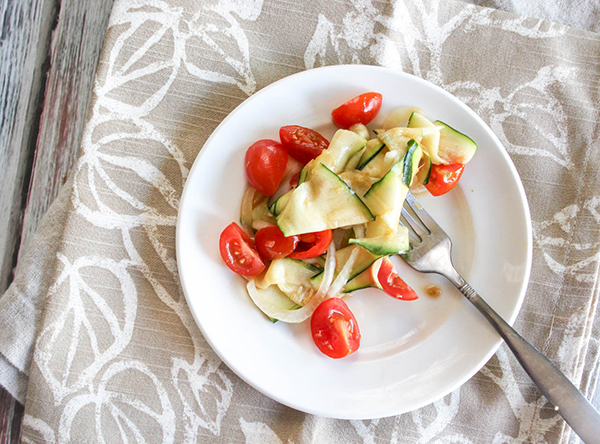 Serving Suggestions
This refreshing salad tastes great with any grilled seafood or meat. We like to serve it with grilled chicken breast, pork, or cilantro lime shrimp.
Make-Ahead Instructions
This salad tastes best when it's made fresh. It can, however, be prepared partially ahead of time by mixing the dressing and slicing the zucchini ribbons, onions, and tomatoes.
Store all of the ingredients separately in the refrigerator and put it all together just before serving.
Storing Leftovers
Store leftover zucchini ribbons salad in the refrigerator in an airtight container for up to 2 days.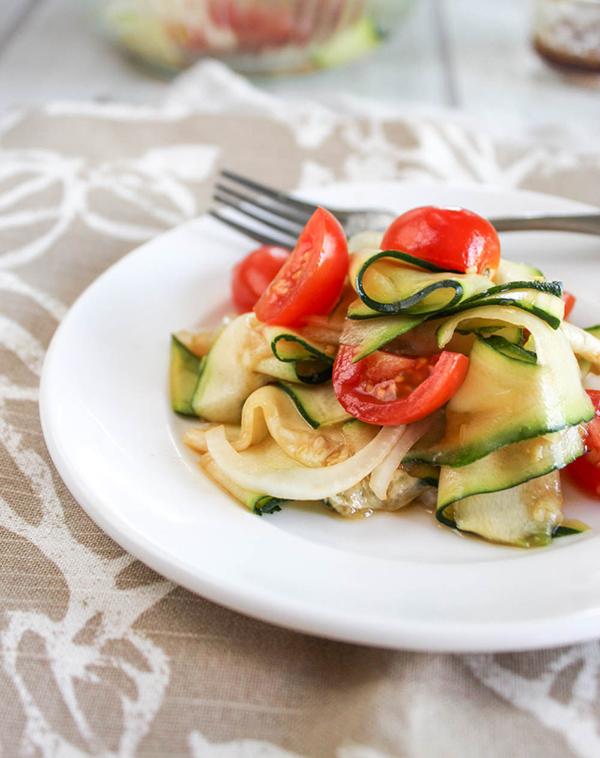 Recipe Variations
Cooked Zucchini Ribbon Salad. Grill the ribbons quickly by brushing them with olive oil and placing them on the grill for about 2 minutes on each side before adding them to the salad.
Spice it Up. Add one to two teaspoons of hot pepper flakes to the dressing.
Mediterranean Zucchini Ribbon Salad. Add a handful of sliced fresh basil and chunks of mozzarella or feta cheese. Dress the salad with a combination of 1 tablespoon fresh lemon juice, 2 tablespoons olive oil, ½ teaspoon honey, and a clove of crushed garlic.
Tips
You can use a spiralizer with a slicing blade attachment to make ribbon noodles.
Zucchini has a high moisture content, if zucchini ribbons are made ahead of time, you may need to blot them dry before adding the dressing.
Is raw zucchini healthy?
Yes! Zucchini is healthy and full of antioxidants, vitamins, and minerals. When it is eaten raw, the nutrients will stay intact, and when it is cooked some of the nutrients may be lost during the cooking process.
Can you make zucchini ribbons with a knife?
You can use a sharp knife to make zucchini ribbons, but they will not be as thin and easy to make. A vegetable peeler is the easiest way to make them.
You might also like these healthy recipes
📖 Recipe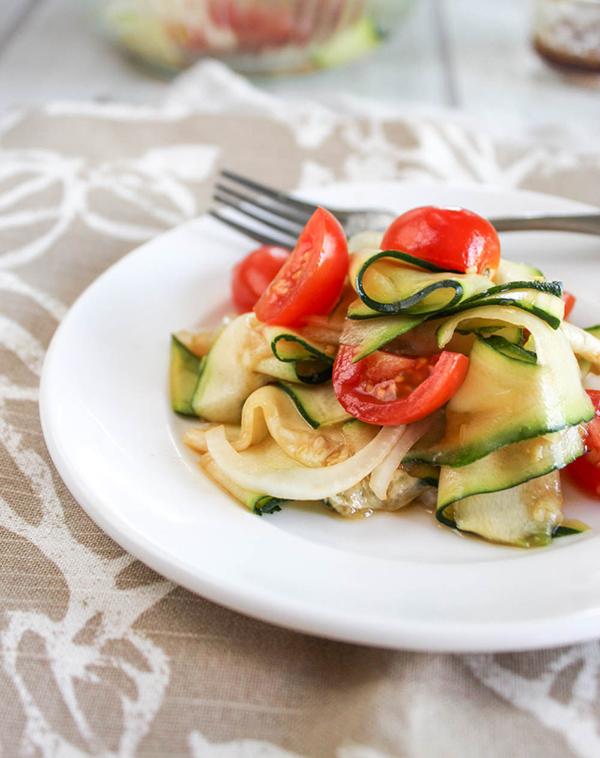 Click on serving size to scale this recipe
Ingredients
2

small zucchini

1

small onion sliced thin

15 to 20

cherry tomatoes cut into halves or quarters
Instructions
Notes
Recipe Variations
Replace the zucchini ribbons with cucumbers or use a combination of both
Grill the zucchini ribbons: brush them with olive oil and place them on a grill for about 2 minutes one each side.
Add 1 to 2 teaspoons of hot pepper flakes to teh dressing
Sprinkle the salad with toasted sesame seeds and fresh cilantro, parsley or basil.
Nutrition
Serving:
1
|
Calories:
122
kcal
|
Carbohydrates:
13
g
|
Protein:
3
g
|
Fat:
7
g
|
Saturated Fat:
1
g
|
Polyunsaturated Fat:
6
g
|
Sodium:
511
mg
|
Fiber:
2
g
|
Sugar:
9
g
Nutrition information provided is an estimate and can vary based on cooking methods and ingredients used
Check out more of our salad recipes here!