Charcuterie boards are very customizable. Use these ingredients to make your board or make your own creation with these suggestions.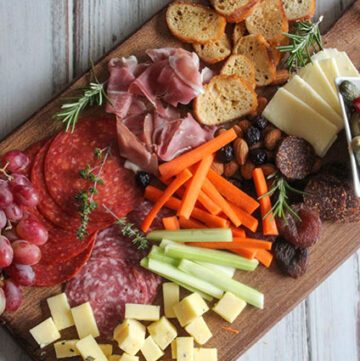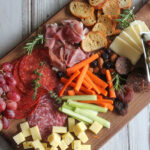 Charcuterie Boards (pronounced shaar-koo-tuh-ree) are fun to eat and the perfect appetizer for entertaining. Here are some tips to help you make a healthy charcuterie board that everyone will love.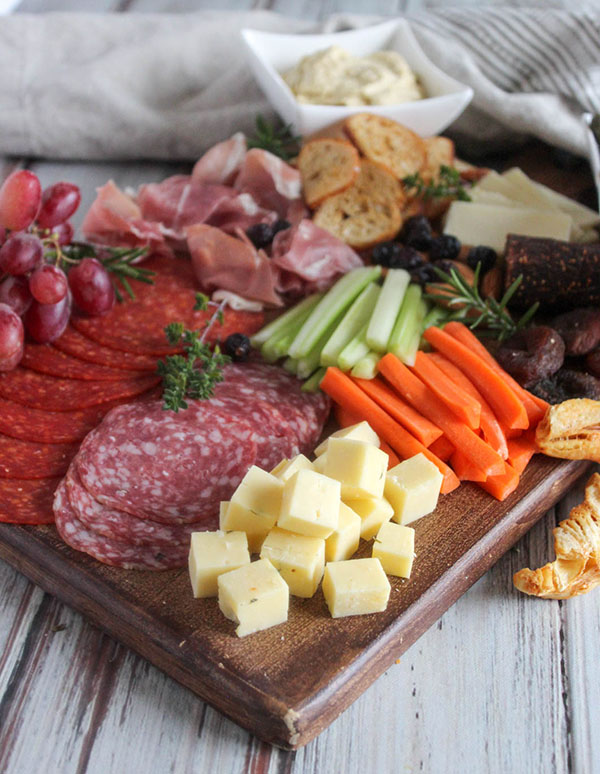 Healthy Charcuterie - an Easy Appetizer or Dinner
Don't you just love meat and cheese boards filled with all kinds of bite-sized goodies that you can mix and match while sipping on a glass of wine?
I know I could help empty a meat and cheese tray for dinner along with a big bowl of salad and be completely happy.
Who doesn't love appetizers for dinner?
Charcuterie boards are typically filled with processed meats and cheeses can be a little bit unhealthy.
Here are some easy tips to enjoy a charcuterie board made with healthy options.
What you will need
This is an overview of the ingredients and steps to make this recipe; scroll down for a printable recipe card with exact measurements and detailed instructions.
As an Amazon Associate, I earn from qualifying purchases.
🛒Ingredients
Deli meats, uncured meats or artisanal meats
Variety of cheeses
Fresh fruits and vegetables
Pickled or brined foods
Nuts
Whole grains crackers, or minimally processed crackers
Dips and spreads such as hummus
🥄Equipment
Good charcuterie board or a large cutting board
Small plates
Small bowls
Cheese knives
Small Forks and spoons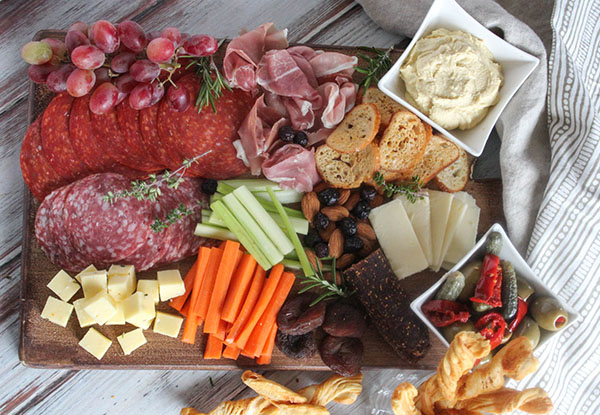 How to Build a Healthy Charcuterie Board
There are no set ingredients when it comes to making a healthy charcuterie board.
The key is to fill it up with a balance of quality ingredients like nitrate-free meats, artisan cheeses, veggies, and fruits.
Grab a board. It can be made of wood slate, marble or a ceramic plate and pile on an assortment of meats, cheeses, and vegetables.
Use a variety of textures and flavors that everyone will enjoy.
The best meat to use on a charcuterie board
Select any variety of your favorite meats with an assortment of flavors and textures. Think salty, smoky, and spicy.
More importantly, choose meats that are free of nitrates and minimally processed, and low in sodium if you are on a low-sodium diet.
If you can't find nitrate-free meats, another great option is artisanal meats that are minimally processed, or check out carnivore club for high-quality artisanal charcuterie products.
Thinly sliced deli meats are a good option if you are looking to cut calories.
Meat used on this board: Naturally cured salami, pepperoni and prosciutto.
I was also able to find fig salami which is a fun addition to a cheeseboard and perfect for vegetarians.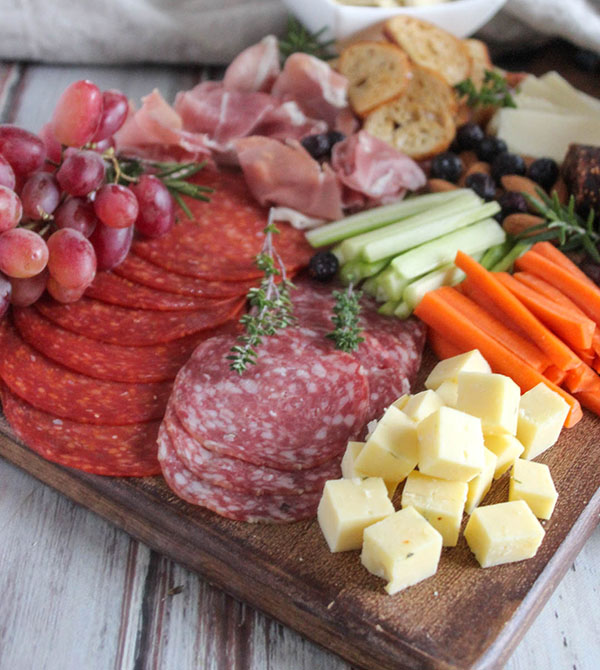 The best type of cheese for charcuterie
Any variety of cheeses with a combination of flavor and textures.
Soft cheeses such as brie cheese, goat cheese, blue cheese or camembert cheese are good choices as well as hard cheeses such as sharp cheddar cheese, Parmesan cheese, gouda cheese, and swiss cheese.
Spreadable cheeses are also a great addition to a charcuterie board.
The cheese used on this board: sharp cheddar with herbs, mild cheddar
Fresh seasonal vegetables
Freshly cut vegetables that are in season will brighten up any board with their refreshing flavors and vibrant colors.
Celery and baby carrots are always a great idea, and so are cherry tomatoes, bell peppers, roasted peppers, hot peppers, cucumber slices, cauliflower, and broccoli.
Vegetables used: carrot and celery sticks
Try a grilled vegetarian charcuterie board or a falafel platter for some more healthy board options!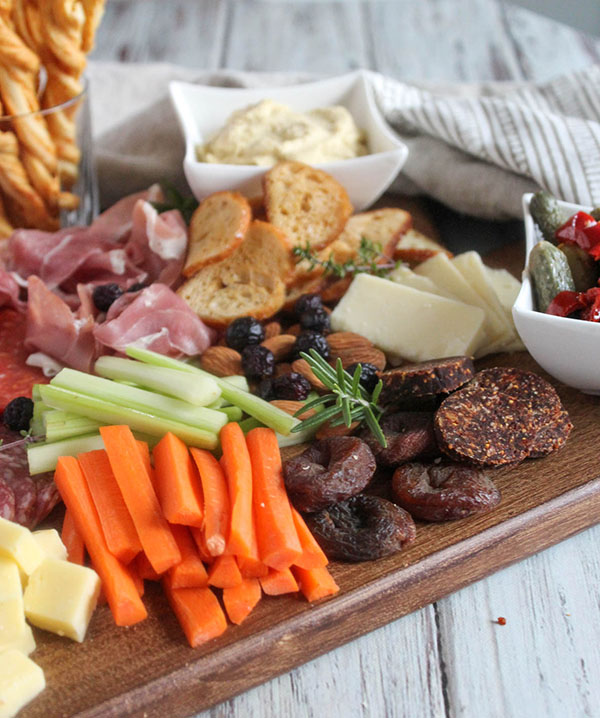 Fresh Fruit and Dried Fruit
The sweetness of seasonal fruits balances out the saltiness in the meats and cheeses and makes a nice contrast in both taste and appearance. Depending on the season fresh-cut fruit will add a pop of color to your board.
Once again, different flavors and textures play well together.
Here are some seasonal fruit suggestions; in the fall and winter use figs, pears, grapes, or apples.
In the warmer months, fresh berries, cherries, and peaches are healthy additions. Use dried fruit sparingly since it contains more sugar than fresh fruit.
Fruit used on this board: fresh grapes, dried apricots
Pickled or Brined Foods
Think olives, sweet or dill pickles, pickled jalapenos, pepperoncini, marinated artichokes, or any variety of pickled vegetables for a salty piquant flavor. Try making your own pickles and add them to your board too!
Pickled Foods Used: Greek Olive Mix, Hot Pepper Rings, Baby Dill Pickles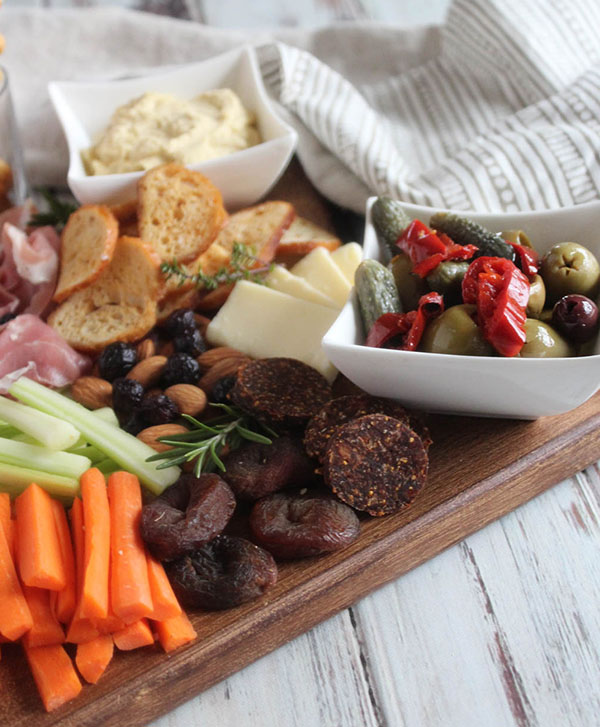 Spreads and Dips
Spreads and dips are a must for dipping those veggies! Healthy dips like hummus, fruit spreads, gourmet mustard, bean dips, guacamole, pizza dip or pate like this mushroom pate.
Spreads and Dips Used: Homemade Hummus
Nuts
Nuts to add some crunch. Use an assortment of raw nuts that are lower in salt and have no added fats. Nuts in the shell can be a fun addition to the board.
You might even find that you eat less nuts when they are in a shell because you can actually see how many nuts you ate from the shells.
These Maple Glazed Cashews or Sweet and Spicy Pecans also taste great on a charcuterie board, they are slightly sweet and crunchy.
Nuts Used on this Board: Almonds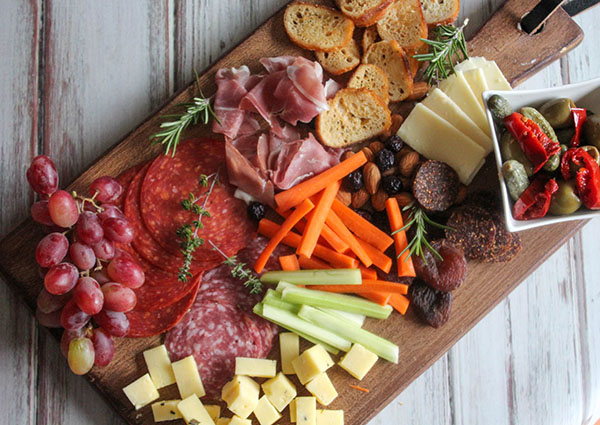 Bread and Crackers
Any kind will do, my recommendation is whole wheat crackers, French baguette slices, sourdough bread, breadsticks, crostini, or plain and simple crackers.
Don't forget the gluten-free crackers for your guests with gluten intolerance.
Bread and Crackers Used: Crostini and Cheese sticks
Add These to Your Meat and Cheese Board
Are you too tired to cook dinner?
If you're feeling uninspired when it's time to cook dinner, this free guide will help you make a quick and healthy dinner with ingredients you have in your kitchen.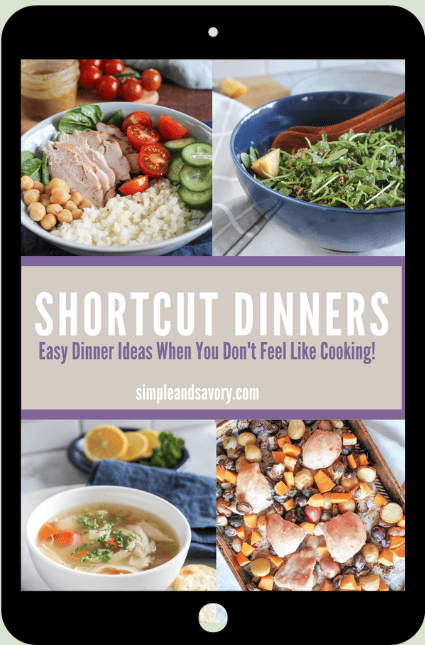 Serving Suggestions
Even though charcuterie boards are almost a meal by themselves, make it a full meal by serving your board with an arugula salad, chopped salad, spinach salad, cilantro lime shrimp, or grilled chicken.
Healthy charcuterie board tips and questions
When setting the charcuterie board up, for sanitary reasons, don't overcrowd it and make items easily accessible.
Avoid overeating, and don't eat off of the board, instead grab a small plate and add your favorite items.
Can a charcuterie board be healthy?
Yes, it can be healthy when you fill it up with healthy ingredients. Go heavy on plant-based foods such as hummus, fresh veggies, olives, and fruit (fresh or dried). Add lesser amounts of minimally processed or unprocessed meats and cheeses.
Are healthy charcuterie boards low in calories?
Not always. Low-calorie and healthy foods don't always go hand in hand. Some foods that are low in calories are not healthy and vice versa.

If you are looking for a healthy and low-calorie board, stay away from fatty meats and cheeses and fill your board up with vegetables and other plant-based ingredients.
Do you like this recipe?
Please comment and give it a ⭐⭐⭐⭐⭐ rating below!
📖 Recipe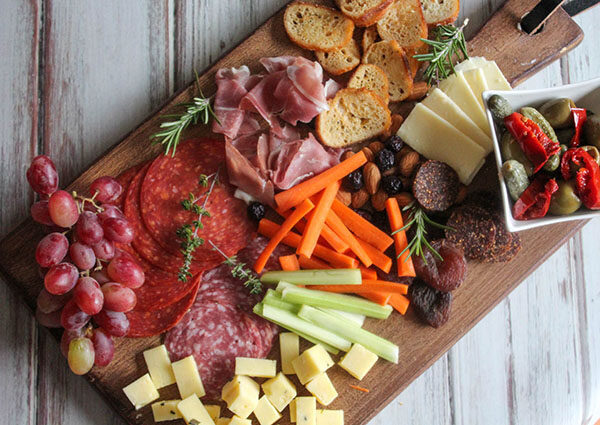 Click on serving size to scale this recipe
Instructions
Place all of the ingredients onto a board or platter and enjoy!

8 ounces thinly sliced meats,

2 Carrots,

2 stalks Celery,

½ cup hummus,

½ cup [Assorted Greek Olives],

½ cup [Baby Dill Pickles],

½ cup [Dried Apricots],

8 ounces Grapes,

8 ounces [Fig Salami],

8 ounces cheese,

8 ounces crackers,

1 cup Assorted Nuts

The amount of items on the board depends on how many people you will be serving. The ingredient amounts above are for four servings. One to two slices of meat per person, and a few pieces of cheese.
Notes
The amount of items on the board depends on how many people you will be serving. One to two slices of meat per person, and a few pieces of cheese.
Since there are no set amounts or set ingredients to make a charcuterie board, the calorie count can vary widely depending on what you use on your board.
Please Note: This board as shown is not low in calories. Healthy and low-calorie are not synonymous, some healthy foods contain a high amount of calories, and some not-so-healthy foods contain a low amount of calories.
For a lower-calorie board, use more vegetables and less meat and cheese.
Nutrition
Serving:
2
ounces meat & cheese
|
Calories:
717
kcal
|
Carbohydrates:
77
g
|
Protein:
21
g
|
Fat:
39
g
|
Saturated Fat:
9
g
|
Polyunsaturated Fat:
10
g
|
Monounsaturated Fat:
18
g
|
Trans Fat:
0.4
g
|
Cholesterol:
31
mg
|
Sodium:
1766
mg
|
Potassium:
1153
mg
|
Fiber:
11
g
|
Sugar:
36
g
|
Vitamin A:
4101
IU
|
Vitamin C:
4
mg
|
Calcium:
242
mg
|
Iron:
5
mg
Nutrition information provided is an estimate and can vary based on cooking methods and ingredients used
Check out more of our appetizer recipes here!