Mortar and pestle guacamole is made with fresh and simple ingredients that are combined using a mortar and pestle. Each ingredient blends perfectly together to create the best creamy and delicious mortar and pestle guacamole recipe ever. Once you make guacamole this way, it will be the only way you will ever make it.
This recipe was originally posted in 2017. It's been updated for pictures and content.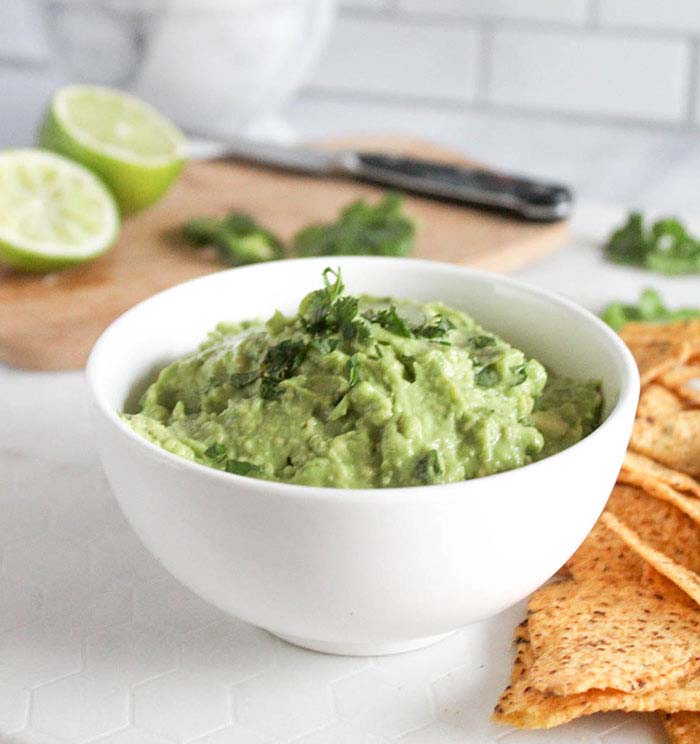 If you love homemade dips like this fresh and delicious mortar and pestle guac, try our garden salsa or salsa verde too.
Why This Recipe Works
It's a simple guacamole recipe, the mortar and pestle is the best way to make homemade guacamole for both taste and simplicity.
All that's needed are a few simple and fresh ingredients
It's a delicious dip that's also healthy!
Here Is What You Will Need to Make Mortar and Pestle Guacamole
As an Amazon Associate, I earn from qualifying purchases
This is an overview of the ingredients and steps to make this recipe. Scroll down for a printable recipe card with exact measurements and instructions.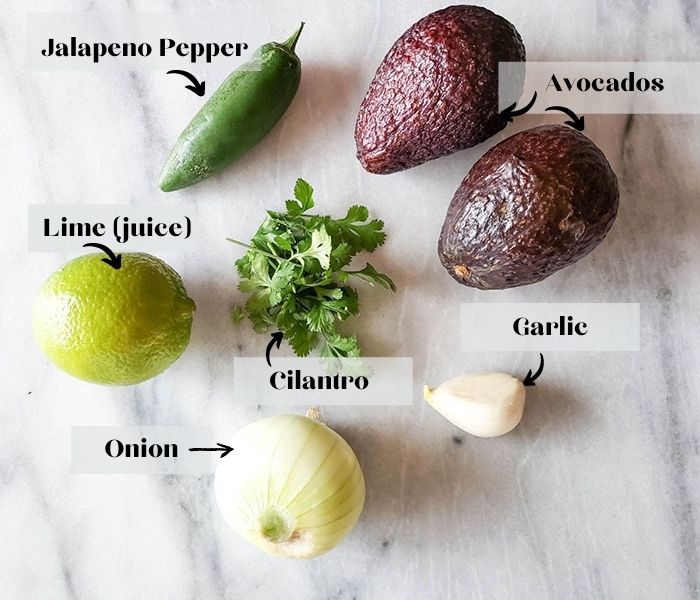 Fresh Ingredients List
Ripe Avocados
Garlic
Cilantro
Lime Juice
Jalapeno Peppers
Onions
Kitchen Tools Needed
Here is How to Make Guacamole with a Mortar and Pestle
Prepare: Gather the ingredients, cut the avocados in half, chop the garlic, jalapeno pepper, and cilantro. Squeeze the lime juice.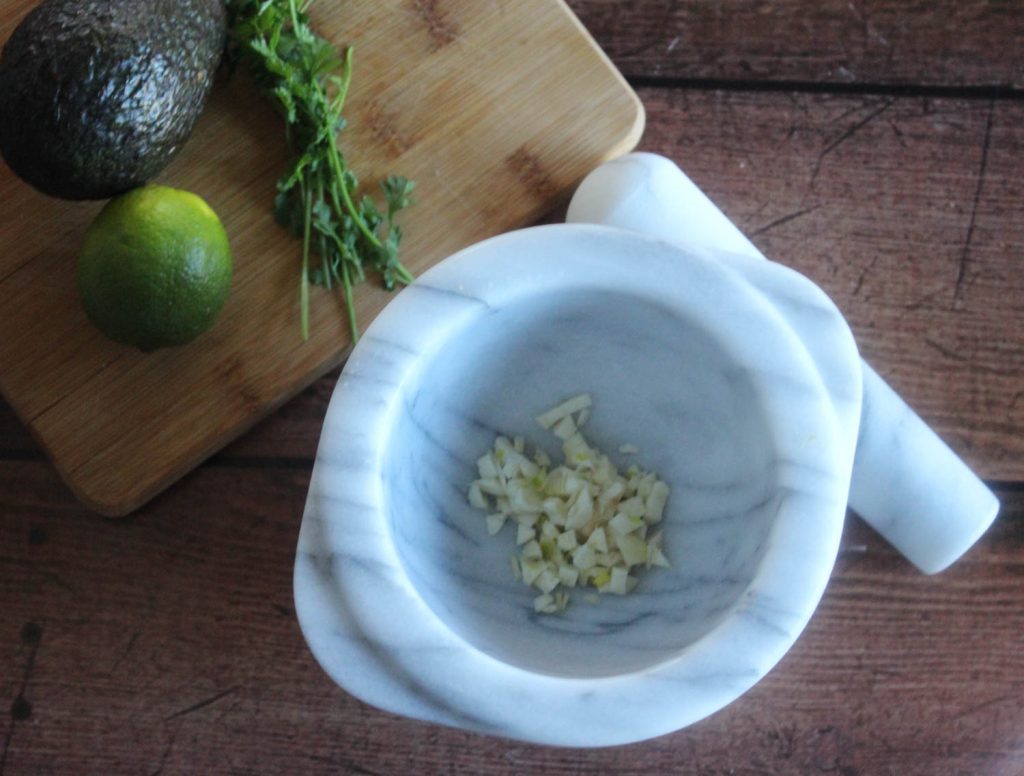 Step 1. Smash the Garlic
Place the garlic & onion into the mortar bowl and use the pestle to smash the chopped ingredients.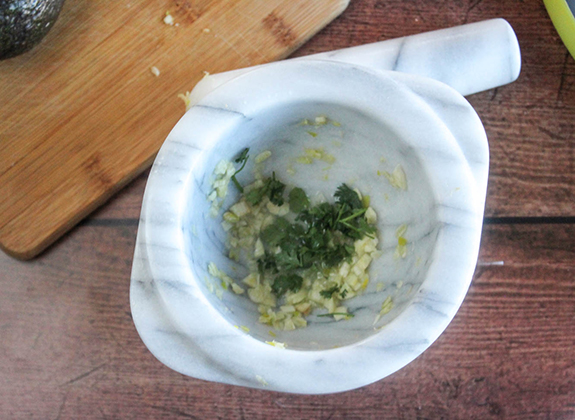 Step 2. Add the Cilantro and Lime Juice
Add the chopped cilantro and lime juice to the bowl.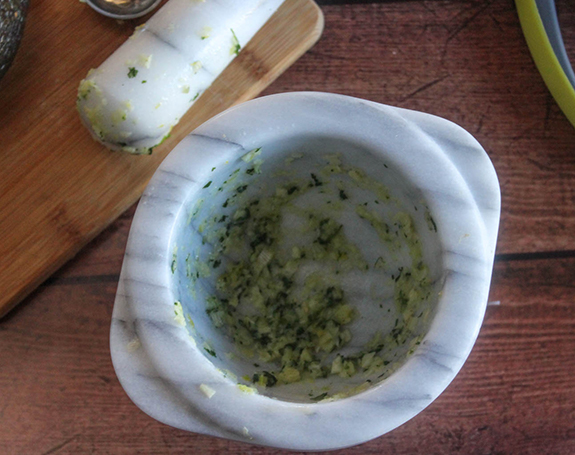 Step 3. Mash the Garlic, Cilantro & Onions
Use the pestle to mash the garlic and onions until a chunky and coarse paste forms.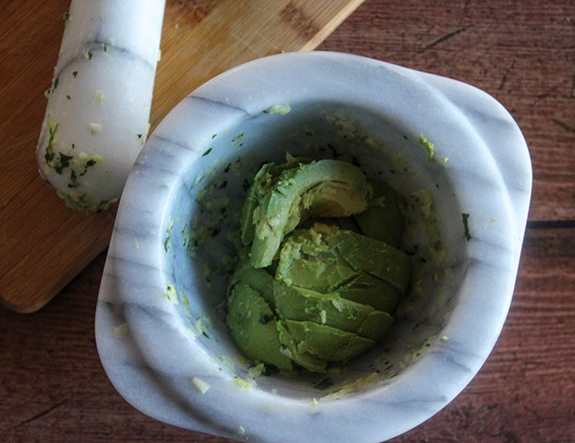 Step 4. Add the Avocado & Jalapenos
Scoop the avocado out of its skin and place it into the bowl along with the diced jalapeno peppers. Use the pestle to mash it into the garlic/cilantro paste in the bowl.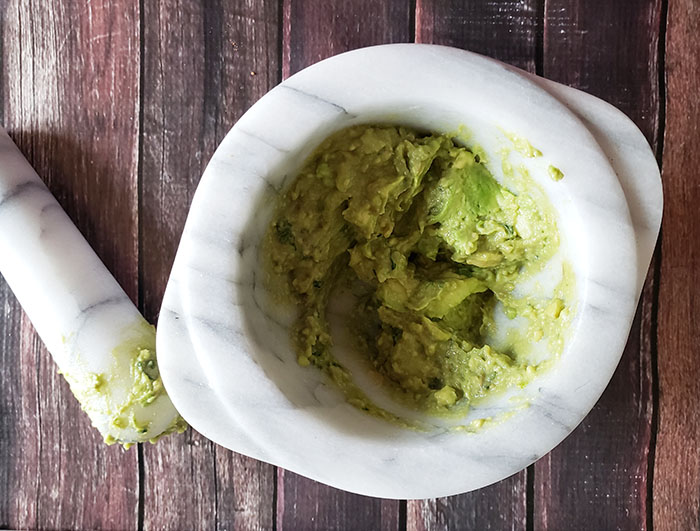 Step 5. Enjoy
Mash the guacamole to a texture that you like. Less mashing will make a chunky guac.
Homemade Guacamole Recipe Ingredient Notes & Substitutions
Avocados - The best avocados to use for the perfect guacamole is a fully ripe avocado. Look for avocados that have some give to them when you squeeze them. If they are firm, it will be difficult to mash them.
Garlic - All of the ingredients are fresh in this recipe, and fresh chopped garlic adds incredible flavor when it's smashed.
If you don't have fresh garlic, you can use minced garlic in a jar, but keep in mind the flavor won't be as fresh.
Onion - Any type of onion will work in this recipe. We usually use yellow onion or red onion to make homemade guacamole.
Onions can be left out of this recipe or substituted with ¼ teaspoon of onion powder mixed in when you add the avocados.
Fresh Lime Juice - Adds a refreshing burst of flavor to the guacamole, it can be substituted with an equal amount of lemon juice.
Fresh Cilantro - Adds more flavor, but if you don't like cilantro, you can leave it out.
Jalapeno Pepper (optional) - Jalapeno peppers can be substituted with a teaspoon or two (to taste) of diced poblano peppers or they can be left out completely for a mild guac.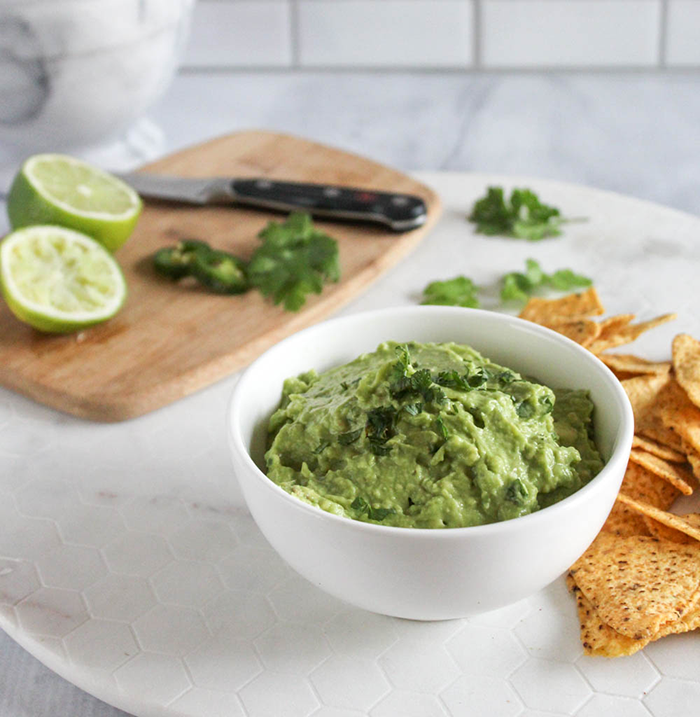 Serving Suggestions
Serve homemade guacamole as a dip with corn tortilla chips or plantain chips in zucchini roll-ups, with tacos, nachos, chili, or any way that you choose to enjoy guacamole!
Tip! Add a pinch of sea salt when serving it as a dip.
How to Store Guacamole
Since avocados oxidize and turn brown after being exposed to the air, fresh guacamole is best when it's enjoyed shortly after it has been made. There are several suggestions online for storing guac and avocados to keep them from turning brown, some work for a short time, and most don't.
I recommend making a batch of guacamole at a time use it up shortly after it's been made. You can always make more as needed because it's that easy to make.
If you do have leftovers, don't toss it! Try stirring in a little bit of lemon juice which will help to keep your guacamole green, or you can smooth out the guac and add a little bit of warm water to the surface of the guacamole before covering it with plastic.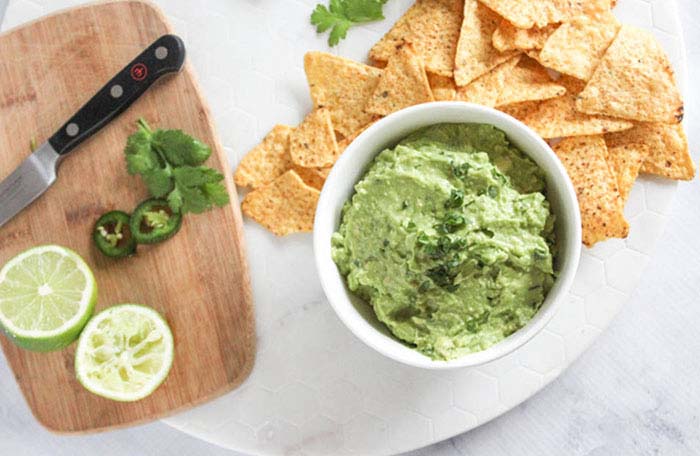 Recipe Variations
Guacamole with tomaotes. Add a ¼ cup of diced tomatoes to the bowl when you add the avocados.
Roasted jalapeno guacamole. Instead of a fresh jalapeno pepper, use a roasted jalapeno. Brush a jalepeno pepper with olive oil and roast it in a 400 degree oven for 10 to15 minutes until it begins to soften and turn brown. Once it cools off, chop it up and add it to the guacamole.
Cheese guacamole. Add 2 to 3 tablespoons of crumbled goat, feta or cotija cheese to the guacamole before serving.
Salsa guacamole. Add a few tablespoons of your favorite salsa to the gauacamole.
I don't have a mortar and pestle, can I still make homemade guacamole?
Yes, you can. Homemade guacamole is so easy to make! Use the back of a fork, potato masher, or food processor to mash the guacamole ingredients.
You Might Also Like These Homemade Dip Recipes
If you like this recipe, please comment and rate it below!
For more simple and delicious recipes like this, subscribe to our newsletter and receive a free e-book and meal suggestions straight in your inbox!