Quick guacamole stands up to its name, it can be made in a matter of minutes with fresh ingredients, food processor not required.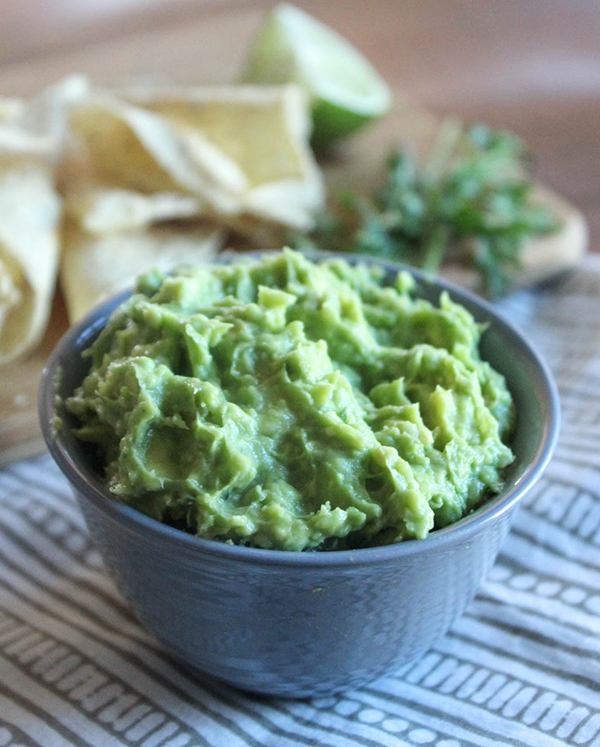 This recipe was originally posted in 2017. I've updated the pictures and included instructions to make guacamole using a mortar and pestle.
As an Amazon Associate, I earn from qualifying purchases
Guacamole has to be one of the EASIEST dips to make. All that's needed are a few fresh ingredients and a fork or potato masher to mash the avocados. You can also make guacamole using a mortar and pestle to combine the ingredients for a super flavorful guacamole. Instructions for both methods are included.
Serve fresh guacamole with chips, on top of a burger or a bowl of chili.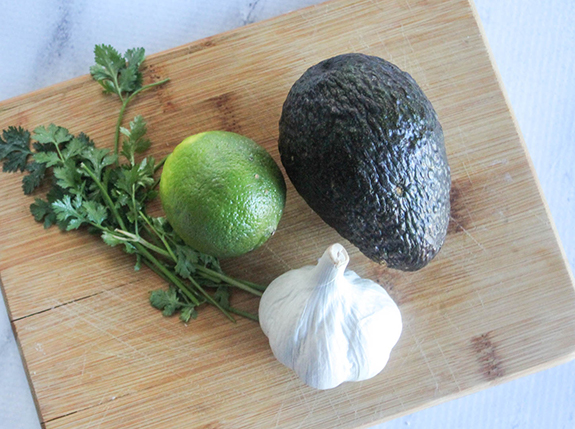 Here is what you will need to make this recipe
Avocados – The best guacamole is made with perfectly ripened avocados. Use avocados that have some give to them when you squeeze them. If they are firm, it will be difficult to mash them.
Onion – Yellow or Bermuda onions taste best in fresh guacamole.
Garlic – All of the ingredients are fresh in this recipe, and fresh chopped garlic adds incredible flavor to homemade guacamole. If you don't have fresh garlic, substitute ½ teaspoon of garlic powder for each clove of garlic.
Fresh Lime Juice – Brightens up the flavor of the guacamole.
Fresh Cilantro – Brings all of the flavors together. If you don't like cilantro, you can leave it out.
Jalapeno Pepper (optional) – We love hot food, and we also enjoy the taste of guacamole without jalapenos.
Here's How to Make Guacamole using a Mortar and Pestle
Place the garlic & onions into the mortar (bowl) and use the pestle to mash them up.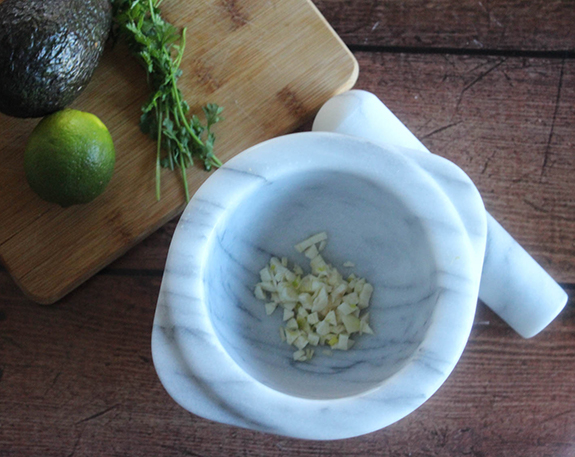 Add the chopped cilantro and lime juice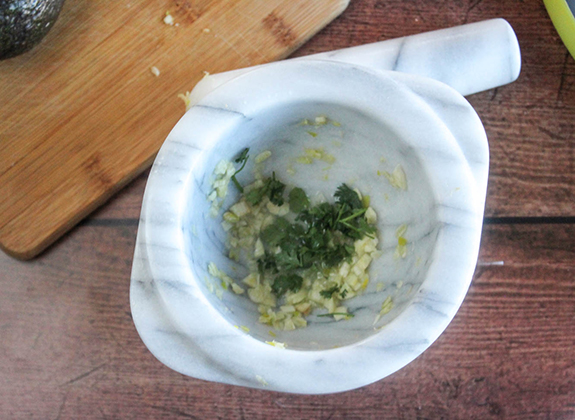 Mash the ingredients into a chunky paste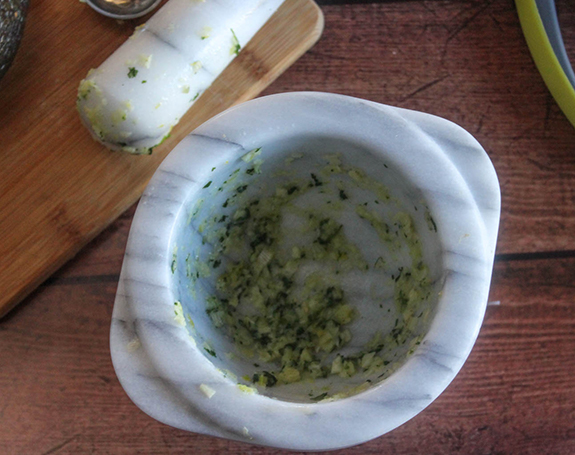 Next, place the avocado into the bowl along with the peppers if you are using them and mash all of the ingredients together.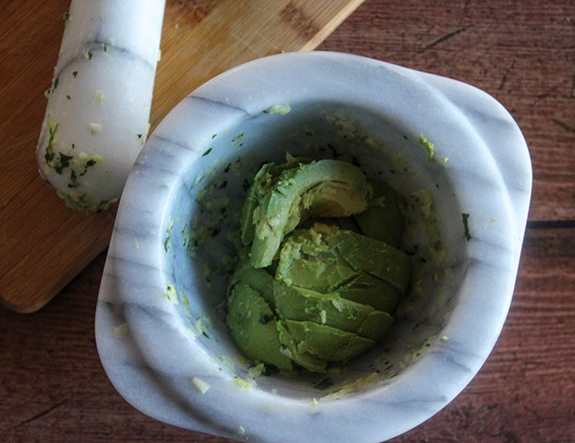 Here's How to Make Guacamole using a Fork or Spoon to Mash the Avocados
When making guacamole using the fork method, the avocados are added first to the bowl and they are mashed. If you are making a big batch of guac, you can also use a potato masher for this.
Once the avocados are completely mashed up, add the cilantro and jalapeno pepper if you are using them and mash them all together into a texture that you prefer. Last, add the lime juice and stir.
Checkout the video in the recipe card to see step by step instructions for this method.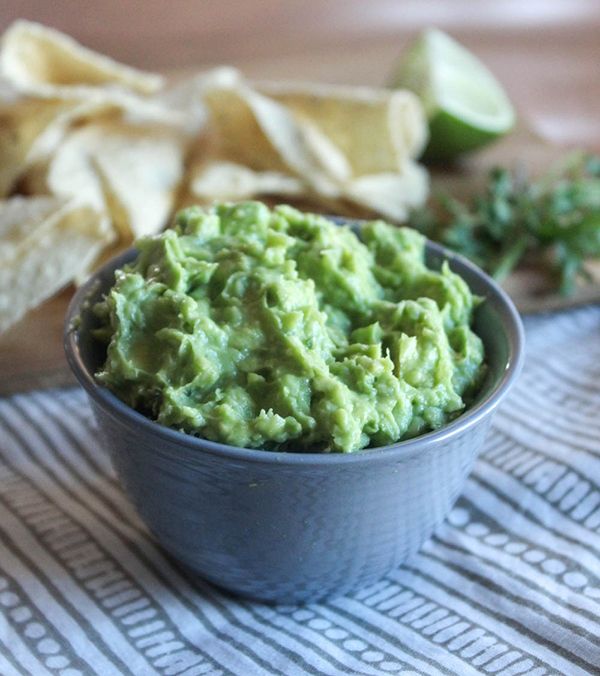 Recipe Tips & Variations
Guacamole Storage Tip! Avocados do not last long once the air gets to them, they quickly turn brown. If you have leftover guacamole stir in a little bit of lemon juice before refrigerating it in a refrigerator food storage container. It will stay bright green for at least a day.
If you prefer creamy guacamole, add small amounts of water until it reaches a consistency you like.
Change it up! Add a few tablespoons of goat cheese, feta cheese, bacon, diced tomatoes, diced tomatillos, or salsa verde to your guacamole.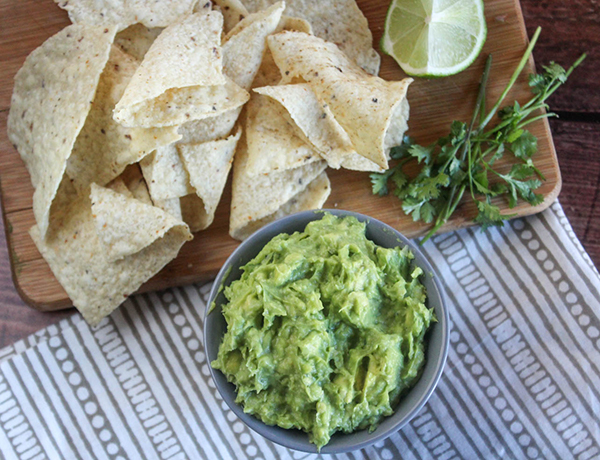 You Might Also Like These Dips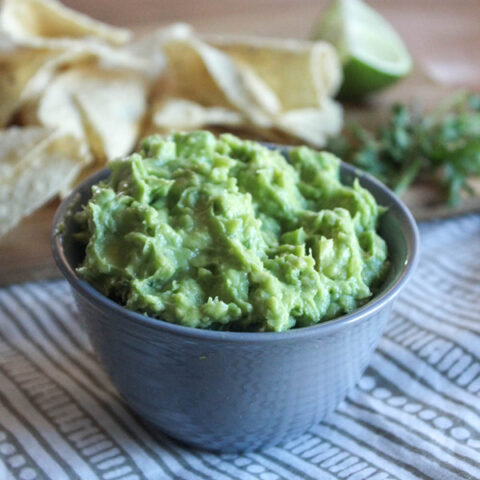 Five Ingredient Guacamole
Quick and easy guacamole with only six ingredients. It's naturally gluten-free, vegetarian and vegan.
Ingredients
2 ripe avocados
2 cloves garlic
1 ½ tablespoons chopped onions
1 tablespoon fresh lime juice
2 tablespoons chopped fresh cilantro
Up to 1 diced jalapeno pepper - optional
Instructions
Fork Method
Prepare the ingredients: cut the avocados in half and remove the pits, crush the garlic, squeeze the lime juice, chop the cilantro and mince the onions
using a spoon, scoop the flesh out of the avocado and place it into a bowl and mash with a fork
add the crushed garlic, lime juice, pepper and cilantro and mix well
serve immediately If there are leftovers, stir in a splash of lemon juice to the guacamole.
Mortar and Pestle Method
Prepare the ingredients: rough chop the onions, garlic and cilantro. Squeeze the lime juice, slice open the avocados and remove the pits.
Place the garlic and onions into the mortar (bowl) and mash it using the pestle
Add the cilantro and lime juice and continue to mash until a paste forms
Scoop out the flesh of the avocado and place it & the jalapenos if you are using them into the pestle and continue to mash it until the guacamole reaches a consistency that you like.
Nutrition Information:
Yield:

4
Serving Size:

¼ to ½ cup
Amount Per Serving:
Calories:

168
Total Fat:

15g
Saturated Fat:

2g
Trans Fat:

0g
Unsaturated Fat:

12g
Cholesterol:

0mg
Sodium:

8mg
Carbohydrates:

10g
Fiber:

7g
Sugar:

1g
Protein:

2g
Nutrition information is provided by an online calculator and is meant to be used for informational purposes only. Even though I try to provide accurate information, these figures should still be considered as estimates.