Sweet potato hummus is an earthy, slightly sweet and creamy blend of hummus. It is just perfect for dipping, and it's gluten-free and vegan.
Hummus is one of our favorite dips, and there are so many ways to make it; classic hummus, beet hummus, snickerdoodle hummus, and of course sweet potato hummus. The only difference between sweet potato hummus and classic hummus is the addition of roasted sweet potatoes. The combination of sweet and tangy together adds a new dimension to the flavor that you will love.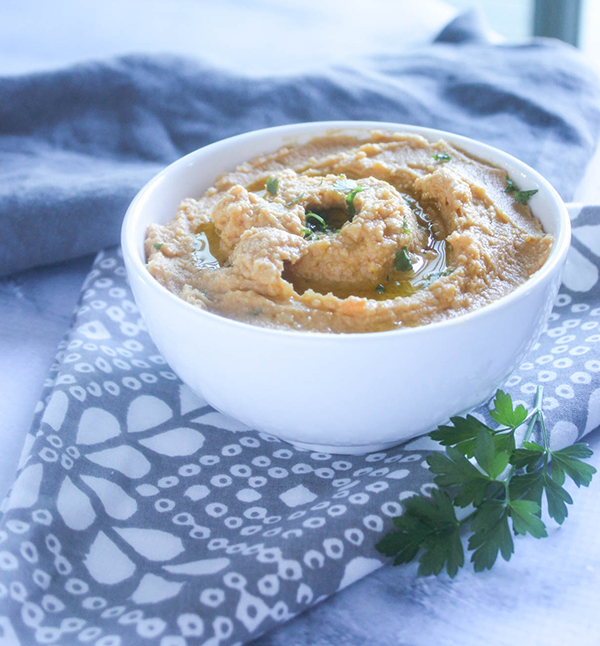 Recipe Highlights
This sweet potato hummus recipe is so easy to make with just a few simple ingredients.
It's extra healthy thanks to the nutritious and delicious sweet potatoes.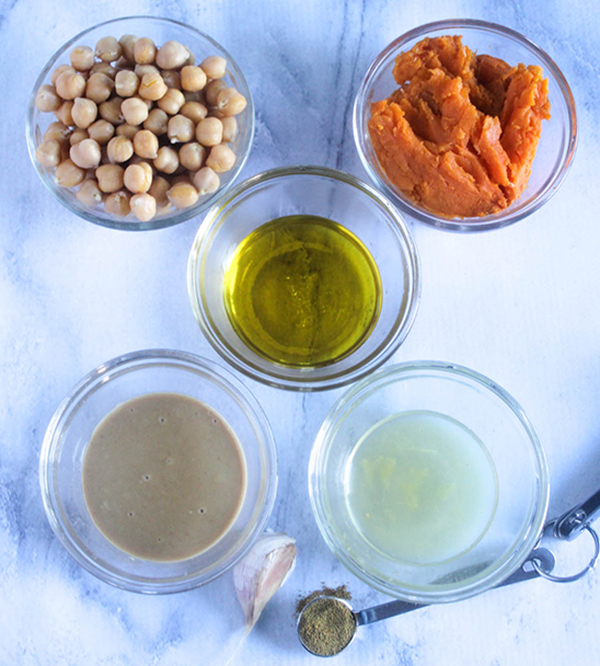 What you Will Need
As an Amazon Associate, I earn from qualifying purchases
Sweet potatoes
Chickpeas - Canned or dried and cooked will work
Tahini Paste
Garlic
Ground Cumin
Fresh Lemon Juice
Extra Virgin Olive Oil
Water
Food Processor
Total Estimated Time to Make This Recipe: 60 to 90 minutes (this includes sweet potato roasting time)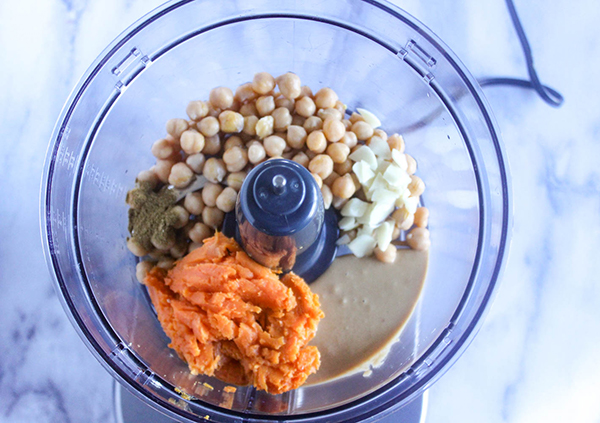 How to make Sweet Potato Hummus
There are only a few simple steps needed to make hummus, and the most time-consuming part is baking the sweet potatoes which can be done ahead of time. Here is how what you need to do:
Bake the Sweet Potatoes: wash, and pierce the sweet potatoes with a fork. Place them in the oven on the rack or a baking sheet and roast them.
Once they are cooked, they should be soft, remove them from the oven and let them cool off until they are easy to handle.
Cut the sweet potaotes in half and scoop out the flesh and place it in a food processor bowl along with the other ingredients.
Blend until creamy.
What to serve with Sweet Potato Hummus
Cut up fresh raw vegetables such as celery, carrots, bell peppers, or cauliflower,
Baked pita chips or soft pita bread.
Smear it on bread instead of mayonnaise or mustard in sandwiches
Spread it on bagels
Add a tablespoon to equal parts of oil and vinegar for salad dressing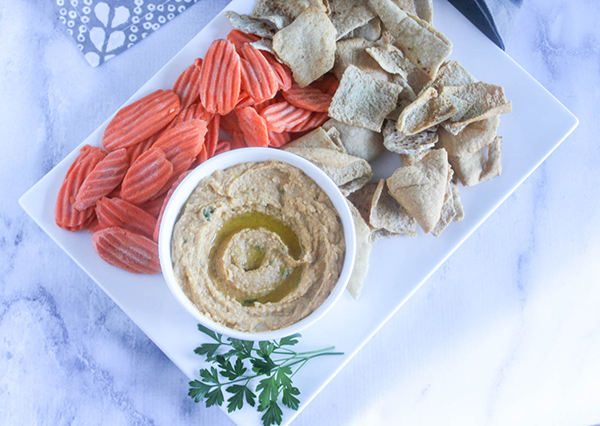 Recipe Variations and Tips
Prep Tip - Bake the sweet potatoes up to three days ahead of time.
Hummus without cumin - If ground cumin is too strong for your taste, you can leave it out.
Substitute white beans for the chickpeas for creamier hummus.
Make sweet potato hummus without chickpeas - leave out the chickpeas and add 2 more baked sweet potatoes.
Make it spicy - Add ½ to 1 teaspoon of cayenne pepper.
Add a teaspoon of cinnamon or ¼ teaspoon of nutmeg or both for a fall-flavored sweet potato hummus.
How to Store It
Store your sweet potato hummus in the refrigerator for up to 5 days in an air-tight container. Freezing is not recommended.
If your hummus seems dry, after storing it, add a few teaspoons of water one at a time stirring in between spoonfuls until the hummus reaches a texture that you like.
Try These Hummus Recipes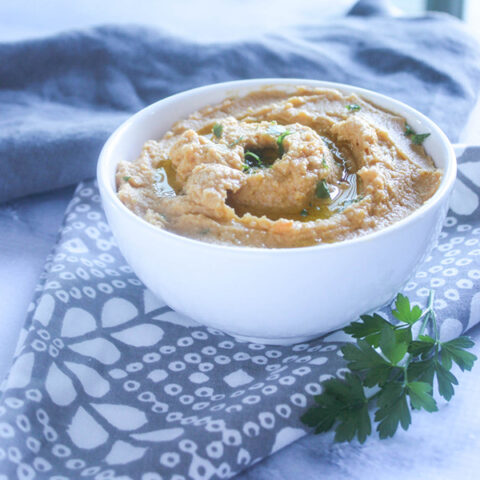 Sweet Potato Hummus
Sweet potato hummus is delicious savory, yet sweet.It is just perfect for dipping and it's gluten-free and vegan.
Ingredients
2 medium sized sweet potatoes
1 ½ cups cooked chickpeas or canned and drained
¼ cup tahini paste
1 clove fresh garlic
½ teaspoon ground cumin
2 tablespoons fresh lemon juice
¼ cup olive oil approximately
¼ cup water
Instructions
Pre-heat the oven to 400
Pierce two sweet potatoes with a fork and place them into the oven directly on the center rack or on a baking sheet and bake them for 45 minutes until they become soft. Tip: You may want to put a layer of foil on the rack below the sweet potatoes to catch any drippings and protect the bottom of the oven.
Once the baked sweet potatoes have finished cooking and are cool enough to handle, slice them in half, scoop out the pulp and place it in a food processor,
Next add the remaining ingredients except the water to the food processor: 1 ½ cups of chickpeas, ¼ cup of tahini paste, 1 clove of chopped garlic, ½ teaspoon ground cumin, 2 tablespoons fresh lemon juice ¼ cup olive oil and blend, gradually adding as your are blending until the hummus is creamy.
Notes
This recipe makes about 2 cups, a serving size is two tablespoons Sweet Potato Hummus Variations
ground cumin is optional, it can be omitted
tahini paste can be left out or substituted with almond or cashew butter
add ½ teaspoon of cayenne pepper for a spicy kick
substitute the chickpeas with white beans
Nutrition Information:
Yield:

16
Serving Size:

2 tbsp
Amount Per Serving:
Calories:

39
Total Fat:

0g
Saturated Fat:

0g
Trans Fat:

0g
Unsaturated Fat:

0g
Cholesterol:

0mg
Sodium:

7mg
Carbohydrates:

7g
Fiber:

2g
Sugar:

2g
Protein:

2g
Nutrition information is provided by an online calculator and is meant to be used for informational purposes only. Even though I try to provide accurate information, these figures should still be considered as estimates.