Sweet potato hummus is an earthy, slightly sweet and creamy blend of hummus. It is just perfect for dipping, and it's gluten-free and vegan.
Hummus is one of our favorite dips, and there are so many ways to make it; classic hummus, beet hummus, snickerdoodle hummus, and of course sweet potato hummus. The only difference between sweet potato hummus and classic hummus is the addition of roasted sweet potatoes. The combination of sweet and tangy together adds a new dimension to the flavor that you will love.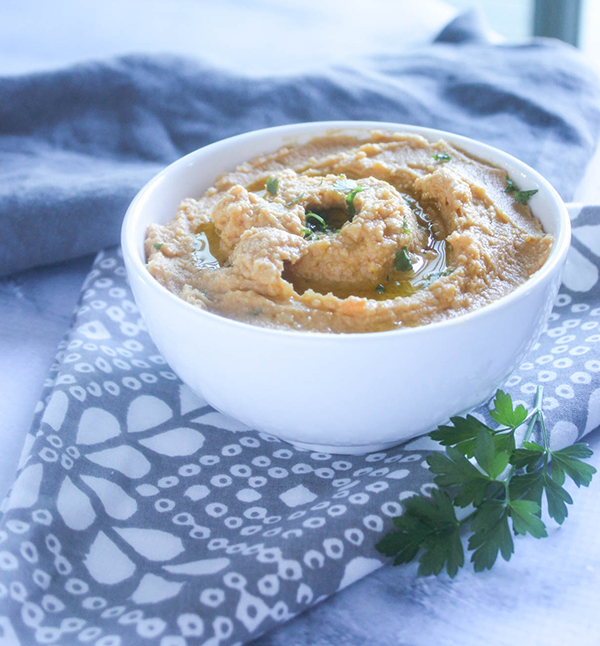 Recipe Highlights
This sweet potato hummus recipe is so easy to make with just a few simple ingredients.
It's extra healthy thanks to the nutritious and delicious sweet potatoes.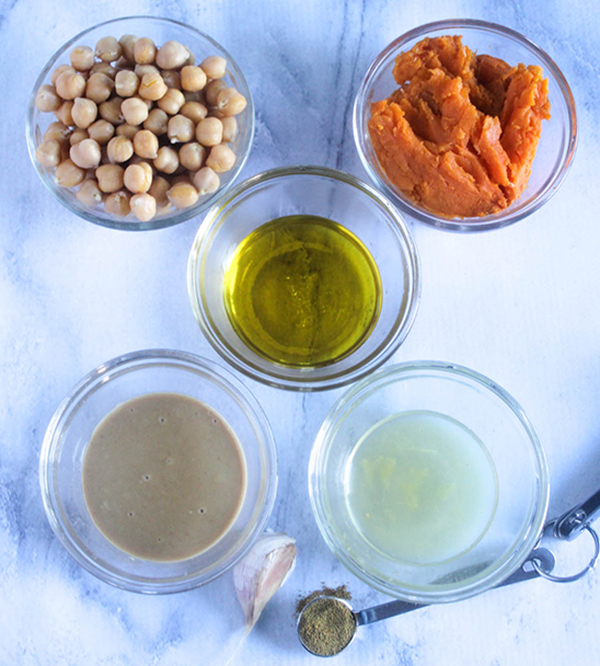 What you Will Need
As an Amazon Associate, I earn from qualifying purchases
This is an overview of the ingredients and steps to make this recipe, scroll down for a printable recipe card with exact measurements and instructions.
Sweet potatoes
Chickpeas - Canned or dried and cooked will work
Tahini Paste
Garlic
Ground Cumin
Fresh Lemon Juice
Extra Virgin Olive Oil
Water
Food Processor
Total Estimated Time to Make This Recipe: 60 to 90 minutes (this includes sweet potato roasting time)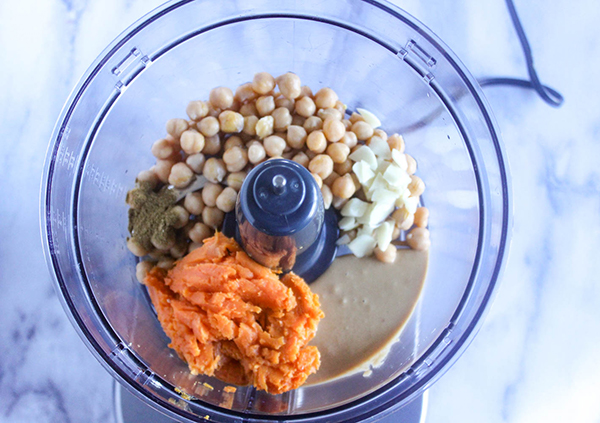 How to make Sweet Potato Hummus
There are only a few simple steps needed to make hummus, and the most time-consuming part is baking the sweet potatoes which can be done ahead of time. Here is how what you need to do:
Bake the Sweet Potatoes: wash, and pierce the sweet potatoes with a fork. Place them in the oven on the rack or a baking sheet and roast them.
Once they are cooked, they should be soft, remove them from the oven and let them cool off until they are easy to handle.
Cut the sweet potaotes in half and scoop out the flesh and place it in a food processor bowl along with the other ingredients.
Blend until creamy.
What to serve with Sweet Potato Hummus
Cut up fresh raw vegetables such as celery, carrots, bell peppers, or cauliflower,
Baked pita chips or soft pita bread.
Smear it on bread instead of mayonnaise or mustard in sandwiches
Spread it on bagels
Add a tablespoon to equal parts of oil and vinegar for salad dressing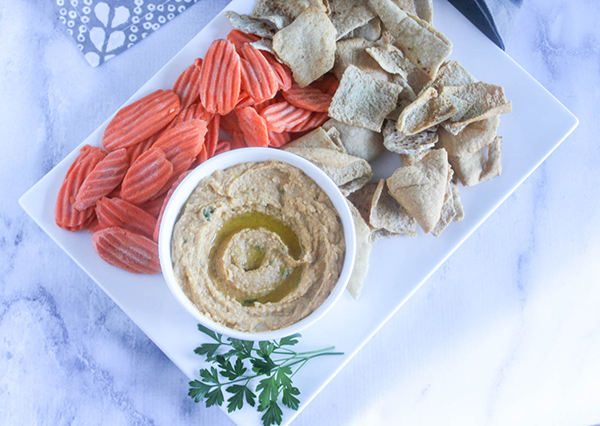 Recipe Variations and Tips
Prep Tip - Bake the sweet potatoes up to three days ahead of time.
Hummus without cumin - If ground cumin is too strong for your taste, you can leave it out.
Substitute white beans for the chickpeas for creamier hummus.
Make sweet potato hummus without chickpeas - leave out the chickpeas and add 2 more baked sweet potatoes.
Make it spicy - Add ½ to 1 teaspoon of cayenne pepper.
Add a teaspoon of cinnamon or ¼ teaspoon of nutmeg or both for a fall-flavored sweet potato hummus.
How to Store It
Store your sweet potato hummus in the refrigerator for up to 5 days in an air-tight container. Freezing is not recommended.
If your hummus seems dry, after storing it, add a few teaspoons of water one at a time stirring in between spoonfuls until the hummus reaches a texture that you like.
Try These Hummus Recipes