Chickpeas are a type of bean that is versatile! You can use them in so many different ways, besides tasting good as they are, they have a texture that can be mashed into a creamy paste to make hummus or they can be ground up into flour.
If you would like to know what chickpeas taste like along with ways to use them, this article is for you!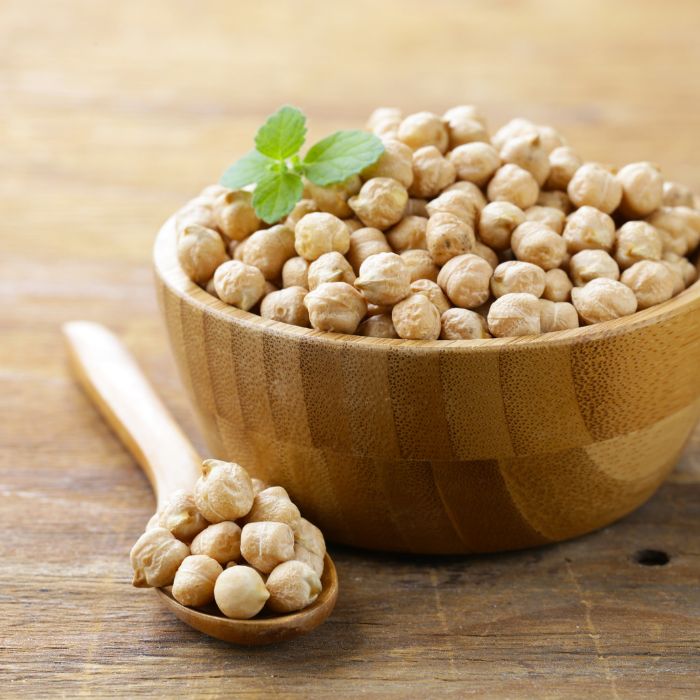 What are chickpeas?
Chickpeas which are known as garbanzo beans are a type of legume, which is the plant family that includes peanuts, kidney beans, soybeans, lentils, and peanuts.
Chickpeas are a good source of protein and are a popular ingredient in many dishes and are often used in Middle Eastern, Indian and Mediterranean cuisines as well as vegetarian and vegan diets.
What do chickpeas look like?
Chickpeas are round beans that are a little bit larger than a pea and typically beige in color. When they are uncooked, they are hard and cannot be eaten mainly because they contain toxins that are removed during the cooking process.
There are other colors of chickpeas (red and green) but beige chickpeas are the most common.
What do chickpeas taste like?
Rather than a classic beany flavor, chickpeas have a mild nutty flavor that's almost bland with a slightly earthy taste.
Since chickpeas have such a mild flavor, their taste can vary slightly depending on how they are cooked and what they are cooked with. If they are cooked in a curry or a stew, they will absorb the flavors of the dish.
If they are used in a sweeter dish, they will have a more subtle sweet flavor and the nutty undertone will be more pronounced.
Are chickpeas healthy?
Chickpeas are considered to be very healthy food. They are filled with essential nutrients and are a great source of fiber, protein, and vitamins.
They are rich in minerals including iron, folate, and magnesium which may support heart healthy by preventing high blood pressure. You can read more about the health benefits of chickpeas on Healthline.com.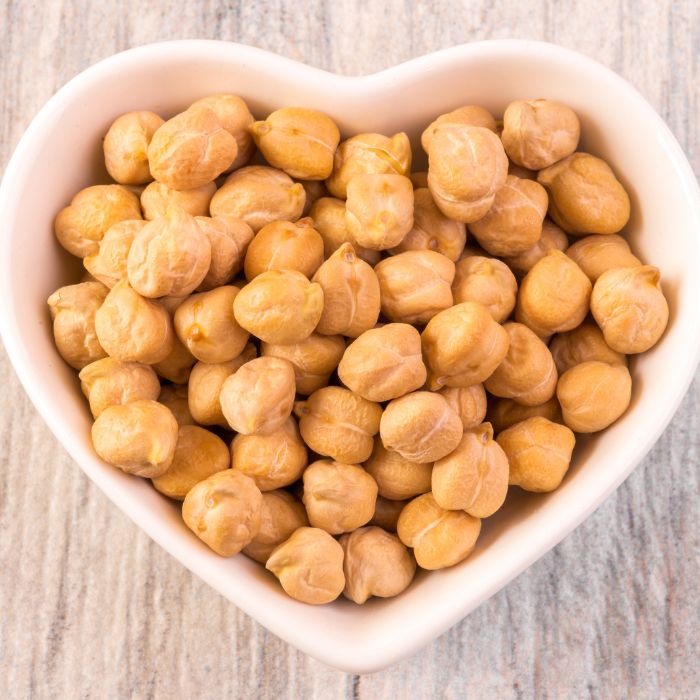 Chickpea Variations
There are two common types of chickpeas which are Desi and Kabuli. Kabuli chickpeas are the most commonly found in the United States. They are large and round with a light color and smooth outer surface.
Desi chickpeas are smaller than Kabuli chickpeas and range in color from tan, speckled, dark brown, or black. They have a rough outer surface and a more earthy flavor than Kabuli chickpeas. Desi chickpeas are most often used in Indian and Middle Eastern cuisine.
How are chickpeas used?
In addition to popular hummus and falafel, chickpeas can be used in a variety of dishes. They are a great addition to soups, curries, stews, and salads for extra flavor, protein, and fiber.
Chickpeas also taste great roasted and seasoned as a snack or ground into flour and used in baked goods such as cookies and desserts. Chickpeas are truly versatile and healthy food that is a nutritious addition to many recipes.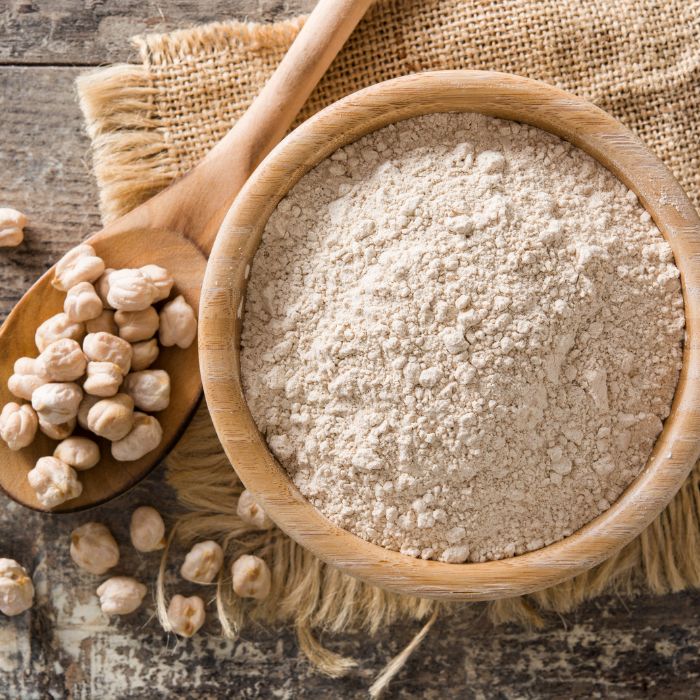 Substitutes for chickpeas
If you have a recipe with chickpeas and need a substitute, there are many options. Some common substitutes for chickpeas include other legumes such as lentils, black beans, cannellini beans (white beans), pinto beans, and kidney beans. All of these legumes are similar in texture and can be interchanged in most chickpea recipes.
Alternatively, you can use mashed or pureed vegetables such as sweet potatoes or butternut squash as a substitute for chickpeas in recipes with a creamy texture such as for hummus or falafel.
Dried vs canned chickpeas which is better?
The main difference between dried and canned chickpeas is the way they are processed. Dry chickpeas are raw chickpeas that have been dried and packaged. They require soaking and cooking before they are consumed. Dried chickpeas are economical, but take time to prepare.
Canned chickpeas have been cooked and preserved through a canning process. They are ready to be eaten straight from the can they do not need to be soaked or cooked before using them. Canned chickpeas are very convenient, but they do cost more than dried chickpeas.
All that needs to be done to enjoy canned chickpeas is to open a can of chickpeas drain them and rinse them to remove any excess sodium.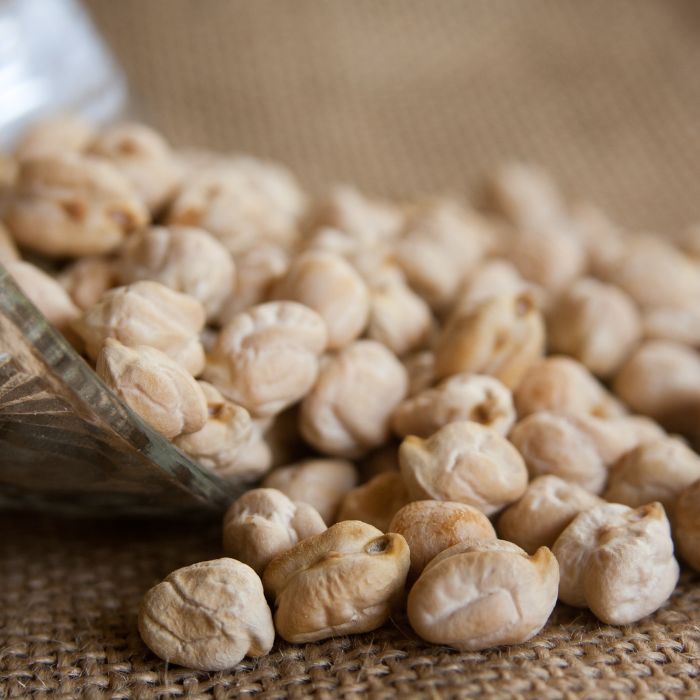 How to cook dried chickpeas
Dried chickpeas can be cooked in a large pot, slow cooker, pressure cooker or Instant Pot.
Before cooking the chickpeas, they need to be rinsed under cold water. Once they have been rinsed, transfer them to an oversized bowl that is large enough to allow for the chickpeas to expand. Cover them with several inches of water and let them soak for several hours or overnight. Rinse them once again under running water.
How to cook dried chickpeas on top of the stove
Transfer the soaked and rinsed chickpeas to a large pot and add enough water to cover the beans. Bring the water to a boil over high heat and then reduce to low heat. Simmer the chickpeas over low heat until they become tender; which should be approximately one hour.
How to cook dried chickpeas in a pressure cooker
Transfer the soaked beans to an instant pot and cover them with water just enough so that they are submerged. Cook on high pressure for 15 minutes, and let the pressure release for 8 to 10 minutes.
How to cook chickpeas in a slow cooker
Add the soaked and rinsed chickpeas to a slow cooker and cover with water. Cover and cook the chickpeas on low for 8 hours or high for 4 hours.
Once the chickpeas are cooked drain them and store them in an airtight container in the refrigerator for up to 3 days.
Note: The cooking time for chickpeas can vary depending on the age of the beans and the desired level of tenderness. If you want the chickpeas to be very soft and creamy, you may need to cook them for longer. It is also a good idea to check the beans periodically during cooking to make sure they are not becoming too soft or mushy.
Foods to serve with OLIVE oil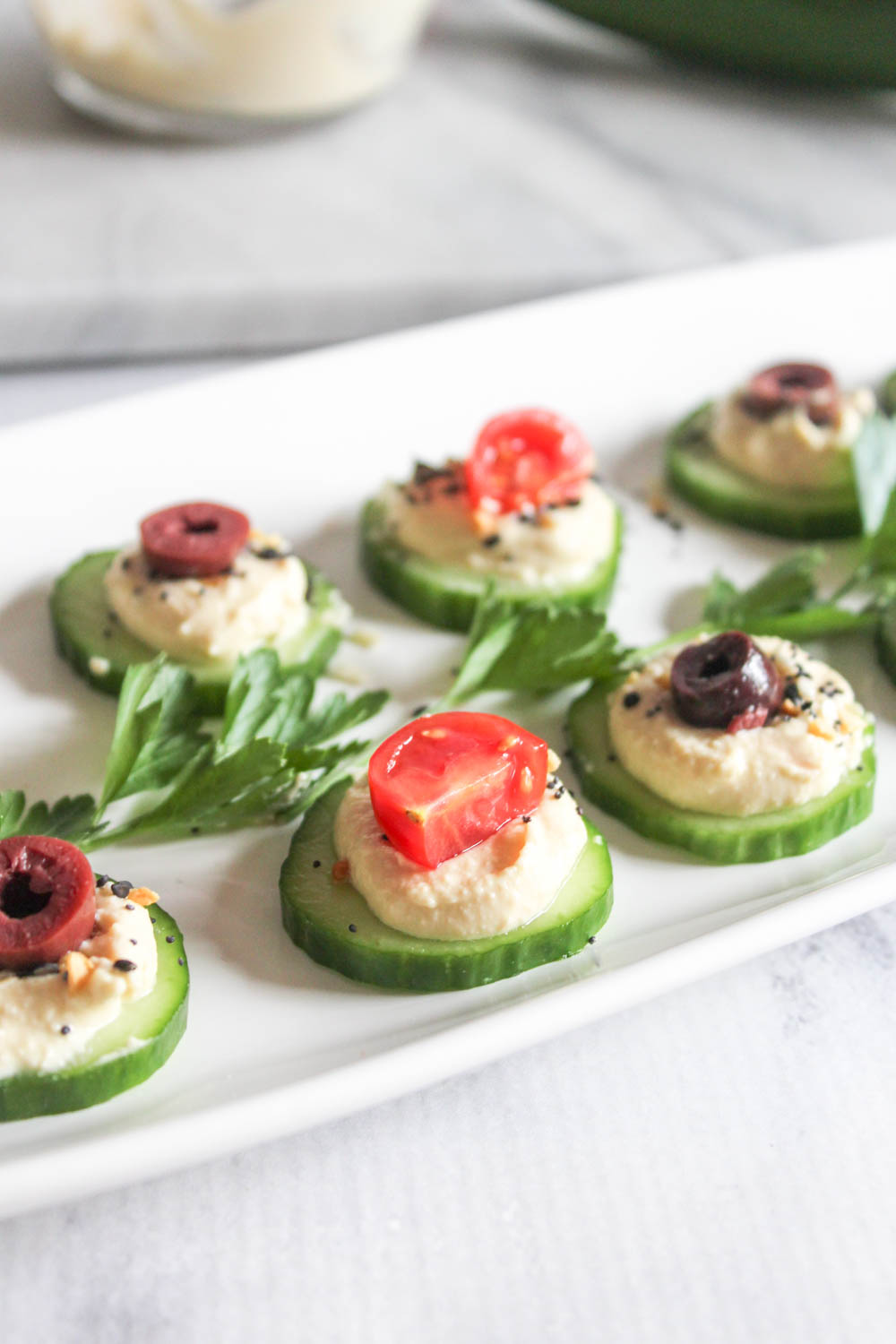 Foods and flavors that pair well with chickpeas
Due to their mild flavor, there are so many ways to flavor chickpeas, below are the most common herbs, spices and foods to enjoy with chickpeas.
Herbs & spices: basil, bay leaf, cardamom, cayenne, chives, cilantro, cinnamon, coriander, cloves, cumin, curry powder, fennel, garam masala, garlic, ginger, rosemary, paprika, parsley, lemon thyme, sage, mint, turmeric
Juice: Apple, lemon
Vegetables: carrots, cucumbers, red bell peppers, chili peppers, cucumbers, tomatoes
Meat: Chicken, prosciutto, pork, shrimp
Feta cheese
Whole Grains: rice, couscous, bulgur
Greens, salads, spinach, arugula
Olive oil
Olives
Onions
Raisins
Scallions, garlic
Sesame seeds
Stews and Soups
Vinegar
Cuisines: Mediterranean, Middle Eastern, Mexican
Try these flavor combinations with chickpeas
Chickpeas + Cilantro + Olive Oil+ Garlic + Tomato
Chickpeas + Garlic + Parsely + Olive Oil + Lemon Juice
Chickpeas + Garlic + Mint + Lemon Juice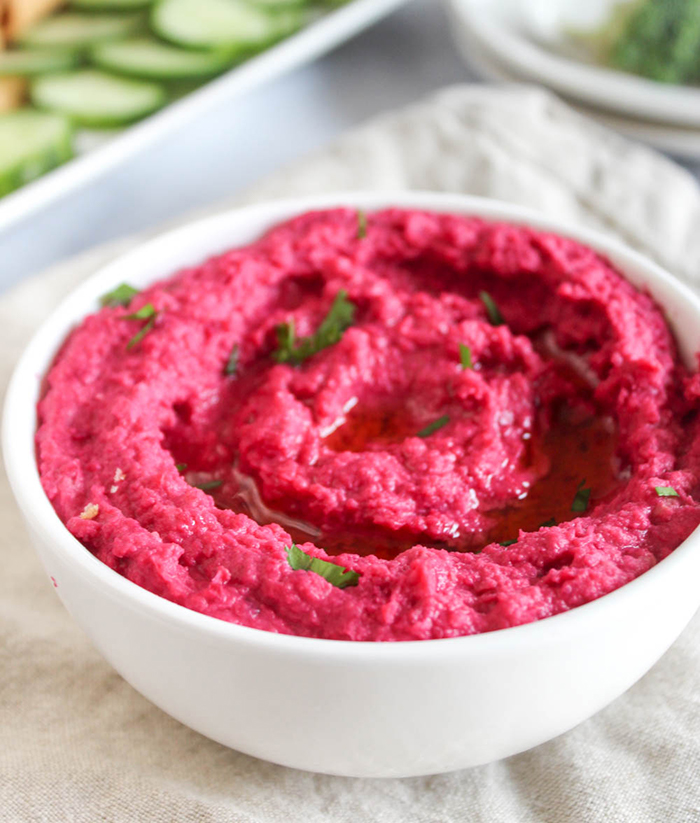 Chickpea Recipes
As you can see, there are so many ways to enjoy chickpeas. Here are some suggestions.
Air Fryer Falafel - Made with simple ingredients and perfect for a vegan appetizer or meal.
Cucumber and Hummus Appetizers - A delicious, healthy and tasty appetizer!
Roasted Beet Hummus - A deliciously healthy hummus made with chickpeas and roasted beets.
Easy Classic Hummus Recipe - A delicious and easy recipe for classic hummus.
Sun-Dried Tomato Hummus - Creamy, garlicky and packed with flavor!
Chopped Greek Salad with Lemon Dressing - a delicious and easy chopped salad that's perfect for a side dish or entree.
Mediterranean Cauliflower Rice Bowl - An easy and delicious bowl full of fresh flavor.
Turkey Chili - a flavorful and crowd-pleasing easy chili recipe made with ground turkey and garbanzo beans.
Spicy Chickpea, Oat and Carom Crackers - A delicious and savory cracker made with oats and chickpeas.
Quick Chickpea Noodle Soup A quick chickpea soup that's vegan and can be made in under 30 minutes!
Penne Pasta with Pumpkin Sauce - A hearty and delicious pasta dish made with chickpeas and pumpkin!
Vegan BBQ Chickpea Salad - A vegan bowl filled with bbq flavor!
Chocolate Chip Chickpea Blondies - Fudgy blondies made with chickpeas.
Easy Curry Chickpeas - Make them in a pressure cooker or on top of the stove.
Zesty Chickpea Burger - A delicious vegetarian alternative to burgers made with ground meat.
Turmeric and Honey Roasted Chickpeas - A nutty, flavorful, salty and sweet snack.
e chickpeas a source of carbs or protein?
Are chickpeas carb or protein?
Chickpeas are a great source of protein and they are also a carb, so if you are following a low-carb diet, you might want to eat these in moderation.
Are chickpeas considered a vegetable?
Chickpeas are in the legume family which makes them a vegetable. They are loaded with fiber which is beneficial for a healthy heart.
Yes, they are a good source of plant-based protein and they are also a source of carbs and fiber.