Figs are a delicate fruit, that is not only delicious but nourishing too. If you have wondered about what a do figs taste like, and how to cook with them read on for inspiration including recipes.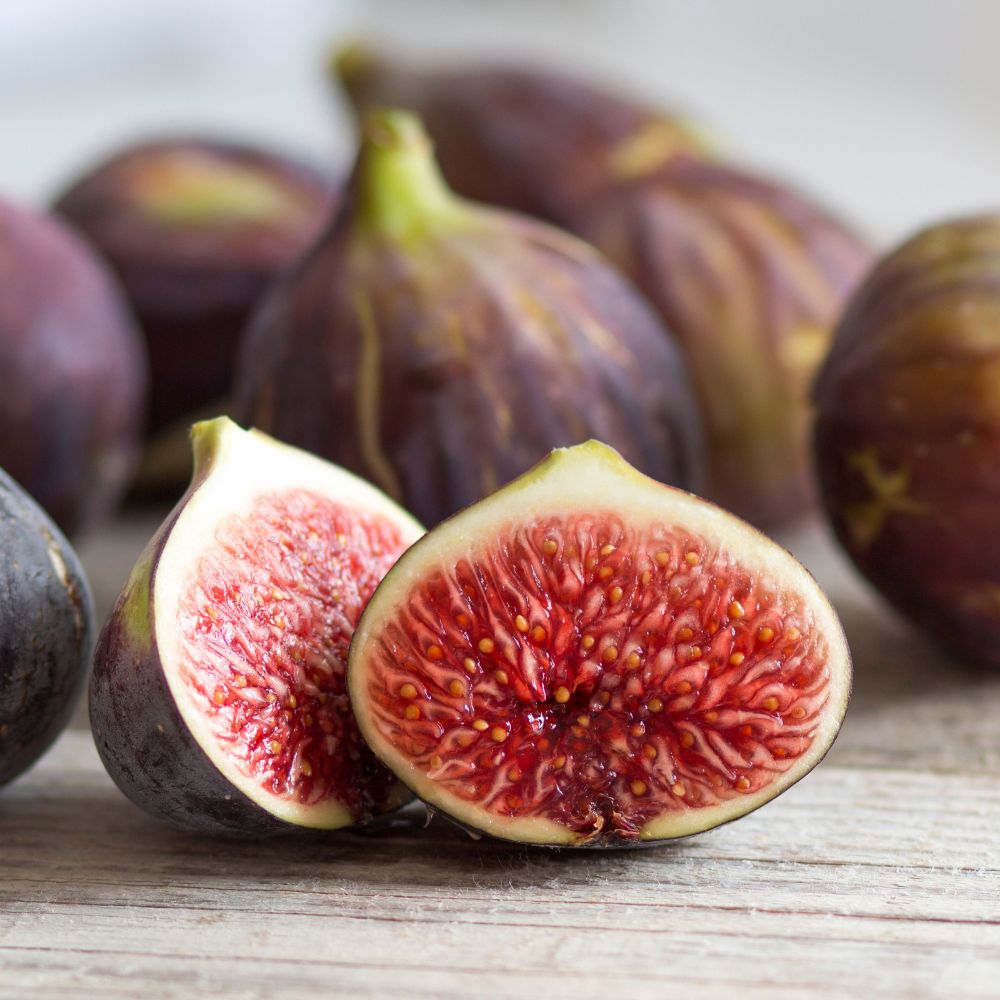 What are figs?
Figs are a fruit that is actually a group of inverted flowers that grow in an edible pod on the ficus carica tree. There are several fig flowers inside each pod that produce small seeds, which is the crunch we experience when biting into a fig.
They have been cultivated for centuries and have spread throughout the world over the years. The majority of figs are produced today in the Mediterranean region of the world even though they originated in the middle east.
What do figs taste like?
Fresh figs are a delicious fruit with a sweet flavor that has a honey-nectar note. The fig skin which is edible is soft, velvety and mild in flavor.
The inside flesh of a ripe fig has a soft almost jammy texture with a slight crunch from the tiny seeds which adds to the delicious taste of figs.
The sweet taste of a fresh fig is not overpowering. I would say the best way to describe a fig's flavor and appearance is delicate.
Dried figs are sweeter, slightly denser, and taste similar to raisins. They are available year-round, which makes them a very convenient addition to salads, snacks, and baked goods.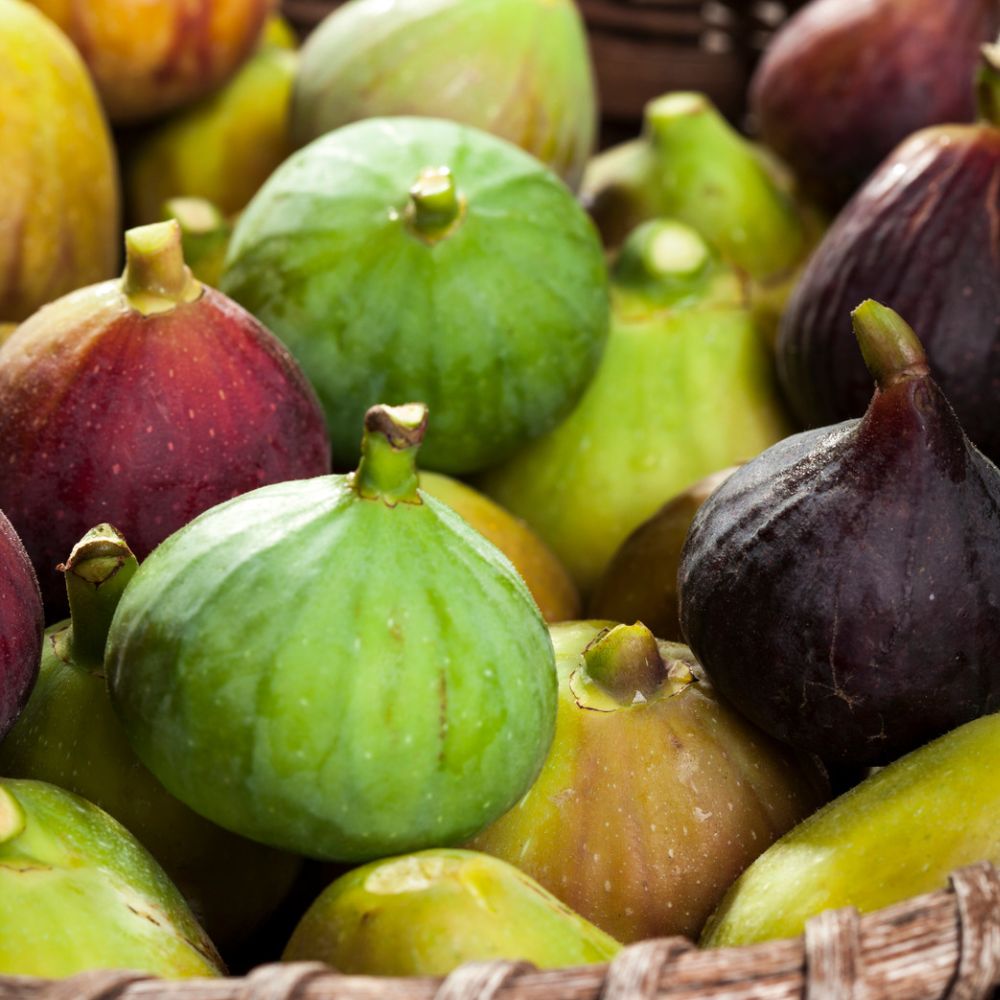 Fig varieties
There are several different varieties of figs, below are the most common type of figs grown in the US.
Black mission figs are the most common fig and sweetest of figs. They are also the most commonly dried fig. They have dark purple skin with pink flesh, and are rich and sweet with a hint of berry flavor.
Brown Turkey Figs are slightly milder and a little less sweet than black mission figs. They have brown, almost red color skin and pink flesh similar to black mission figs.
Kadota figs are green-skinned with pink flesh. Kadota figs are less sweet and have a smoother flesh than other fig varieties. Kadota figs are more popular in savory dishes such as salads.
Calimyrna figs have smooth green skin with amber-colored flesh. Calimrna figs have a nutty flavor with hints of mild honey. It is the sweetest of the green figs.
How to select fresh figs
Figs can be purchased when they are in season in the produce department in your local grocery store or farm market. When selecting figs, look for figs that feel soft when gently squeezed, and the skin of a fig should be free of blemishes.
Unripe figs will have a thicker skin and will lack the sweetness that a ripe fig has.
Make sure the figs are ripe! Unlike many fruits that will turn ripe after they have been harvested, figs will not ripen once they have been picked. Unripe figs will have a thicker skin and will lack the sweetness that a ripe fig has.
How to store fresh figs
Figs are fragile fresh fruit, it's important to keep them in a cool place. If you aren't planning on using them right away, store your figs in a plastic bag in your refrigerator. They should last two to three days. You can also slice and freeze fresh figs or dehydrate them for longer shelf life.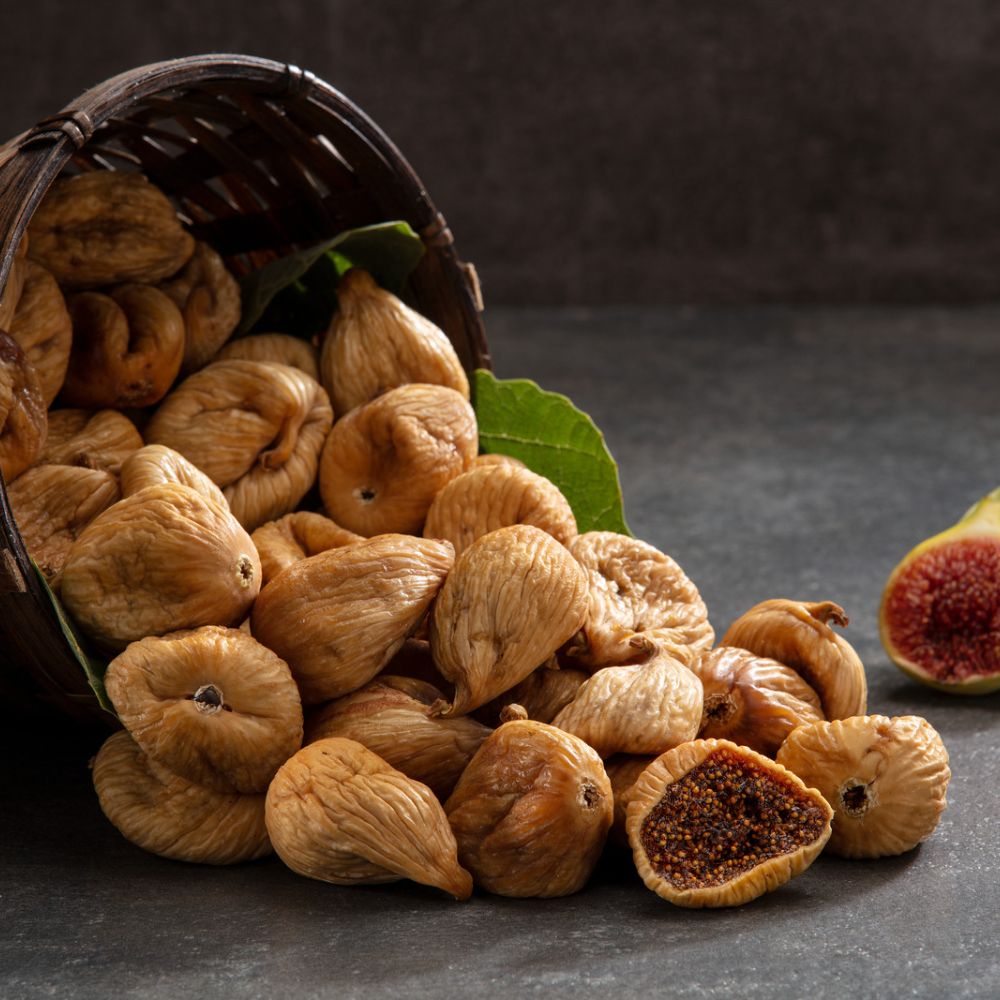 Are Figs Healthy?
Figs as with most fruits are very healthy! They are known to promote digestive health and can act as a natural laxative; thanks to soluble fiber.
Figs are rich in antioxidants, vitamins, minerals, and fiber. You can read more about the health benefits of figs on healthline.com.
What's the difference between fresh figs and dried figs?
Fresh figs have a fruity flavor, while dried figs have a more sugary taste. The reason that dry fig flavor becomes more concentrated is that the sugars start to crystalize during the dehydration process.
While fresh figs are fragile, dried figs are readily available year-round and can be enjoyed in many different ways from eating them as they are, to baking or appetizers.
How to enjoy figs
Figs taste great served plain as a healthy snack, appetizer or in salads. You can also bake, broil, caramelize, grill or roast fresh figs. See the recipes below for inspiration.
Foods that pair well with fresh figs
Nuts (almonds, pecans, pine nuts, cashews, hazelnuts, pistachios)
Fruit (apples, citrus, grapes, cherries, pears, mangoes, grapes raspberries)
Arugula
Onions
Cheese (blue, goat, gorgonzola, manchego, provolone, ricotta, roquefort, parmesan, marscapone)
Cream cheese, creme fraiche, ice cream
Meat (bacon, chicken, fish, lamb, cured and smoked meats, pork)
Herbs and spices (anise, cinnamon, cloves, ginger, garlic, mint, thyme, rosemary, lavender)
Olive oil, butter
Chocolate
Honey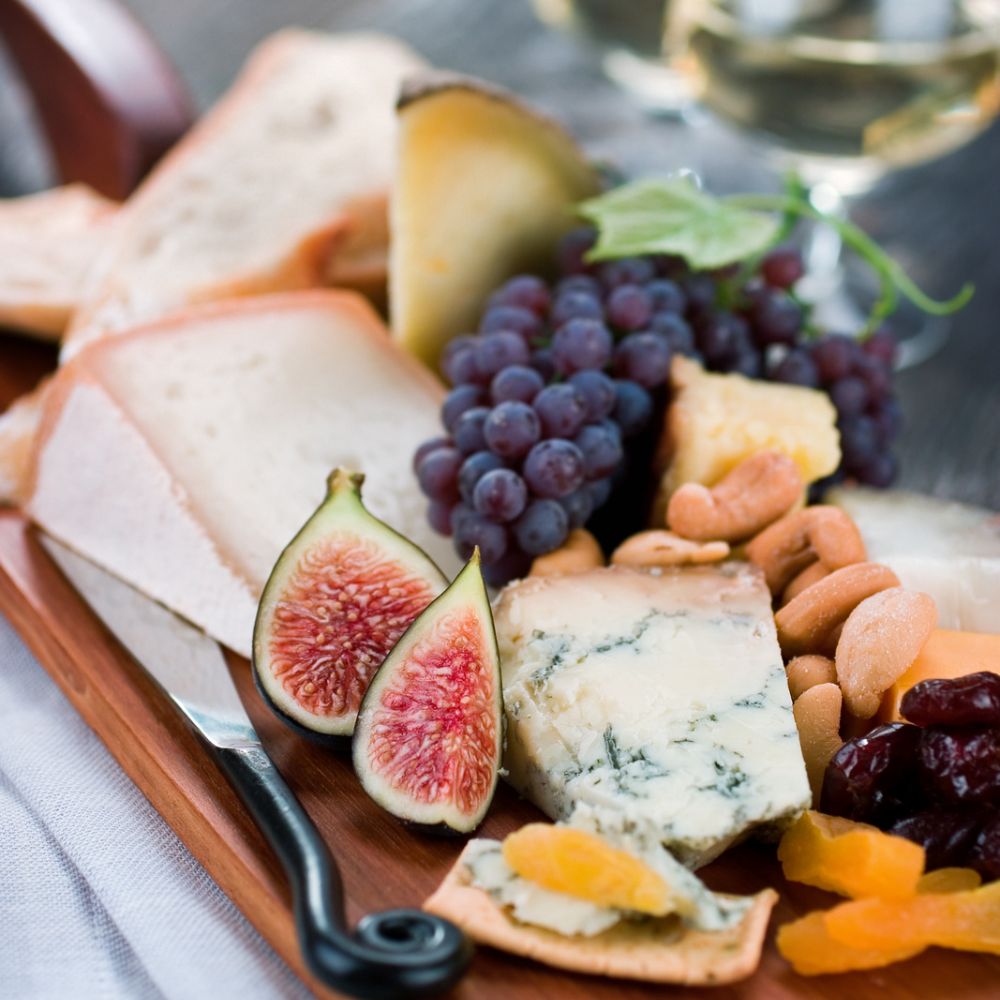 Foods that pair well with dried figs
Nuts (almonds, anise seeds, chestnuts, coconut, macadamia nuts, walnuts, pistachios)
Arugula
Sweet potatoes
Fruit (dried apricots, bananas, dried cherries, lemon, orange, pears)
Cheese (goat, manchego, parmesan, ricotta)
Chocolate
Honey
Herbs and spices (cinnamon, cloves, ginger, nutmeg, vanilla)
Try these flavor combinations with figs
Get creative and try these ingredient combinations for a quick appetizer, dessert or entree.
dried figs + arugula + pears + walnuts
dried figs + goat cheese + honey
fresh figs + honey + ricotta cheese
fresh figs + cinnamon + honey + orange
Fig FAQs
Can dried figs be interchanged with fresh figs in recipes?
You can substitute fresh figs with dried figs in recipes by soaking the dried figs in warm water to reconstitute them, but the reconstituted figs will alter the flavor if the recipe and it will have a sweeter flavor.
When are fresh figs in season?
Fresh figs are in season from late summer to early fall.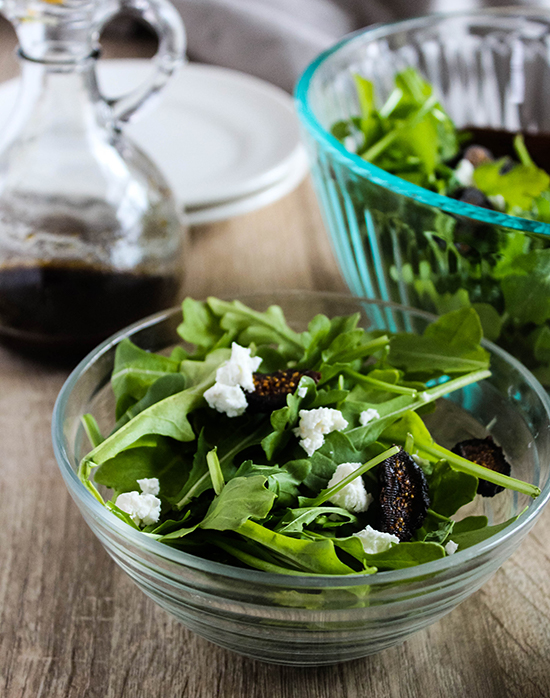 Delicious fig recipes
Fresh fig recipes
Fig, Prosciutto & Arugula Pizza - Salty prosciutto, melty cheese and fresh figs on a pizza.
Fig Vanilla Jam - A delicious and easy way to enjoy fresh figs.
Ginger Spiced Pickled Figs - Sweet and sour figs; perfect for any cheese board.
Fresh Fig Margarita - A unique twist on margaritas!
Fig Salad with Mozzarella and Melon - A simple, fresh, and light salad.
Dried Fig Recipes
Arugula salad with figs - peppery arugula is a perfect match for sweet figs.
Chocolate covered figs with pistachios - an easy and delicious way to enjoy dried figs.
Porky Fig Pizza - A delicious pizza made with ham bacon, prosciutto and cheese.
Fig and Almond Crumble Bars - A crumble base is topped off with a sweet and tart fig/orange spiced crumb layer.