Brussels sprouts are a nutritious vegetable with an acquired taste. People either love them or hate them. If you haven't tasted these small cabbages yet and are wondering what do Brussels sprouts taste like, and how to prepare and cook them, this article is for you.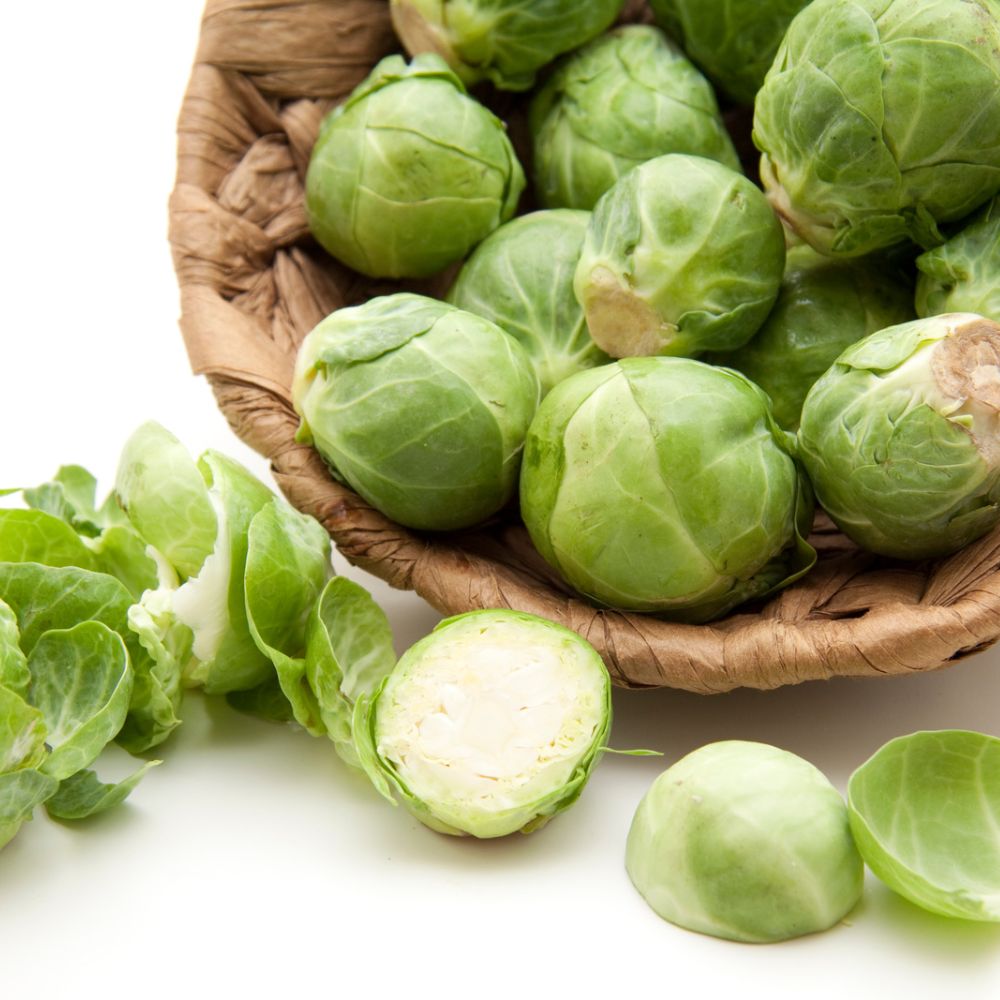 What are Brussels Sprouts?
Brussel sprouts are part of the Brassica family, which includes nutritious and widely consumed cruciferous vegetables such as cauliflower, broccoli, kale, cabbage, and collard greens.
These miniature cabbages have been around for centuries and are a super healthy vegetable! They are packed full of essential vitamins and minerals, and if you are a fan of them, Brussels sprouts are an excellent addition to any meal.
The baby cabbages that we call brussels sprouts are actually buds that grow on long thick stalks, The cabbage buds are either harvested by hand or machine from the stalk and sometimes the entire stalk is harvested.
Even though they are available year-round, Brussels sprouts are in peak season from late August through March.
What do Brussels Sprouts Taste Like?
Brussels sprouts have a slightly earthy and bitter flavor which some might find quite intense. The brussel sprout taste can vary depending on how they are prepared.
Roasting or sauteeing these mini cabbages brings out their natural sweetness which creates a slightly nutty flavor. Boiling, steaming, or eating them raw will make them taste more bitter.
If you want to experiment with the taste of brussels sprouts, try a different cooking method each time you make them along with experimenting with seasonings to see which way you enjoy your Brussels sprouts
Are Brussels Sprouts Healthy?
Brussels sprouts have numerous health benefits, they are high in fiber and packed with antioxidants, vitamins, and minerals. They are an excellent source of vitamin c and vitamin k. You can read all about the health benefits of brussels sprouts on Healthline.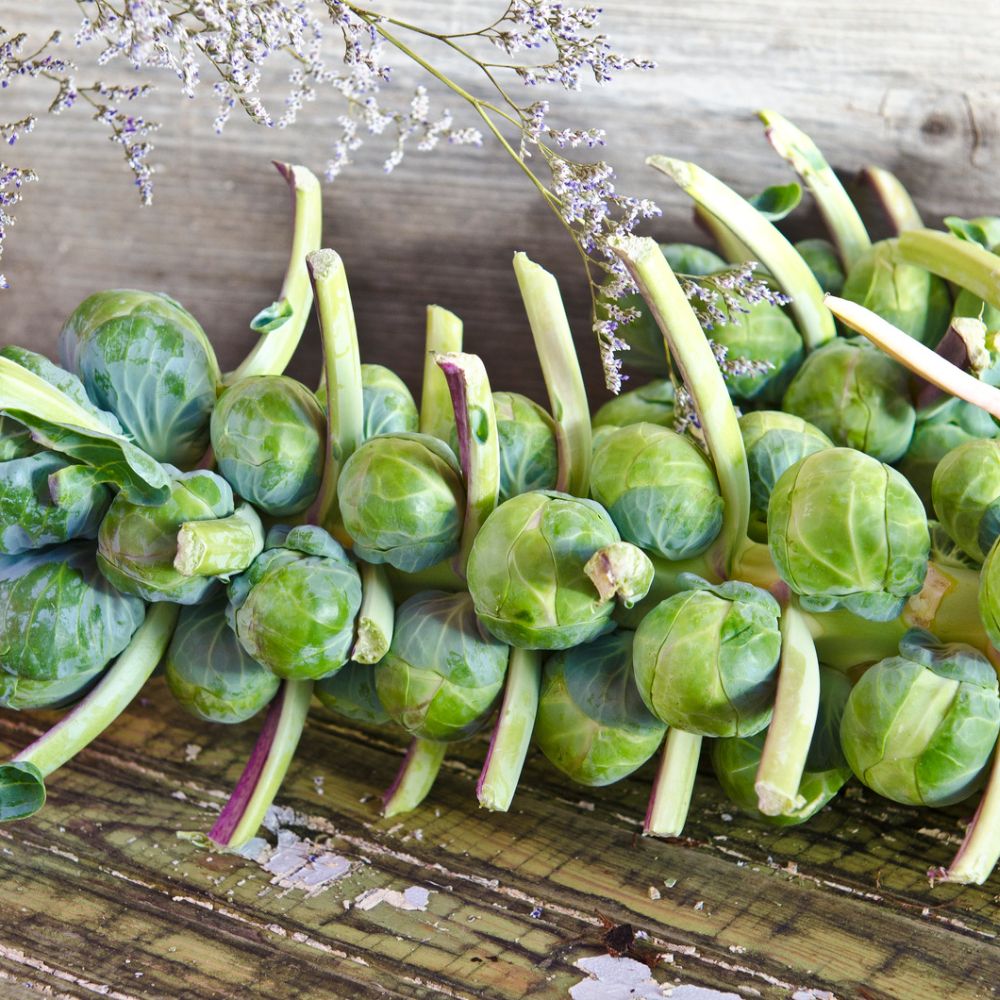 How to buy Brussels sprouts
You can find fresh brussels sprouts in the produce department of your local grocery store or farm market.
They are typically sold loose, prepackaged in a plastic bag, or growing on long stalks. When selecting brussels sprouts, choose ones that are bright green in color with tightly packed leaves and healthy outer leaves. Stay away from brussels sprouts with yellowing leaves or black spots, which could be a sign of age. Smaller sprouts are younger, sweeter and more tender than larger-sized brussels sprouts.
How to store Brussels sprouts
Store unwashed and untrimmed fresh brussels sprouts both loose or on the stalk in a plastic bag in your refrigerator. Fresh brussels sprouts should last 7 to 10 days in the refrigerator.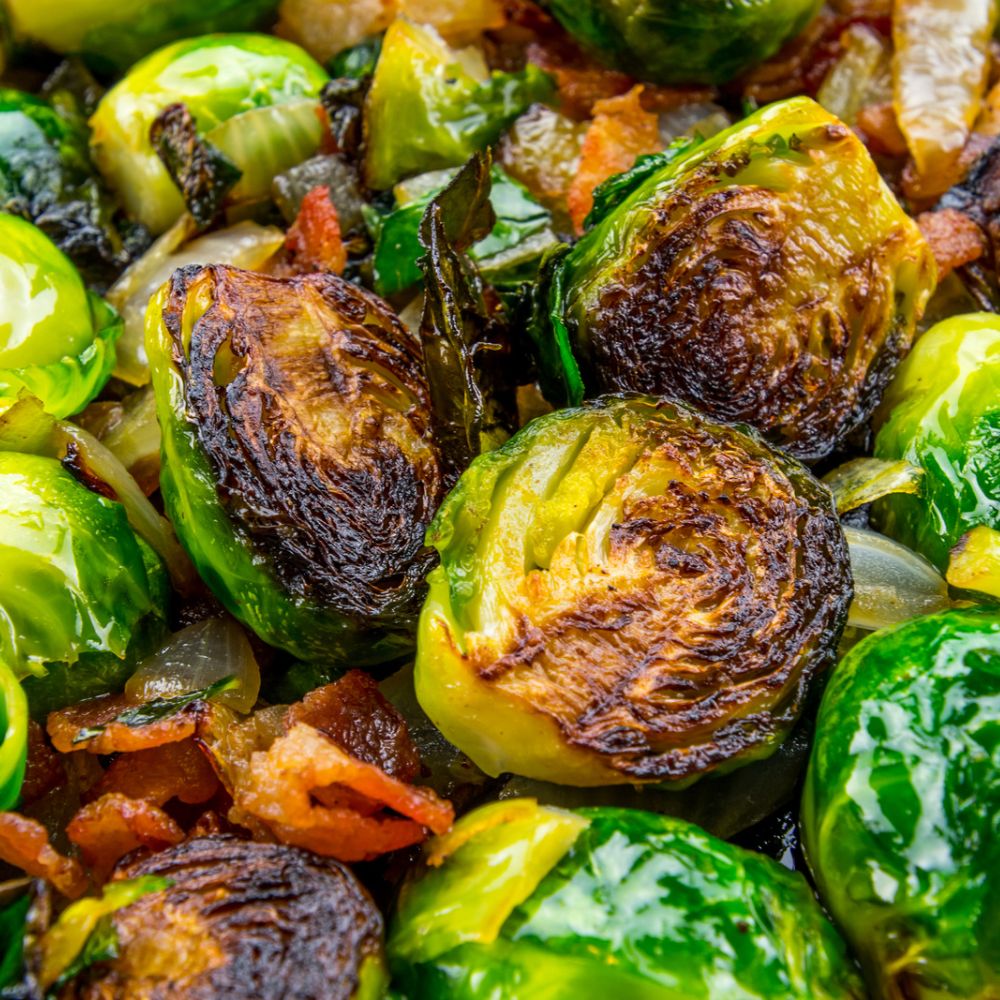 How to cook brussels sprouts
Brussels sprouts can be prepared in various ways and as I mentioned above, depending on the cooking process the brussels sprout taste can change.
Before cooking your brussels sprouts, you will need to clean and trim them. Slice off the bottom end of the sprout and trim off any wilted or discolored leaves on the outside.
If you are eating them raw, roasting, or sauteeing them, use a sharp knife to slice them.
Raw Brussels sprouts
Brussels sprouts taste great when they are shredded and added to salads. Due to their crunchy texture, I recommend that they are shredded fairly thin.
Raw sprouts are slightly bitter, so tossing them in a little in a dressing made with olive oil with a splash of lemon juice and maple syrup and a sprinkle of shredded parmesan will bring out the flavor. If you are interested in trying raw brussels sprouts, try a kale and brussels sprouts salad.
Steaming or boiling
Steaming or boiling is my least favorite way to prepare brussels sprouts, I find that these methods produce brussels sprouts with a strong bitter taste and they are soggy.
When they are steamed or boiled, they are usually left whole or cut in half before cooking. Once they're cooked, add a little bit of butter, garlic powder, and black pepper.
To steam brussels sprouts, place them in a steamer basket over boiling water and cook until tender.
To boil sprouts, place them into a pot of water just enough to cover them, and cover and cook over medium-low heat until they are tender.
Roasting
Roasting brussels sprouts in my opinion is the best method for many reasons. It involves simple preparation and the brussels sprouts have a sweeter milder flavor when they are roasted.
All that needs to be done to roast brussels sprouts is toss halved sprouts in olive oil or avocado oil and place them cut side down on a baking sheet that's been lined with parchment paper. Roast them on high heat (400 degrees f) n the oven. The longer they roast, the sweeter their flavor will be. Try this easy recipe for roasted Brussels sprouts with citrus.
Sauteeing
Sauteeing brussels sprouts is in my opinion, the second-best way to prepare these tiny cabbages and also a simple way to prepare them. I's quicker than roasting and a great way to bring out their sweet flavor!
To make a simple Brussels sprout sauteed, cut the sprouts into slices or shred them. Heat olive or avocado in a skillet. Once the skillet is hot, toss the sprouts in the hot oil for a few minutes until they are cooked to your preference. Add a splash of balsamic vinegar or soy sauce for extra flavor.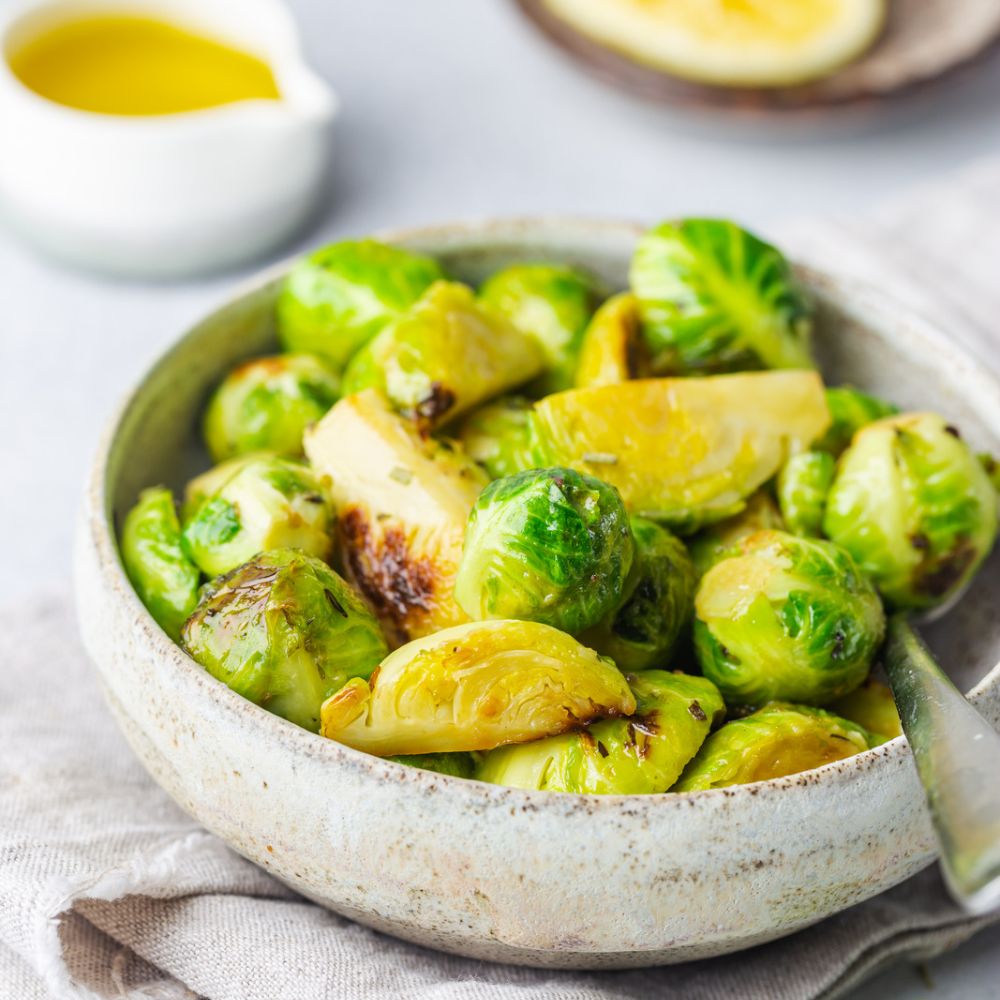 What foods taste good with brussels sprouts?
While they may not be everyone's favorite vegetable, there are plenty of foods that can bring out the flavor of Brussels sprouts. Here are some suggestions for flavoring and serving these healthy veggies, here are some suggestions
Nuts (almonds, chestnuts, hazelnuts
Apples, oranges
Apple juice, lemon juice, orange juice
Bacon, pancetta
Herbs (basil, bay leaf, chives, dill, garlic, marjoram, nutmeg, paprika, parsley, pepper, salt, thyme)
Bread crumbs
Butter, olive oil
Cheese (blue, cheddar, goat, Parmesan, provolone, ricotta, Swiss)
Onions, shallots
Vinegar
Brussels sprouts flavor combinations
Try preparing brussels sprouts using your favorite cooking method with any of these flavor combinations.
Brussels sprouts + Garlic + Oil
Brussels sprouts + Bacon + Onion
Brussels sprouts + Lemon juice + Olive Oil + Thyme + Parmesan cheese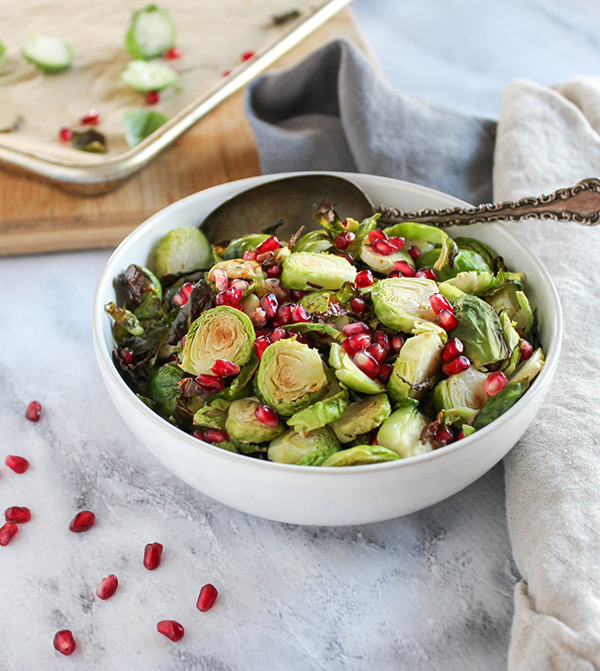 Try these Brussels sprouts recipes
Roasted Brussels Sprouts with Pomegranate seeds - Pomegranate seeds add a wonderful contrast to both the color and the taste of this dish and is a wonderful addition to your dinner table. The lightly sweet flavor of pomegranate balances out the slightly bitter taste of the brussels sprouts.
Roasted Brussels Sprouts with Citrus - The lemon and orange pieces sweeten as they roast, adding a unique dimension to the texture and flavor . It's a refreshing and easy side dish perfect for holiday entertaining or family dinners.
Brussels Sprouts with Apples - Roasted Brussels Sprouts and Apples are crispy and caramelized on the outside with a tender interior, a little bit sweet and plain old delicious! They are a perfect side dish for holiday gatherings or weeknight dinners.
Easy Oven Baked Pork Chops with Vegetables - An easy dinner made with tender boneless pork chops and fresh vegetables that are mixed, cooked and served in one pan. This recipe is full of flavor and easy to clean up.
Kale and Brussels Sprouts Salad - A healthier, updated take on the traditional kale and brussels sprout salad. It's made with a few basic ingredients that are tossed in a maple vinaigrette which adds a hint of sweetness to every bite.
Creamy Brussels Sprouts with Bacon - A delightful casserole made with Brussels sprouts, cheese, bacon and onions.
Grilled Brussels Sprouts - Grilling Brussels sprouts mellows out the flavor just like roasting does. These are grilled with sweet peppers for a delicious flavor contrast.
Creamy Skillet Brussels and Corn - A quick and easy recipe to prepare in one pan!
Balsamic Roasted Brussels Sprouts with Grapes and Chestnuts - Brussels are paired with sweet and juicy grapes and chestnuts for a delicious side dish recipe.
Honey Butter Roasted Brussel Sprouts - Roasted sprouts are topped with homemade honey butter and broiled until crispy.
Cheesy Smashed Roasted Brussels Sprouts - Topped with 2 types of cheese and rotated until crispy.
Air Fryer Brussels Sprouts - Brussels Sprouts come together much faster in the air fryer. Same great crunch, in way less time, making these Air Fryer Brussels Sprouts an easy fall side dish.
Shaved Brussels Sprouts Salad - Brussels sprouts, bacon, walnuts and cranberries for a super flavorful salad.
Do Brussels sprouts taste like cabbage?
Brussels sprouts and cabbage have very similar flavors, however, cabbage has a milder and less bitter flavor than Brussels sprouts.
are brussels sprouts and cabbage the same