An easy and flavorful way to make shredded chicken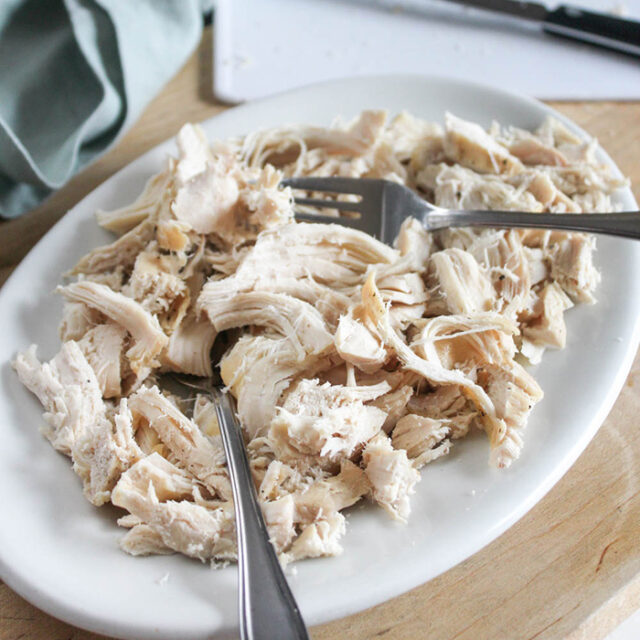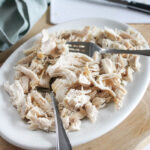 Shredded chicken is a versatile ingredient that can be used as a base in many favorite recipes, including casseroles, sandwiches, and salads. The possibilities are endless! Its versatility and simple preparation, such as with this slow cooker shredded chicken recipe, makes it a great addition to any kitchen.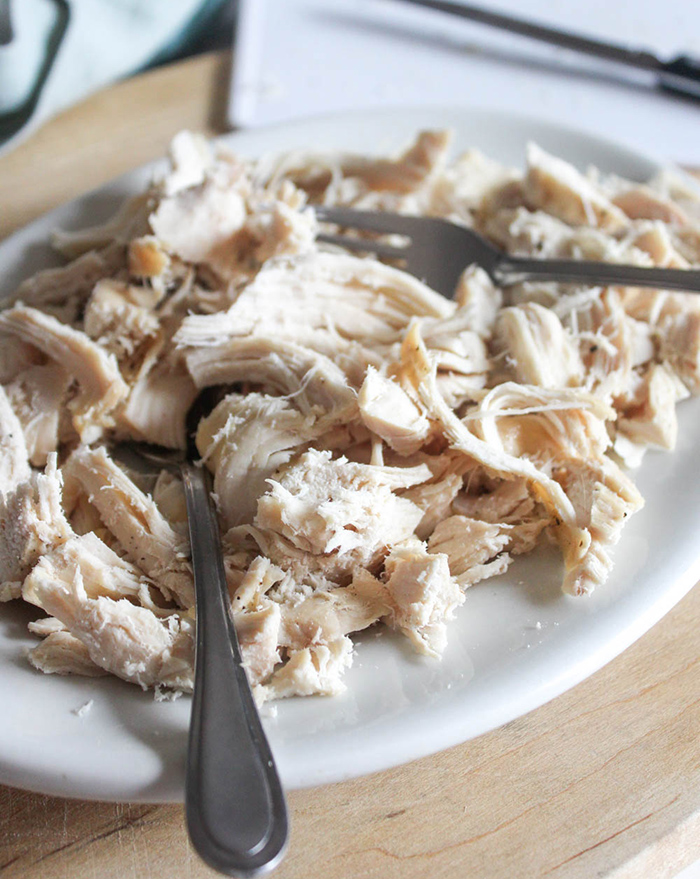 Using a slow cooker is a great way to save time and make delicious shredded chicken with boneless chicken breasts. All that is needed is a few ingredients and a basic crockpot to make this easy shredded chicken!
🤍Why you will love this recipe
It's an easy recipe made with just a few simple ingredients
It's a great recipe that is perfect for meal prep! Cook a large batch, portion it out and store it in the refrigerator or freezer.
Jump to: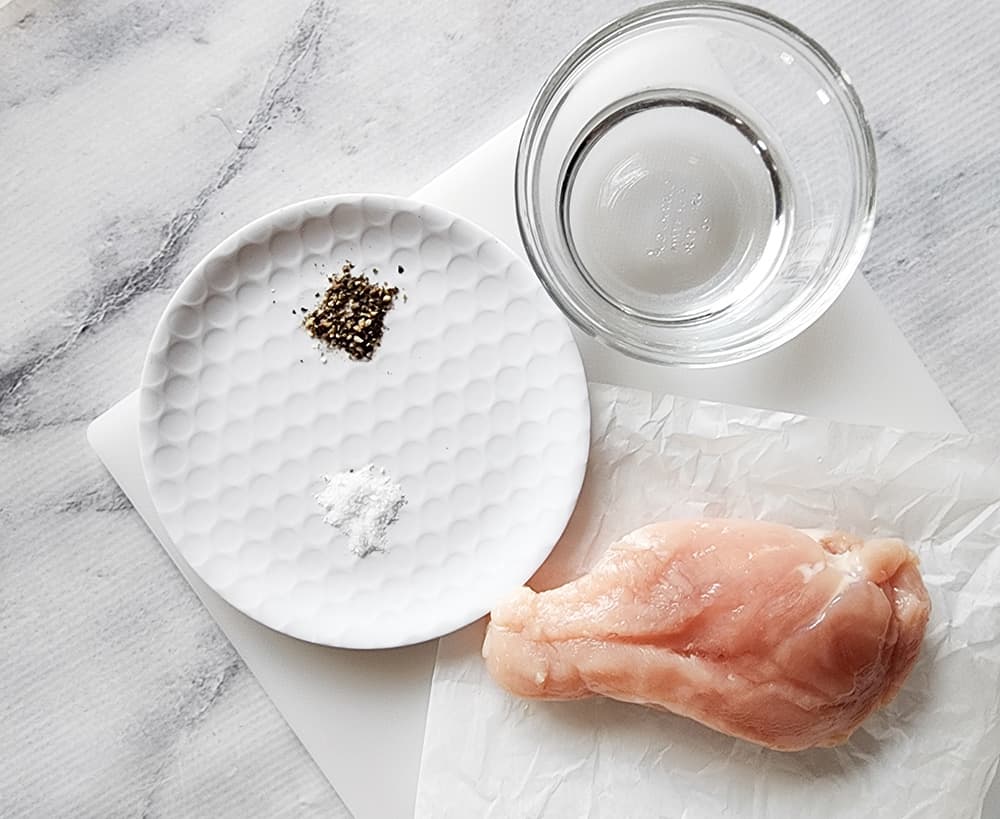 Here is what you will need
This is an overview of the ingredients and steps to make this easy slow cooker recipe; scroll down for a printable recipe card with exact measurements and detailed instructions.
As an Amazon Associate, I earn from qualifying purchases.
🛒Ingredients
Boneless skinless chicken breasts
Water
Sea Salt
Black Pepper
🥄Equipment
How to make Crockpot shredded chicken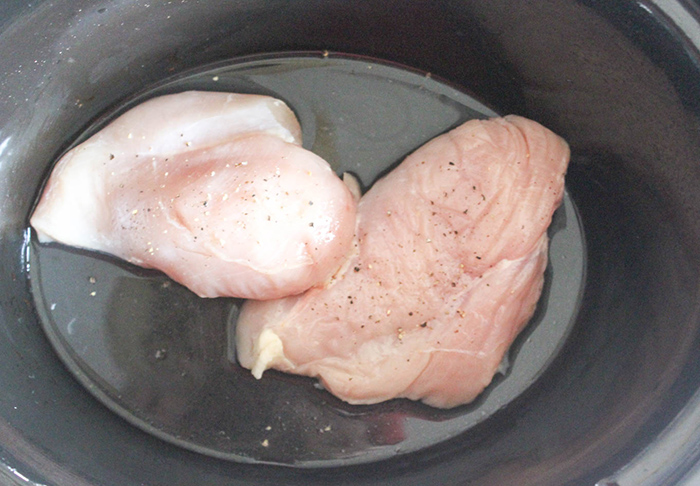 STEP 1: Place the chicken breasts into the slow cooker and season them with sea salt and pepper. Add just enough water to cover the bottom of the pot.
STEP 2: Cover the slow cooker and cook the chicken breasts on the low setting for 3-4 hours.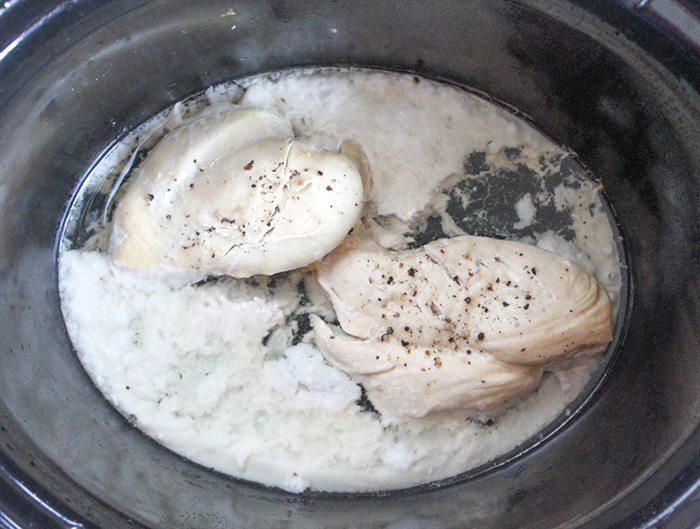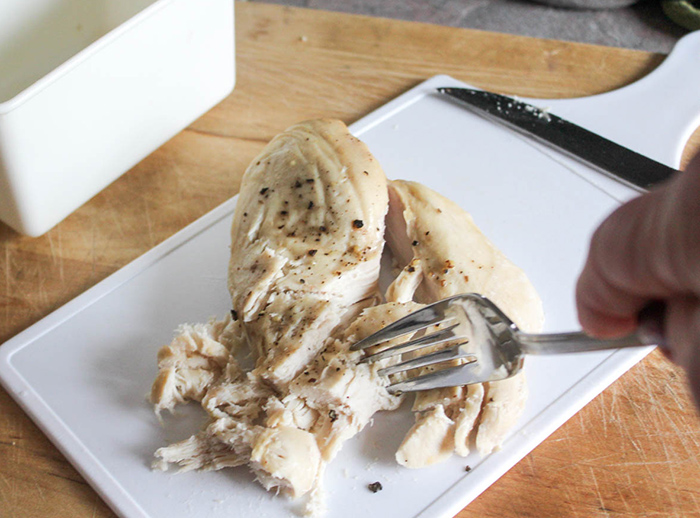 STEP 3: Take out the chicken from the crock pot and transfer it onto a cutting board. Use two forks to shred the chicken breasts.
Note: Cooking time can vary depending on the model of your slow cooker. The chicken should be at in internal temperature of at least 165 degrees f.
Ingredient Notes and Substitutions
Boneless chicken breasts - You can substitute boneless chicken breasts with boneless skinless chicken thighs for a slightly more flavorful taste.
Alternatively, if you prefer, you can use chicken breasts or thighs with bones and adjust the cooking time accordingly.
Water -You can enhance the flavor using chicken stock or vegetable broth instead.
How to store shredded chicken
Store your shredded chicken in an airtight container in the refrigerator for four days to keep it fresh.
After allowing shredded chicken to reach room temperature, it can be stored in an airtight container or freezer bag for up to four months.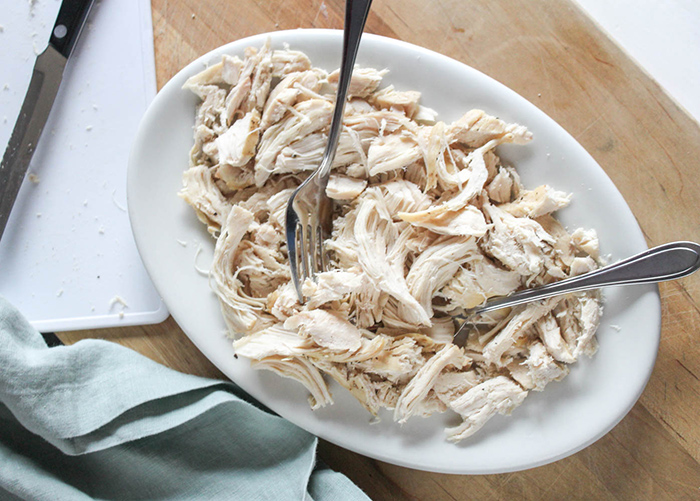 Recipe variations
Shredded chicken is so versatile and can be prepared in many different ways. Using a slow cooker is the easiest way to infuse flavor into the chicken as it cooks slowly. Below are some ideas for enhancing the taste of your shredded chicken.
Mexican chicken - Add up to a tablespoon of taco seasoning to the slow cooker. Mexican shredded chicken is a great addition to tacos, burritos, quesadillas or with rice.
Garlic, lemon and herbs - Sprinkle the chicken with garlic powder, a few chopped fresh herbs, and the juice of one lemon. This version tastes great in salads, wraps or chicken salad.
Italian-style - Add any combination of chopped garlic, basil, oregano, onion powder or Italian seasoning and a pinch of red pepper flakes. Toss this version of shredded chicken in crushed tomatoes or tomato sauce with pasta, on pizza or sandwiches.
GET YOUR FREE GUIDE!
Whip up quick and delicious meals with the ingredients you have in your kitchen!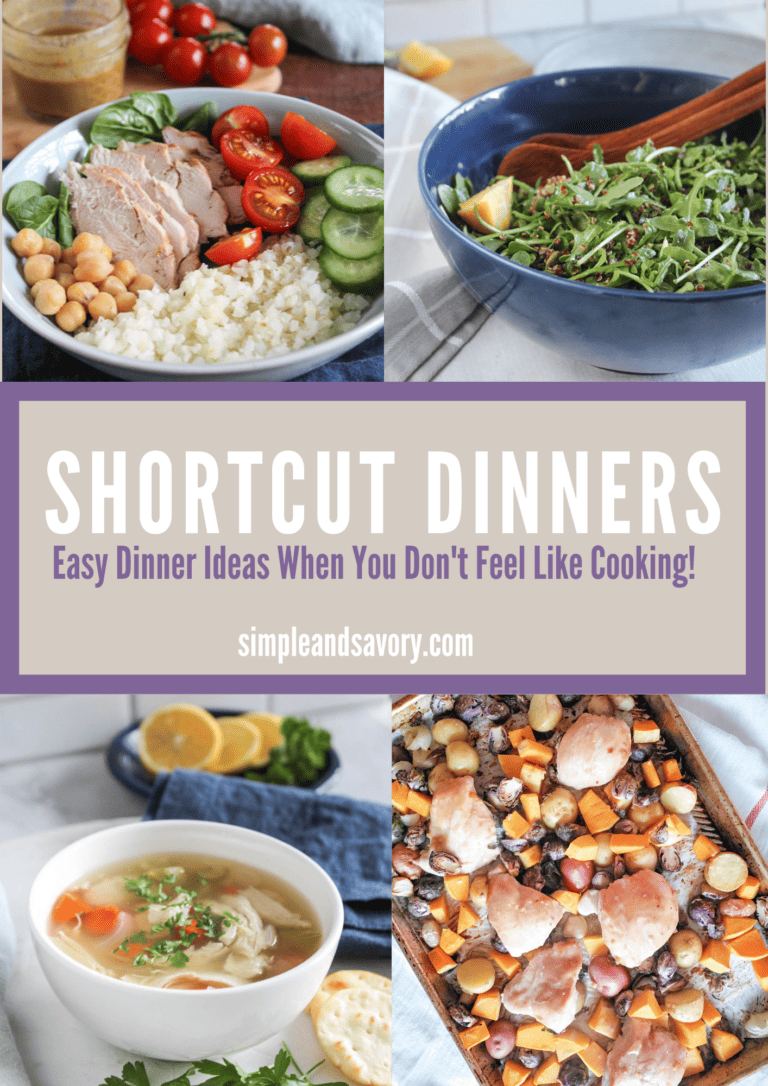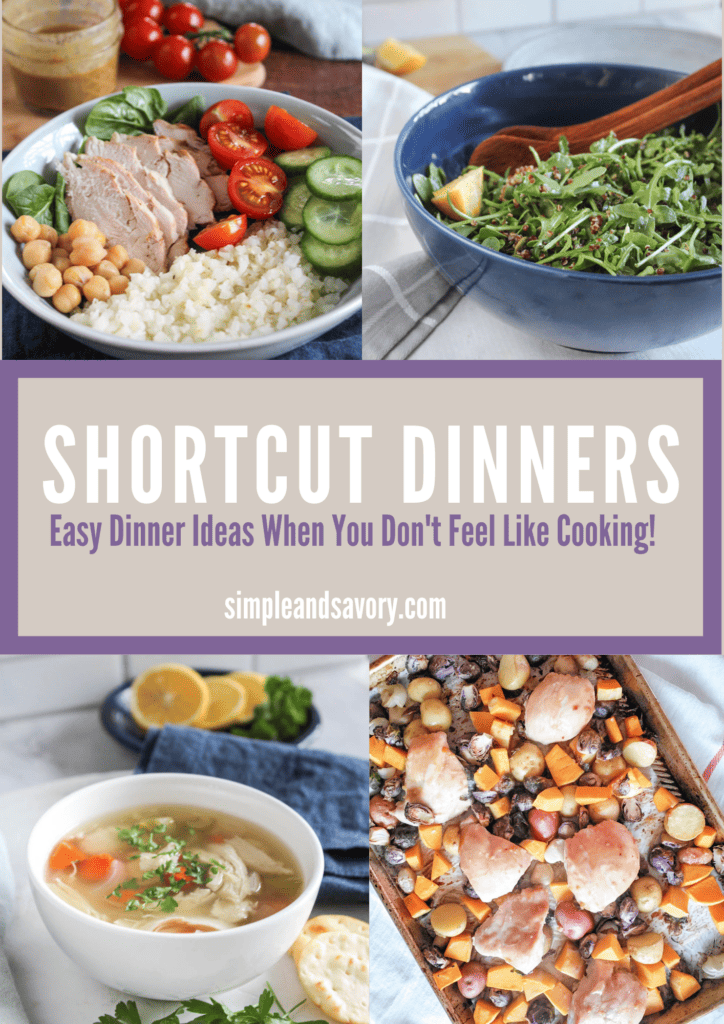 Serving suggestion
Add ½ cup of bbq sauce per pound of shredded chicken for an easy shredded crock pot barbecue chicken recipe.
💡Top Tips
To avoid dryness, make sure not to overcook the chicken.
Reserve the liquid from the chicken and use it as a base for soups or stews.
Double or triple the recipe and freeze shredded in portions for easy meal prep.
Can I use frozen chicken in the slow cooker?
It is generally recommended to use thawed chicken in the slow cooker for even cooking and food safety. Use a meat thermometer and make sure that the chicken is cooked thoroughly and evenly to a temperature above 165 degrees f.
Can I mix different cuts of chicken in the slow cooker?
Yes, you can mix different cuts, such as boneless chicken breasts and boneless chicken thighs. But keep in mind that cooking time may slightly vary for each type of chicken so ensure that all pieces have reached the proper internal temperature (165 degrees f) before shredding. It is also not recommended to mix bone in with boneless cuts.
Can I shred the chicken with a stand mixer?
You can use the paddle attachment on your stand mixer or even a hand mixer to shred the chicken and run it at low speed until it is shredded. But I like to keep it simple and find that two forks are the easiest and best way to shred chicken.
Do you like this recipe?
Please comment and give it a ⭐⭐⭐⭐⭐ rating below!
You might like these slow cooker chicken recipes
📖 Recipe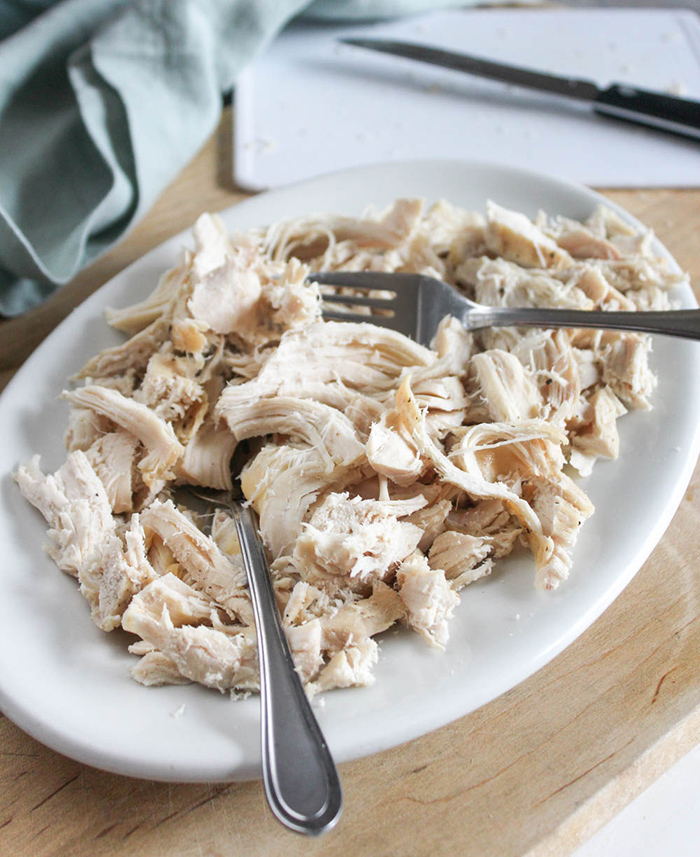 Click on serving size to scale this recipe
Ingredients
1

pound

boneless chicken breasts

water

⅛

teaspoon

sea salt

⅛

teaspoon

black pepper
Instructions
Place enough water into a slow cooker so that it just covers the bottom of the slow cooker.

Place

1 pound boneless chicken breasts

into the slow cooker, and season with

⅛ teaspoon sea salt

and

⅛ teaspoon black pepper

. Cover and cook on low heat for 3 to 4 hours. Internal temperatue should be at least 165 degrees f.

Remove the chicken from the slow cooker and shred it with two forks.
Nutrition information provided is an estimate and can vary based on cooking methods and ingredients used
Check out my list of products and tools that I use all of the time in the kitchen!
Sign Up for Easy Recipes Straight in Your In-Box!