This Korean tacos recipe with slaw is a delicious and easy-to-make dish. It's perfect for a healthy weeknight dinner. Ground beef is cooked quickly in a Korean barbecue sauce then topped off with a spicy slaw tossed in kimchi mayo.
This Korean tacos recipe couldn't get any easier and it is a perfect match for spicy and sweet. Serve them in warm tortillas or as an easy salad dinner that the whole family can enjoy.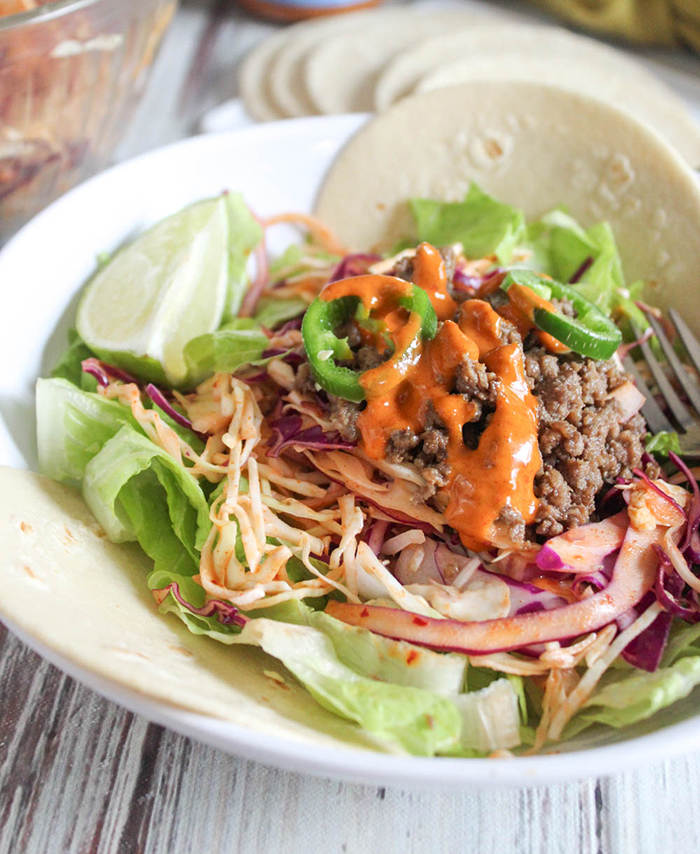 I received products from Lucky Foods to make this recipe, all opinions are my own.
Tacos are a perfect meal for when you're craving something quick and easy with lots of options. Also, try these beef tacos with hidden veggies too on your next taco Tuesday!
Why this Recipe Works
It's a quick and easy dinner that can be made in under 30 minutes.
This is a versatile recipe, serve it as tacos in tortillas or add some lettuce for a low carb salad.
Here is What You Will Need
As an Amazon Associate, I earn from qualifying purchases.
This is an overview of the ingredients and steps to make this recipe, scroll down to see ingredient notes and substitutions as well as a printable recipe card with exact measurements and complete cooking instructions.
---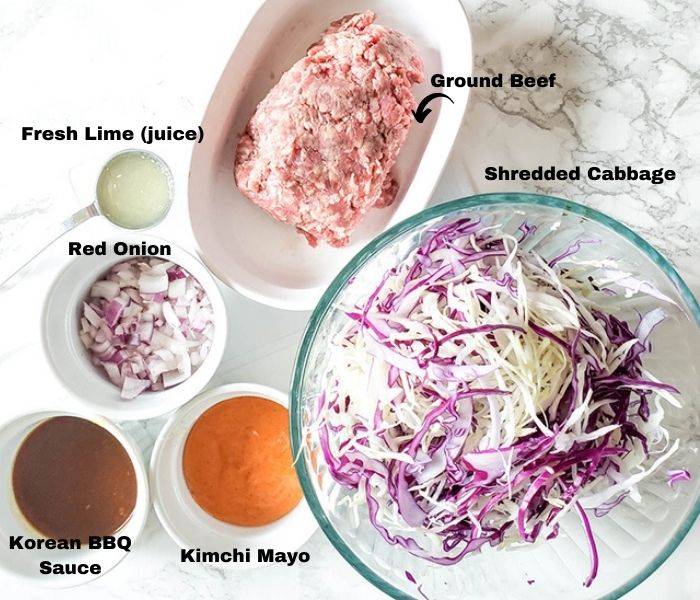 ---
Here's How to Make This Korean Beef Tacos Recipe
Prepare the Ingredients: Slice the onions thin, and shred the cabbage using a mandoline slicer, food processor or a sharp knife.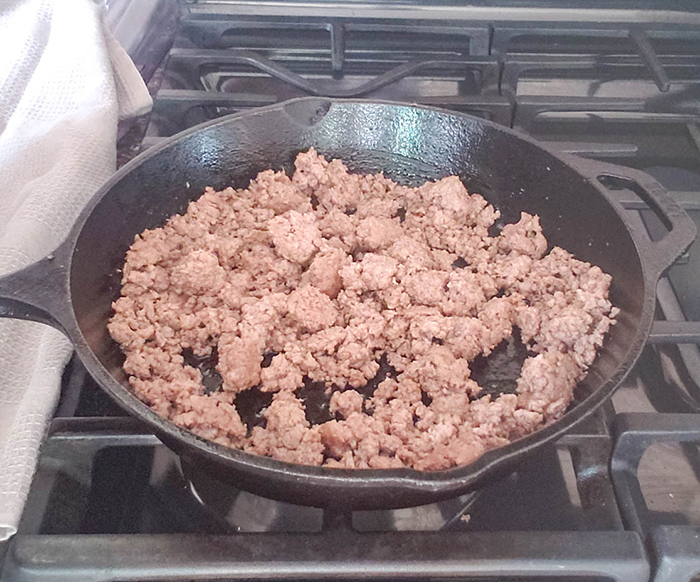 Step 1. Heat the oil in a large skillet at medium-high heat and brown the beef.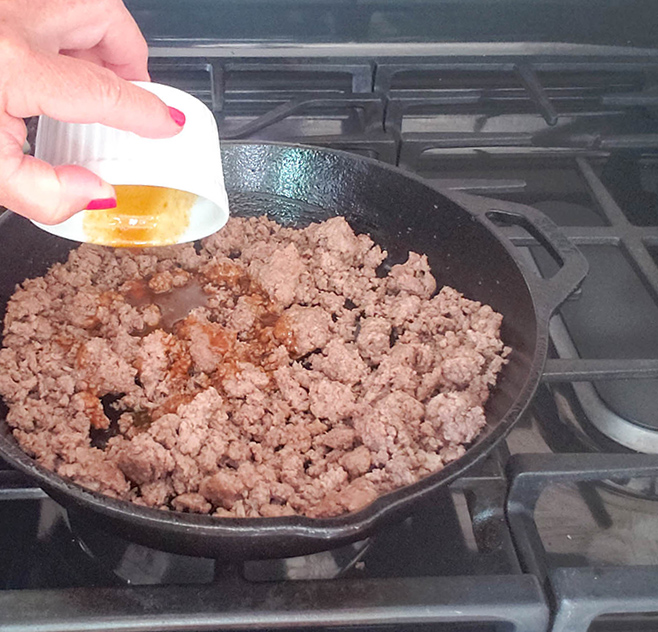 Step 2. Once the beef is cooked, stir in the sauce; reduce the heat to low to medium heat; allow the beef mixture to simmer for about 10 minutes.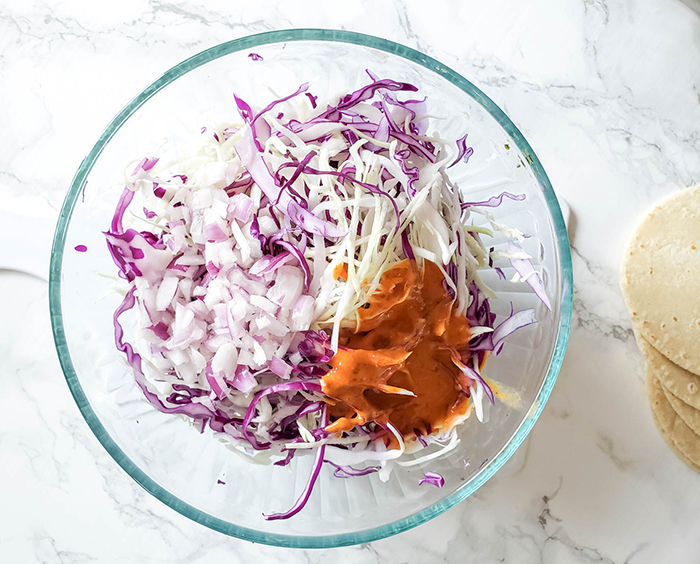 Step 3. Add the slaw ingredients (shredded cabbage, onions, lime juice and kimchi mayo) to a small bowl.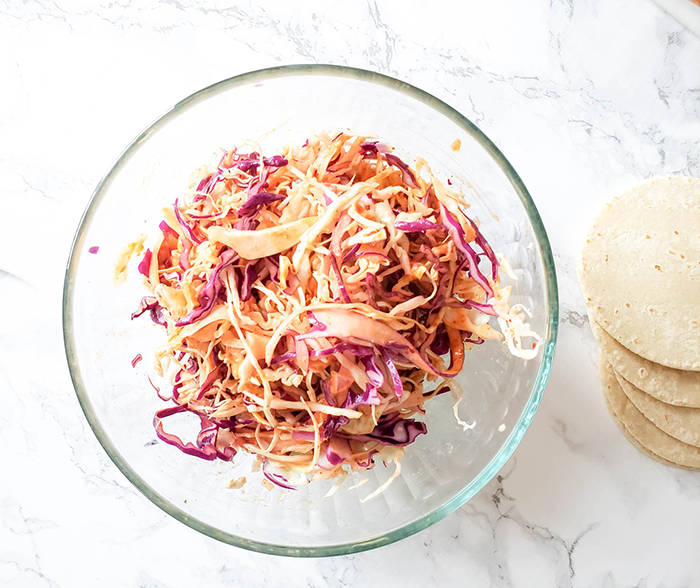 Step 4. Mix the kimchi slaw ingredients together and assemble your tacos in a bowl with lettuce as a salad or in warm tortillas.
Ingredient Notes & Substitutions
Ground Beef. Look for lean ground beef that's a minimum of 80/20 lean meat to fat content.
Substitute ground beef with ground turkey, pork or chicken.
Cabbage. Any color or type of cabbage can be used in this recipe. I like to mix red cabbage and white or Napa Cabbage.
Substitute fresh cabbage for pre-shredded coleslaw mix to make Korean beef tacos even easier.
Onion. I like to use red onions in this cabbage slaw, you can also use yellow or sweet onions.
Kimchi Mayonnaise. This mayo is perfect for making a quick spicy slaw. If you can't find it in grocery stores, you can find Lucky Foods Kimchi Mayonnaise on Amazon. You also can try mixing ½ teaspoon of sriracha sauce with ½ cup mayonnaise for a sriracha mayo.
BBQ Sauce. This sauce gives the beef a wonderful flavor and it's what makes this recipe so easy! It has just the right flavor for these tacos.
If it's not available in your local supermarket, you can find Lucky Foods Seoul Kalbi Sauce on Amazon, or you can substitute it with ½ cup tamari or soy sauce, ¼ cup honey, 1 teaspoon sesame oil, 1 teaspoon rice vinegar, 2 cloves crushed garlic and 1 teaspoon fresh minced ginger.
Tortillas. Soft taco size soft flour tortillas work the best in this recipe, even if you are serving it as a salad.
Corn tortillas can be substituted for flour tortillas.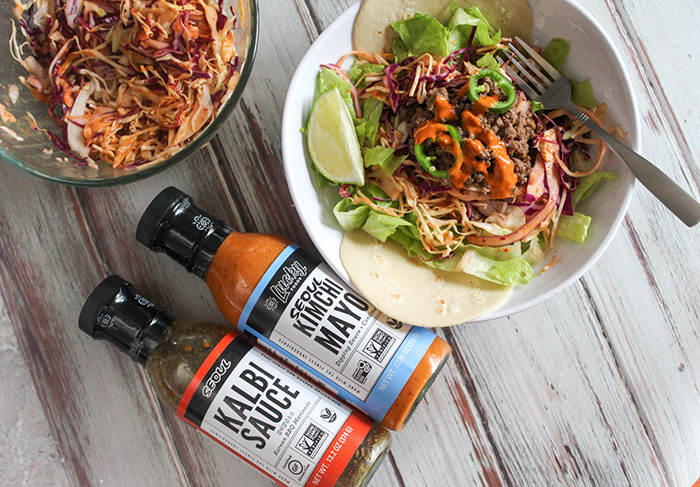 Serving Suggestions
Korean tacos taste great with a side of vegetables, such as kimchi, zucchini ribbons salad or cucumbers in vinegar. If you are eating your tacos as tacos and not a salad, a salad, a simple side salad goes well with Korean beef tacos too.
Make Ahead Instructions
Even though this is an easy recipe, it can be made ahead of time and assembled just before eating. Here's how:
Cook the beef according to the recipe instructions and store it in the fridge for up to three days.
Chop the cabbage and onions and store them in a separate container for up to three days or grab a bag of pre-shredded cabbage for an even faster taco dinner!
To serve, heat the beef over low heat on top of the stove; add the kimchi mayo and lime juice to the cabbage mixture and assemble the taco salad or tacos and enjoy.
Tip! Make a double batch of the ground meat and freeze what's leftover for a quick dinner on a busy night.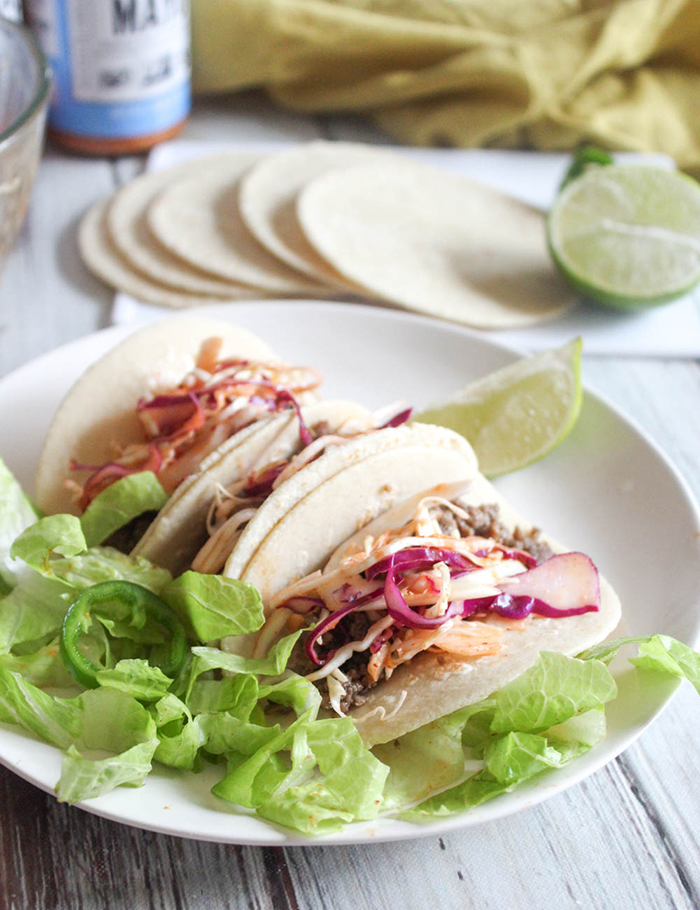 Storing and Using Leftovers
Store leftover Korean BBQ tacos unassembled in the refrigerator for three to four days. Leftover tacos can be refrigerated assembled, however, the flour tortillas may become soggy.
Freeze leftover ground beef in an airtight container or a reusable bag. Thaw it in the refrigerator overnight.
Freezing cabbage is not recommended!
Recipe Variations
Korean Taco Rice Bowls. Add ½ cup cooked rice to a bowl with the spicy slaw and ground beef for a Taco rice bowl.
Grilled Meat. Replace the ground beef with boneless chicken breasts, a flank steak or a skirt steak that has been marinated and grilled in the kalbi sauce. Slice the grilled meat into thin strips and stuff it into a tortilla or a salad.
Vegetarian Korean Tacos. Instead of ground beef, crumble a block of tofu and brown it in a skillet; add ¼ cup of sauce and simmer for 5 to 10 minutes and serve it with the kimchi slaw in a warm tortilla.
Garnish Ideas. Top your tacos or taco salad with jalapeno peppers, kimchi, pickled onions, sesame seeds or green onions.
You Might Also Like These Delicious Recipes
Join Our Mailing List to Receive Weekly Menu Ideas and More!
Be sure to check out Lucky Foods on Instagram | Facebook |