Cucumbers and onions in vinegar is a combination of crispy cucumbers and onions in a tangy yet slightly sweet vinegar. It's a classic summer side dish that can be made in minutes.
Cucumbers are low in calories and full of nutrients and water. They are cool, hydrating and nutritious which makes this salad perfect for a simple side dish.
Even though this salad reminds me of summer, it tastes great with Swedish Meatballs any time of the year.
Recipe Highlights
It's a simple recipe filled with fresh flavor and fresh ingredients.
There are only Seven healthy ingredients!
It's the perfect recipe to make ahead of time and will keep in your refrigerator for up to a week.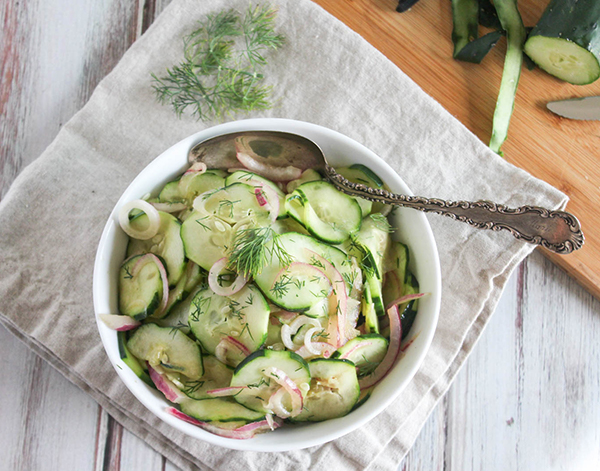 Here is what you will need
As an Amazon associate, I earn from qualifying purchases
Some of the simplest recipes are the best and cucumbers in vinegar is no exception. The ingredient list is a short one. Here is what you will need to make this salad:
Fresh sliced cucumbers
Red or white onions
Apple Cider or White Vinegar
Sea Salt
Coconut Sugar
Fresh dill
Ground pepper
Here is how to make it
Please note that this a list of steps to give you an idea how to make this recipe. Full details are in the recipe card below.
Slice the cucumbers and onions, place them in a mixing bowl, and sprinkle them with sea salt and sugar. Gently stir them until they are coated in the sugar/salt.
Allow the cucumber and onion mixture to sit at room temperature until the cucumbers release water, and stir in the vinegar.
Top the salad with fresh chopped dill and freshly ground pepper, adjust the salt and sugar to your taste and enjoy!
Estimated Time To Make This Recipe: 35 to 45 minutes (includes time for cucumbers to sit in the brine)
Cucumbers and Onions with Vinegar Tips and Variations
The best type of cucumber to use in this salad is the standard slicing cucumber or pickling cucumber.
Don't peel the cucumbers completely. The skin is where most of the nutrients are. If the skin seems tough peel strips off leaving part of the skin on.
The cucumbers should release enough water to dilute the vinegar, if you need to adjust the taste, add a few tablespoons of water.
Red onions can be substituted with Vidalia onions, which are a little bit sweeter than red onions
Change up the Cucumbers and replace them with thinly sliced zucchini
Change up the vinegar, replace the white vinegar with red or apple cider vinegar
Store cucumbers with vinegar and onions the refrigerator for up to a week.
You Might Also Like these Summer Recipes