Cucumbers and onions in vinegar is a combination of  crispy cucumbers and onions in a tangy yet slightly sweet vinegar. It's a classic summer side dish that can be made in minutes.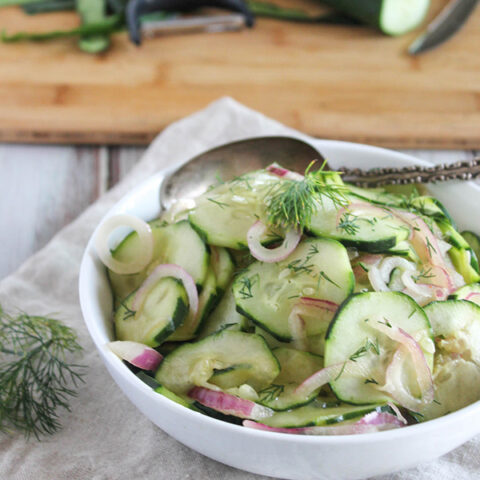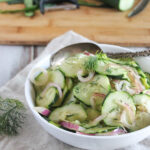 Fresh cucumbers and onions in vinegar is a refreshing cucumber salad that is quick and easy to make. It's a delicious side dish perfect to bring to your next barbecue or pot-luck.
It's a classic simple side dish that can also be served at home any time of the year.
This recipe was originally posted in 2017, it's been updated for content and photos.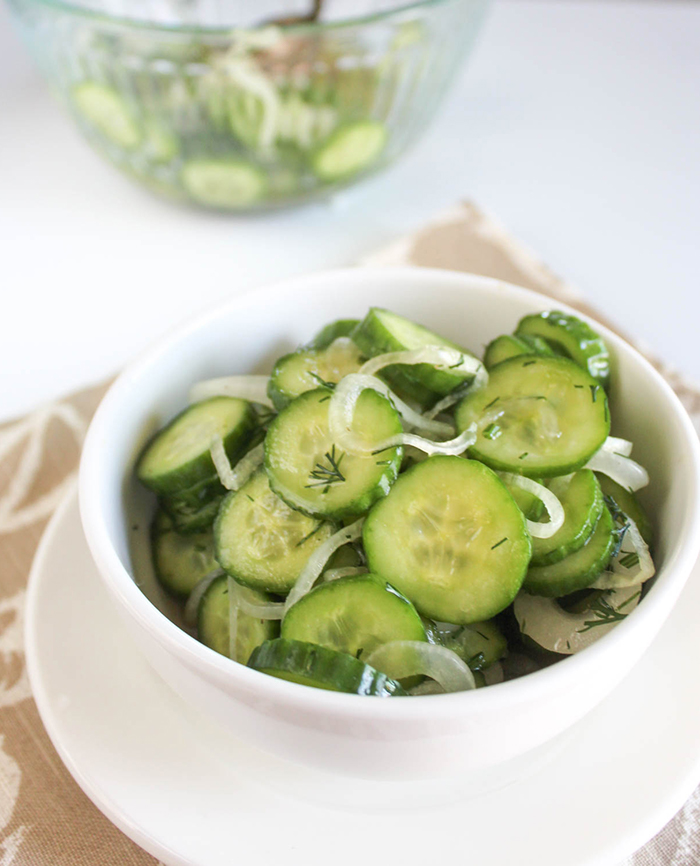 Some of the simplest recipes are the best and crisp cucumbers in vinegar is no exception. Crispy cucumber slices and onions are tossed in tangy yet slightly sweet vinegar.
Even though this salad reminds me of summer, it tastes great with Swedish Meatballs any time of the year.
Why this Recipe Works
It's an easy cucumber salad recipe filled with fresh flavor and simple ingredients.
It's healthy! Cucumbers are low in calories, full of nutrients and water.
It's the perfect recipe to make ahead of time and will keep in your refrigerator for up to a week.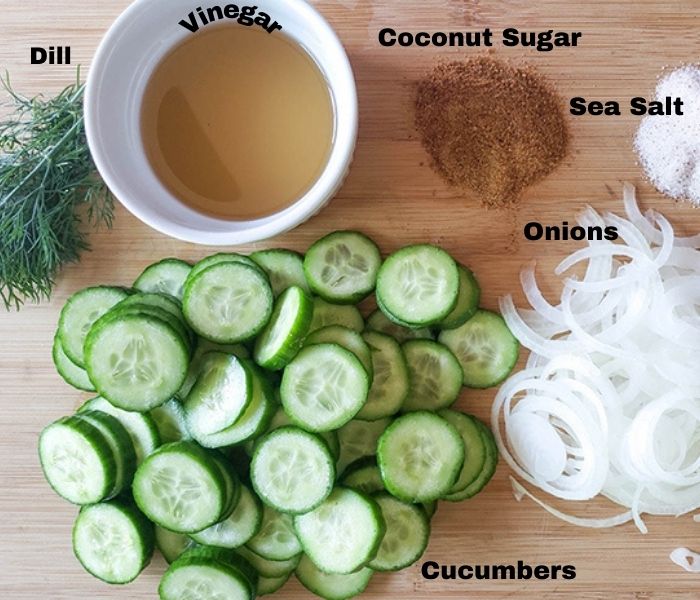 Here is What You Will Need
As an Amazon Associate, I earn from qualifying purchases.
This is an overview of the ingredients and steps to make this recipe, scroll down to see ingredient notes and substitutions as well as a printable recipe card with exact measurements and complete cooking instructions.
Ingredients
Cucumbers
Onions
Fresh Dill
Ground Pepper
Equipment
---
Here is How To Make Easy Cucumber Onion Salad
Prepare the ingredients: Slice the cucumbers and onions into thin slices. Measure the salt, sugar, vinegar and chop the fresh dill.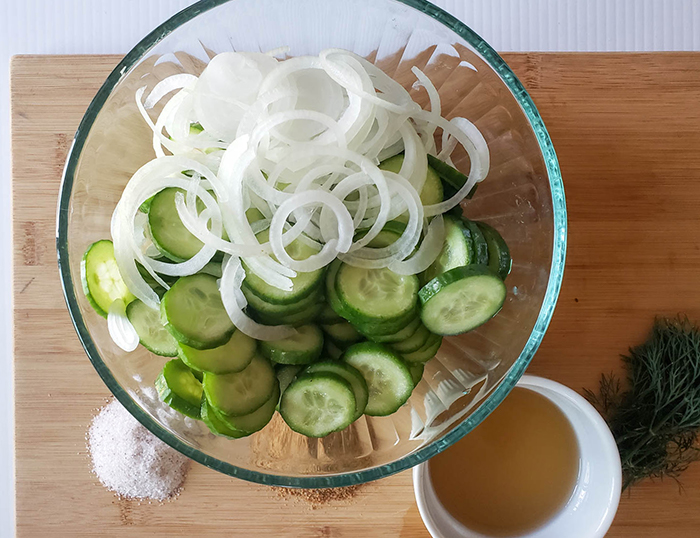 Step 1. Place the sliced cucumbers into a medium-size bowl with the onions.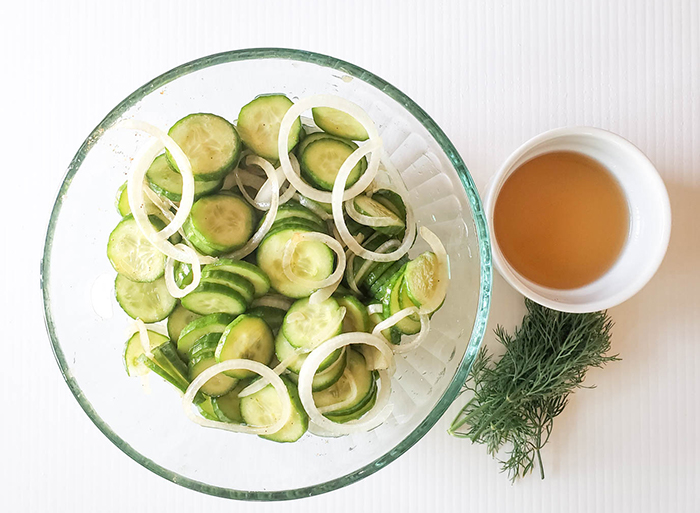 Step 2. Stir in the salt and sugar, and allow the cucumbers to sit at room temperature for one hour.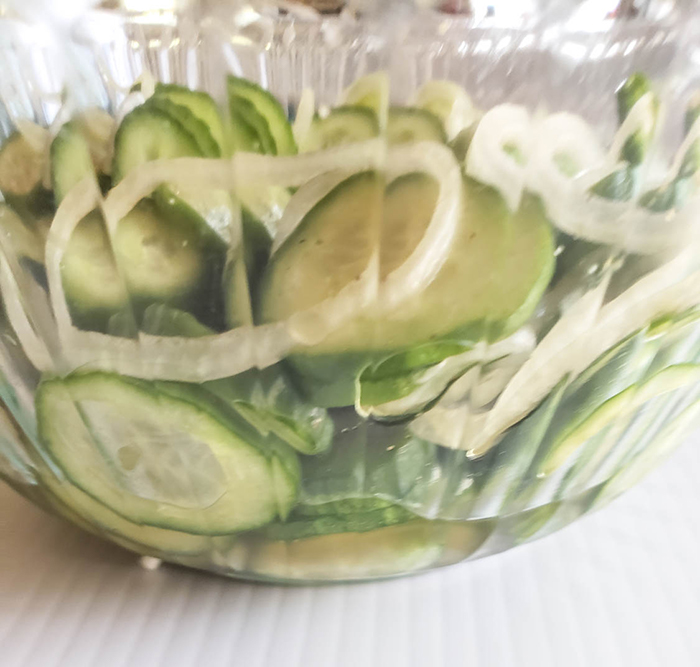 Step 3. At this point, the cucumbers will have released water into the bowl, if not let them sit for 30 minutes longer or add the vinegar and adjust the flavor with water.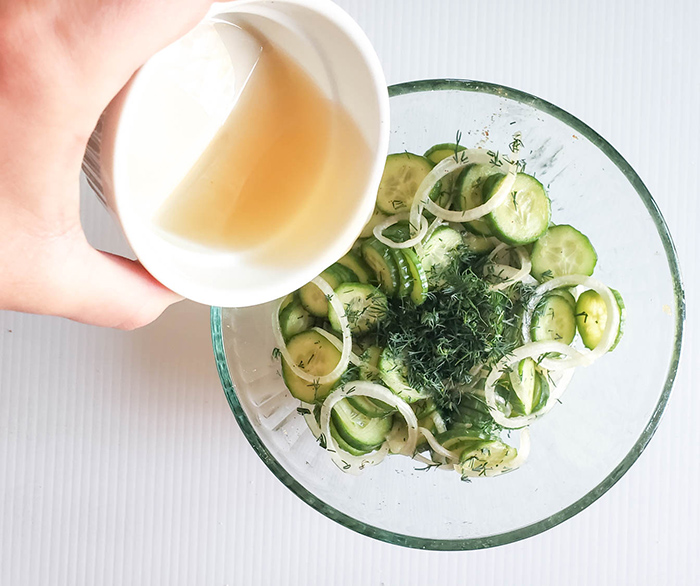 Step 4. Combine vinegar and chopped dill with the cucumbers. Adjust the flavor with more water for a less vinegar taste.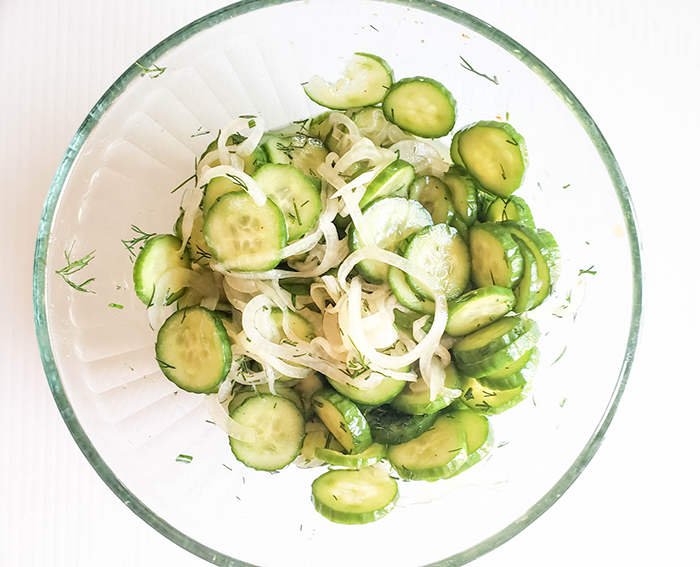 Step 5. Toss all of the ingredients together.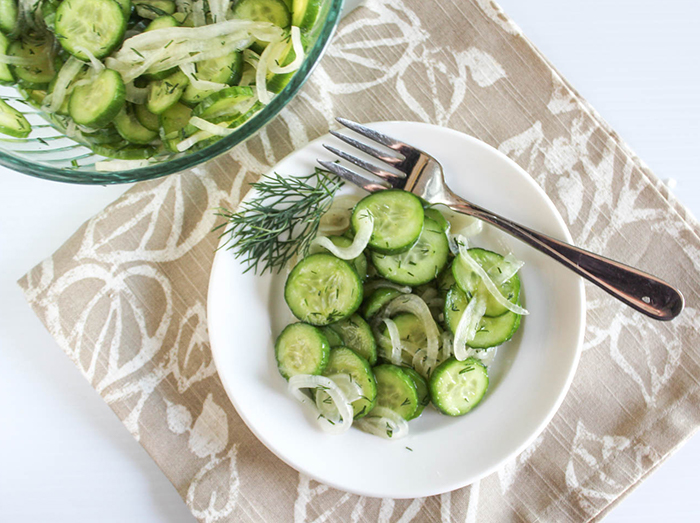 Ingredient Notes & Substitutions
Cucumbers. You can use any type of cucumber in this recipe. In the summer I use cucumbers from my garden.
In the winter, I like the small Kirby cucumbers, Persian cucumbers for their delicate flavor and thin skins. English cucumbers or regular cucumbers from the grocery store work well too.
Onions. As with the cucumbers you can use any variety of onions that you have. Red onions make a pretty presentation, white onion or Vidalia onions are a good choice too for their sweet flavor.
Coconut Sugar. I prefer to use natural sweeteners, and you can easily substitute with white sugar or sucanat sugar for coconut sugar.
Sea Salt can be replaced with table salt or kosher salt.
Vinegar. Apple cider vinegar is my vinegar of choice in this recipe, but you can also use white wine vinegar, red wine vinegar, rice vinegar or champagne vinegar.
Experiment with different types of vinegar in this salad, each one will give its own flavor to this salad.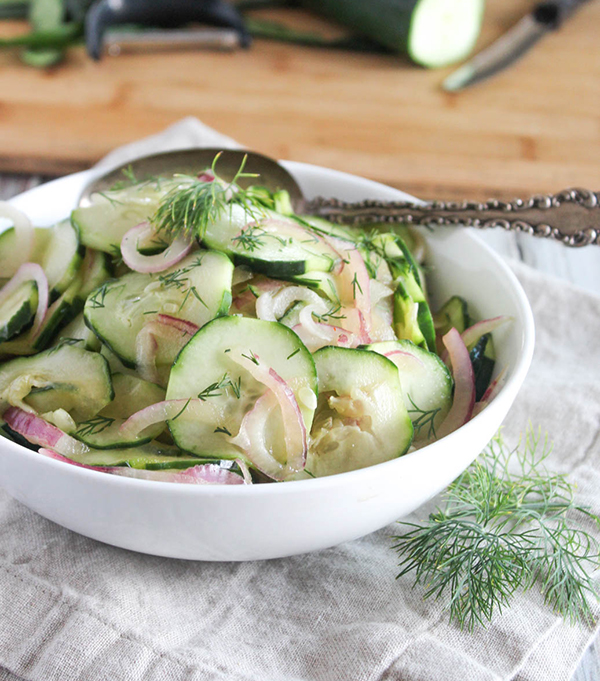 Serving Suggestions
This tangy side salad tastes great as a side dish with a burger, grilled chicken, beef, pork chops, seafood or Swedish meatballs
How to Store Leftover Cucumber Vinegar Salad
Store leftovers in an airtight container in the refrigerator for up to a week.
If you like cucumbers, try this Summer Salad with Cucumbers and Feta
Recipe Variations
Zucchini and Onions Salad. Replace the cucumbers with thinly sliced zucchini or a combination of both sliced cucumbers and zucchini.
Cucumber and Onions with Tomatoes. Add ½ to ¾ cup of halved cherry tomatoes or tomato wedges to the salad.
Cucumber and Onions with Peppers. Add ½ to ¾ cup of bell pepper slices to the salad.
Change up the Herbs and use any combination of chopped fresh mint, fresh basil or fresh oregano.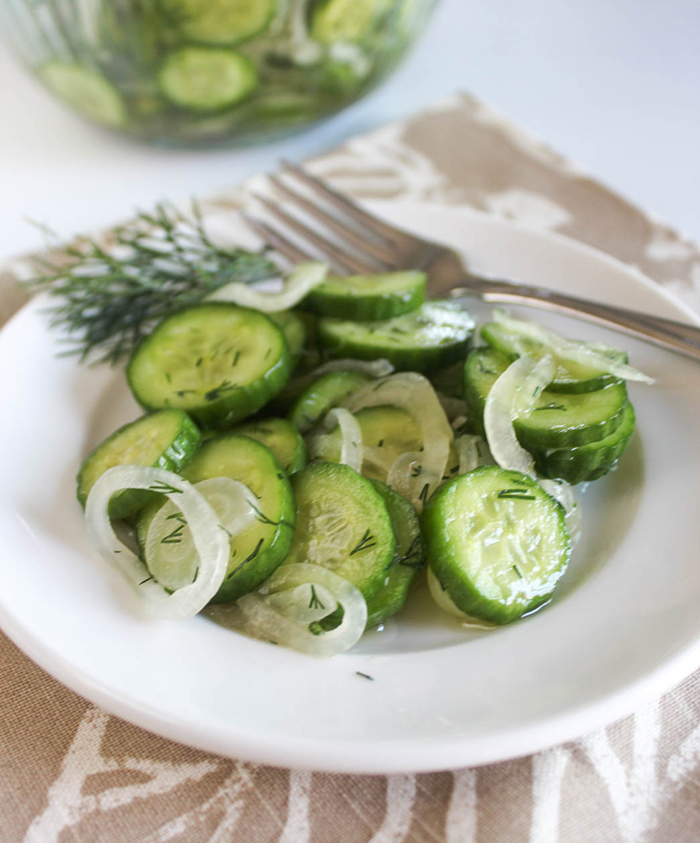 Cucumber Salad Questions Answered
Here are the most commonly asked questions about cucumbers and onions in vinegar. If your question isn't answered below, leave me a comment below and I will get back to you as soon as I can.
Why are the cucumbers soaked in salt and sugar?
The cucumbers are soaked in salt and sugar brine to draw the water out of the cucumber slices. The water also dilutes the vinegar taste, and more water can be added if the vinegar is too strong.
Do I have to peel the cucumbers before making this salad?
It's okay to not peel the cucumbers when the skin is thin as is the skin is on baby, Persian or English cucumbers. If the skin is thick and tastes bitter it's best to peel the cucumbers.
Should the cucumbers be drained before adding the vinegar?
No! Do not drain the cucumbers before adding the vinegar. The water from the cucumbers will dilute the vinegar, and it can be adjusted by adding more water and sugar to taste.
For more simple and delicious recipes like this, subscribe to our newsletter and receive a free e-book and meal suggestions straight in your inbox!
You Might Also Like these Summer Recipes
If you like this recipe, please comment and rate it below!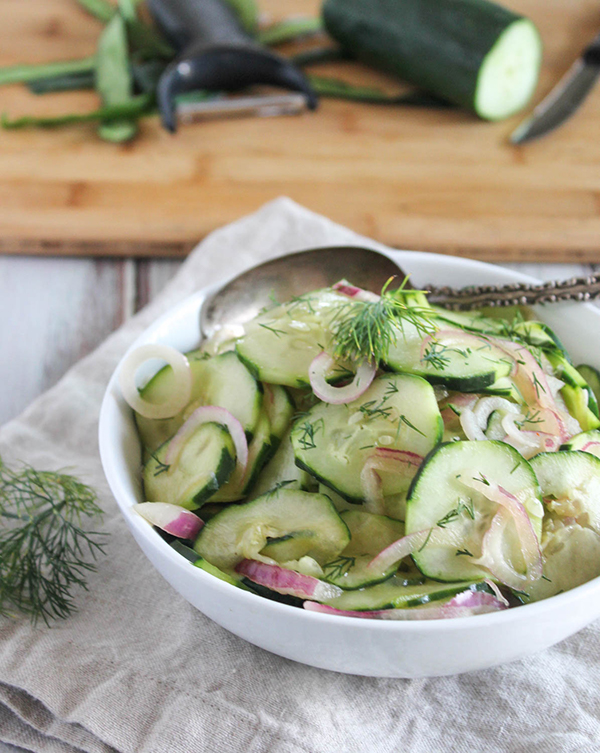 Click on serving size to scale this recipe
Ingredients
3

medium cucumbers

1

medium onion

1

tablespoon

sea salt

1

tablespoon

coconut sugar

½

cup

apple cider vinegar or white wine vinegar

2

tablespoons

fresh chopped dill

pepper to taste
Instructions
With a sharp knife or

mandolin

, slice the cucumbers and onions very thin

Place the onions and cucumbers into a bowl; sprinkle with sea salt and sugar and mix well.

Set the mixture aside for at least one hour to allow the cucumbers to release water

Add the vinegar and dill; stir – adjust the salad with salt, pepper and sugar and water to taste
Notes
Ingredient notes:
Cucumbers - any type of cucumber can be used in this recipe. If they are thin skinned cucumbers they do not need to be peeled.
Onions - Red, white, yellow or vidalia onions are the best onions for this salad.
Sea Salt - can be replaced with an equal amount of kosher salt or table salt.
Coconut Sugar- can be replaced with an equal amount of sucanant sugar or refined sugar.
Vinegar - Apple cider, white, red or champagne vinegar are good choices.
Nutrition
Calories:
50
kcal
|
Carbohydrates:
11
g
|
Protein:
1
g
|
Sodium:
1195
mg
|
Fiber:
1
g
|
Sugar:
6
g
Nutrition information provided is an estimate and can vary based on cooking methods and ingredients used