Grilled onion burgers are juicy beef burgers topped with grilled onions, blue cheese, peppery arugula, and a tangy yogurt sauce for the perfect blend of flavors.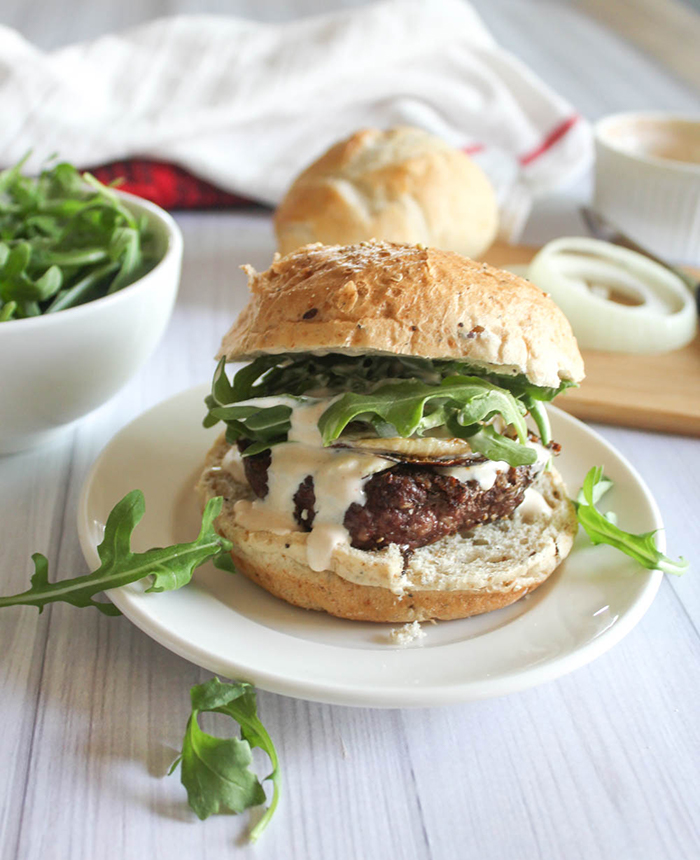 In the summer I like to keep things simple and cooking everything on the grill is the best way to do that. Instead of frying, the onions are brushed with a little bit of oil and balsamic vinegar and then grilled with the burgers for a sweet and delicious burger topping.
Grilled onion burgers are an easy favorite summer recipe, check out our caramelized onion burgers too.
Why This Recipe Works
It cooks up quickly and everything is cooked on the grill which means easy clean-up!
It's the perfect combination of flavors in a burger.
Here is What You Will Need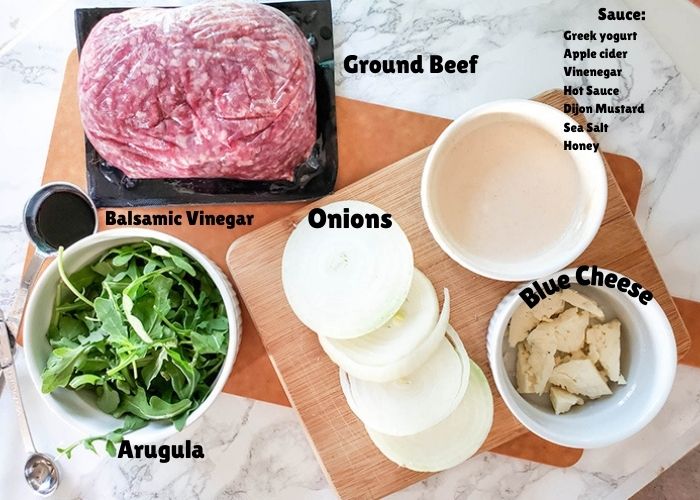 As an Amazon Associate, I earn from qualifying purchases.
This is an overview of the ingredients and steps to make this recipe, scroll down to see ingredient notes and substitutions as well as a printable recipe card with exact measurements and complete cooking instructions.
Ingredients
Lean Ground Beef
Onion
Blue Cheese
Greek Yogurt
Dijon Mustard
Sea Salt
Hot sauce such as Frank's
Honey or Maple Syrup
Hamburger Buns
Equipment Needed To Make A Grilled Onion Burger
Here Is How to Make Grilled Onion Burgers
Get all of the ingredients ready: Pre-heat the grill on medium-high heat setting, slice the onions into ½ to ¾ inch thick slices, and form the ground beef into 4 - 4 ounce patties, rinse and dry the arugula, measure the cheese.
Mix the yogurt, mustard, hot sauce and syrup together to make the burger sauce.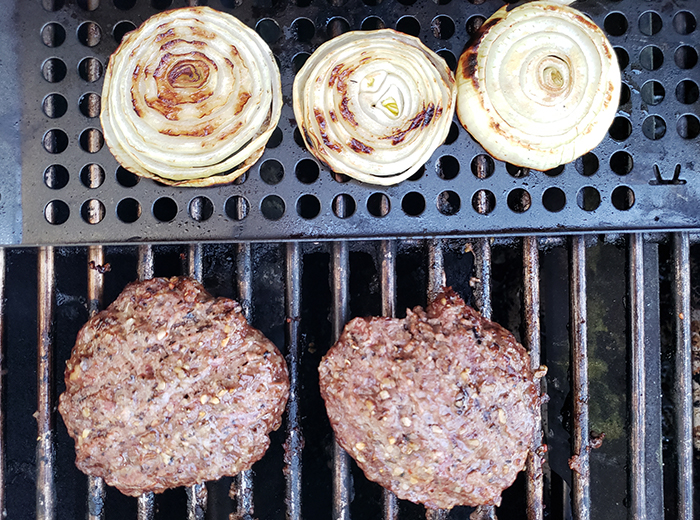 Step 1. Grill the burgers and onions
Reduce the heat on the grill to medium heat. Season the burgers with salt and pepper, and brush onion slices with balsamic vinegar and olive oil over the onions. Place burgers and onions on the grill. Cook for about 5 to 6 minutes and flip them over, cook for five minutes longer or until the burgers reach your desired doneness.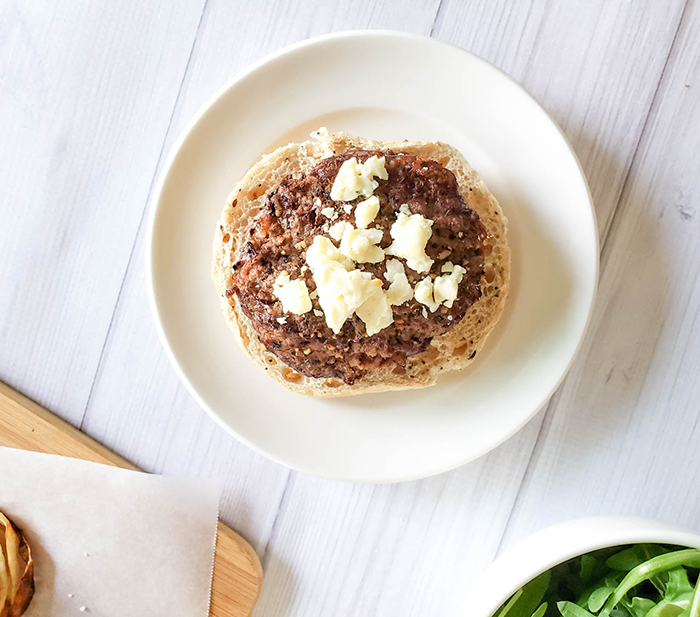 Step 2. Assemble the burgers
Place the blue cheese on top of the burger just before removing them from the grill; close the lid until the cheese begins to melt. Remove the burgers from the grill and place them on a hamburger roll or slice of bread and continue to assemble the burger.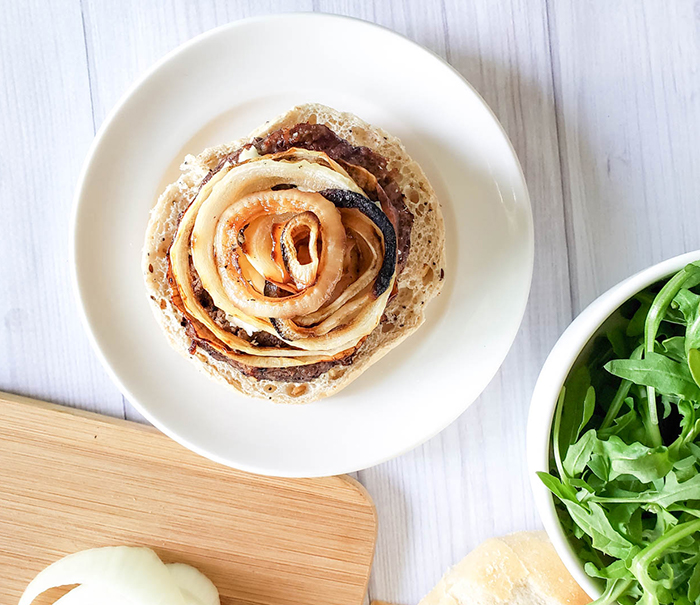 Step 3.
Top the burger with the grilled onion.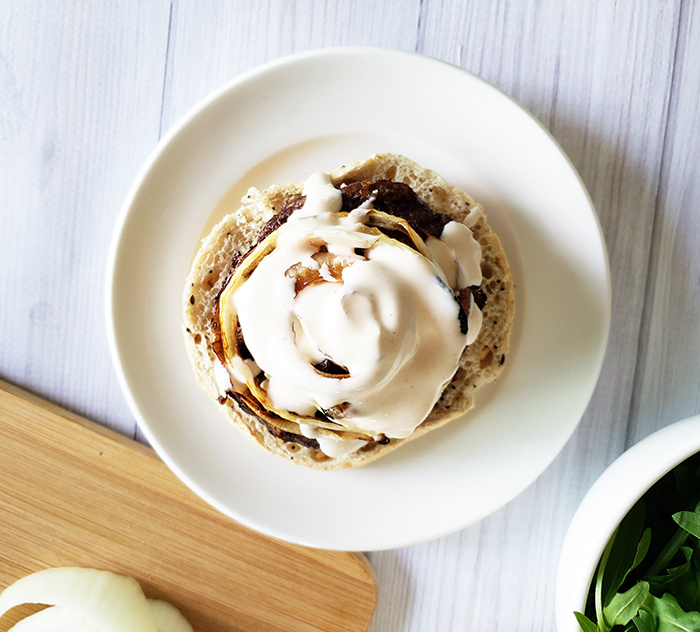 Step 4. Add the sauce
Add a few spoonfuls of sauce.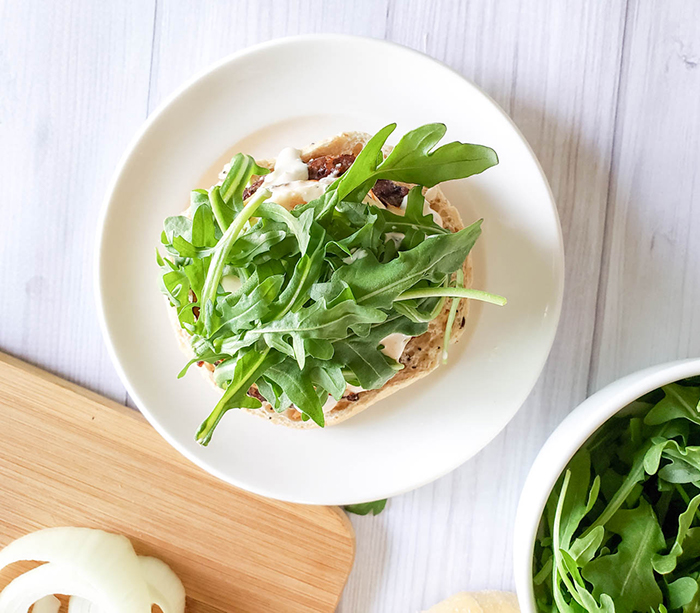 Step 5.
Top it with a handful of arugula.
Use a quick-read meat thermometer to read the temperature of your burgers.
Ingredient Notes & Substitutions
Ground Beef. Try to choose lean ground beef with 80 to 85% meat to fat content or higher.
Substitute ground beef with ground bison, turkey, chicken or pork.
Check out ButcherBox for high-quality,grass-fed beef!
Onion. Sweet onions are the best onions to grill with, but if you don't have them you can use just about any type of onion such as red onions, white onions or all-purpose yellow onions.
Hot Sauce. Adds a little bit of spicy buffalo flavor and is optional.
Serving Suggestions
Serve these grilled onion burgers with a cucumber salad, pickles, macaroni salad, potato salad or grilled vegetables. at your next bbq.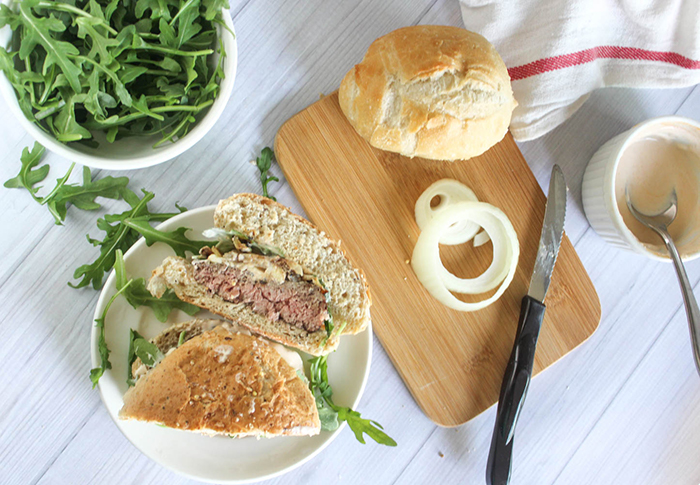 Storing and Using Leftovers
Store Leftover burgers in the refrigerator for up to three days in an airtight container.
Serve them as they are re-heated on the grill or microwave or break the burgers and toss them into the salad.
Recipe Tips and Questions
Use a meat thermometer to make sure your burger is cooked properly ( Internal temperature for rare 125 degrees, medium-rare 135 degrees, medium 145 degrees, well 160 degrees).
If the burger sticks to the grill grates, allow it to cook for a minute or two longer before flipping it.
Recipe Variations
Change up the cheese. Replace the blue cheese with provolone, cheddar cheese, swiss cheese, or sharp cheddar.
Add Mushrooms. Slice portobello mushrooms with oil and balsamic vinegar and grill them with the onions and top the burger with them.
Add Peppers. Grill red bell peppers and add them to the burgers for a hint of sweetness.
For more simple and delicious recipes like this, subscribe to our newsletter and receive a free e-book and meal suggestions straight in your inbox!
You Might Like these Burger Recipes
If you like this recipe, please comment and rate it below!