Blueberry barbecue sauce is naturally sweet with a little bit of tang. It' tastes great slathered on grilled chicken, pork or tofu.

This post may contain affiliate links for more information, please see our Disclosure.
Homemade Is Always Better
After searching high and low for a barbecue sauce that doesn't have a lot of added sugar or high fructose corn syrup, I decided to start making my own.
Homemade always tastes better, and when I realized how easy barbecue sauce is to make, homemade has become a regular when we serve barbecue sauce.
Blueberries are in season and when they are combined with a little bit of maple syrup, they add a subtle sweet flavor to the barbecue sauce. Don't you love the dark purple color?
Sweetening recipes with fresh fruit is something do a lot. I then adjust the sweetness at the end of preparation with a natural sweetener like maple syrup or honey. It's an easy way to control the amount of sugar in a recipe.

The Ingredients
The key to fresh tasting homemade food is to start out with quality ingredients, and barbecue sauce is no exception. Here is what you will need to make homemade blueberry barbecue sauce:
Organic Ketchup that is naturally sweet, my preference is Veg'd Ketchup – it even has hidden veggies in it!
Fresh or Frozen Blueberries
Fresh Garlic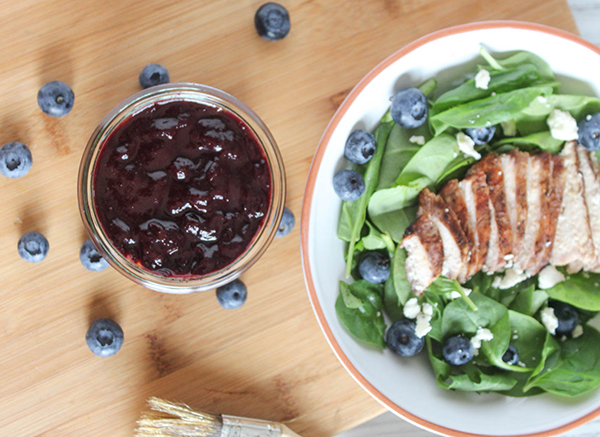 Recipe steps to make Homemade Blueberry Barbecue Sauce
Please note that this a list of steps to give you an idea how to make this recipe. Full details are in the recipe card below.
Wash and dry the blueberries, and add them to a sauce pan
Crush the garlic using a garlic crusher and add it to the pan with the blueberries
Add all of the ingredients to a sauce pan and cook on low heat and adjust the sweetness
Total estimated time to make this recipe: 30 to 40 minutes
Blueberry Barbecue Sauce Recipe Tips
For a smooth bbq sauce, use an immersion blender after the sauce has finished cooking and blend until smooth
If you don't have fresh blueberries, you can use frozen blueberries
Change it up! Substitute the blueberries for 1 cup of raspberries or blackberries
This sauce tastes great smeared on grilled chicken, pork or tofu

You Might Also Like These Summer Recipes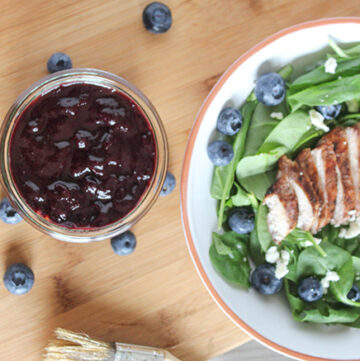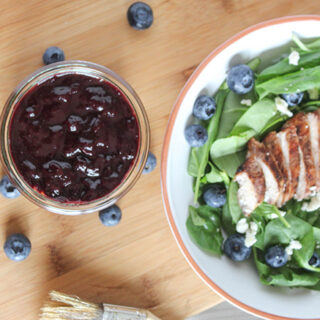 Blueberry Barbecue Sauce
Ingredients
1 cup fresh blueberries
½ cup apple cider vinegar
1 tablespoon maple syrup (you can adjust this to your taste)
1 clove fresh garlic, crushed
1 ½ teaspoons chipotle chili powder
Instructions
Wash and dry the blueberries
Add the ½ cup ketchup, ½ cup apple cider vinegar, crushed garlic and 1 ½ teaspoons chili powder to a sauce pan and cook on low heat stirring occasionally until the blueberries become very soft - about 30 minutes
Add 1 tablespoon maple syrup, and check the taste for sweetness and adjust
Notes
For a smooth bbq sauce, use an immersion blender after the sauce has finished cooking and blend until smooth
If you don't have fresh blueberries, you can use frozen blueberries
Change it up! Substitute the blueberries for 1 cup of raspberries or blackberries
This sauce tastes great smeared on grilled chicken, pork or tofu
Nutrition information is provided by Nutrifox, an online calculator and is meant to be used for informational purposes only. Even though I try to provide accurate information, these figures should still be considered as estimates