Get ready to fire up your grill and make these Spinach Feta Turkey Burgers that are made with fresh baby spinach and crumbly feta cheese. They are juicy, flavorful, gluten-free, and low-carb.
Mild tasting ground turkey is the base of this recipe and the addition of the veggies and cheese adds a ton of flavor and makes these burgers moist. They can be cooked on a grill or in a skillet.
This recipe was originally posted in 2018, it's been updated for content and photos.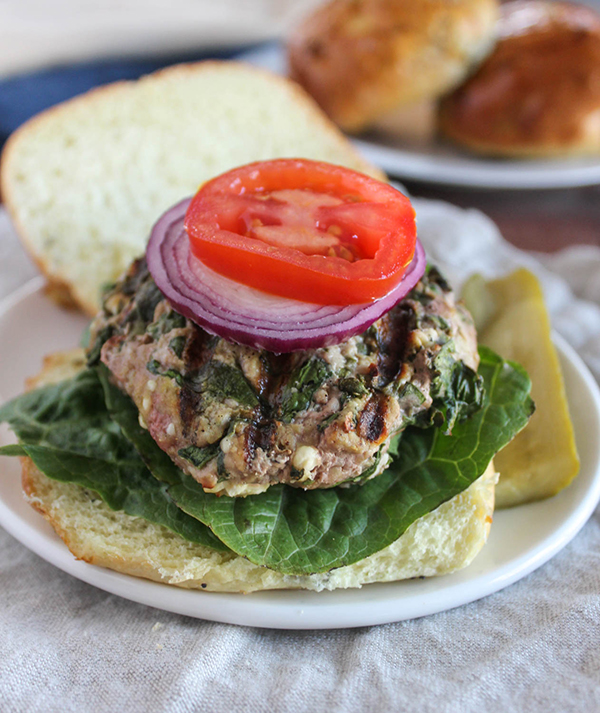 Spinach and feta turkey burgers are loaded with flavor! Serve them on your favorite roll or sourdough bread with a side of refreshing cucumber salad.
Why This Recipe Works
Greek turkey burgers are a quick and easy dinner idea, made with only four ingredients!
Turkey burgers are lean and healthy, and the spinach adds more healthy benefits.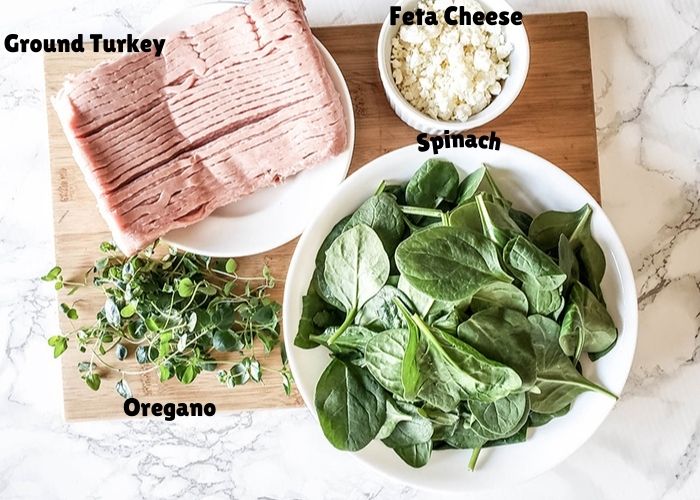 Here is What You Will Need
This is an overview of the ingredients and steps to make this recipe, scroll down to see ingredient notes and substitutions as well as a printable recipe card with exact measurements and complete cooking instructions.
As an Amazon associate, I earn from qualifying purchases
---
Ingredients
Ground Turkey
Baby Spinach
Feta Cheese
Oregano
Equipment
---
Here is How to Make Spinach Feta Turkey Burgers
Get all of the ingredients ready: Rinse and Measure the spinach, oregano and cheese; preheat the grill to medium heat.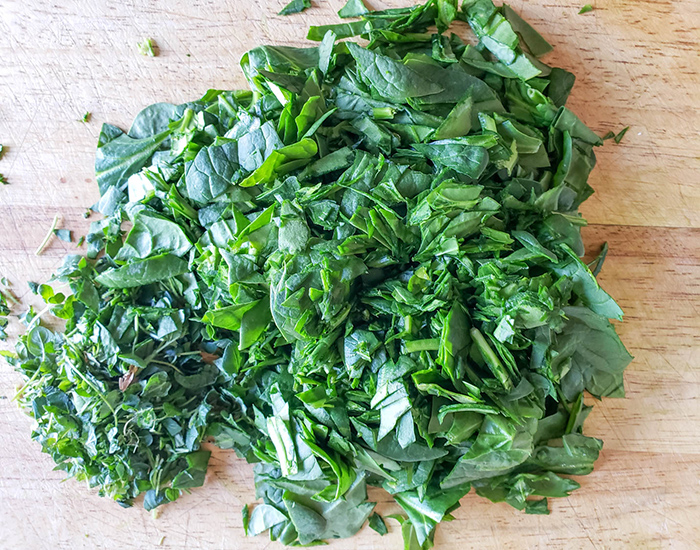 Step 1. Roughly Chop the spinach and oregano.
Note! It will look like a lot of spinach, but it will reduce in the burger once it is cooked.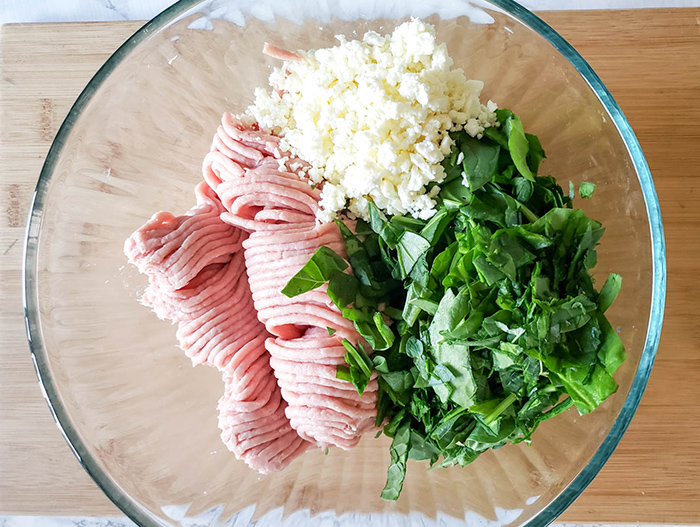 Step 2. Place the ground turkey, feta cheese, spinach, and oregano into a mixing bowl.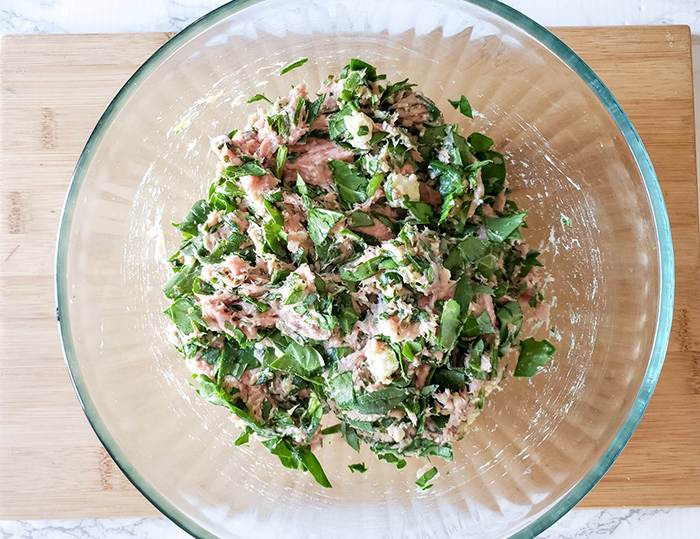 Step 3. Use a spoon or your hands to combine all of the ingredients together.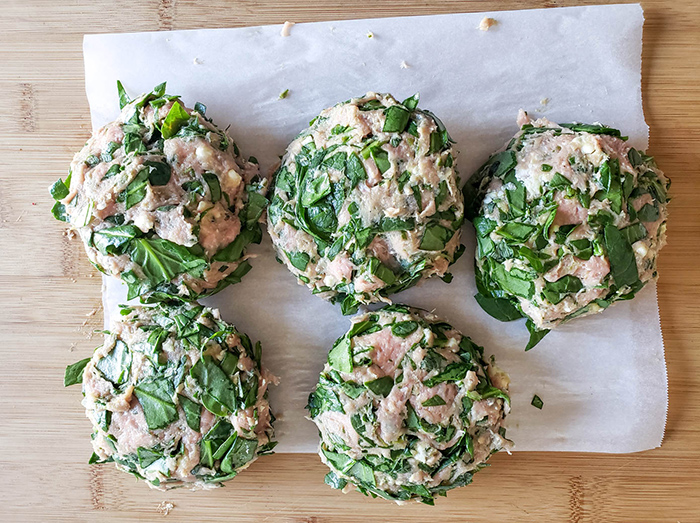 Step 4. Form the burgers into 4 or 5 patties.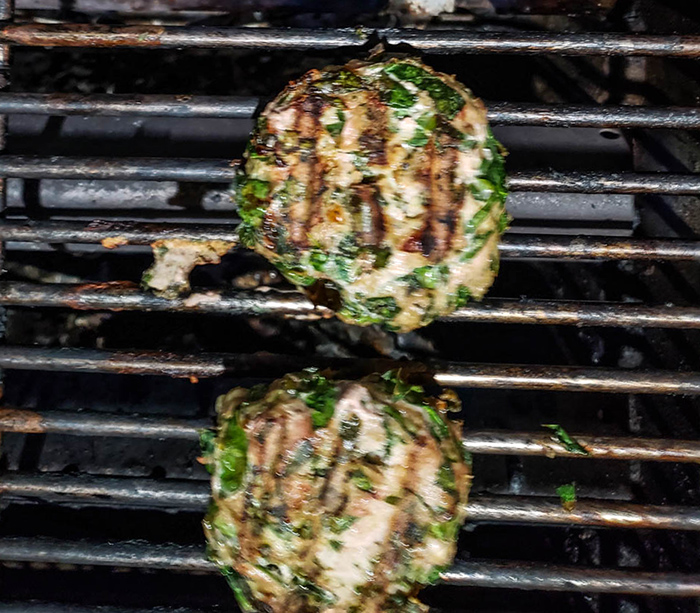 Step 5. Cook the burgers for 6 to 8 minutes on each side until they reach an internal temperature of 165 degrees.
Total Estimated Time to Make This Recipe: 20 to 30 Minutes
Ingredient Notes & Substitutions
Turkey - Ground turkey breast is recommended for this recipe, and you can use a blend of dark and white ground turkey also.
Substitute Ground Turkey - Any type of ground meat will work in this recipe. We like lean ground turkey breast or ground chicken for the mild flavor. Ground beef, pork or lamb can be used too.
Fresh oregano - Adds delicious flavor to this recipe and can be found in most superarkets.
Substitute 2 teaspoons of dried oregano can be substituted for fresh oregano, if fresh is not available.
Spinach - We like baby spinach in this recipe, and the larger-sized spinach will work too.
Substitute frozen chopped spinach for fresh spinach - Cook and completely drain 4 to 5 ounces of frozen spinach and use it in place of fresh spinach.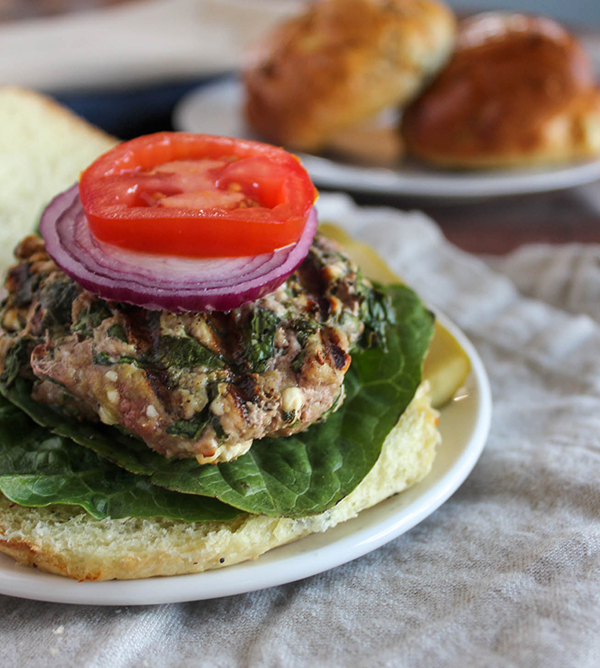 Serving Suggestions & Recipe Variations
Serve spinach and feta turkey burgers on your favorite whole-grain or sourdough roll or bread with a dab of mustard, sliced onions, and sliced tomatoes.
Make them low carb and serve your spinach feta burgers in a bowl on top of your favorite salad greens, Greek Salad anyone?
Spinach Feta Meatballs - turn the feta spinach turkey burgers into meatballs or meatloaf and bake them in the oven.
Change up your turkey burgers by adding ¼ cup of sliced Kalamata olives or chopped sun-dried tomatoes.
Make-Ahead Instructions
Turkey spinach feta burgers are perfect for meal prepping ahead of time. Simply mix all of the ingredients together, make the burgers and store them in the refrigerator for one to two days.

Storing and Freezing Leftover Turkey Burgers
Store leftover spinach feta turkey burgers in the refrigerator for up to three days in an airtight container.
Freeze cooked feta spinach turkey burgers in the freezer for up to three months in a freezer-safe container.
Reheat the burgers on top of the stove in a skillet or the microwave. They can be reheated from frozen or thawed out.
Freeze raw turkey burgers in the freezer by placing them on a baking sheet in the freezer until they are frozen. Place the frozen raw burgers into a freezer-safe container for up to three months.
You Also Might Like These Recipes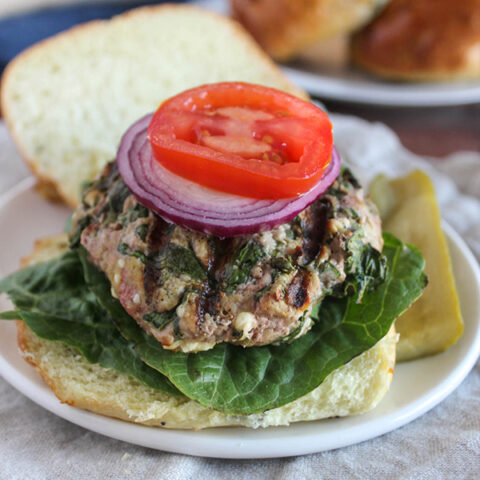 Spinach Feta Turkey Burgers
Spinach feta turkey burgers are made with fresh baby spinach and crumbly feta cheese.
Ingredients
1 pound ground turkey
4 ounces baby spinach
½ cup feta cheese
¼ cup fresh oregano
1 Tablespoon olive oil - (for cooking on top of the stove)
Instructions
Preheat the grill to medium to high heat.
Clean and roughly chop the spinach and oregano and place them into a mixing bowl.
Add the ground turkey, feta cheese crumbles to the bowl with and mix everything together with a wooden spoon or your hands.
Form the burgers into 4 or 5 burgers (depending on how large you like your burgers).
Place the burgers on the heated grill and cook them for 6 to 8 minutes on each side until they reach an internal temperature of 165 degrees
If you are cooking the burgers in a skillet, heat the olive oil or brush it into the pan to prevent the burgers from sticking.
Once the grill pan is hot, add the burgers and cook them on one side for 6 to 8 minutes and flip them over. Cook them for 6 to 8 minutes longer until the internal temperature reaches 165 degrees.
Notes
Substitutions
Fresh Oregano can be substituted with 2 teaspoons dry oregano
Frozen Spinach may be used in place of fresh: 4 ounces according to package directions, cool and dry thoroughly before adding it to the meat.
Nutrition Information:
Yield:

5
Serving Size:

1 burger
Amount Per Serving:
Calories:

284
Total Fat:

20g
Saturated Fat:

6g
Trans Fat:

0g
Unsaturated Fat:

12g
Cholesterol:

103mg
Sodium:

151mg
Carbohydrates:

2g
Fiber:

1g
Sugar:

0g
Protein:

24g
Nutrition information is provided by an online calculator and is meant to be used for informational purposes only. Even though I try to provide accurate information, these figures should still be considered as estimates.