If summer could be a burger, a balsamic chicken caprese burger would be it! Mild tasting ground chicken is grilled and topped with mozzarella cheese, fresh tomatoes, and basil. It has all of the flavors of summer.
These chicken burgers are moist and delicious. Chicken is the perfect blank slate for piling on fresh ingredients. They are brushed with oil and garlic before cooking which helps them to stay moist and flavorful. The drizzle of balsamic reduction soaks into the roll for a super flavor-packed chicken burger.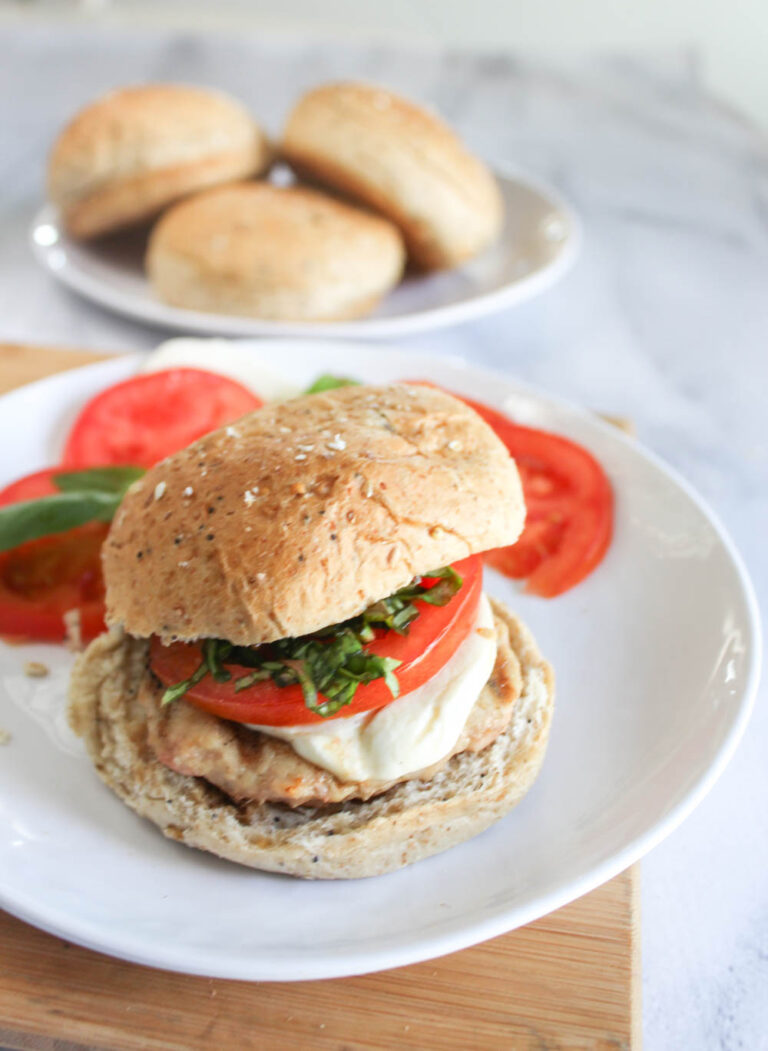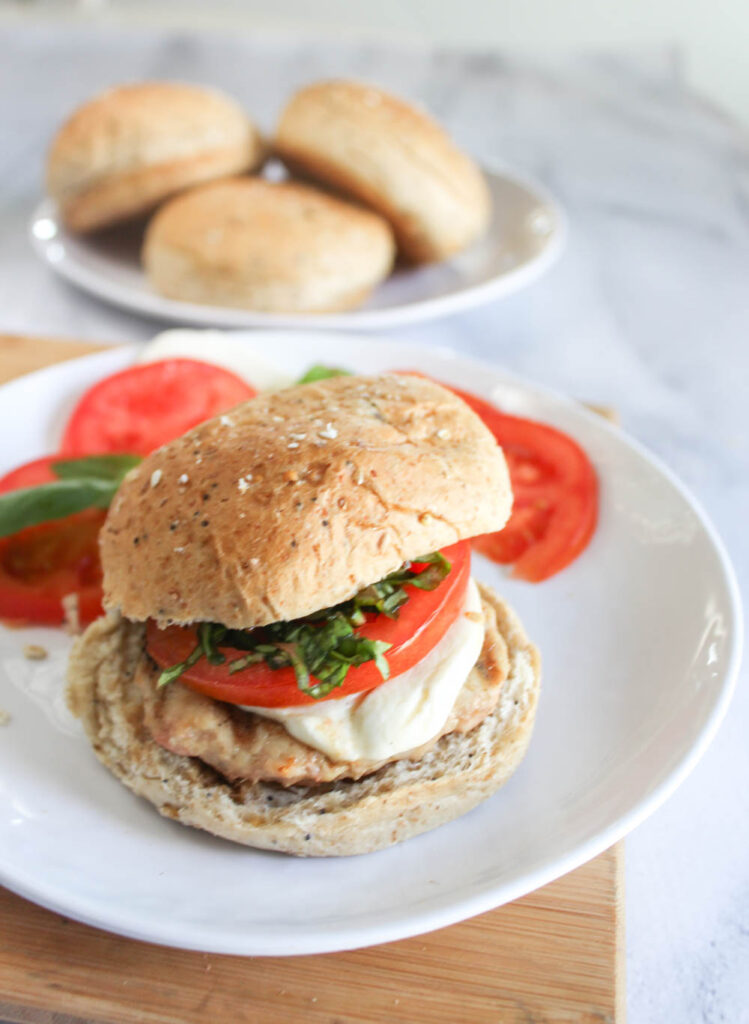 We love burgers! In addition to these Caprese chicken burgers, Jamaican jerk chicken burgers, grilled onion burgers, and Greek turkey burgers are just a few of our favorites.
Why this Recipe Works
Caprese chicken burgers are quick and easy to make with only 5 fresh ingredients.
They are moist, delicious, and healthy!
Here is What You Will Need
This is an overview of the ingredients and steps to make this recipe, scroll down to see ingredient notes and substitutions as well as a printable recipe card with exact measurements and complete cooking instructions.
As an Amazon Associate, I earn from qualifying purchases
---
Ingredients
Ground Chicken
Olive Oil
Garlic
Mozzarella Cheese
Basil
Equipment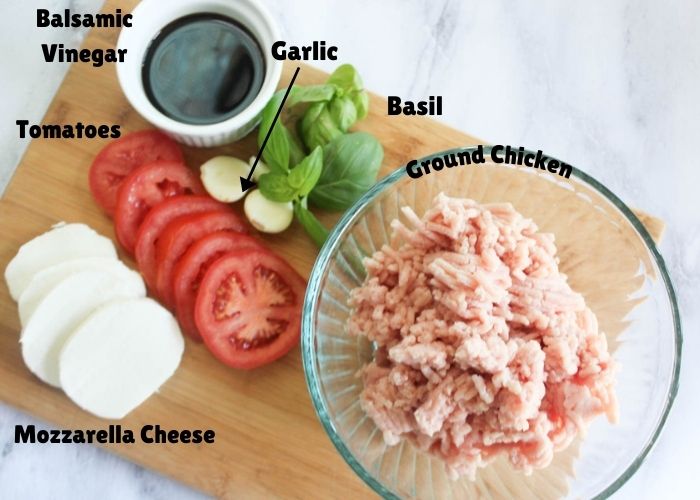 Estimated Time To Make This Recipe: 30 to 40 minutes
Here is How To Make Caprese Chicken Burgers
Get all of the ingredients ready: Preheat the grill to medium heat. Crush the garlic with a garlic crusher or the back of a wooden spoon, measure the olive oil and add the crushed garlic to the oil, measure the balsamic vinegar, slice the cheese, and form the ground chicken into four ¼ pound patties.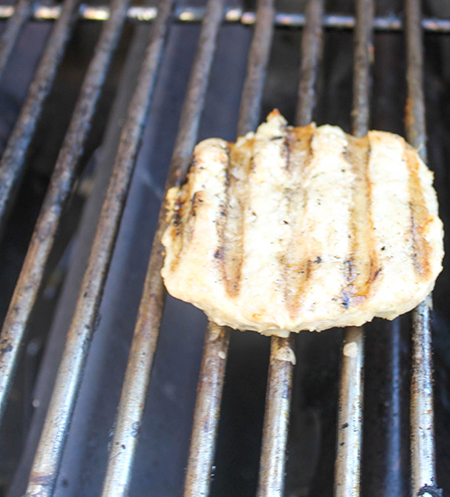 Step 1. Brush each burger with the oil and garlic mixture on both sides and place them onto a heated grill or grill pan. Cook the burgers for approximately 5 to 7 minutes on each side until they reach an internal temperature of 165.
Tip! A quick-read meat thermometer is perfect for checking the temperature.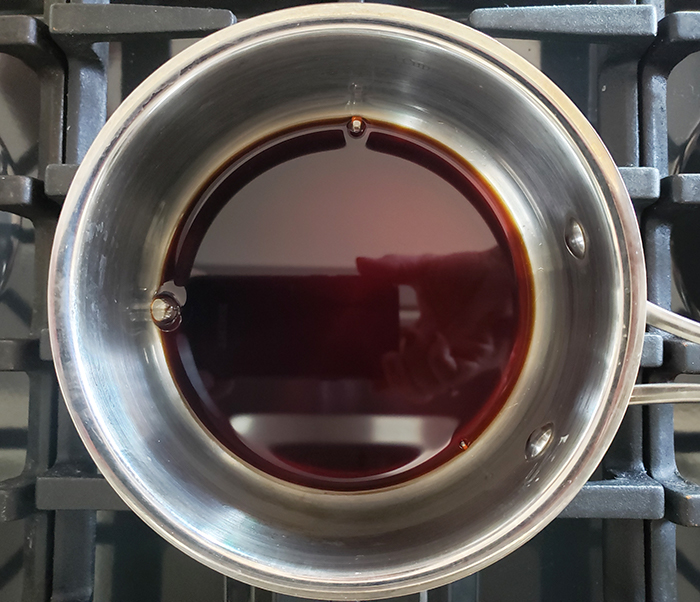 Step 2. While the burgers are cooking, bring the balsamic vinegar to a boil over medium heat. Once it starts to boil, reduce the heat and cook it (stirring occasionally) until it has reduced in half (about 30 minutes).
Tip! Skip this step if you use a pre-made balsamic glaze.
---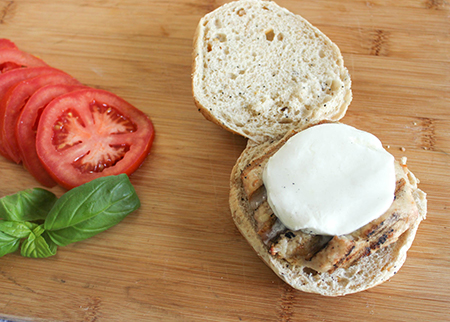 Step 3. Once the burgers are cooked through, remove them from the grill and top them with a slice of mozzarella cheese.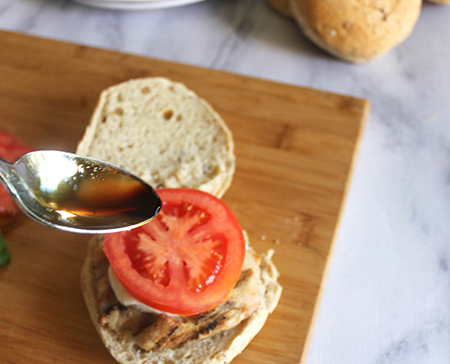 Step 4. Drizzle the mozzarella topped chicken burger with balsamic glaze and add the basil.
Ingredient Notes & Substitutions
Ground chicken is very lean. It cooks quickly and can become dry. Brushing them with oil and garlic helps to keep them moist and they should not stick to the grill pan.
Substitute ground chicken with ground turkey or lean ground beef.
Garlic adds a nice flavor to the chicken burgers, if you love garlic, you can add more.
Substitute fresh garlic with 1 teaspoon of garlic powder (½ teaspoon garlic powder for each clove).
Fresh Mozzarella cheese is the best type of cheese to use on these burgers. It's soft and melts quickly.
Substitute fresh mozzarella with mozzarella cheese from the deli or sliced provolone cheese.
Balsamic Vinegar intensifies when it is reduced and adds flavor and a touch of moisture to these grilled chicken burgers.
Substitute Balsamic Vinegar with packaged balsamic glaze.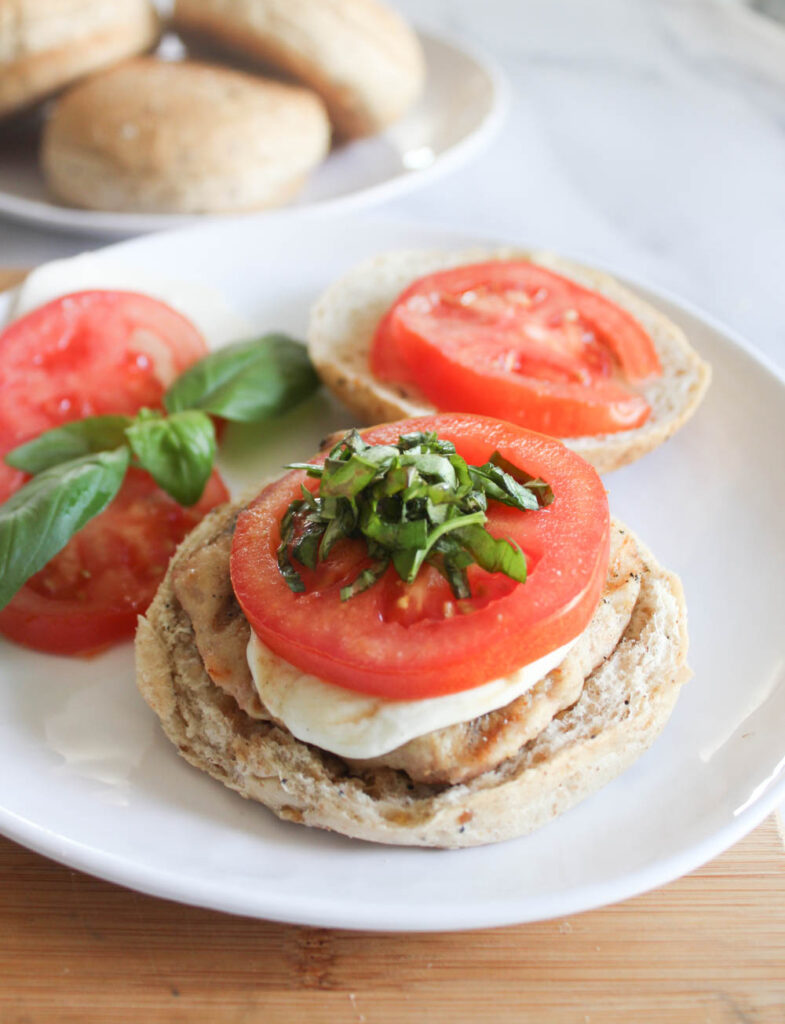 Serving Suggestions
Caprese chicken burgers taste great with a side of buffalo cauliflower or a salad and some homemade potato chips.
Storing leftovers
Store leftover chicken caprese burgers assembled or unassembled in the refrigerator in an airtight container for 2 to 3 days.
Reheat leftover chicken burgers on a low heat on a grill or on top of the stove.
Freeze Chicken burgers before or after they are cooked. Here is how:
Freeze the burgers before cooking – place the uncooked burgers on a parchment lined baking sheet in the freezer. Once the burgers are frozen, remove them from the baking sheet and place them in a freezer container. I like to use stasher bags for this. When it's time to cook them, allow them thaw in the refrigerator overnight.
Freeze the burgers after they have been cooked– place the burgers into a freezer container once they have cooled off. Thaw them in the refrigerator overnight and reheat them in the microwave or on top of the stove
Leftover ideas: Add them to field green or romaine salad, or try turning them into a patty melt by placing the caprese burger in between 2 slices of bread and cook it in a skillet in oil or butter.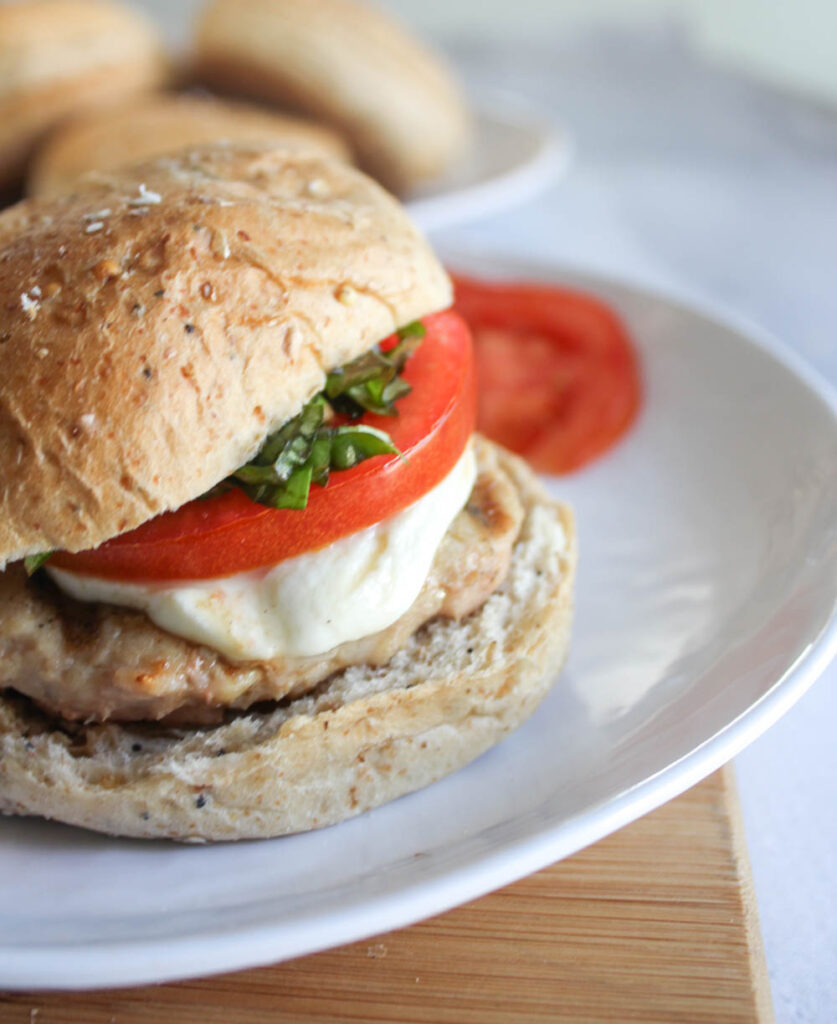 Recipe Variations
Add Peppers such as slice of roasted pepper or cherry pepper to your burger.
Change up the herbs and add chopped fresh oregano in addition to the basil or in place of the basil.
More Epic Burger Recipes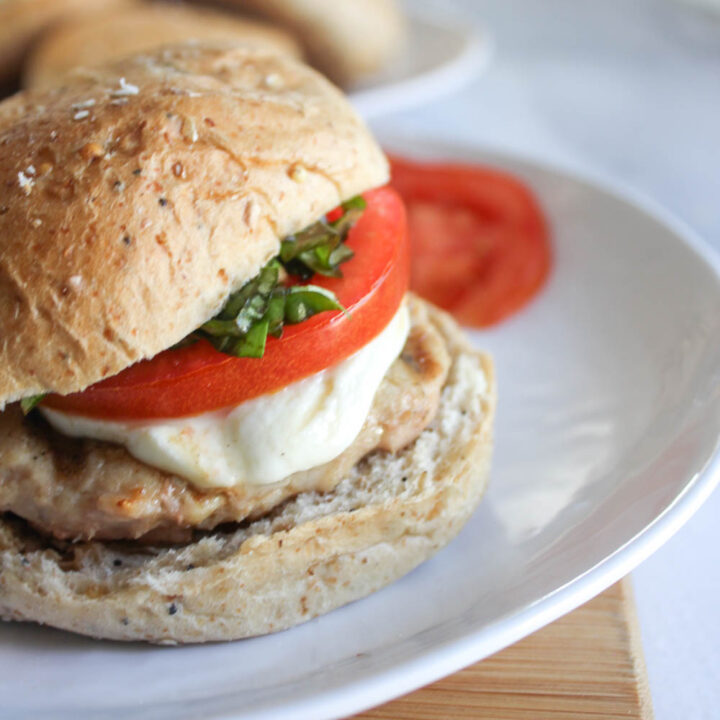 Balsamic Chicken Caprese Burger
Balsamic Caprese Chicken Burgers are garlicky and slightly sweet, and they are just perfect for summer grilling.
Ingredients
1 pound ground chicken breast
3 cloves crushed garlic
1 to 2 fresh tomatoes sliced
4 slices fresh mozzarella cheese
a handful fresh basil leaves, chopped
Instructions
Preheat the grill to medium
crush the garlic with a garlic crusher or the back of a wooden spoon.
form the ground chicken into 4 burgers.
brush each burger with the olive oil and garlic mixture
grill the burgers over medium heat for 6 minutes on each side or until it reaches an internal
temperature of 165.

while the burgers are cooking, place the balsamic vinegar and bring the balsamic to a boil over medium heat. Reduce the heat and cook (stirring occasionally) until it has reduced by half - about 30 minutes.
Notes
Cook the Burgers in a Skillet:
These burgers can easily be cooked on top of the stove in a skillet. Here's how:
Pre-heat a skillet over medium heat with 1 tablespoon of oil
Place the burgers that have been brushed with oil and garlic in a pan
Cook for 7 minutes and flip. Cook for 5 to 8 minutes longer until the burger reaches an internal temperature of 165.
*** Nutrition information does not include the roll
Nutrition Information:
Yield:

4
Serving Size:

1 burger
Amount Per Serving:
Calories:

407
Total Fat:

26g
Saturated Fat:

8g
Trans Fat:

0g
Unsaturated Fat:

16g
Cholesterol:

144mg
Sodium:

278mg
Carbohydrates:

10g
Fiber:

2g
Sugar:

7g
Protein:

34g
Nutrition information is provided by an online calculator and is meant to be used for informational purposes only. Even though I try to provide accurate information, these figures should still be considered as estimates.