Balsamic Caprese Chicken Burgers are garlicky and slightly sweet, and they are just perfect for summer grilling.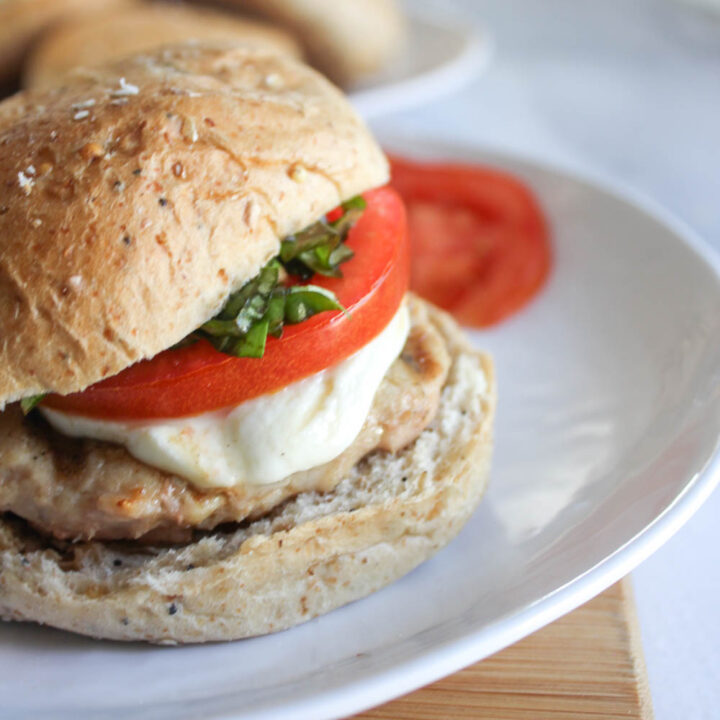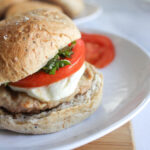 If summer could be a burger, a balsamic chicken Caprese burger would be it! Mild tasting ground chicken breast is grilled and topped with a slice of mozzarella cheese, a slice of tomato, and basil. It has all of the flavors of summer!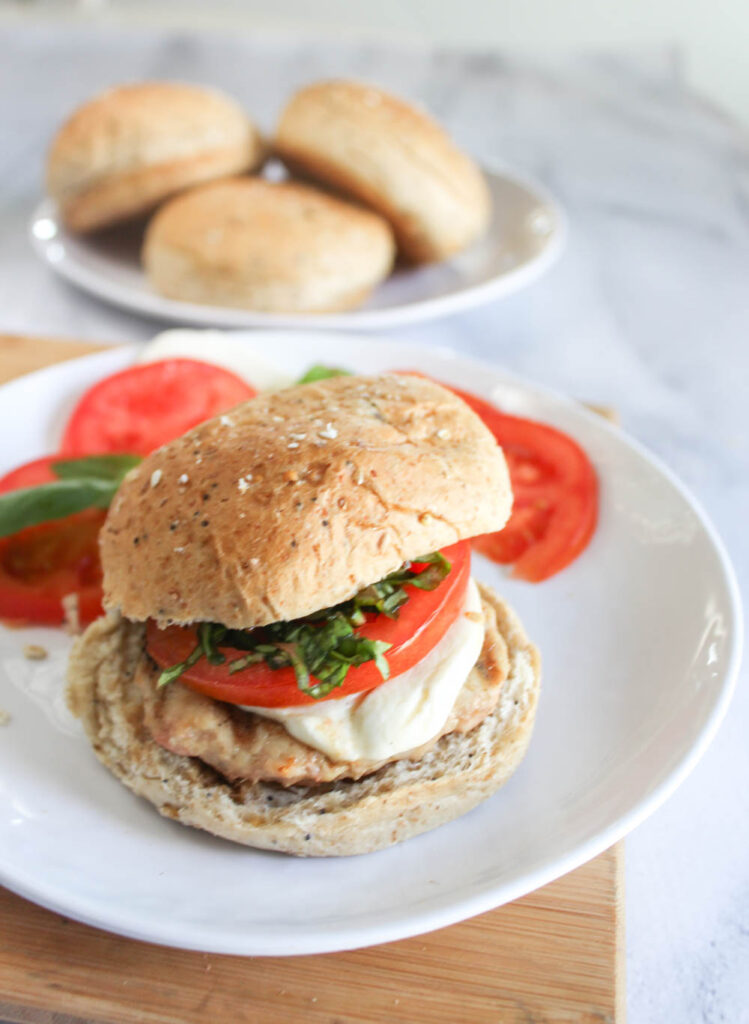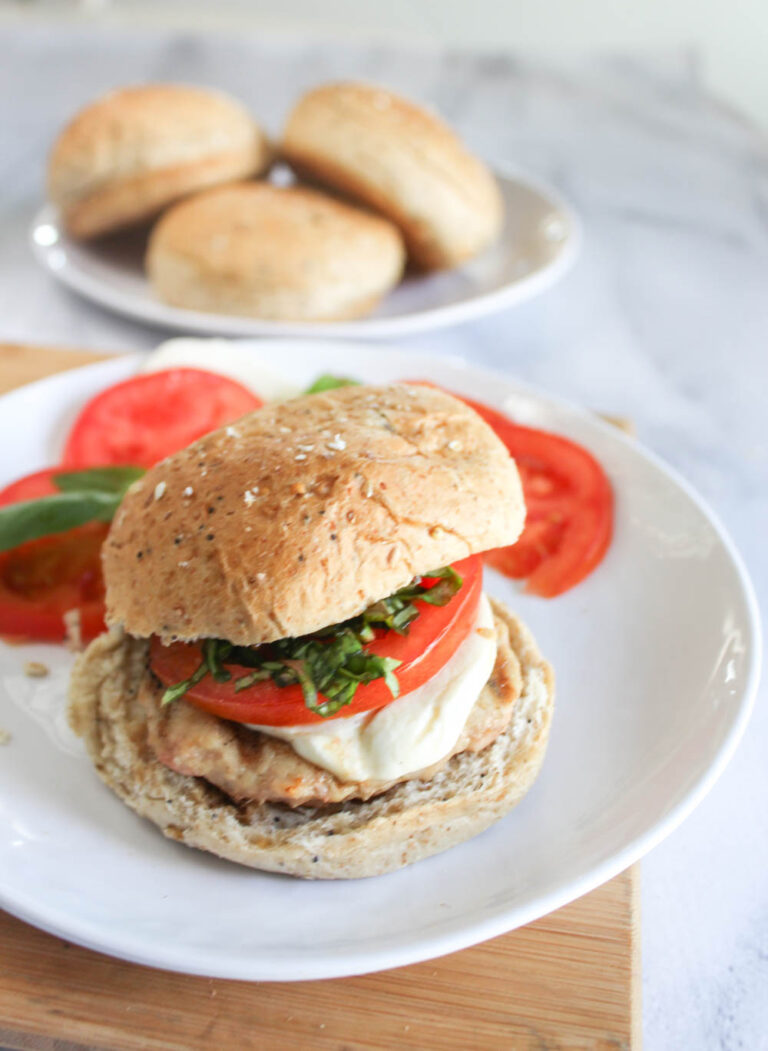 These juicy chicken burgers are the best burgers! They taste like a Caprese salad on a chicken patty. The drizzle of balsamic reduction soaks into the roll for a super flavor-packed chicken burger.
If you are looking for more burger recipes, you might like these Jamaican jerk chicken burgers, grilled onion burgers, and Greek turkey burgers are just a few of our favorites.
Why this Recipe Works
Caprese chicken burgers are quick and easy to make with only 5 fresh ingredients.
They are moist, delicious, and healthy!
Here is What You Will Need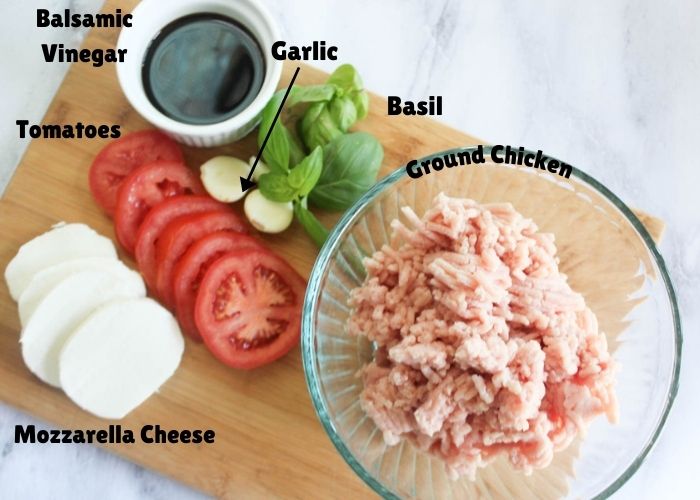 Caprese Chicken Burger Ingredients
Ground Chicken
Olive Oil
Garlic
Fresh Mozzarella Cheese
Fresh Basil Leaves
Hamburger rolls
Equipment You Will Need
Grill or Grill Pan
Meat Thermometer
Burger Press (optional, but makes it easy to make burgers)
Here is How To Make Caprese Chicken Burgers
Get all of the ingredients ready: Preheat the grill to medium heat. Crush the garlic with a garlic crusher or the back of a wooden spoon.
Measure the olive oil and add the crushed garlic to the oil, measure the balsamic vinegar, slice the cheese, and form the ground chicken into four ¼ pound patties.
Heat a grill to medium high heat.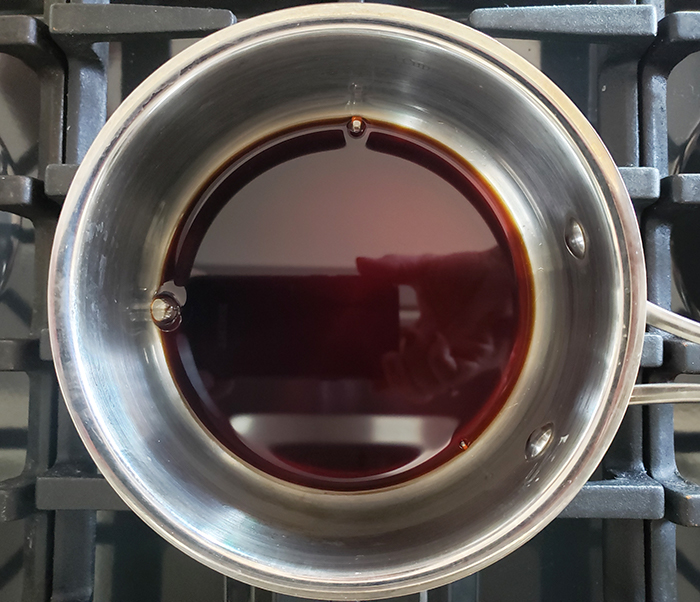 Step 1. Make the balsamic glaze
Add the balsamic vinegar to a small saucepan and bring it to a boil over medium-high heat. Once the vinegar begins to boil, reduce the heat to medium-low heat. Cook it stirring it occasionally until it has reduced by half and thickened.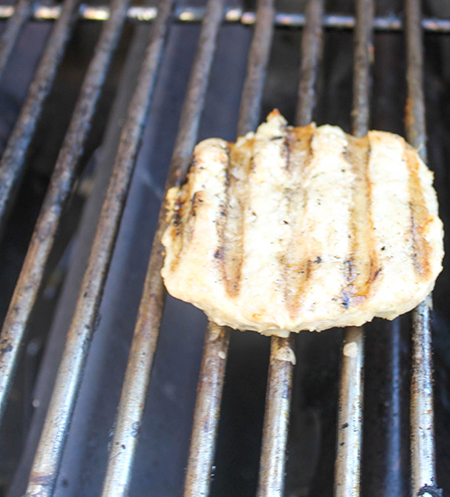 Step 2. Cook the burgers
While the reduction sauce is cooking, brush each burger with the oil and garlic mixture on both sides and place them onto a heated grill. Cook the burgers for approximately 5 to 7 minutes on each side until they reach an internal temperature of 165 degrees f.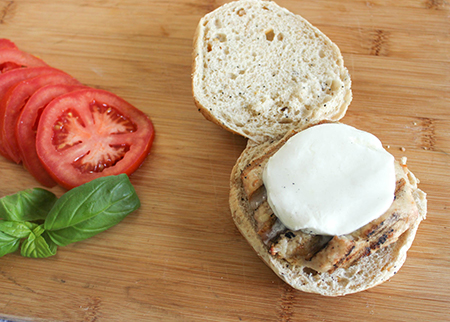 Step 3. Assemble the burgers
Once the burgers are cooked through, remove them from the grill and place them on top of a roll. Top each burger with mozzarella slices, and tomato slices.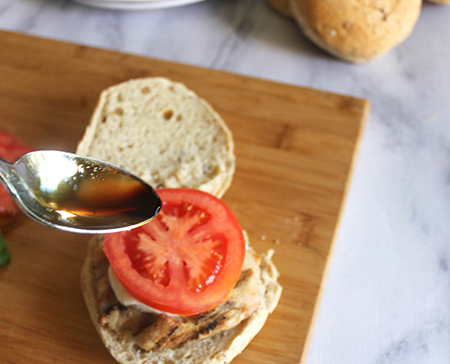 Step 4. Add the sauce
Drizzle the mozzarella and tomato topped chicken burger with balsamic glaze and add the fresh basil leaves.
Note! Cooking time can vary depending on your grill, a quick-read meat thermometer is perfect for checking the internal temperature (165 degrees) of these chicken burgers.
Ingredient Notes and Substitutions
The full list of ingredients to make these delicious burgers is above. Below are notes about some of the ingredients along with ideas for substitutes.
Ground chicken is very lean and cooks quickly. Brushing the burgers with oil and garlic helps to keep them moist and keep them from sticking to the grill.
Substitute ground chicken with ground turkey or lean ground beef.
Garlic adds a nice flavor to the chicken burgers, if you love garlic, you can add more.
Substitute fresh garlic with 1 teaspoon of garlic powder (½ teaspoon garlic powder for each clove).
Fresh Mozzarella cheese is the best type of cheese to use on these burgers. It's soft and melts quickly.
Substitute fresh mozzarella with mozzarella cheese from the deli or sliced provolone cheese or even try a few thin slices of parmesan cheese or romano cheeses.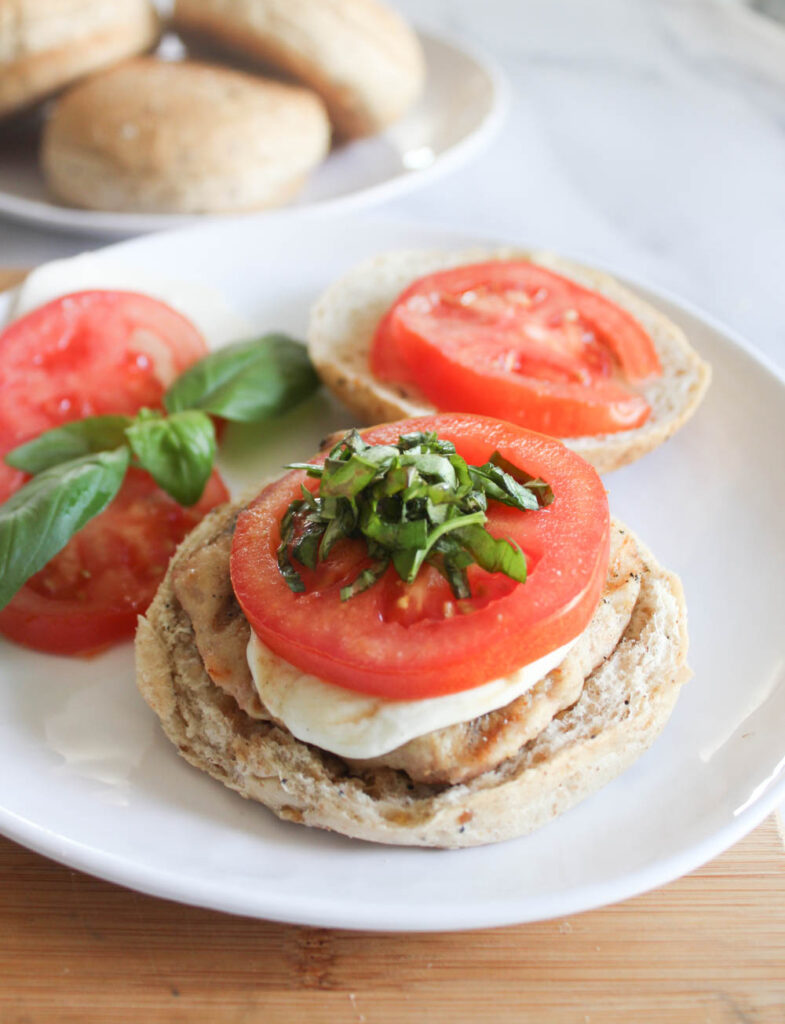 What to serve with caprese chicken burgers
Caprese chicken burgers taste great with a side of buffalo cauliflower or a kale caesar salad and some homemade potato chips.
How to store leftover chicken Caprese burgers
Store leftover chicken Caprese burgers in the refrigerator in an airtight container for 2 to 3 days.
Reheat leftover chicken burgers on low heat on a grill or on top of the stove.
Leftover ideas: Add leftover burgers to field green or romaine salad, or try turning them into a patty melt by placing the Caprese burger in between 2 slices of bread and cooking it in a skillet in oil or butter.
Make ahead and meal prep tips
Chicken burgers are great for meal prepping. You can make the burgers ahead of time and store them in the refrigerator for up to a day, or make a double batch and freeze them for up to three months. Here's how:
Freeze the burgers before cooking - place the uncooked chicken patties on a parchment-lined baking tray in the freezer. Once the burgers are frozen, remove them from the baking sheet and place them in a freezer container.
I like to use stasher bags for this. When it's time to cook the burgers, allow them to thaw in the refrigerator overnight.
Freeze cooked burgers - place room temperature burgers into a freezer container and into the freezer for up to three months.
Thaw the burgers in the refrigerator overnight. Reheat the chicken burgers in the microwave or on top of the stove.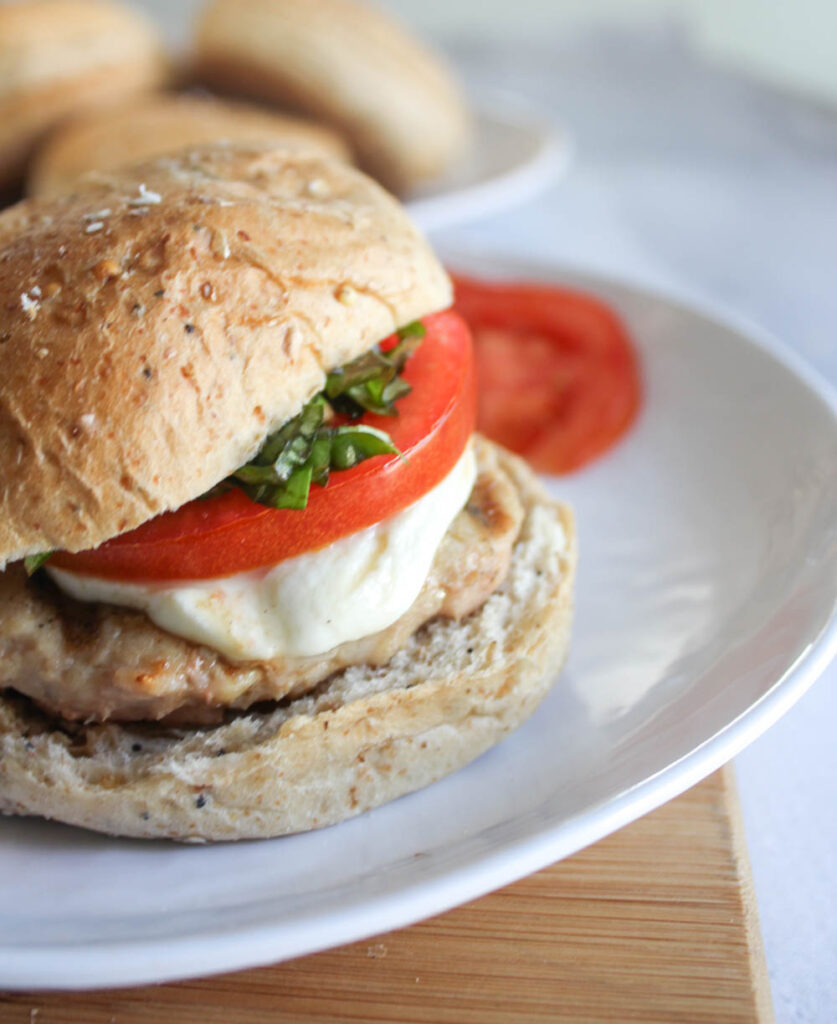 Recipe Variations
Chicken Caprese burger with peppers - Add roasted peppers or slices of hot cherry peppers to your burger.
Pesto Chicken Caprese - Spread a little pesto sauce on the bun.
Chicken Caprese burger with fresh herbs - Top the burger with chopped fresh oregano and parsley in addition to the basil.
Chicken Caprese burger with lettuce and onion - Add some romaine lettuce and red onion slices to your burger.
Tips and Questions
Tips
Save time and use a pre-made balsamic glaze.
Before adding the chicken burgers to the grill, brush the grates of the grill with a little bit of olive to keep the burgers from sticking.
Chicken burgers cook quickly, check the internal temperature often.
Questions
What's the difference between balsamic reduction and balsamic vinegar?
Balsamic reduction or balsamic glaze is a cooked-down version of balsamic vinegar. It is sweeter and thicker, with a syrupy texture.
Can I make grilled chicken burgers on top of the stove?
Yes, you can! Sear the burgers for a minute or two in a large skillet or grill pan over medium to high heat. Then reduce the heat to medium and continue to cook for a few minutes longer until they are cooked though.
More Epic Burger Recipes
📖 Recipe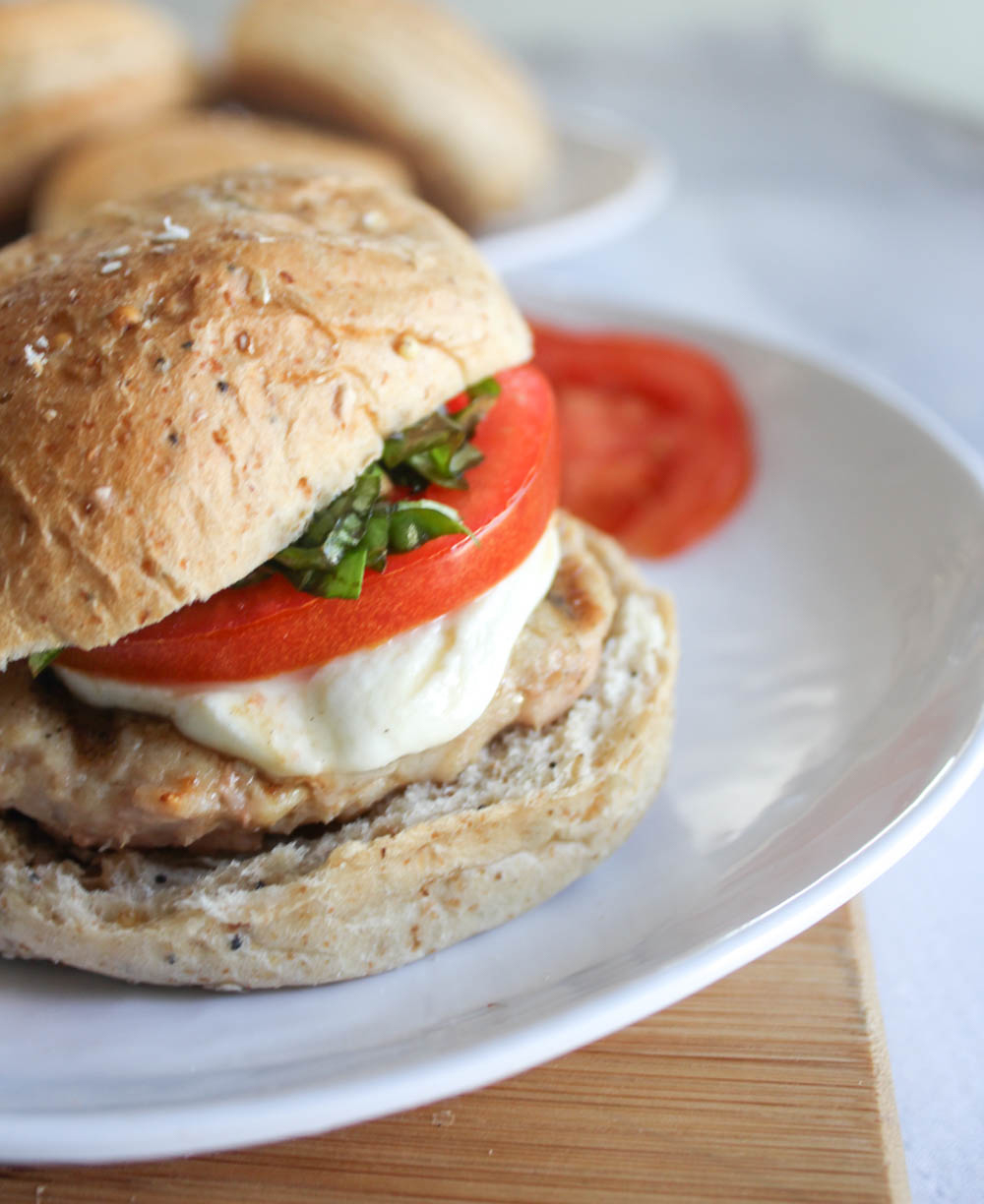 Click on serving size to scale this recipe
Ingredients
1

pound

ground chicken breast

2

tablespoons

olive oil

3

cloves

crushed garlic

1 to 2

fresh tomatoes sliced

4

slices

fresh mozzarella cheese

a handful fresh basil leaves

chopped

½

cup

balsamic vinegar
Instructions
Preheat the grill to medium-high heat

Make the balsamic glaze: place the balsamic vinegar into a saucepan and bring the balsamic to a boil over medium heat. Reduce the heat and cook (stirring occasionally) until it has reduced by half - about 15 to 20 minutes.

Crush the garlic with a garlic crusher or the back of a wooden spoon.

Form the ground chicken into 4 burgers.

Brush each burger with the olive oil and garlic mixture
Notes
Cook the Burgers in a Skillet:
These burgers can easily be cooked on top of the stove in a skillet. Here's how:
Pre-heat a skillet over medium heat with 1 tablespoon of oil
Place the burgers that have been brushed with oil and garlic in a pan
Cook for 7 minutes and flip. Cook for 5 to 8 minutes longer until the burger reaches an internal temperature of 165.
*** Nutrition information does not include the roll
Nutrition
Serving:
1
burger
|
Calories:
407
kcal
|
Carbohydrates:
10
g
|
Protein:
34
g
|
Fat:
26
g
|
Saturated Fat:
8
g
|
Polyunsaturated Fat:
16
g
|
Cholesterol:
144
mg
|
Sodium:
278
mg
|
Fiber:
2
g
|
Sugar:
7
g
Nutrition information provided is an estimate and can vary based on cooking methods and ingredients used
Check out more of our Grilling Recipes Here!