Change up your burger routine with this Balsamic Caprese Chicken Burger that's made with fresh tomatoes, basil, ground chicken breast, lots of garlic and a drizzle of balsamic vinegar.  And don't forget to pair it with your favorite glass of wine.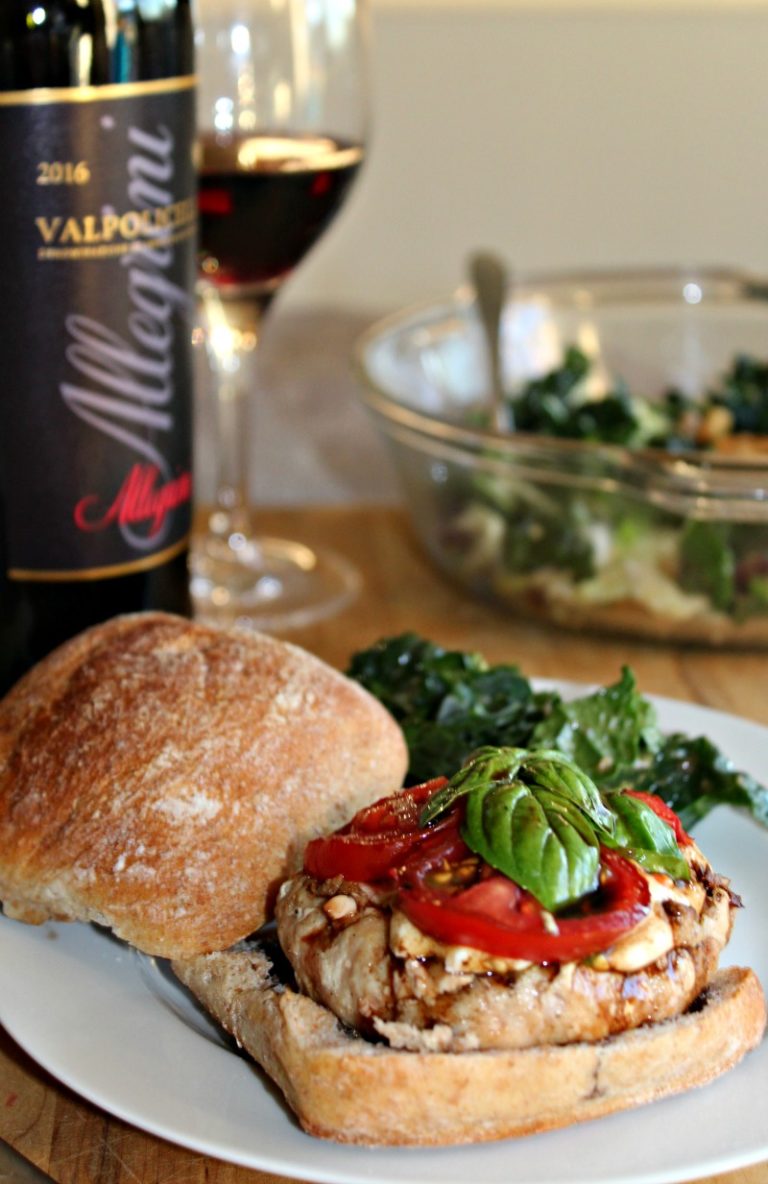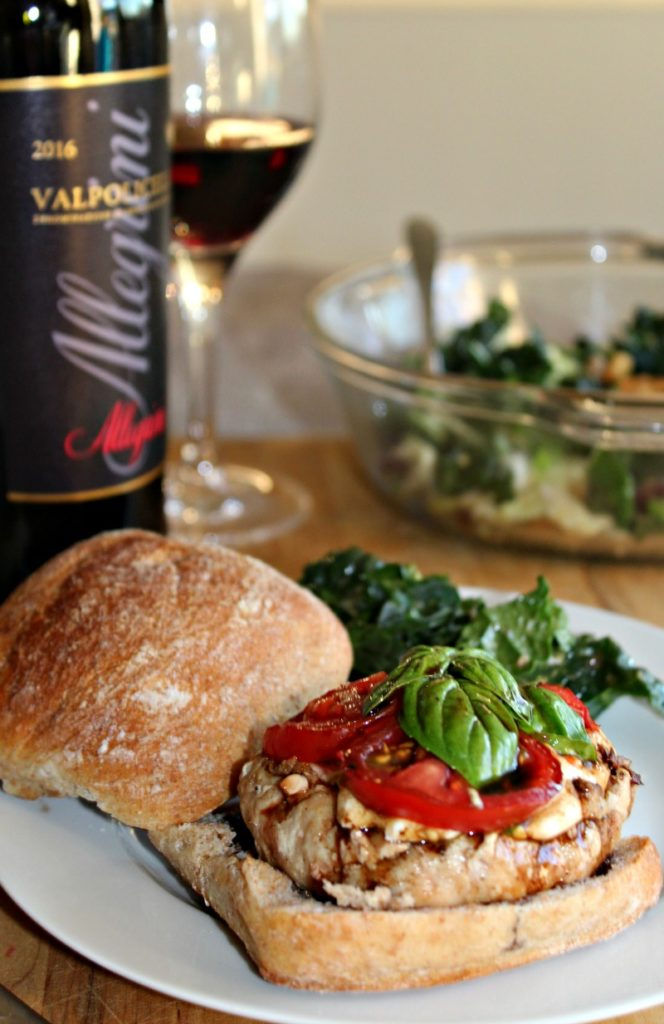 I love fresh food, and I enjoy my fresh food with a good glass of wine, it just makes it all taste sooo much better 😋.
I recently attended a wine tasting/dinner hosted by our local liquor store, Petrock's Liquors and Allegrini Wines.   I  had the opportunity to sample six wines as we enjoyed a leisurely multi-course Italian style dinner.  Can you think of a better way to taste wines from Italy?   I know I can't.

As I arrived I was greeted with a glass of La Marca Prosecco, and I knew it was going to be an evening of fun, delicious food and wine.  As with most wine tastings, it began with lighter wines and went down the line to the more robust and full bodied reds.   Each wine brought its own uniqueness to the table as we enjoyed our food with the assortment of wines. It was a real treat to taste the different wines along with the variety of delicious foods that were served.  It was also interesting to notice how the flavors changed when the wine and food were combined, which is something I'm sure happens every time we drink wine, but thinking about it as we ate and drank heightened my awareness.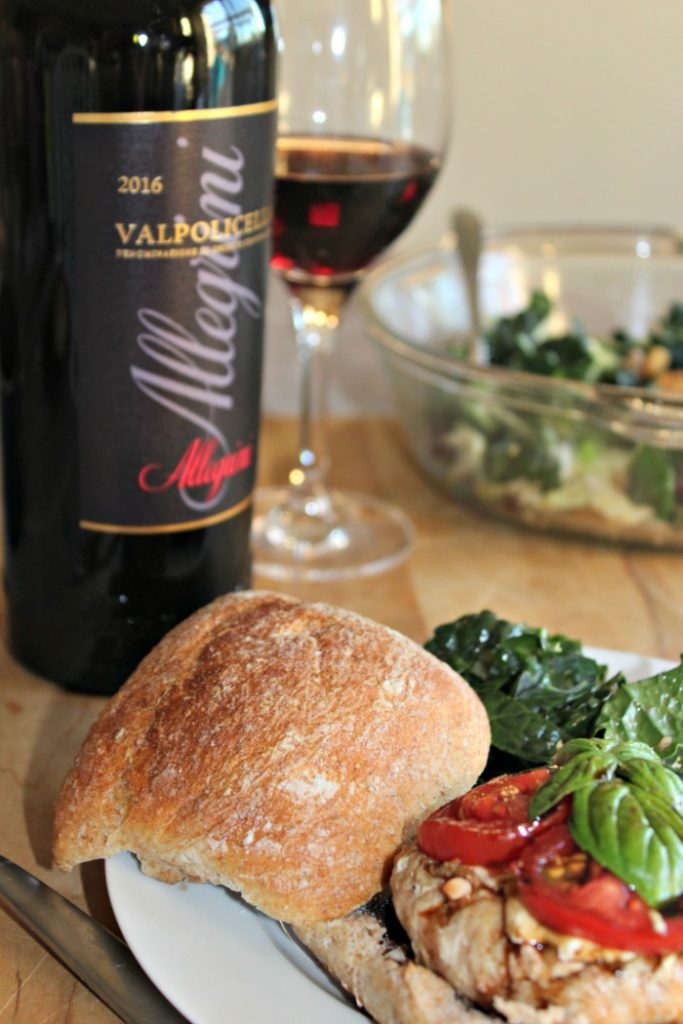 I liked every wine that I tasted, but my two favorites were Valpolicella and Sondraia.  I am partial to lighter red wines, and I loved the light yet elegant taste of the Valpolicella. It's just perfect for a casual summer supper. On the Allegrini website,  the opening remarks for Valpolicella quote Earnest Hemingway. . . "light, dry red wine…. as friendly as the house of your brother, if you and your brother are good friends."  If you have a taste of this wine and think about this quote it rings true, it's light,  fun and enjoyable; just like being with an old friend.
In contrast, the rich, full-bodied  Sondraia is so smooth,  I can see myself sipping on that with hearty beef stew or Shepherd's Pie in the winter.  I haven't opened it yet to pair with my home cooking, but for a summer pairing I am thinking bison burgers or steak, so check back or sign up for my newsletter  to find out what I pair it with.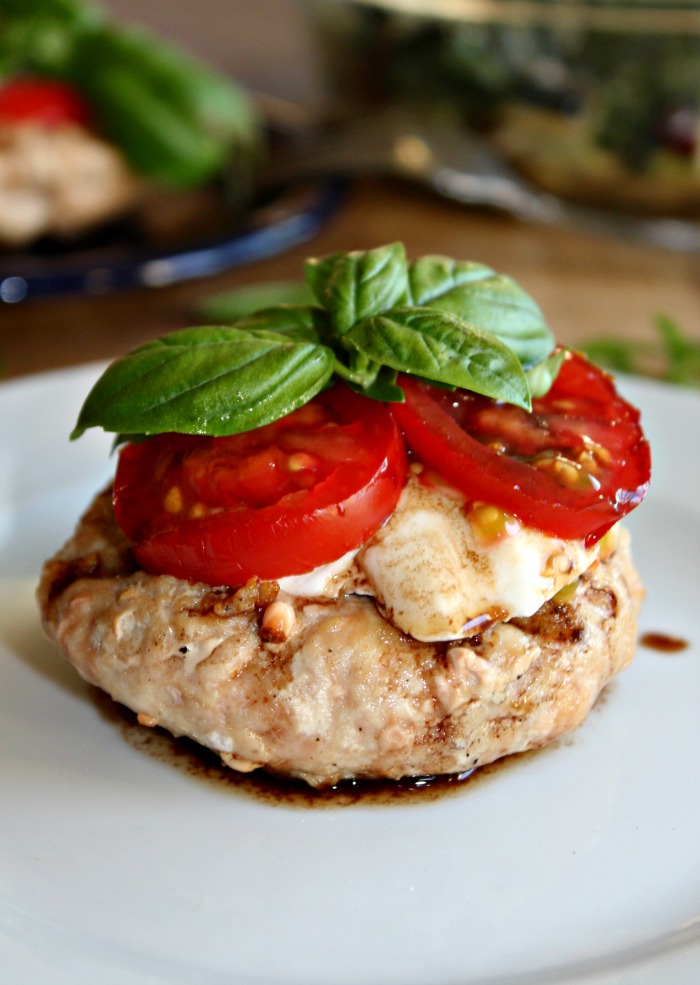 People often think fancy food when it comes to wine, but I believe that wine can and should be enjoyed with all kinds of food.  That's why I decided to grill up these Balsamic Caprese Chicken Burgers to accompany my bottle of Valpolicella.  These burgers are garlicky, and the balsamic vinegar adds a touch of sweetness, and it paired perfectly with the Valpolicella. You can serve the burgers on top of your favorite roll or just plain with a side salad.  I have had them both ways and when that vinegar soaks into the roll, YUM!
Print
Balsamic Caprese Chicken Burger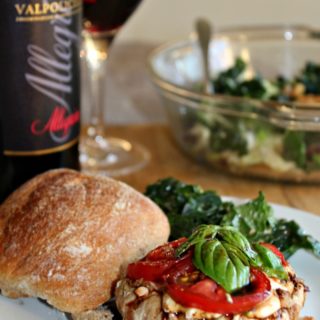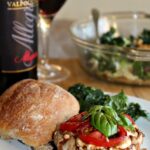 Balsamic Caprese Chicken Burgers are garlicky and slightly sweet, and they are just perfect with a chilled glass of red wine
Author: Anne
Prep Time:

20 mins

Cook Time:

15 mins

Total Time:

35 mins

Yield:

4

1

x
Scale
Ingredients
1

pound ground chicken breast

2 tablespoon

olive oil

3

cloves crushed garlic

1

to

2

fresh tomatoes sliced

4

slices fresh mozzarella cheese
a handful fresh basil leaves

1/4 cup

balsamic vinegar
Instructions
pre-heat the grill to medium
stir in 2 cloves crushed garlic into ground meat and mix well
mix remaining clove of garlic with olive oil
form the ground chicken into 4 burgers
brush each burger with the olive oil and garlic mixture
grill over medium heat for 7 minutes on each side or until it reaches an internal temperature of 165
while burgers are cooking bring balsamic to a boil – reduce heat and cook until it's reduced by half
remove burgers from grill and top one slice mozzarella cheese
basil leaves and drizzle 1/2 to 1 tablespoon of balsamic vinegar over the top
Nutrition
Calories:

357

Sugar:

1.7g

Sodium:

275

Fat:

24.3g

Saturated Fat:

8.4g

Fiber:

0.6g

Protein:

30.4g

Cholesterol:

97.8g
VARIATIONS. . .
Substitute ground chicken with ground turkey, pork or beef
You can find out more about Allegrini Wines by clicking right here