Jamaican Jerk Chicken burgers are tasty, lean burgers made with lean ground chicken and flavored with a homemade jerk seasoning blend.
You are going to love these flavorful jerk chicken patties! They are perfect for a quick dinner or to serve guests at your next barbecue.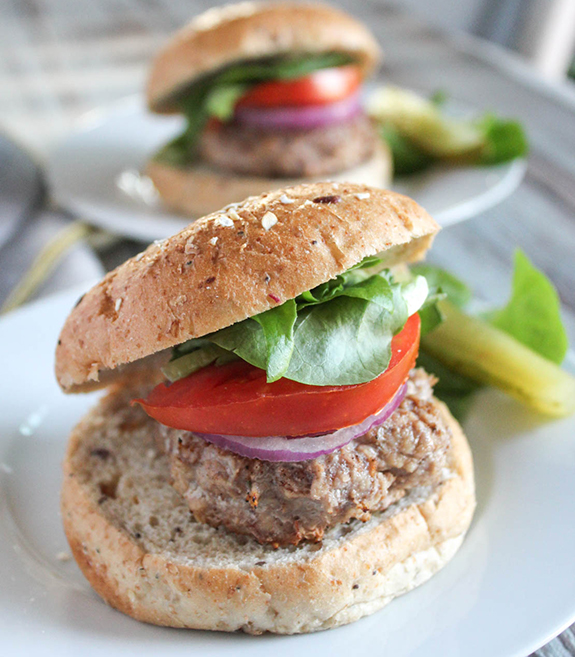 Recipe Highlights
A quick and easy meal idea that can be ready in less than 30 minutes.
They are healthy, lean and packed with flavor.
There are only four ingredients required to make this recipe.
Here is what you will need to Make Jerk Chicken Burgers
As an Amazon Associate, I earn from qualifying purchases
This is an overview of the ingredients and steps to make this recipe, scroll down for a printable recipe card with exact measurements and instructions.
Ground Chicken
Onion
Tamari Sauce
Jerk Seasoning
Grill or Cast Iron Grill Pan
Burger Press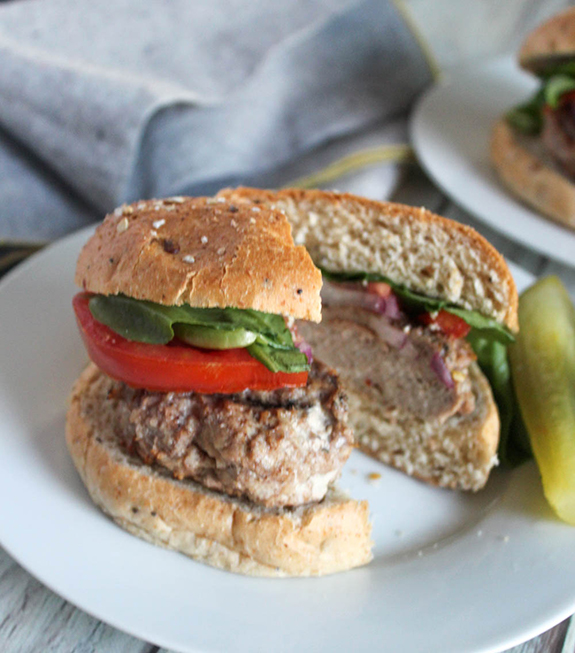 Here is how to make them
It takes just a few minutes to put Jamaican jerk chicken burgers together, and they can be cooked quickly on the grill or on top of the stove. Here is how to make them:
First, prepare the burgers by combining the chopped onions and ground chicken in a bowl.
Add the jerk seasoning and mix everything together. If the meat mixuture is too soft to form into burgers, place it in the refrigerator for about 15 minutes before forming the chicken patties.
Form the seasoned chicken mixture into four patties using your hands or a burger press. Brush each pattie with tamari sauce.
Pre-heat your grill or a cast iron grill pan over medium to high heat. Add the burgers and cook them for 6 minutes on one side, flip and cook for 4 to 6 minutes longer until the internal temperature reaches 165 degrees.
Total Estimated Time to Make This Recipe: 25 to 35 Minutes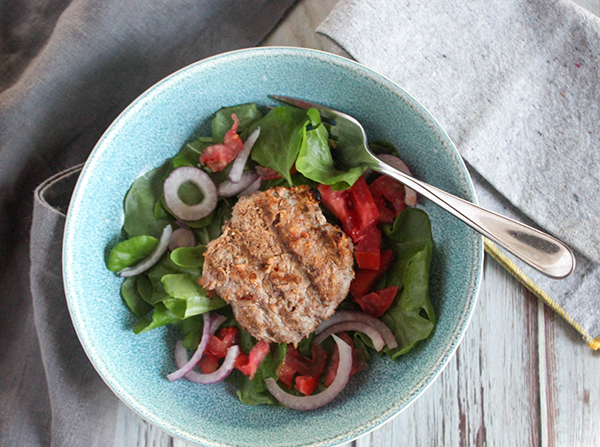 Serving Suggestions
Jerk chicken patties taste great on a whole wheat roll topped with lettuce, tomato and onion with a side salad and homemade pickles and potato chips.
You can also serve your chicken burgers low-carb by serving them on top of your favorite lettuce topped with tomato and onions.
How to Store Leftovers
Store leftover Caribbean Jerk Chicken Burgers in the refrigerator for up to 3 days or in the freezer for up to three months.
Reheat them in a pan on top of the stove, in the oven at low heat, or in the microwave.
Freeze your burgers by forming them into patties and arranging them on a parchment-lined baking sheet (uncooked) and place them in the freezer. Once the patties are frozen store them in a freezer-safe container for up to 3 months. We like these Stasher Bags for this.
Thaw them out in the refrigerator overnight and cook them according to the recipe instructions on the grill or in a grill pan.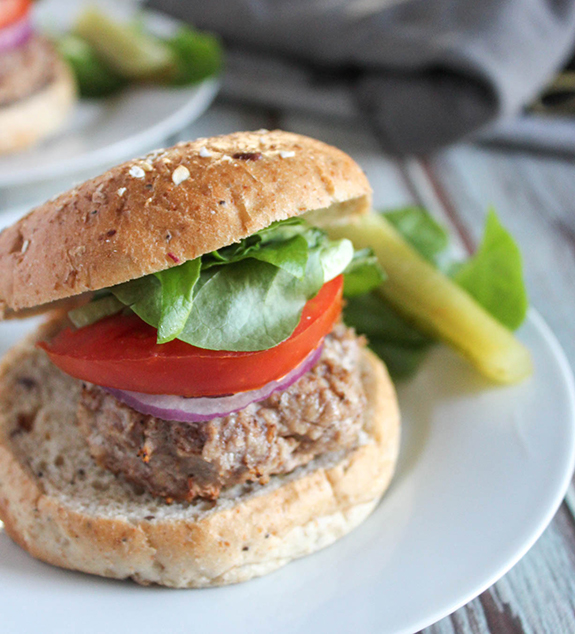 Jerk Burger Variations
Serve Jerk Burger Sliders at your next party. Shape the burgers into 8 or 9 patties and serve them in slider rolls.
Turn them into meatballs. Instead of forming patties, form the chicken mixture into 1-inch meat balls and bake or fry them.
Substitute Chicken with ground turkey or pork.
Sprinkle on shredded cheddar cheese before serving.
You might also like these burger recipes