Pressure cooker turkey chili is a delicious, spicy, and fresh dish made with lean ground turkey, beans, and fresh vegetables.
The high pressure in the cooking process allows the flavors in this chili to become deep and complex, even though it cooks for less than an hour, making it perfect for busy weeknights.
This recipe was originally published in 2018, it's been updated for content and photos.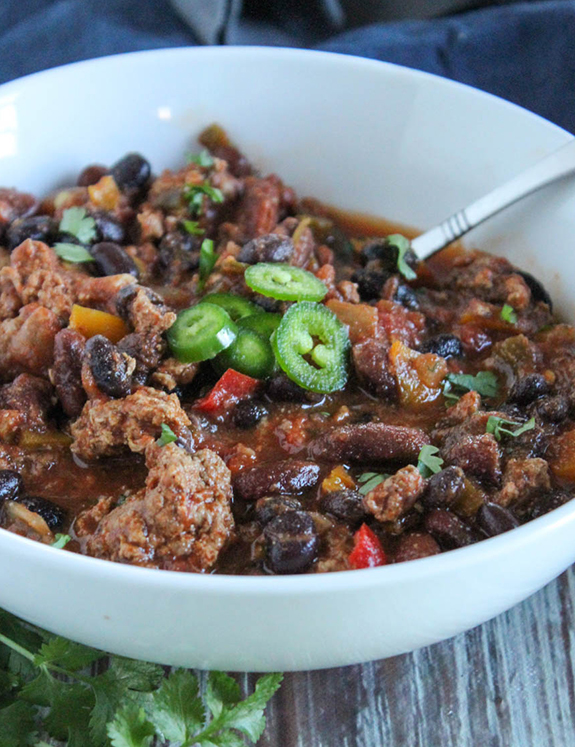 I like to add more vegetables to recipes when I cook and chili is the perfect dish to add more veggies, and so are soup and tacos.
Why This Recipe Works
It's an easy to follow and healthy recipe made with fresh ingredients.
It's budget friendly, made with less meat and more veggies and beans.
Here is What you Will Need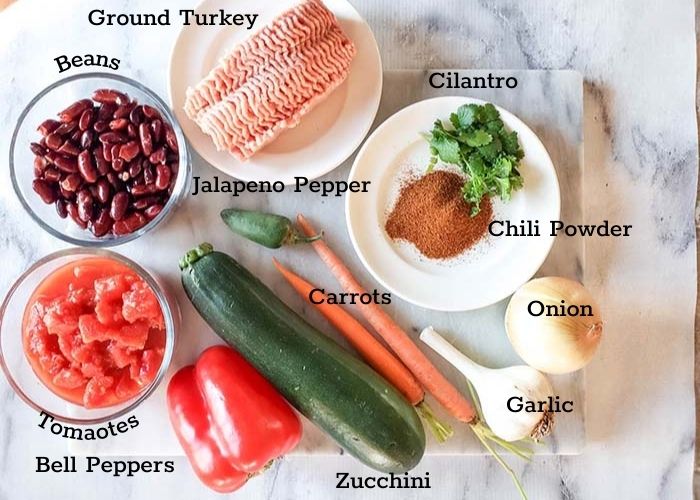 As an Amazon Associate, I earn from qualifying purchases.
This is an overview of the ingredients and steps to make this recipe, scroll down for a printable recipe card with exact measurements and instructions.
Ingredients List
Ground Turkey
Onion
Garlic
Bell Pepper
Jalapeno Pepper
Zucchini
Carrots
Beans
Fresh Cilantro
Fresh Lime Juice
Equipment/Tools Needed to Make this Recipe
Here's How To Make Turkey Chili in an Instant Pot
Prepare the ingredients: chop the vegetables into uniform-sized pieces. Measure the spices drain the beans, squeeze the lime juice and chop the cilantro. Set your electric pressure cooker to the saute setting.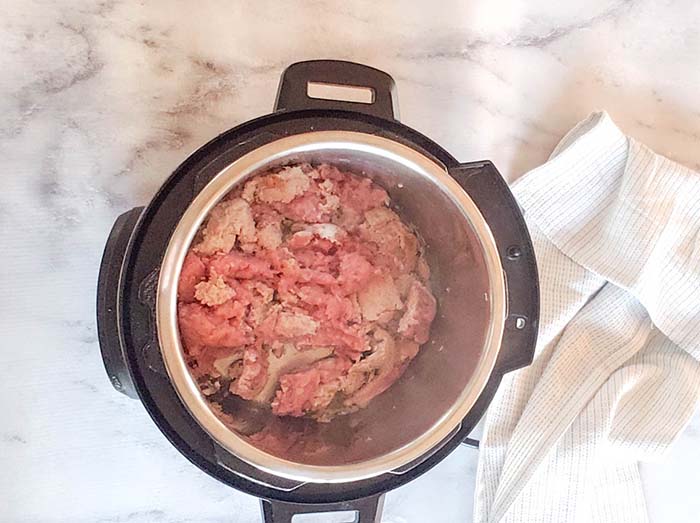 Step 1. Brown the Meat
Once hot, add the oil and swirl it around to be sure it covers the bottom of the pot. Let the oil heat up for about 30 seconds, and add the ground turkey; cook while breaking it up until the meat begins to turn brown.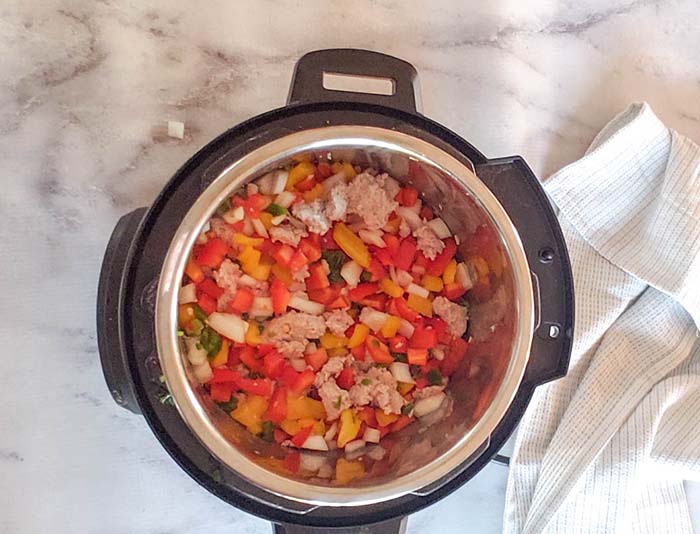 Step 2. Add the Vegetables
Add all of the vegetables to the instant pot and continue to cook until they begin to soften.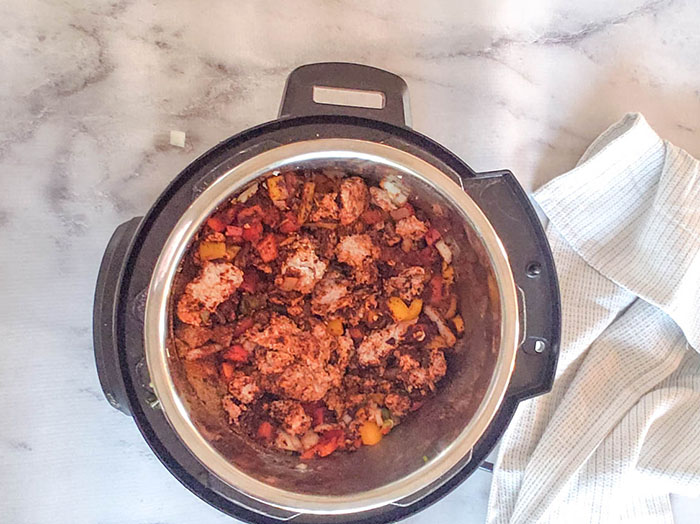 Step 3. Add the Spices
Cancel the saute function and stir in the spices.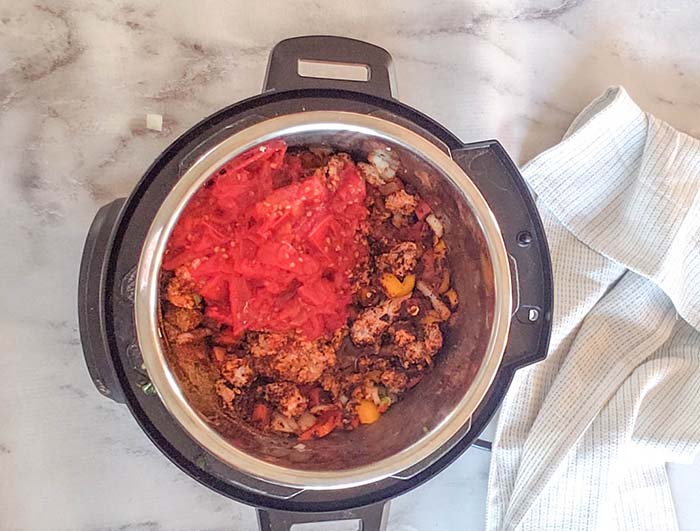 Step 4. Add the Tomatoes
Add the tomatoes and give them a gentle stir. Cover the pressure cooker and set it to cook on high for 10 minutes.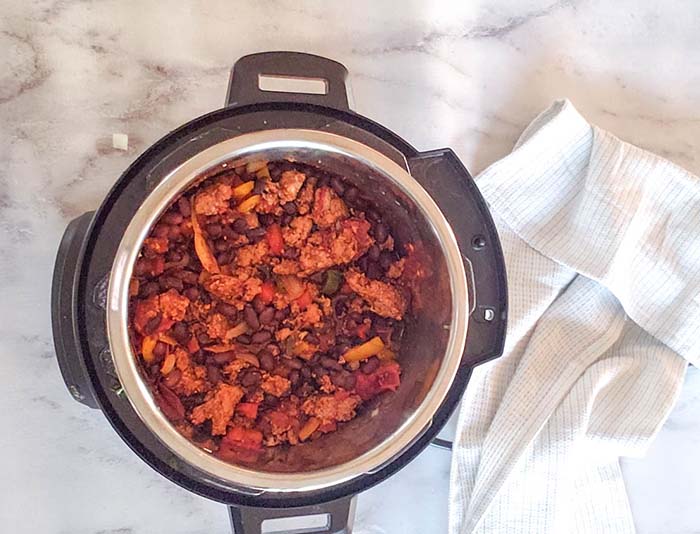 Step 5. Add the beans
Once the pressure cooking process is complete, slow-release for 10 to 15 minutes. Release the remaining pressure and stir in the beans, lime juice and fresh cilantro. Cover the pressure cooker loosely and set the heat to warm, serve once the beans are heated through which should take about five minutes.
Note: Cook time is 10 minutes for this recipe, but keep in mind that it takes about 10 to 15 minutes for the pressure cooker to reach pressure.
Ingredient Notes & Substitutions
Ground Turkey. Ground turkey is lean, flavorful, and will cook and brown up quickly. Look for 85% to 90% lean ground turkey.
Ground turkey can be substituted with ground chicken.
Beans. You can use any type of beans that you like in this chili recipe. We like to combine black beans and red kidney beans. Pinto beans, cannellini beans, or garbanzo beans taste great too.
Canned beans are the most convenient since they are already cooked, be sure to drain and rinse them before adding them to the chili. If you use dried beans, use beans that have been cooked.
Tomatoes. Fresh, canned diced or crushed tomatoes will work in this recipe. Look for low sodium tomatoes like these such as Muir Glen tomatoes.
Vegetables. Any variety of vegetables that you like will work in this recipe. Typical chili vegetables are bell peppers, jalapeno peppers, onions, and garlic.
In addition to those vegetables, add in any of your favorite vegetables such as carrots, mushrooms, zucchini, butternut squash, celery.
Chili Powder. There are several types of chili powder to choose from. If you prefer a milder-tasting chili, choose an American-Style chili powder, which is usually labeled chili powder.
If you prefer a spicier chili, try a blend of chili powder and chipotle chili powder or ancho chili powder and adjust to your taste.
Cilantro. If you don't like cilantro you can leave it out of this recipe.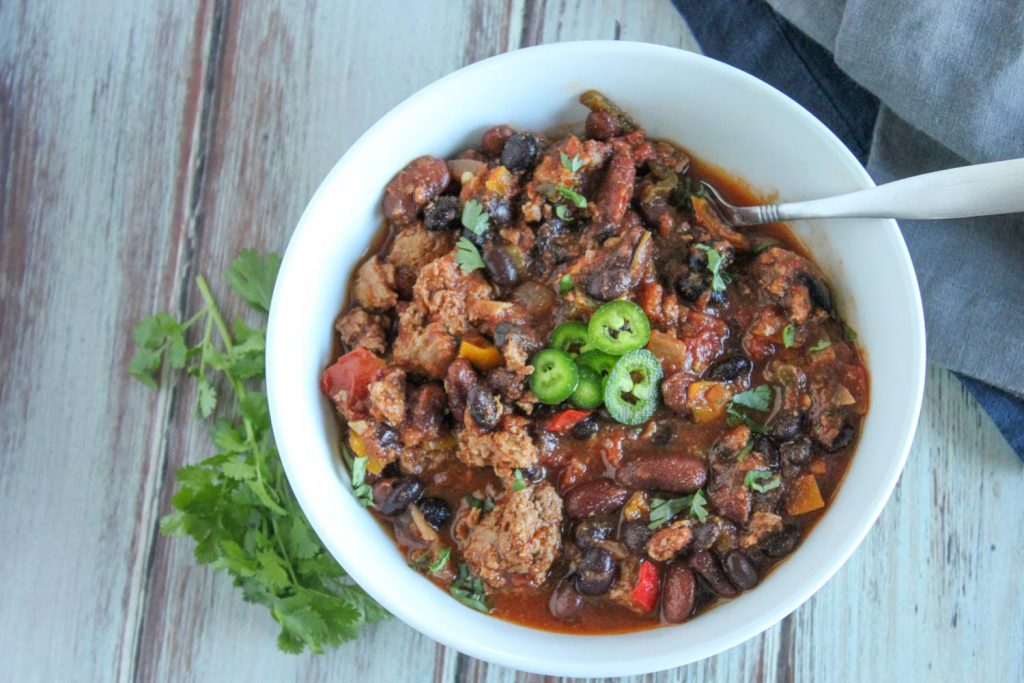 Turkey Chili Serving Suggestions
Serve ground turkey chili with your favorite chili toppings such as green onions, sliced jalapeno peppers, shredded cheddar cheese, avocado slices, guacamole, corn chips, tortilla chips, cornbread, Greek yogurt, or sour cream.
Make it a completely healthy meal and add a salad on the side such as a chopped salad, or arugula salad.
How to Store and Reheat Leftover Chili
Refrigerate. Place the leftover chili in an airtight container in the refrigerator for up to 4 days.
Freeze. Once the chili has cooled off to room temperature, place it in a freezer-safe container for up to three months.
Defrost it in the refrigerator overnight.
Reheat leftover chili on top of the stove over low heat in a covered saucepan for 10 to15 minutes until it's heated through or you can reheat it in the microwave.
Top Tips
The vegetables in this recipe should create enough liquid in the chili as it cooks. If you prefer more liquid, you can add ¼ cup water, chicken broth or vegetable broth before cooking the chili.
If your chili isn't hot enough for you taste, add more heat by gradually adding cayenne pepper to taste.
If your chili turns out too hot, add an acidic ingredient such as more tomatoes, lime or lemon juice and serve with a side Greek yogurt or sour cream to cool things down.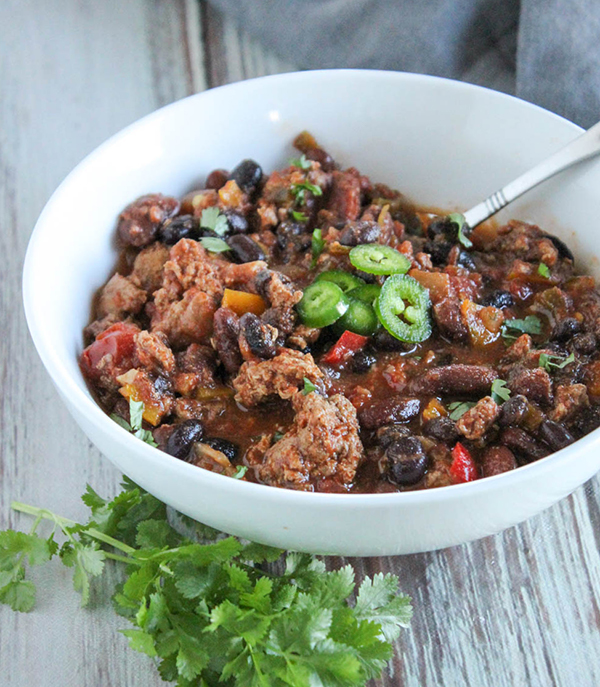 What to Do With Chili Leftovers
Chili is one of those foods that can be re-purposed in so many ways. Here are a few ideas for using up this Instant Pot Chili:
Serve leftover chili on top of a bed of greens for a salad
Stuff chili into a shell and make tacos
Spread it on top of tortilla chips and make nachos
Serve it on top of a hot dog
Stir it into your favorite mac and cheese
Serve it over rice or pasta
Stuff into a baked potato
Stuff it into peppers for spicy stuffed peppers
Fill an acorn squash with it to make an easy version of Tex-Mex Stuffed Acorn Squash.
Healthy Turkey Chili Recipe Variations
Mild Turkey Chili. Leave out the jalapeno peppers or substitute them with a milder pepper such as a poblano pepper.
Sweet and Spicy Chili. Add ½ teaspoon of cinnamon and a tablespoon of honey to taste.
Vegetarian chili. Double up on the amount of vegetables and add an extra cup of beans for veggie chili.
Can I Make This Instant Turkey Chili Recipe on Top of the Stove?
Yes, you can. The steps to make turkey chili on top of the stove are basically the same as the pressure cooker. The only difference is that once the ingredients are browned, the chili cooks slowly for at least an hour on top of the stove.
Add the turkey to a pre-heated dutch oven and brown it, add the vegetables and cook for a few minutes, next add the spices, tomatoes, and beans. Reduce the heat, cover the pot, cook slowly for at least one hour. Stir in the cilantro and serve it with a splash of lime juice and your favorite toppings.
Can I Use Tomato Paste or Tomato Sauce in place of Tomatoes?
Yes, you can. For the tomato sauce, it's a simple one-for-one swap.
For tomato paste to replace crushed tomatoes, you will need 1 cup of water mixed with ¾ cup of tomato paste.
If you like this recipe, please comment and rate it below!
Have you Tried These Healthy Chili Reicpes?
For more simple and delicious recipes like this, subscribe to our newsletter and receive a free e-book and meal suggestions straight in your inbox!