This air fryer cornbread recipe is so simple to make with ingredients you probably already have in your kitchen. It's a small batch recipe that's a little bit sweet and the perfect side dish for a small family.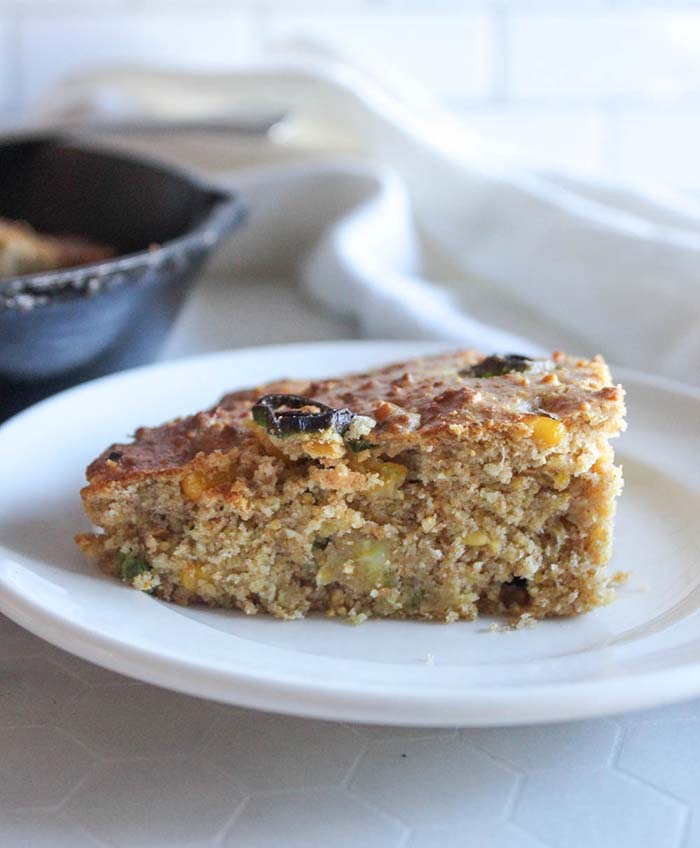 This cornbread is so good all by itself, and it also tastes great with a piping hot bowl of chili.
Why this recipe works
It's an easy recipe to make! The cornbread is perfectly crispy on the outside and soft and fluffy on the inside.
No need to heat up the kitchen when you make this cornbread recipe in the air fryer.
It's very customizable - see the recipe variations below.
Here Is What You Will Need to This Easy Homemade Air fryer Cornbread Recipe
As an Amazon Associate, I earn from qualifying purchases.
This is an overview of the ingredients and steps to make this recipe. Scroll down to see a printable recipe card with exact measurements and complete cooking instructions.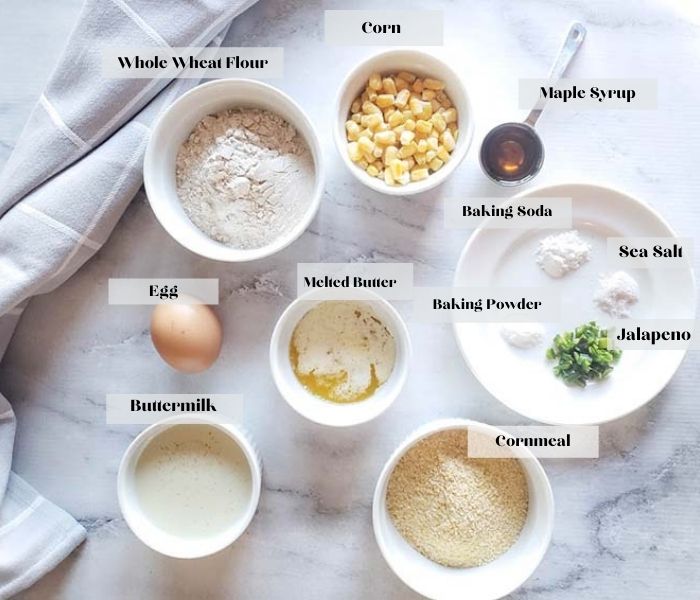 Ingredients
Yellow Cornmeal
Whole Wheat Flour
Frozen Whole Kernel Corn
Buttermilk
Large Egg
Unsalted Melted Butter
Maple Syrup
Jalapeno Pepper
Baking Soda
Baking Powder
Salt
Equipment
Here's How to Make CornBread in An Air Fryer
Prepare the ingredients: measure the flour, cornmeal, baking soda, baking powder and salt. Melt the butter, measure the buttermilk, corn and chop the jalapeno pepper.
Coat a skillet or baking dish with olive oil, or line it with parchment paper and preheat the air fryer to 375 degrees f.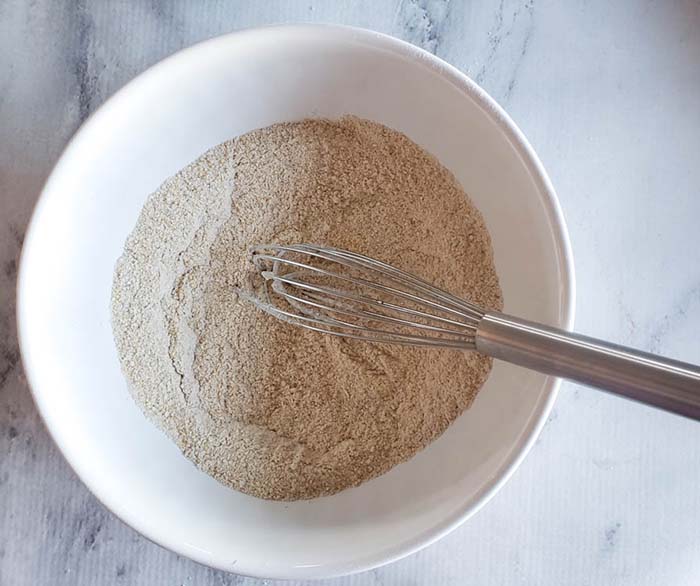 Step 1. Combine the Dry Ingredients
Place the flour, cornmeal, baking soda, baking powder, and salt into a large bowl and whisk them together.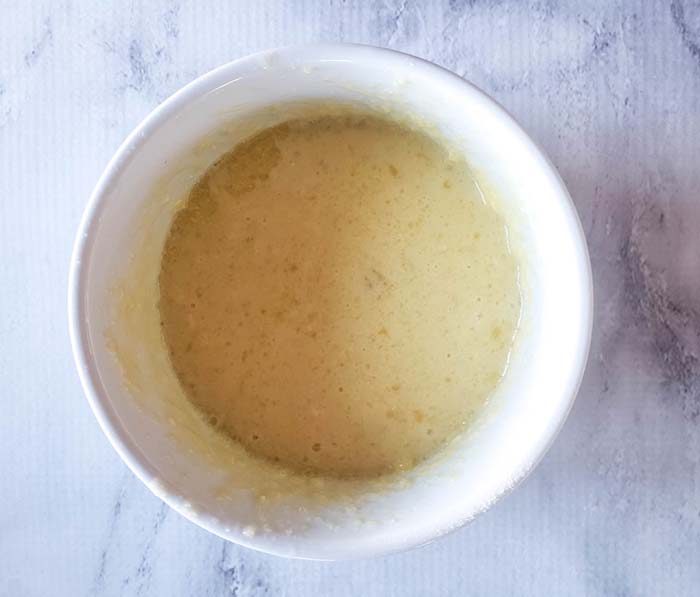 Step 2. Combine the Wet Ingredients
Whisk together the egg, buttermilk, melted butter, syrup in a medium bowl until they are combined.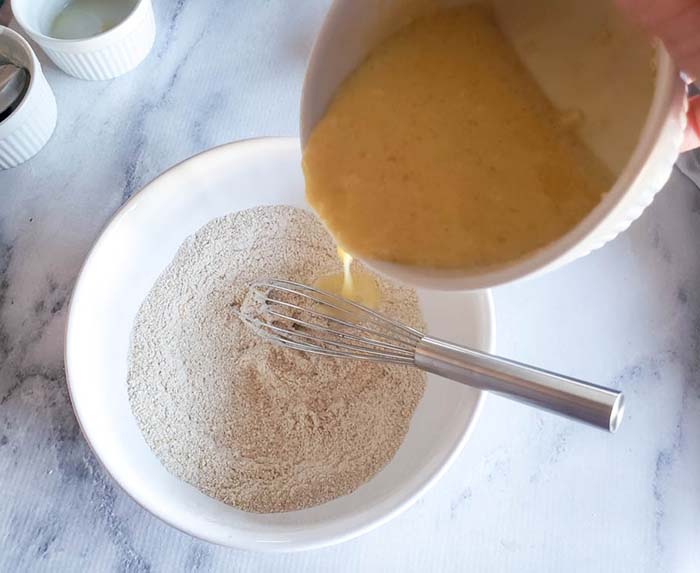 Step 3. Combine the Wet Mixture with the Dry
Add the wet ingredients into the bowl with the dry ingredients and mix until everything is combined.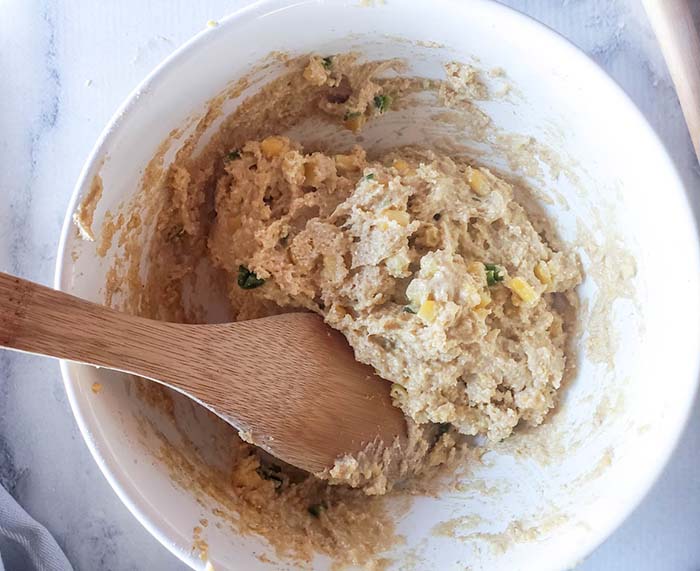 Step 4.
The cornbread batter should be fairly smooth at this point; add the corn and peppers and gently stir. The batter will be thick.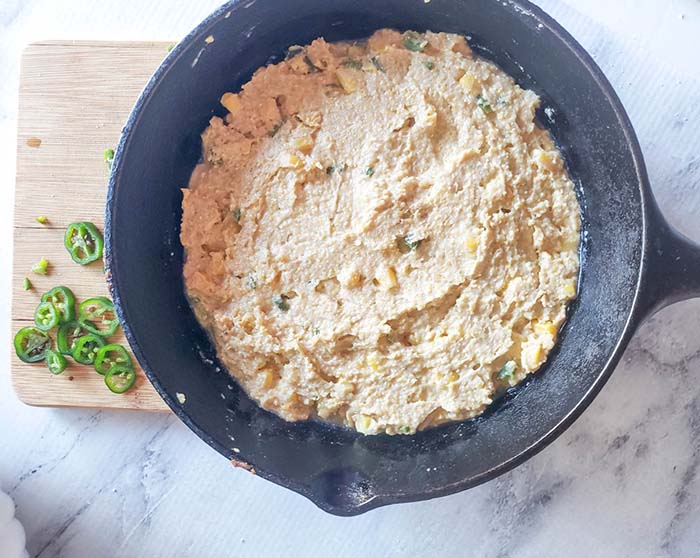 Step 4. Get Ready to Bake
Spread the cornbread batter into the prepared baking pan, and place it into the preheated air fryer basket. Bake for 15 to 20 minutes until the top is golden brown and a toothpick comes out clean when inserted into the middle.
NOTE: Depending on your air fryer, the cooking time may vary. Start checking your cornbread after the early side of cooking time.
Ingredient Notes
Yellow Cornmeal can be substituted with white cornmeal which typically has a more fine texture and a little less flavor but not enough to notice the difference.
Frozen corn adds texture and a touch of sweetness. It can be substituted with canned corn that has been drained and rinsed or you can use fresh corn when it's in season.
Buttermilk can be substituted with a ½ cup milk mixed with ½ tablespoon of vinegar or lemon juice. You can also use dairy-free milk to make this recipe. I've used both oat milk and almond milk.
Jalapeno pepper I like to use fresh jalapeno pepper in this recipe, it adds a nice touch of heat to the cornbread. You can also use chopped pickled jalapeno peppers in this recipe.
If you don't like heat, you can leave the jalapeno pepper out.
Melted butter can be substituted with an equal amount of olive oil or coconut oil.
Whole Wheat flour can be substituted with white all-purpose flour.
Maple Syrup adds a little bit of sweetness to this recipe. Look for real maple syrup, which can be found in the grocery store, and not pancake syrup.
Maple syrup can be substituted one for one with honey.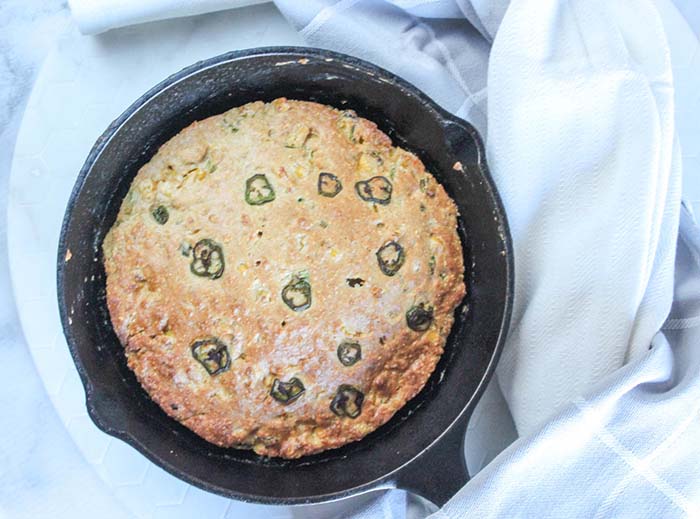 Serving Suggestions
Serve air fryer cornbread with your favorite chili such as turkey chili, bison chili, or chili verde. It also tastes great with chicken tortilla soup, pulled pork, chipotle chicken stew, and even as a side for breakfast
Air Fryer Cornbread Recipe Variations
Spicy cornbread. Add a ¼ teaspoon or more of cayenne pepper to taste for spicy cornbread.
Cornbread Basic. Leave out the jalapeno peppers and corn.
Cheddar and Onion. Add ½ cup shredded cheddar cheese ad ¼ cup sliced green onions to the cornbread batter before cooking.
Vegan cornbread. Substitute the egg with a flax egg (1 tablespoon flaxseeds + 3 tablespoons water) and the melted butter with olive oil.
Gluten-free cornbread. Replace the wheat flour with a gluten-free flour mix.
Savory cornbread. Leave out the syrup.
Try this Irish Soda Bread Recipe!
How to Store Leftover Cornbread
Room Temperature. Leftover cornbread will last at room temperature for up to two days wrapped in foil or plastic.
Refrigerate. Store leftover cornbread in the refrigerator for up to 5 days.
Freeze leftover cornbread after it has been cooled off in an airtight container or a stasher bag in the freezer for up to three months.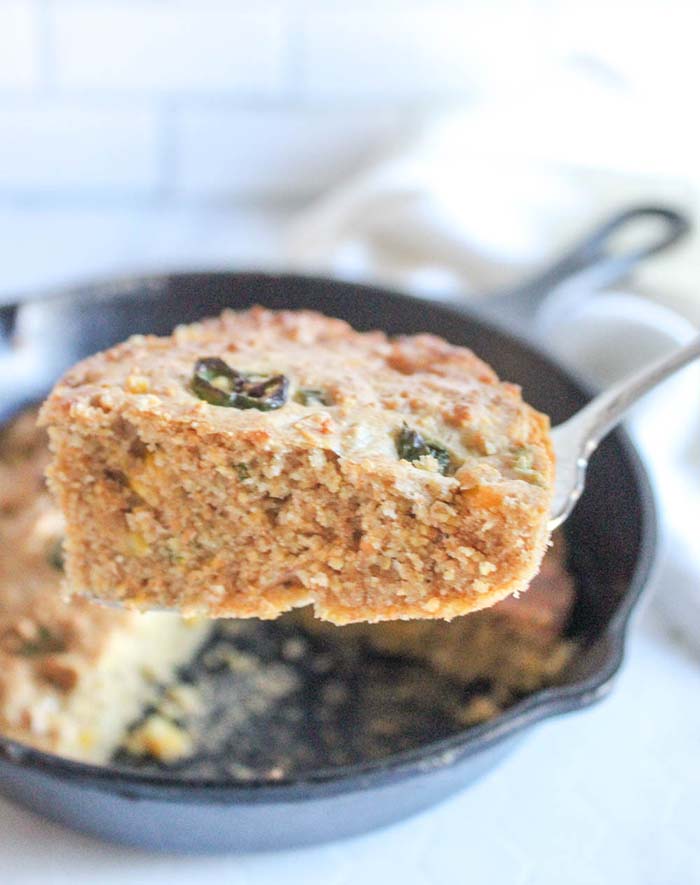 Tips
Don't over mix your cornbread batter, it will result in a dense cornbread.
This recipe can easily be doubled by doubling the amount of each ingredient.
Air fryers are different, you may have to adjust the temperature and cook time to your air fryer. I have an air fryer oven, and cooking the cornbread at 375 degrees F for 20 minutes yields the best results.
Can I make air fryer cornbread in the oven?
Yes, you can. Follow the instructions in the recipe and bake the cornbread at 375 degrees for 25 to 30 minutes.
Can I Use this recipe to make Air fryer cornbread muffins?
Yes, you can delicious muffins in the air fryer. Follow the instructions on the recipe card, but pour the batter into silicone muffin cups and bake. Start checking the muffins after 10 minutes of baking time.
If you like this recipe, please comment and rate it below!
You Might Like These Air Fryer Recipes
Like this recipe? Subscribe to receive a free e-book and meal suggestions straight in your inbox!