This braised beer pot roast recipe is full of flavor and so easy to make. Beef roast and vegetables are braised in a rich-tasting beer-based braising liquid for a satisfying and hearty meal that the whole family will love.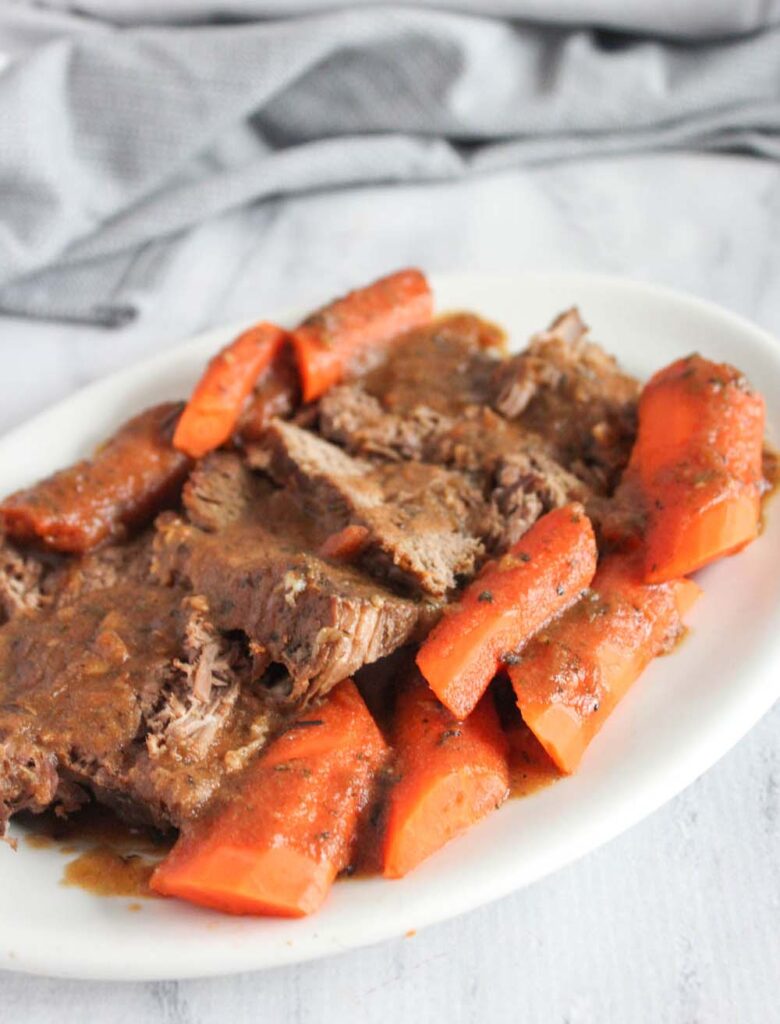 Pot roast is the ultimate comfort food for cold days! We also enjoy beef stew and bolognese sauce when the weather is cold.
Why You Are Going to Love This Recipe
It's made with simple and wholesome ingredients.
Braised Beer Pot Roast is easy to prepare, follow the easy steps below.
Great flavor and fork tender! It's the perfect comfort food for a cold night.
Here is What You Will need to Make Beer Pot Roast
As an Amazon Associate, I earn from qualifying purchases.
This is an overview of the ingredients and steps to make this recipe, scroll down for a printable recipe card with exact measurements and instructions.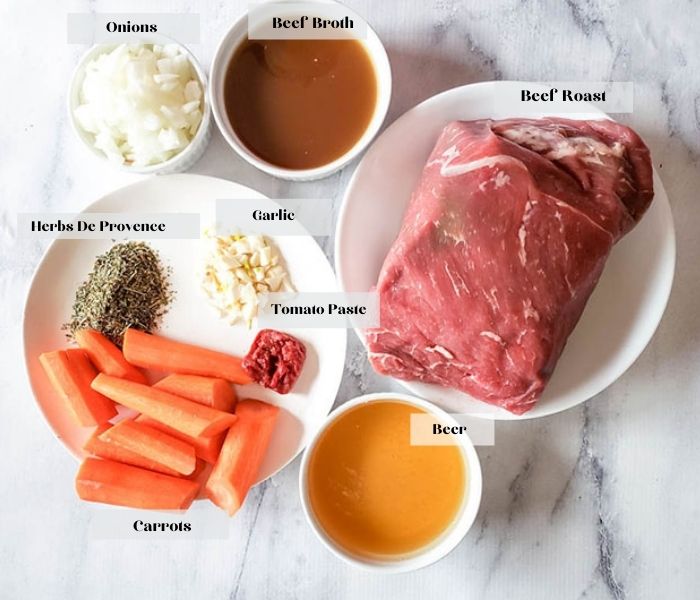 Ingredients List
Beef Roast such as rump, bottom round, chuck roast or brisket
Carrots
White or Yellow Onion
Tomato Paste
Garlic
Beer
Beef Broth
Herbs De Provence
Equipment
Here is How to Make Beer Braised Pot Roast
Prepare the ingredients: Chop the onions, garlic and carrots. Measure the beer, broth, tomato paste and herbs.
Heat olive oil in a dutch oven on top of the stove over medium-high heat.
Preheat the oven to 350 degrees F.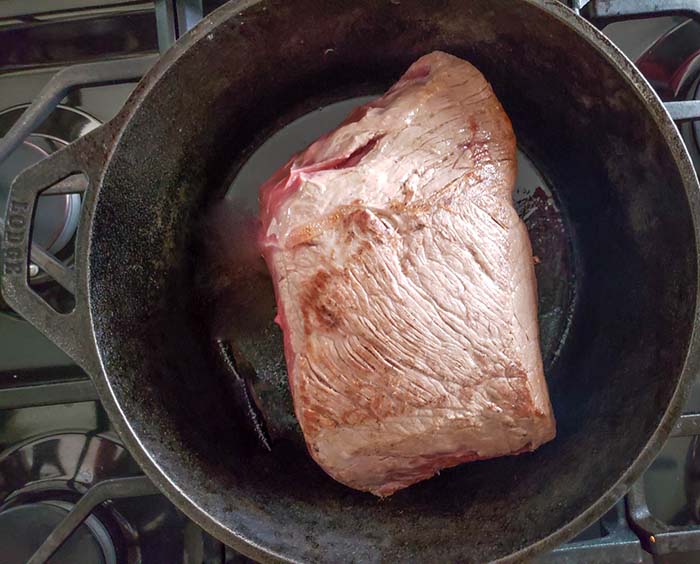 Step 1. Brown the Beef
Once the dutch oven is hot, add the beef and brown it on three sides.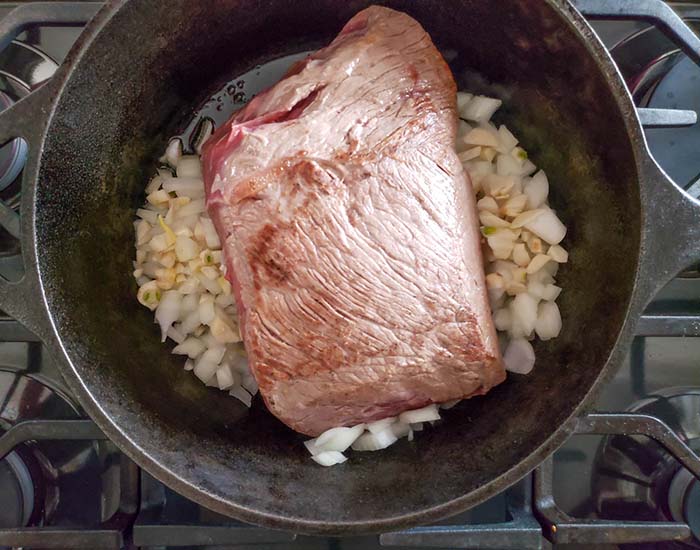 Step 2. Add the Aromatics
Add the onions and garlic to the pan and saute onion and garlic with the meat. Once all sides of the roast have been browned in all sides, remove it from the dutch oven and set it aside.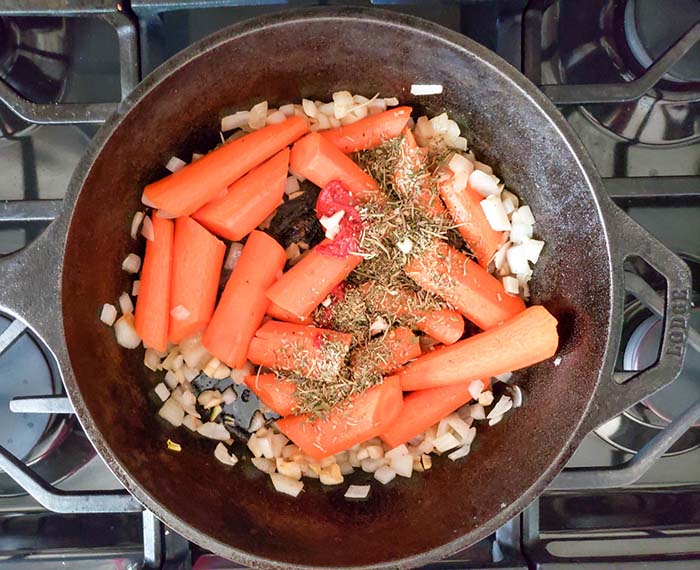 Step 3. Cook the Vegetables
Reduce the heat to medium heat add the carrots; cook for about 3 minutes and stir in the tomato paste and herbs de Provence while scraping up the browned bits from the bottom of the pot.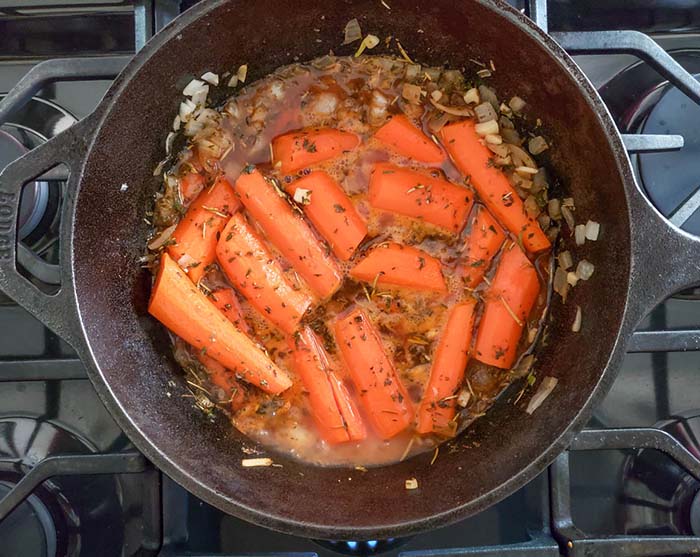 Step 4. Add the Beer
Add the beer and reduce the heat to low heat. Stir and cook for about 5 to 8 minutes longer until the beer has reduced by a quarter.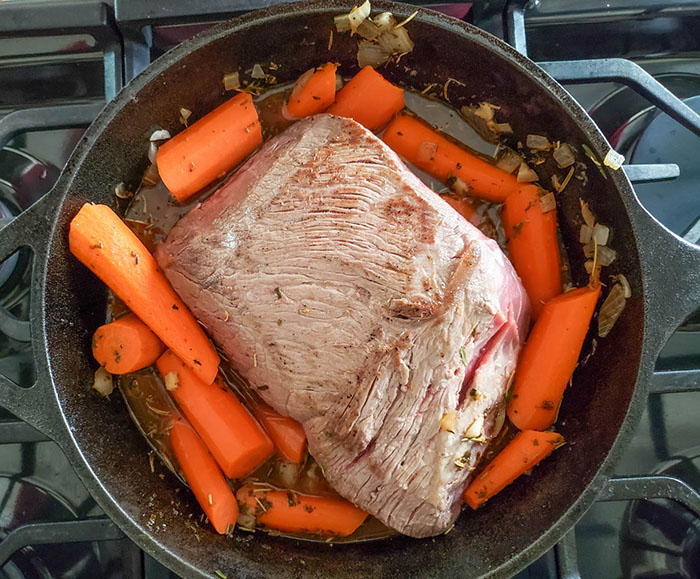 Step 5. Braise the Roast
Return the meat back to the dutch oven, add the broth and cover. Place it in a preheated oven and cook for 2 ½ hours.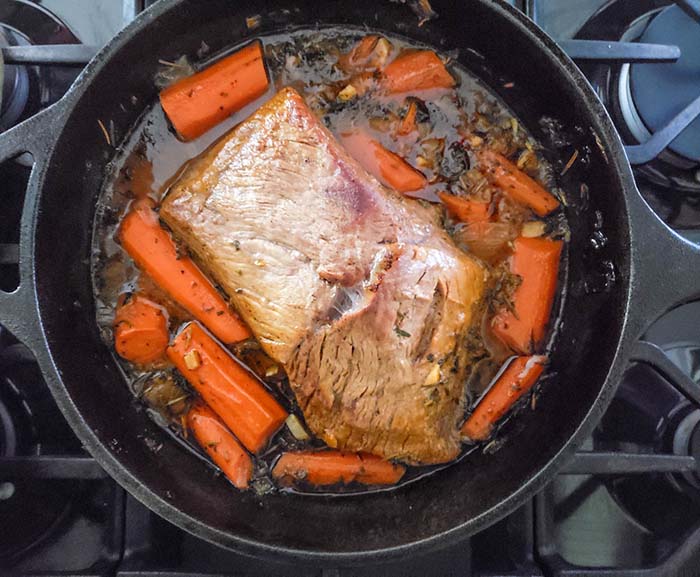 Step 6. Remove the Cover
Remove the cover from the dutch oven and place it back into the oven and cook for 15 to 20 minutes longer.
Tip: Do not skip step 1! Browing the meat is an important step in this recipe. It locks in the flavor of this savory pot roast.
Ingredient Notes & Substitutions
Beef Roast. The best cut of beef roast to use for pot roast is a tougher cut of meat that will become tender after hours of braising such as rump roast, bottom round roast, beef chuck roast or brisket. I prefer rump or bottom round because they are less fatty than chuck roast.
Carrots. Large carrots that are cut into long pieces won't become soggy and overcooked. You can also cut the carrots into smaller-sized pieces if that is your preference.
Beer. You can use your favorite beer to make this recipe. I like to use a lighter flavored beer such as a pilsner or witbier for a mild flavor. We also like dark beer or stout beer which adds a deeper flavor.
Note: If you use a hoppy beer such as an IPA, the pot roast and sauce may have a bitter flavor.
Herbs De Provence. Is my go-to seasoning for stews and roasts. It is a blend of herbs that add a ton of flavor, herbs de Provence spice blend can be found in most supermarkets.
If you don't have herbs de Provence, you can substitute it with 2 teaspoons each of: rosemary, thyme, and oregano.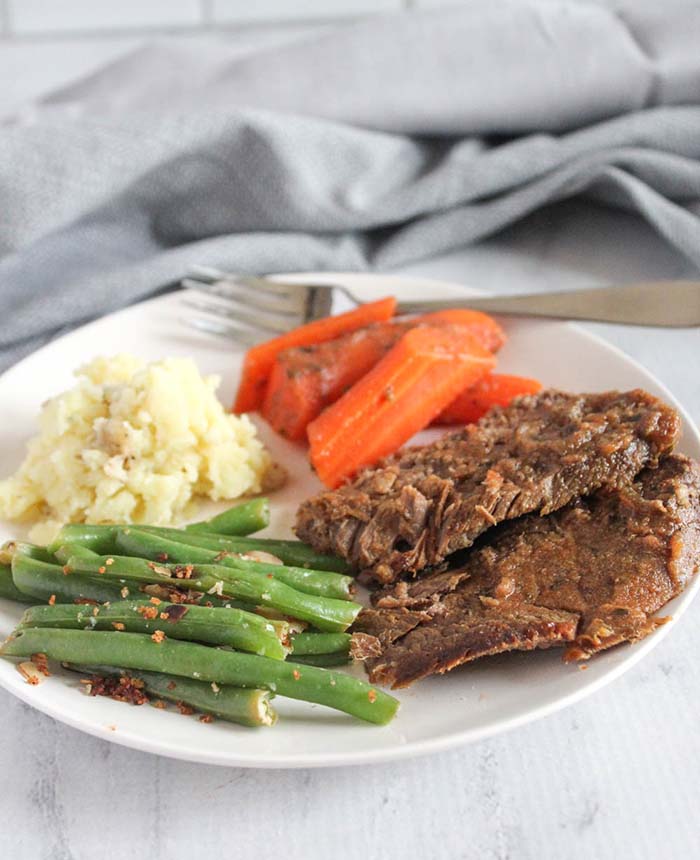 Serving Suggestions
Serve braised beer pot roast with a side of green beans, roasted Brussels sprouts, spinach salad, roasted potatoes, Mashed Potatoes, bread, or egg noodles.
Variations
Braised Beer Pork Roast. Change up the meat, and use a pork loin or pork butt in place of beef roast.
Add Potatoes. I don't add potatoes to my pot roast because we like mashed potatoes as a side dish with pot roast.
You can, however. add a pound of baby potatoes, red potatoes or Yukon gold potatoes cut into chunks.
Change up the Vegetables. Add more or change up the vegetables such as fresh mushrooms, or root vegetables like turnips, parsnips or sweet potatoes.
Red Wine Pot Roast. Replace the beer with an equal amount of red wine.
Non-Alchohol Beer Pot Roast. Replace the beer with alcohol-free beer or beef broth or beef stock.
If you like braised meals, try out our savory beef stew.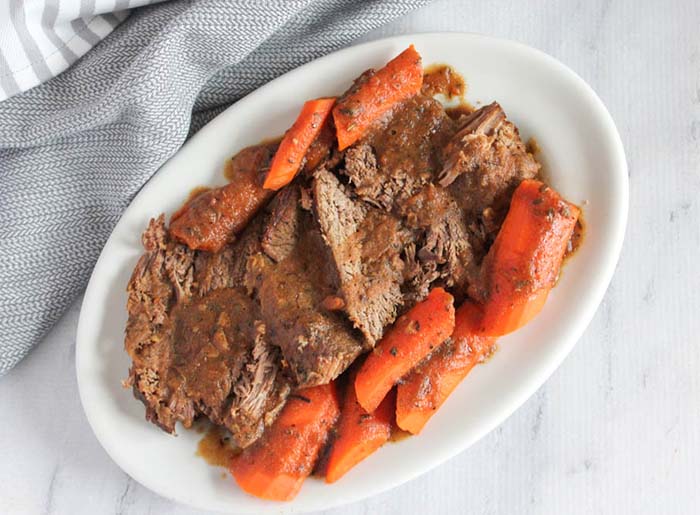 Storing and Using Leftovers
Refrigerate leftover pot roast for up to 4 days in an airtight container.
Reheat leftover beer pot roast on top of the stove in a skillet, in the oven at 350 degrees or in the microwave.
Leftover pot roast ideas -Heat the pot roast in leftover gravy and serve it over mashed potatoes, egg noodles or toast.
Cut the meat into chunks, along with the carrots, add some frozen peas, mix in leftover gravy and top it with mashed potatoes or a pie crust.
Freezing leftover pot roast is not recommended, we have not tried it, if you have, leave a comment to let me know how it turned out!
Top Tip
Make a thicker sauce by making a slurry of flour or arrowroot and water and gradually adding it to the sauce in the pan once you remove the meat. Whisk together 2 tablespoons of water with 1 tablespoon of flour or arrowroot to make the slurry.
Can I make this recipe in a Crock Pot?
Yes! You can easily make this a slow cooker pot roast recipe, here's how:
Heat a large skillet with a little oil over medium high heat. Once the skillet is hot, add the meat and cook brown it on all sides, adding the onions and garlic at the end of the process.
Remove the meat from the skillet and place it into a slow cooker. Add the carrots to the skillet and cook them with tomato paste, herbs, and beer. Pour the mixture over the meat in the slow cooker, pour in the broth, and cook on low heat for 4 ½ hours.
Can You Use Sirloin Tip for Pot Roast?
You can! Less tender meat such as sirloin tip should be cooked low and slow to avoid a tough and chewy pot roast. Reduce the heat to 325 in this recipe and cook for at least 4 hours, or you can cook it in a crock pot for 5 to 6 hours.
For more simple and delicious recipes like this, subscribe to our newsletter and receive a free e-book and meal suggestions straight in your inbox!
You Might Like These Recipes
If you like this recipe, please comment and rate it below!