Savory Beef Stew with Vegetables is a beef stew that is braised in the oven in a rich and velvety wine-based sauce. It's perfect for a family dinner or to serve to guests.

This hearty beef stew is one of our favorite meals to enjoy when the weather is cold. The wine-based sauce is seasoned with herbs de Provence. It is so rich and flavorful, you will want a side of French bread to mop up every last bit of the sauce.
The next time you are craving hearty comfort food, give this recipe a try! It's easy to make and so delicious too!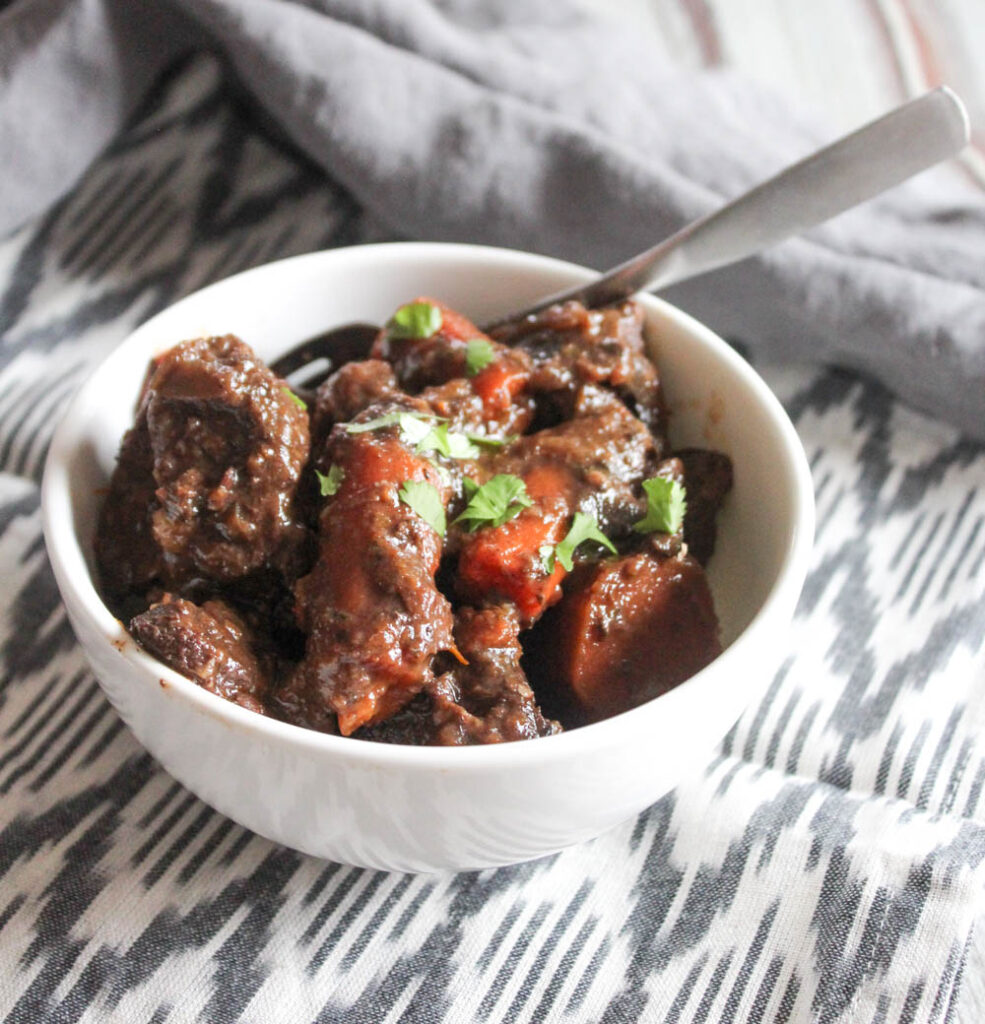 It's deliciously rich and savory that tastes even better the next day, so make extra!
It's customizable. You can make it with just meat and carrots or you can add potatoes and mushrooms too.
Here is What You Will Need
As an Amazon Associate, I earn from qualifying purchases
This is an overview of the ingredients and steps necessary to make this recipe, scroll down to see ingredient notes and substitutions as well as a printable recipe card with exact measurements and complete cooking instructions.
---
---
Here is How To Make Savory Beef Stew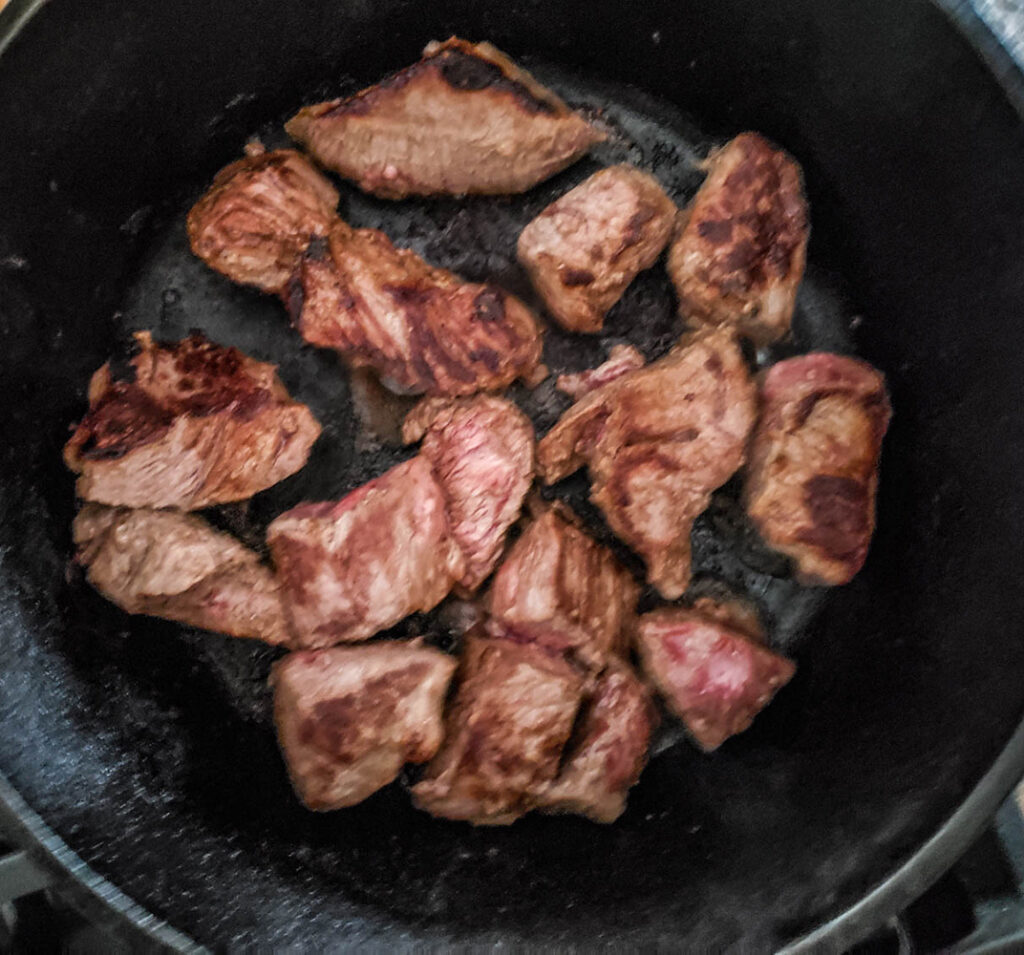 Preheat the oven to 350 degrees. Heat olive oil in a skillet over high heat and sear the meat. Once the meat starts to turn brown, remove it from the skillet and set it aside.
TIP! The meat does not need to be cooked through at this point, we just want the meat to brown on the outside.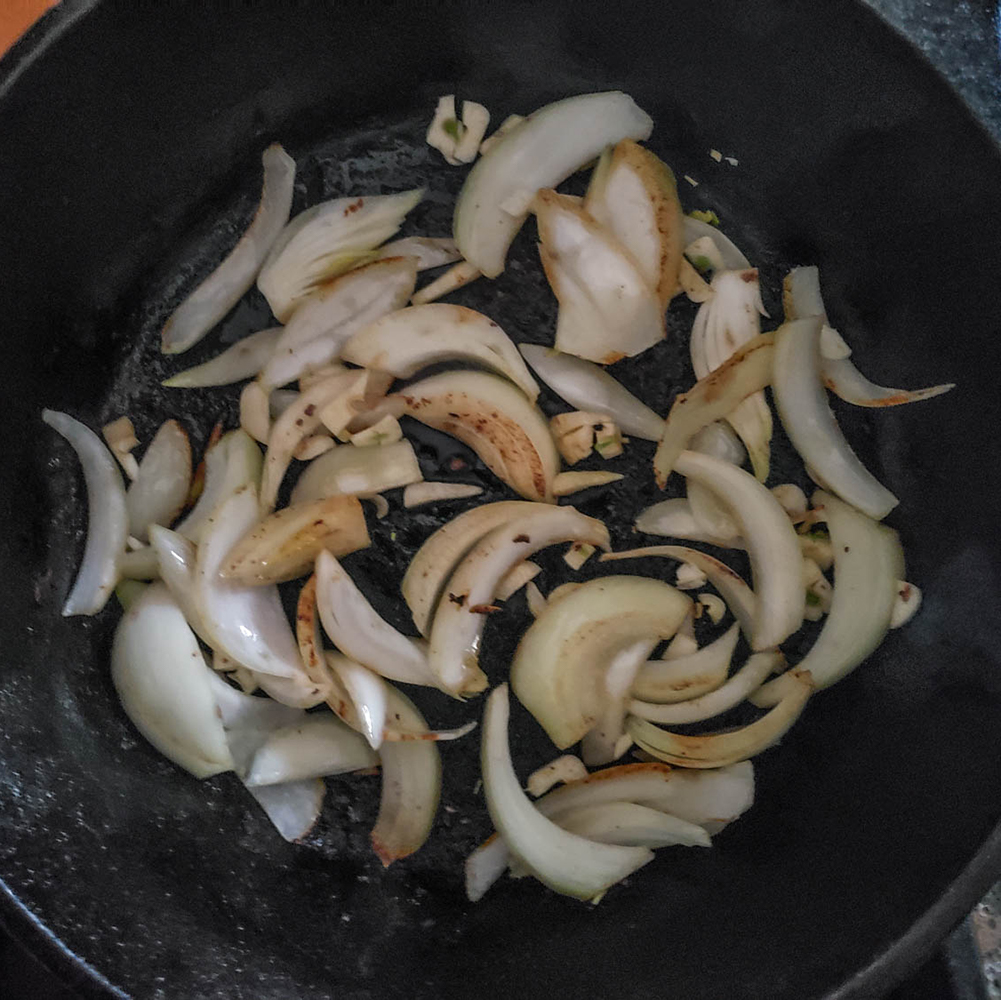 Add the onions and garlic to the skillet and cook for just a few minutes until they begin to soften.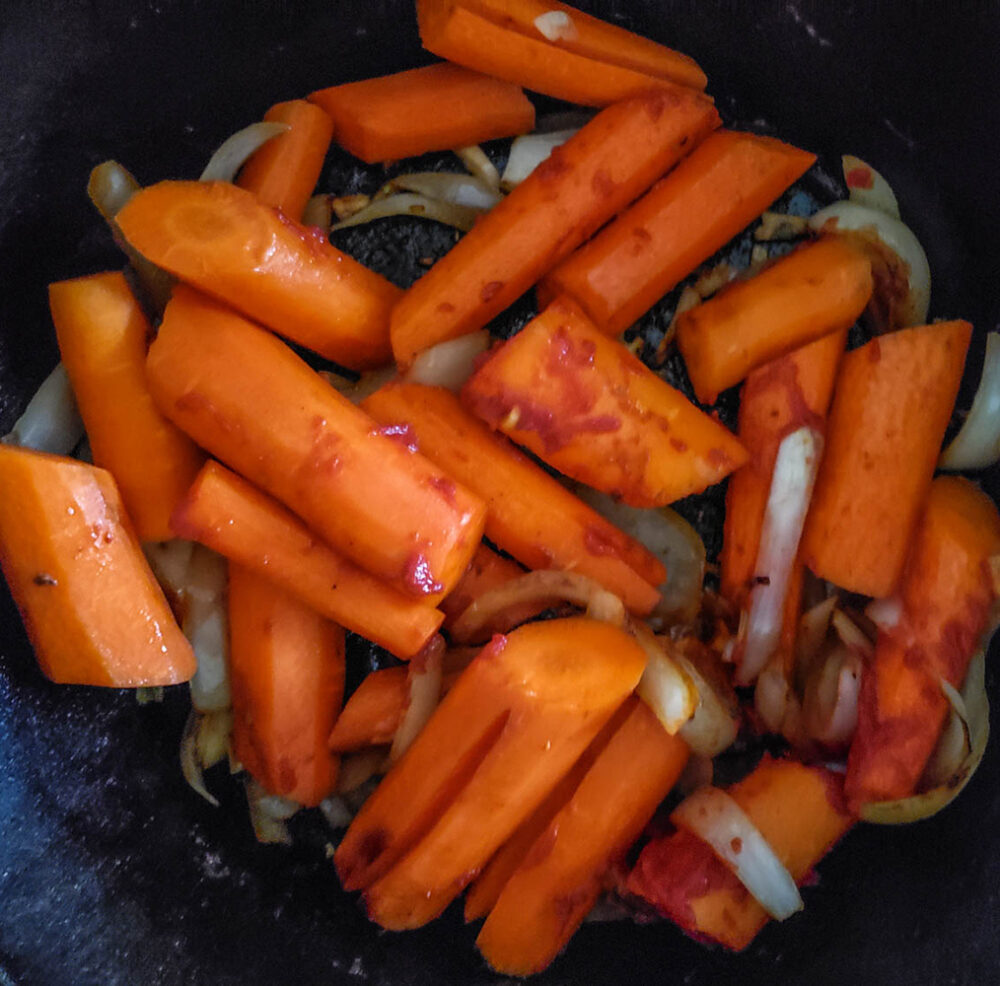 Add the carrots to the pan with the onions and garlic and cook them for a few more minutes, then stir in the tomato paste and herbs de Provence.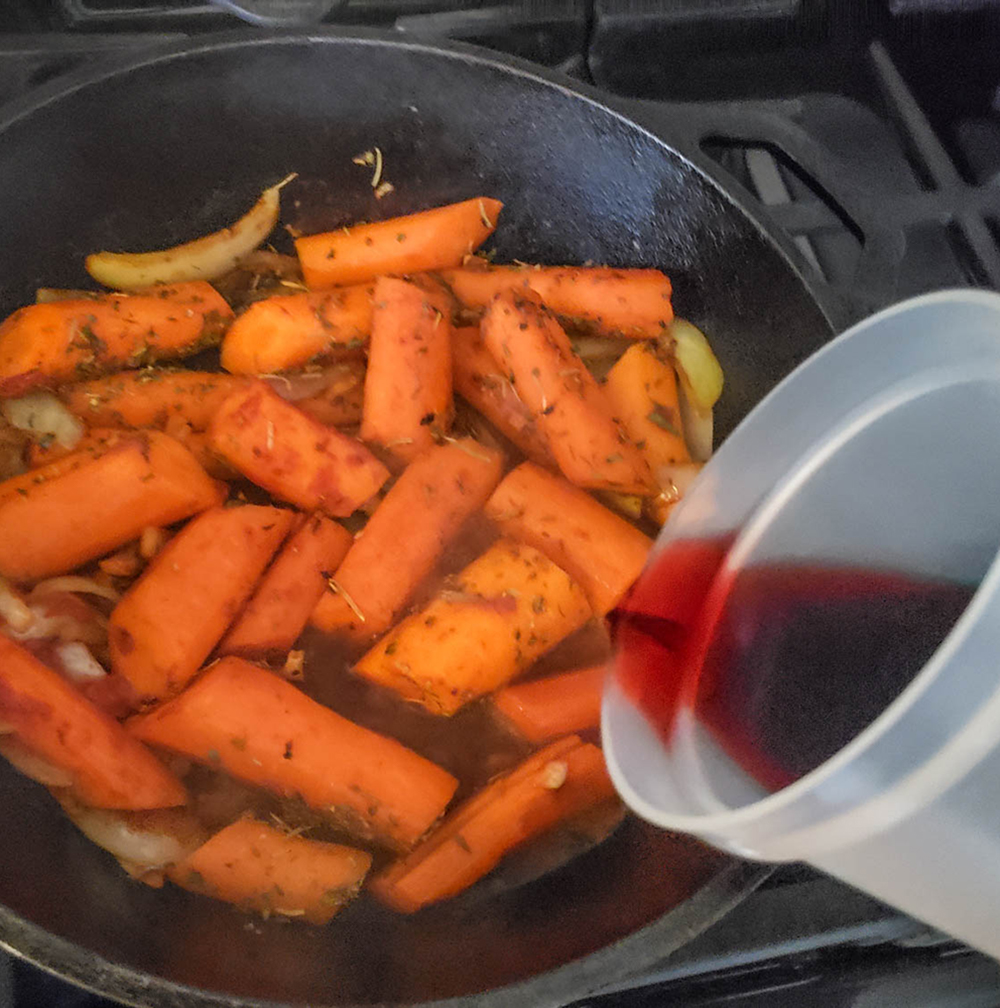 Pour in two cups of the wine and reduce the heat to medium/low and let the wine cook down (this will take about 5 to 10 minutes).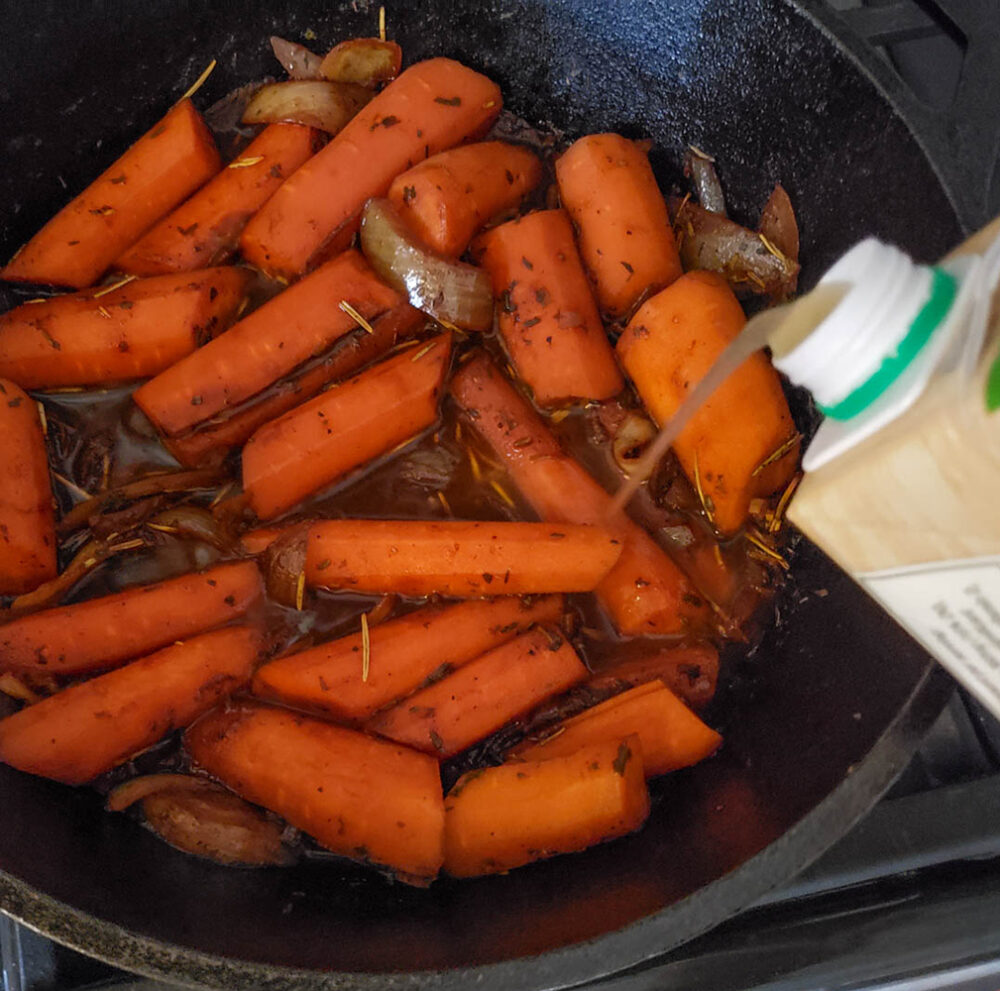 Once the wine has cooked down, stir in the remaining wine and the broth.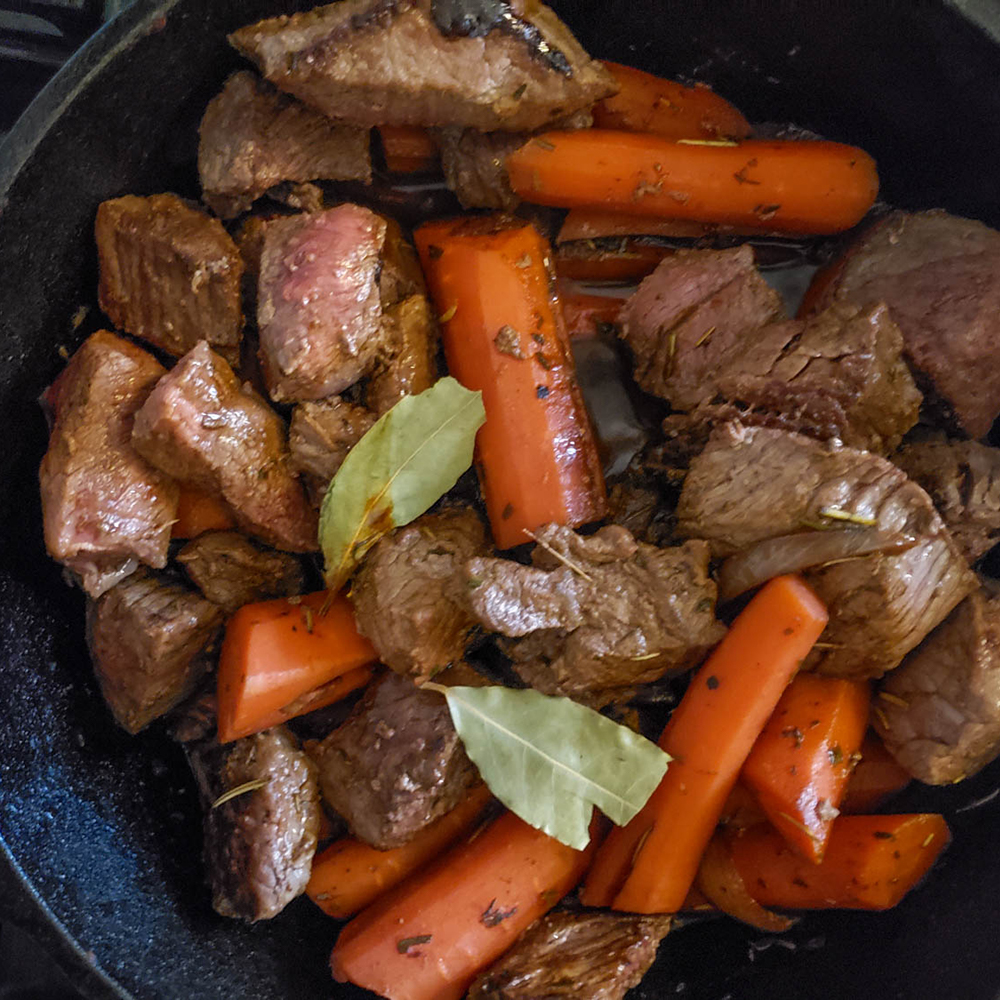 Place the meat back to the skillet and add the bay leaves. Cover the stew and place it in the oven and bake it for 2 ½ hours and serve.
TIP! If the sauce is too thin, mix together 1 teaspoon of flour with a tablespoon of water and gradually stir it into the stew.
Ingredient Notes & Substitutions
Beef - The best type of beef to use in this recipe is beef that becomes tender once it has cooked slowly such as is beef round or chuck cubes.
If beef cubes aren't available, you can substitute them with 2 pounds of beef round or chuck roast and cut it into cubes yourself, and it's more economical.
Herbs de Provence is a unique aromatic mix of dried herbs that is usually made with thyme, lavender, basil, rosemary. tarragon, savory, marjoram, oregano, and bay leaves, You can find Herbs de Provence in the spice section of your supermarket.
Substitute herbs de Provence with Italian seasoning blend, or a mixture of any of the spices above.
Red Wine - The best type of wine to use when cooking a beef stew is a dry red wine such as a Cabernet Sauvignon, Pinot Noir, Merlot.
Substitute red wine in stew with an equal amount of broth, red grape juice or cranberry juice.
Beef Broth or Beef Stock? Beef broth is made from meat and stock is made from bones and has a richer flavor. You can use either one in this beef stew recipe.
Dutch Oven - This recipe can be made in a Dutch oven or browned in a skillet and then added to a casserole dish and braised in the oven. My favorite dutch oven is the Lodge Multi-Cooker, but any dutch oven will work.
Recipe Variations
Add more vegetables to the stew such as sliced 8 ounces of sliced mushrooms, ½ pound parsnips, turnips or potatoes.
Add more broth - we like our stew on the thicker side, if you like your stew with more sauce, increase the amount of broth by 1 cup.
Beef Stew in a Slow Cooker
Savory beef stew can easily made in a slow cooker by following the instructions to brown the ingredients in the skillet. Instead of braising the stew in the oven, place the stew ingredients into a slow cooker and cook on low for 5 hours.
Serving Suggestions
Even though this hearty beef stew is a meal all by itself, it tastes great with Mashed Potatoes, spinach salad, roasted brussels sprouts and a loaf of crusty bread or mashed potatoes.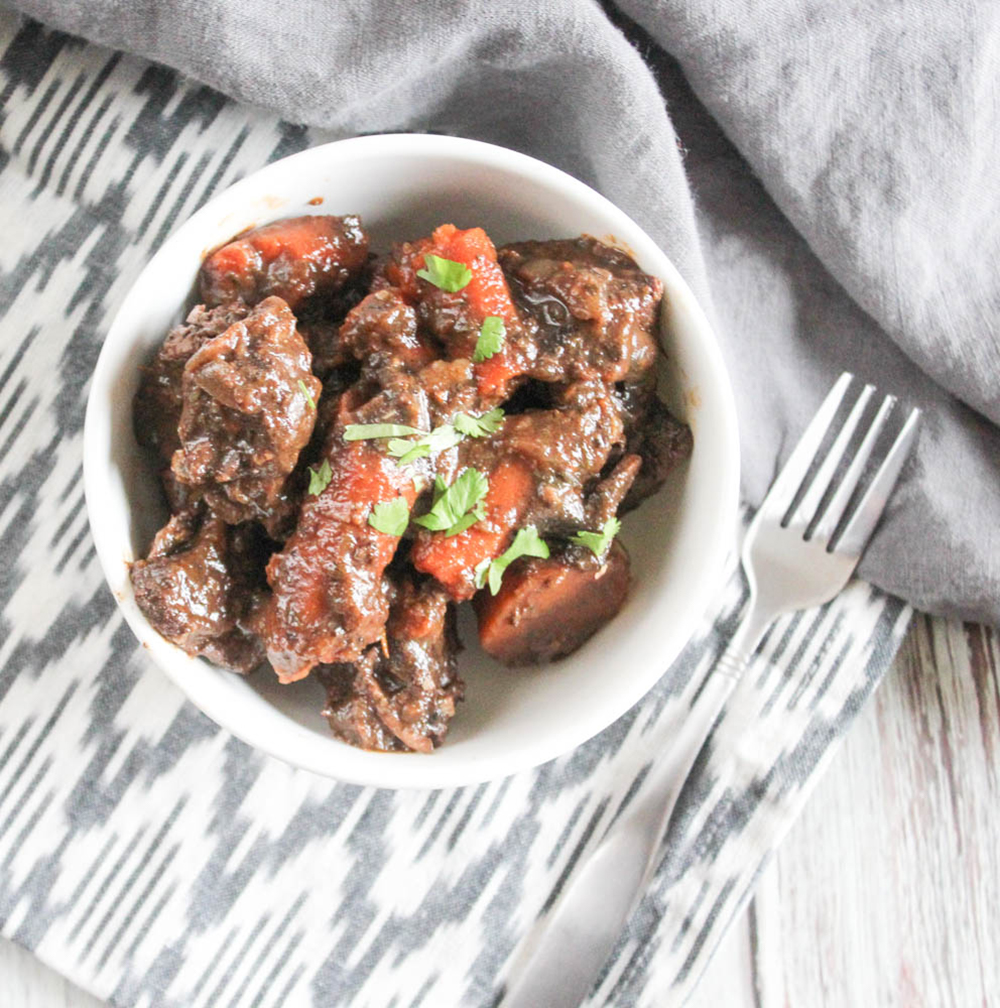 Storing and Using Leftovers
Leftover beef stew can be stored in the refrigerator for up to three days in an airtight container.
Freeze leftovers once the stew has cooled to room temperature, place it in an airtight container for up to four months. Defrost the stew overnight in the refrigerator.
Reheat Leftovers on top of the stove in a saucepan, in a covered dish in the oven or the microwave.
Leftover Idea! Cut the leftover stew into small bite-sized pieces and place it into a casserole dish and top it with mashed potatoes and bake it for 30 minutes at 350.
You Might Like these Recipes
For more simple and delicious recipes like this, subscribe to our newsletter and receive a free e-book and meal suggestions straight in your inbox!
If you like this recipe, please comment and rate it below!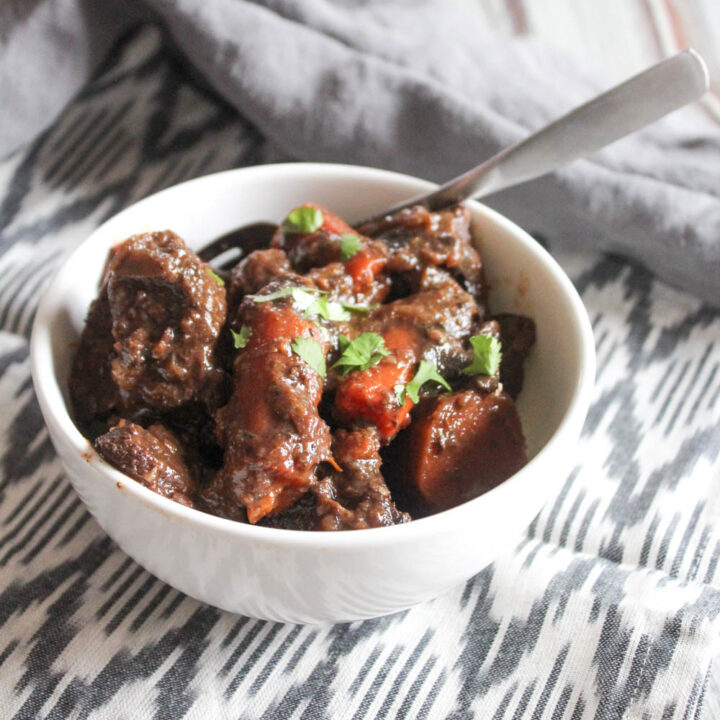 Beef and Vegetable Stew
Total Time:
2 hours
30 minutes
Beef Stew with vegetables is a combination of beef and vegetables cooked in a flavorful red wine sauce
Ingredients
2 pounds beef cubes (chuck or bottom round)
2 tablespoons olive oil
1 pound carrots
1 medium onion sliced thin
2 cloves garlic, minced
1 tablespoon tomato paste
2 bay leaves
1 tablespoon Herbs de Provence
3 cups red wine
1 ½ cups Beef Broth
Instructions
Preheat oven to 350.
Heat oil in a dutch oven over high heat, brown the beef on each side remove it from the Dutch oven and set it aside.
Add the carrots, onions, and garlic to the pan and cook until they begin to soften.
Next, stir in the tomato paste and herbs de Provence; cook for about 5 minutes.
Add 2 cups of the wine and cook for 5 to 10 minutes until it reduces to a syrupy consistency.
Add the broth, the remaining wine and the beef back to pan and cover.
Place the stew in the oven in oven and cook for 2 hours. Remove the cover and cook for 20 minutes longer.
Remove the bay leaves before serving. Thicken the sauce if needed by mixing together 1 teaspoon of flour with 1 tablespoon of water and gradually adding it to the stew.
Notes
Substitute an equal amount of broth, grape juice or cranberry juice for the wine.
Add 8 ounces of sliced mushrooms and ½ pound of potato quarters for a full meal.
Nutrition Information:
Yield:

6
Serving Size:

1
Amount Per Serving:
Calories:

623
Total Fat:

35g
Saturated Fat:

12g
Trans Fat:

0g
Unsaturated Fat:

18g
Cholesterol:

132mg
Sodium:

370mg
Carbohydrates:

12g
Fiber:

3g
Sugar:

4g
Protein:

42g
Nutrition information is provided by an online calculator and is meant to be used for informational purposes only. Even though I try to provide accurate information, these figures should still be considered as estimates.