Ground chicken casserole is filled with lean ground chicken, fresh veggies, and cheese. It is an affordable healthy meal that can be ready in less than one hour. It's perfect for busy weeknight dinners.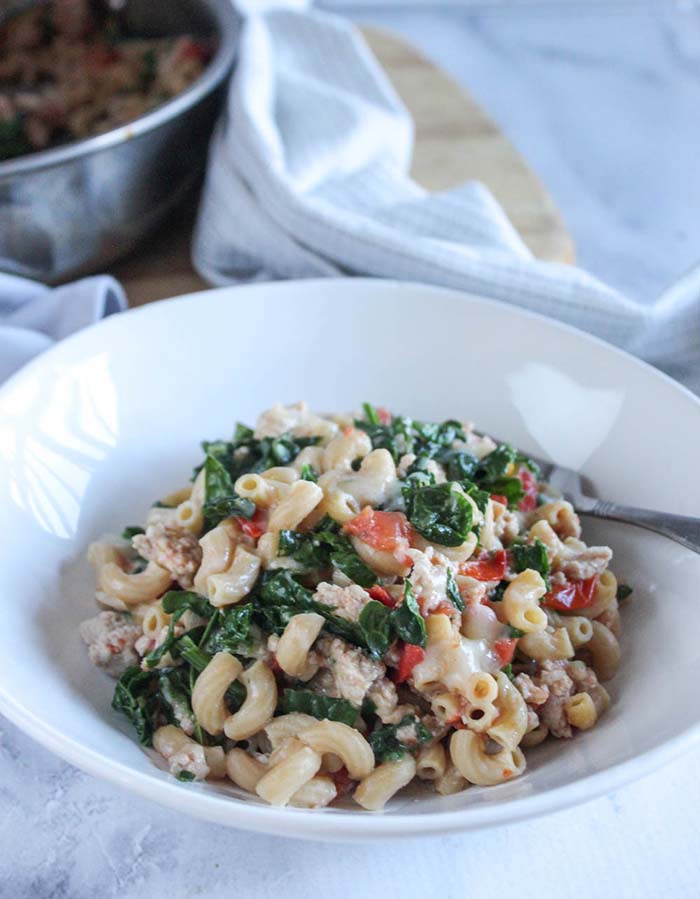 This is one of those easy dinners that I usually make the night before heading to the supermarket because it's a good way to clean out what's left in my fridge before adding new food. This casserole is often served with a simple salad to make it a complete healthy meal.
Why This Recipe Works
It's versatile! You can change up the meat, the veggies and flavors of this casserole. See the suggestions below.
It's practically made in one pan, which means quick clean up for an easy family dinner.
It's econimical and healthy! Filled with vegetables, lean chicken and whole wheat pasta.
Here is What You Will Need to Make this Recipe
As an Amazon Associate, I earn from qualifying purchases.
This is an overview of the ingredients and steps to make this recipe, scroll down for a printable recipe card with exact measurements and instructions.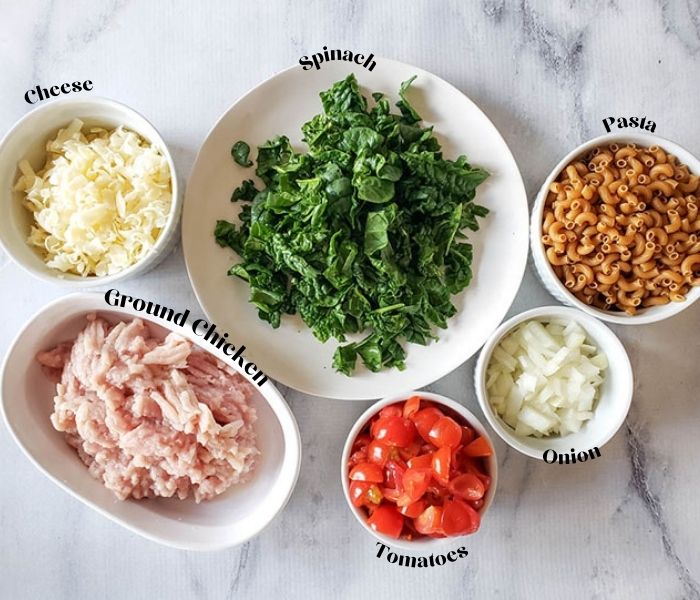 Ingredient List
Lean Ground Chicken Breast
Whole Wheat Pasta
Diced Tomatoes
Onion
Spinach
Cheddar Cheese
Equipment
How to Make Ground Chicken Casserole with Pasta
Prepare: chop the onions, tomatoes, and spinach. Grate the cheese and start cooking the pasta according to the package instructions. Preheat the oven to 350 degrees F.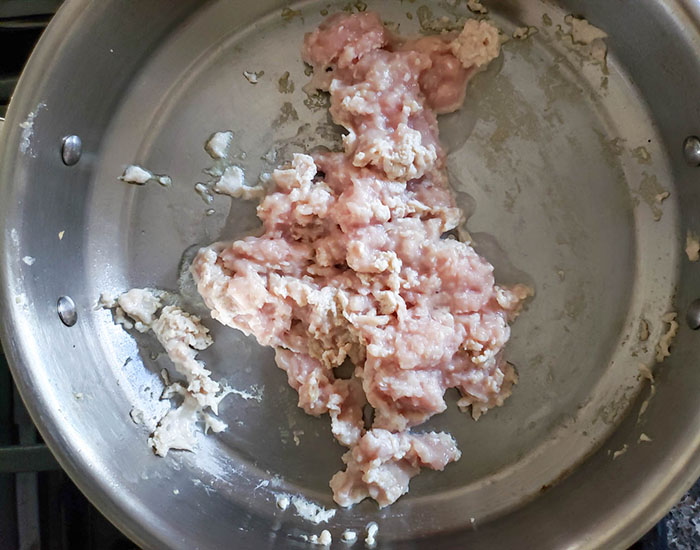 Step 1. Cook the Chicken
Heat oil in a skillet over medium-high heat. Once the oil is hot add the chicken and cook until the chicken is cooked through.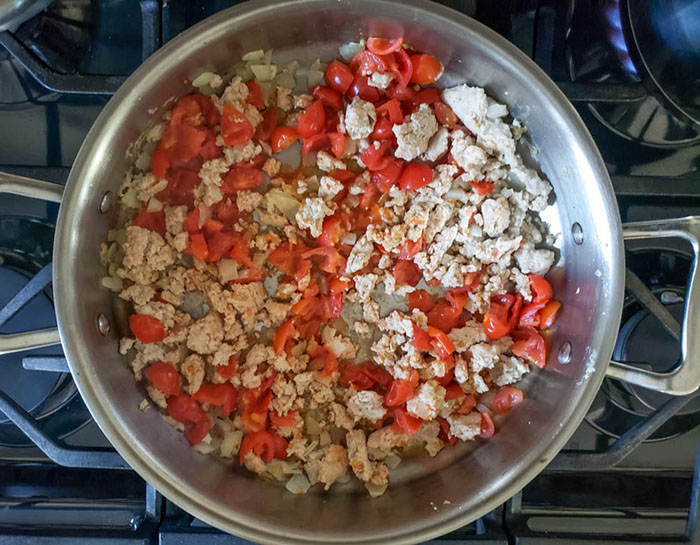 Step 2. Add the Veggies
Reduce to medium heat and add the tomatoes and onions. Cook for 3 to 5 minutes until the onions begin to soften.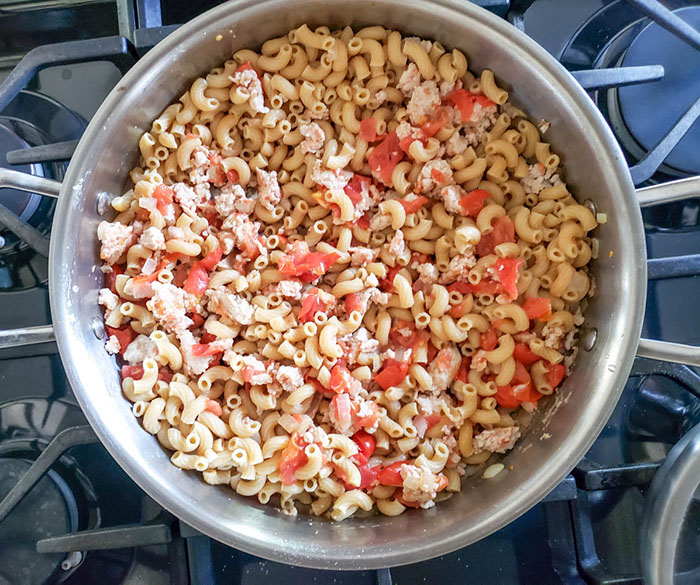 Step 3. Add the Pasta
Drain the pasta and add it to the skillet with the cooked chicken mixture.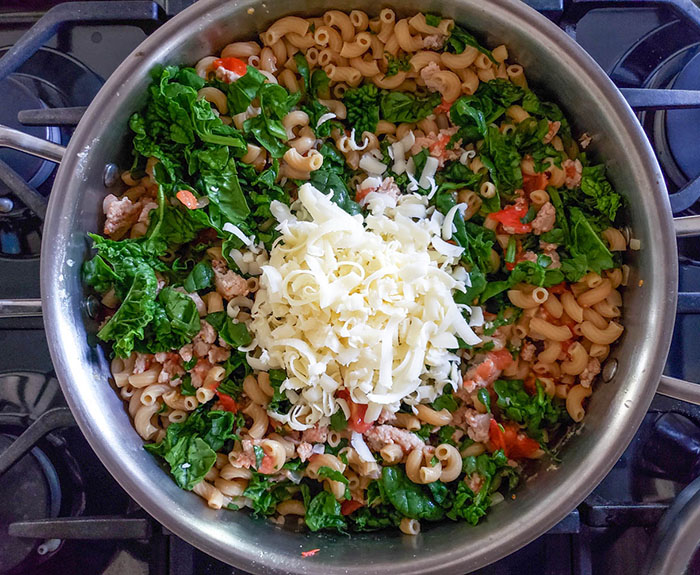 Step 4. Add the Spinach & Cheese
Turn the heat off and stir in the chopped spinach and the cheese. At this point, the spinach should start to wilt. Sprinkle additional cheese over the top.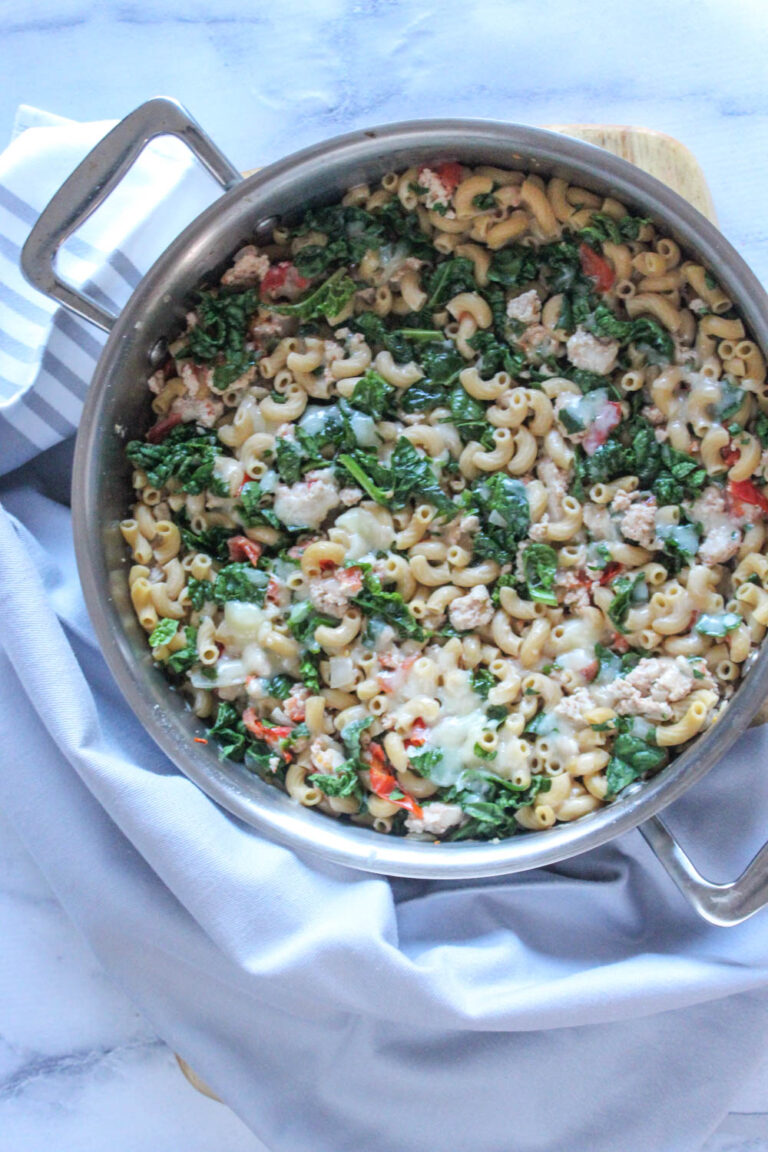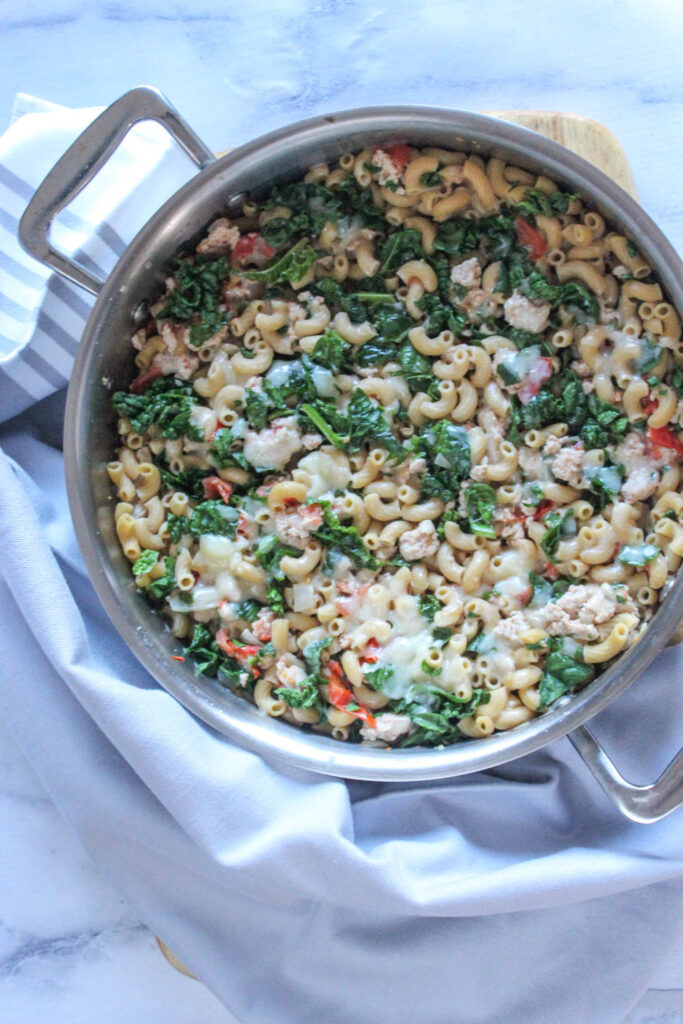 Step 5. Bake
Place the skillet into the oven and bake for 10 minutes, until cheese melts and casserole is heated through.
NOTE: If you don't have an ovenproof skillet, transfer the chicken mixture to a prepared baking dish (coated with oil or non-stick spray) with the pasta. Add the spinach and cheese and bake.
Ingredient Notes and Substitutions
Ground Chicken can be replaced with ground turkey, ground beef, or ground pork. You can also use leftover chopped chicken or rotisserie chicken in this recipe.
Diced tomatoes. I like to use fresh tomatoes when they are available, you can also use an equal amount of canned diced tomatoes.
Pasta. We like small-shaped pasta such as baby shells or elbows in this pasta casserole, but any shape will work.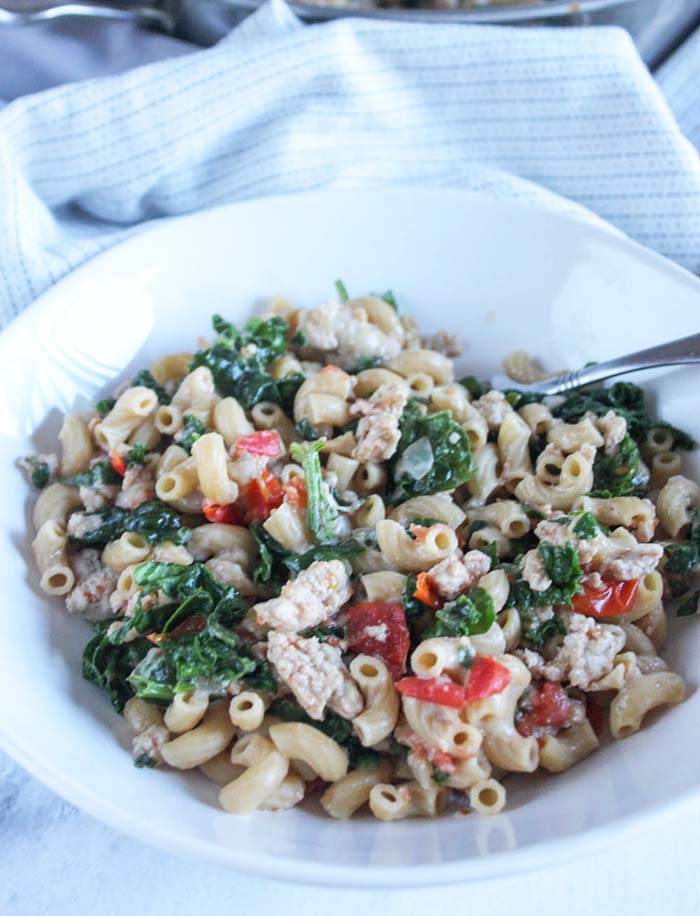 Make Ahead Instructions
This is a great recipe for meal prep! You can assemble the entire casserole without the cheese and refrigerate it for up to two days. When it's time to serve it, bring the casserole to room temperature, add the shredded cheese and bake it.
Alternatively, you can cook the chicken and vegetables ahead of time and store them in the refrigerator for up to four days. When it's time to serve it, bring the chicken and vegetables to room temperature, cook the pasta, mix everything together add the cheese and bake.
Recipe Variations
This delicious dinner casserole is so versatile, here are a few suggestions to change it up:
Italian Ground Chicken Pasta Casserole. Leave out the spinach and add ¾ cup diced cooked eggplant, mushrooms or zucchini. Replace the cheddar cheese with mozzarella and parmesan cheese. Add a little Italian seasoning.
Spicy Chicken Casserole. Add a teaspoon or more to taste of hot sauce or red pepper flakes to the chicken in the skillet.
Mediterranean Ground Chicken Casserole. Replace the cheddar cheese with feta cheese and add ¼ cup sliced kalamata olives and oregano to taste.
Change up the Veggies. Instead of spinach use any of your favorite vegetables such as diced bell peppers, zucchini, and mushrooms.
Vegetarian Pasta Casserole. Leave out the chicken and use any combination of your favorite vegetables.
Make it gluten-free with your favorite gluten-free pasta.
For another easy dinner, try this Mexican Ground Chicken and Black Bean Casserole a healthy casserole filled with Mexican Flavors!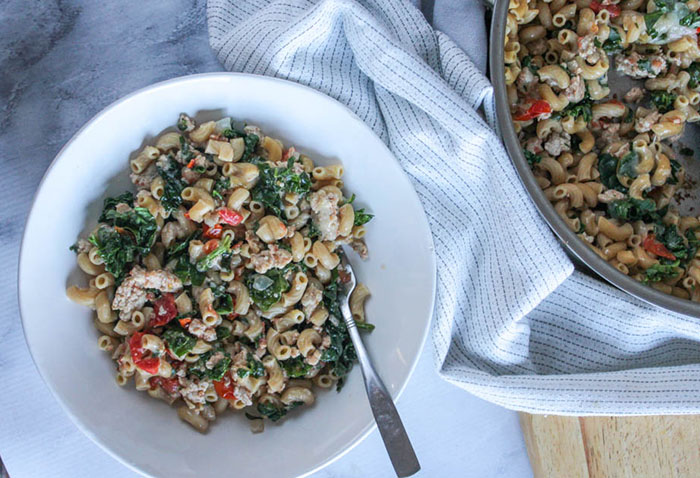 Top Tip!
Instead of buying shredded cheese which contains fillers, shred your own cheese. It's more economical too!
How to Store Leftover Ground Chicken Casserole
Refrigerate leftover ground chicken and pasta casserole in an airtight container for up to three days.
Reheat it in the oven or the microwave.
Freezing is not recommended, pasta doesn't stand up well to freezing.
Serving Suggestions
Serve this amazing dish with a side of roasted vegetables, green beans or a salad for a completed dinner that the whole family will love.
For more simple and delicious recipes like this, subscribe to our newsletter and receive a free e-book and meal suggestions straight in your inbox!
Try These Easy Ground Chicken Recipes
If you like this recipe, please comment and rate it below!