Crunchy panko breadcrumbs coat these Air Fryer Avocado Fries for a crisp exterior. These fries are the perfect combination of crunchy, on the outside with a creamy interior.
Serve crispy avocado fries as a side dish or a delicious appetizer.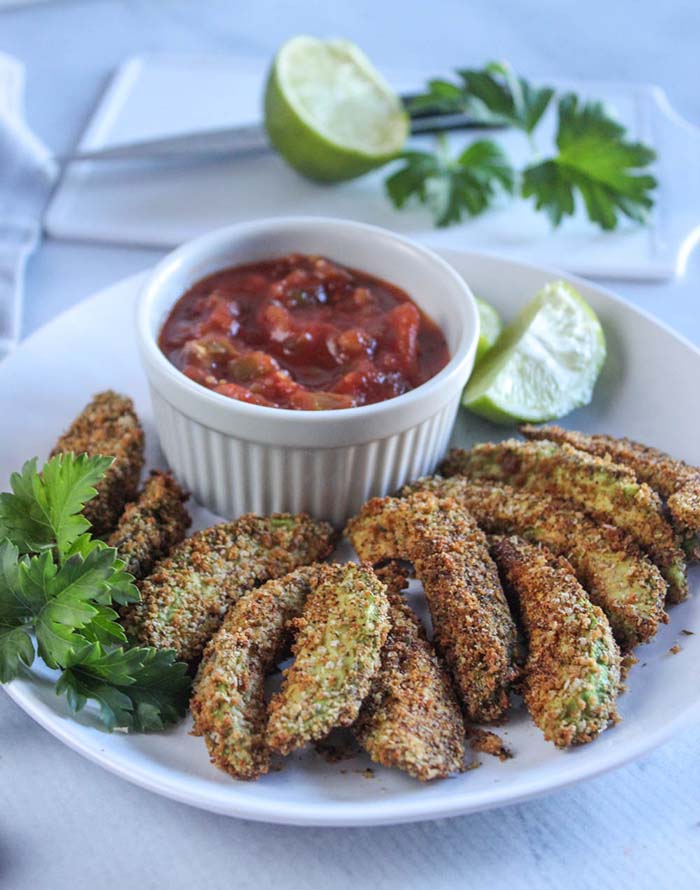 Avocado fries are so easy to make in the air fryer. In a matter of minutes, you will have these healthy fries ready to dip in your favorite dip or salsa.
What You Will Love About this Recipe
Air fryer avocado fries are a healthy snack that's is not just for avocado lovers, everyone will love them!
They are so easy to make with just a few simple ingredients, just dip the creamy avocado slices into the panko and bake.
Here is What You Will Need
As an Amazon Associate, I earn from qualifying purchases.
This is an overview of the ingredients and steps to make this recipe, scroll down for a printable recipe card with exact measurements and instructions.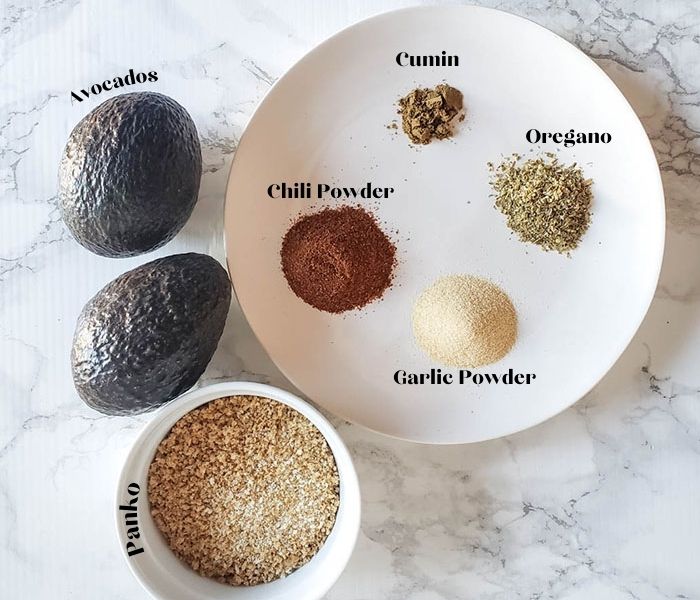 Ingredient List
Avocados
Panko Bread Crumbs
Chili Powder
Garlic Powder
Cumin
Oregano
Olive Oil or Avocado Oil Cooking Spray
Equipment
Here Is How To Make Crispy Avocado Fries
Prepare: Measure the panko bread crumbs and the spices.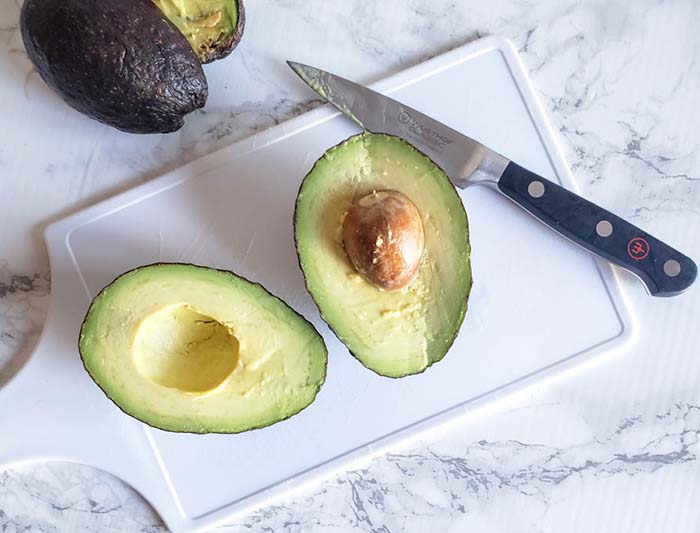 Step 1. Cut the Avocado
Use a sharp knife to slice the avocado all the way around. Gently twist the avocado and pull it apart.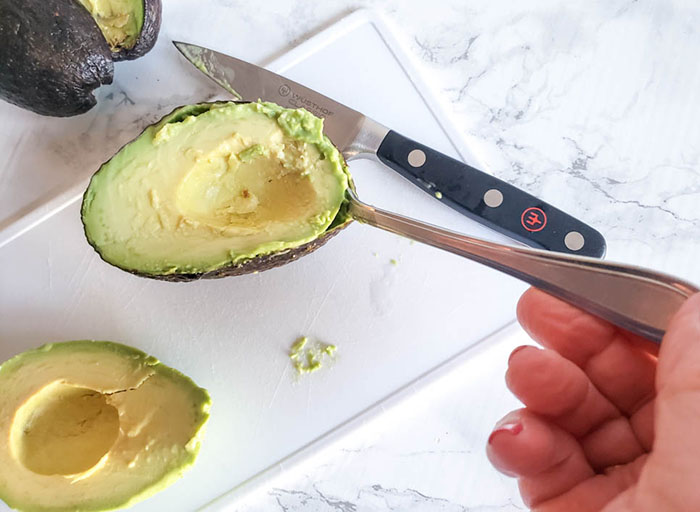 Step 2. Remove the Flesh from the Avocado
Use a spoon to scoop out the flesh of each avocado half.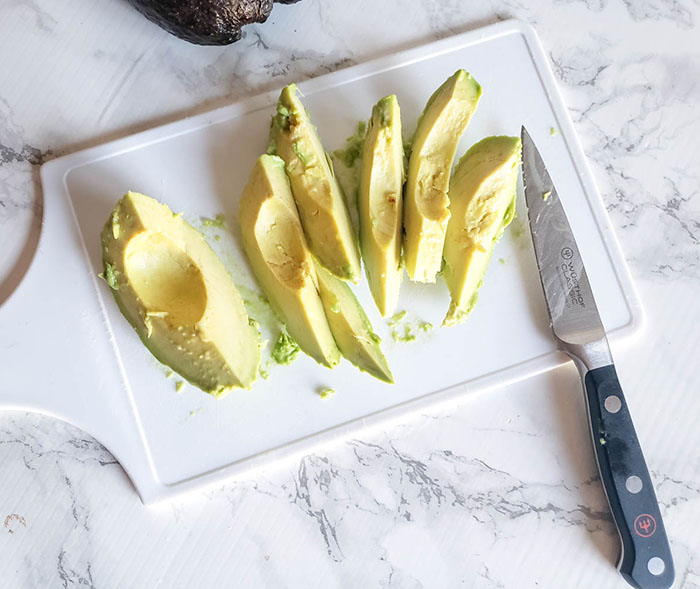 Step 3. Slice the Avocado
Slice the avocado halves into strips.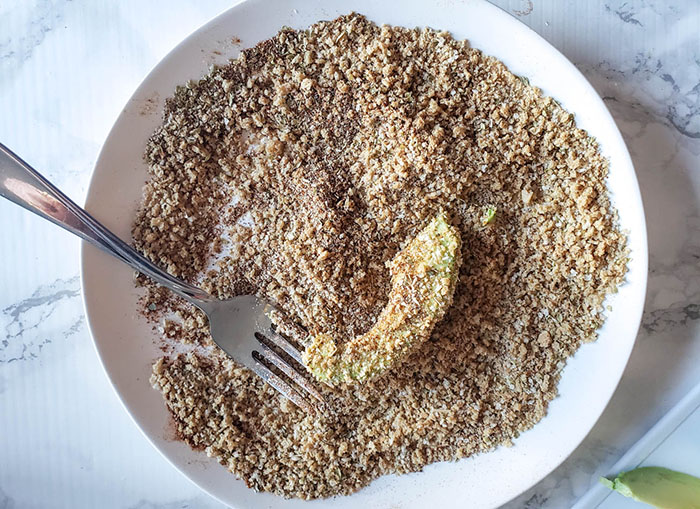 Step 4. Prepare the Crumbs
Place panko in a small dish and mix in the spices. Dredge avocado wedges into the panko mixture.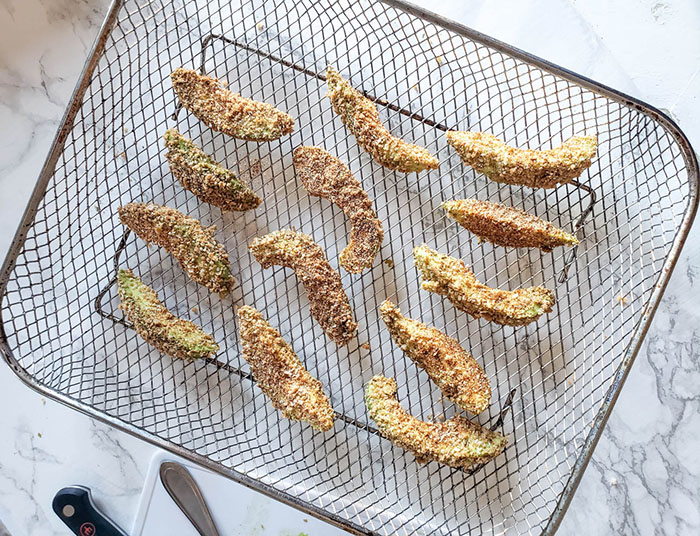 Step 5. Add the Fries to the Bakset
Place the breaded slices in the air fryer basket or tray. Spray the slices of avocado with avocado oil cooking spray.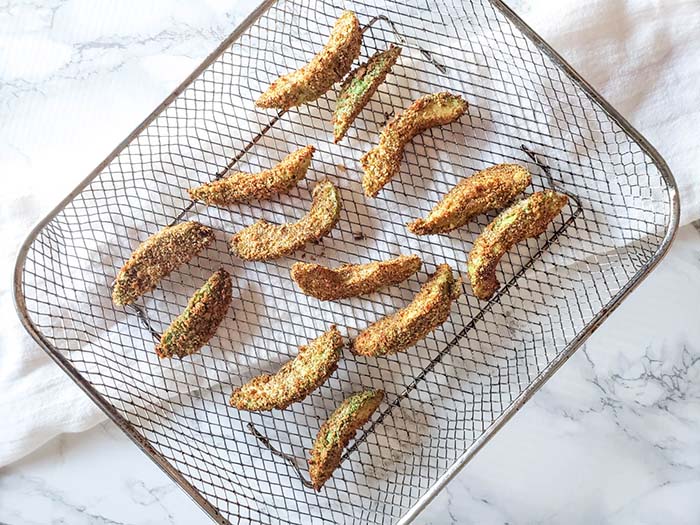 Step 6. Air Fry
Air fry the avocado slices for 8 minutes until golden brown and crispy.
Ingredient Notes & Substitutions
Avocados. Choose an almost-ripe avocado (one that is not too soft) to make avocado fries. The avocados should have a little give when they are gently squeezed. If the avocados are too soft, it will be difficult to slice and cook them.
Panko Breadcrumbs are what makes these avocado fries extra crispy, and they can be substituted with regular breadcrumbs or gluten-free breadcrumbs if that is your preference.
Spices. You use any combination of spices to flavor the breadcrumbs. Sometimes I only garlic and oregano, or I try something different and use everything but the bagel seasoning.
How To Store Leftover Avocado Fries
Refrigerate any leftover avocado fries in an airtight container for up to two days.
Reheat them in a 350 degree preheated oven for about 10 minutes. Leftover fries will not be as crispy as when they are freshly made.
Freezing is not recommended. We have not tried freezing leftover avocado fries.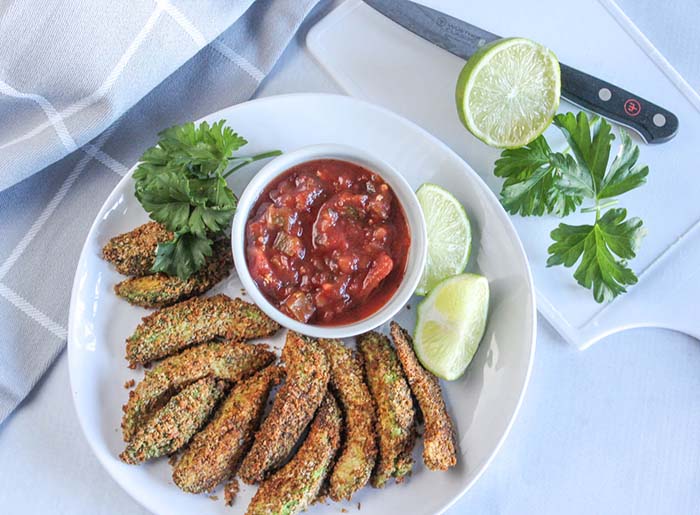 Make-Ahead Instructions
Avocados are fragile, and it's not recommended to make these more than a few hours before cooking them. You can slice the avocado and coat the slices in crumbs and place them in the refrigerator for two to three few hours before cooking them.
To avoid brown avocado slices, do not slice the avocados until you are ready to coat them in breadcrumbs.
Variations
Spicy Avocado Fries - Add a teaspoon (more or less to taste) of chili flakes to the breadcrumb mixture.
Italian Avocado Fries - Add 1 tablespoon or two of shredded parmesan cheese to the breadcrumbs. Leave out the chili powder and ground cumin and add ½ teaspoon of onion powder. Dip the avocado fries in your favorite marinara sauce.
Gluten-Free Avocado Fries - Replace the panko breadcrumbs with gluten-free breadcrumbs.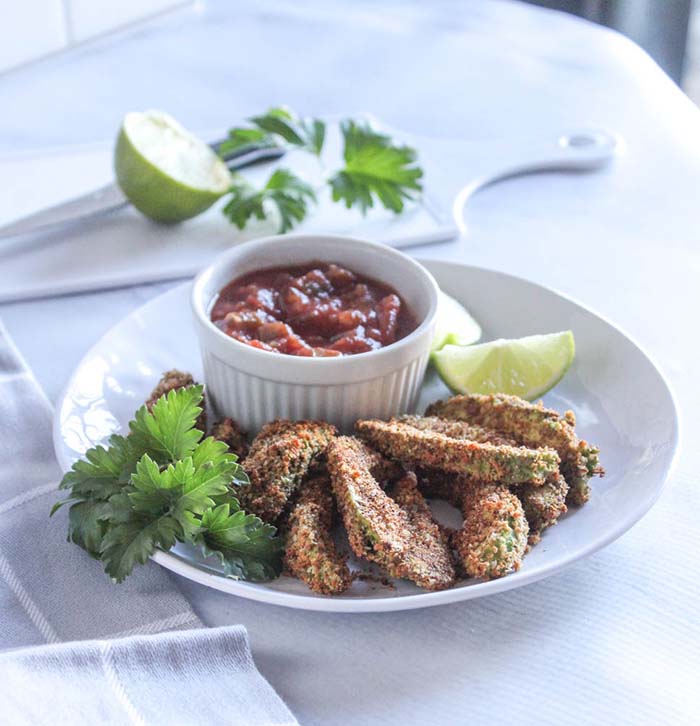 Serving Suggestions
Serve avocado fries as a side dish with your favorite burger, tacos, or as an appetizer with your favorite dipping sauce or hot sauce such as ranch dressing or homemade salsa.
Can I Make Avocado Fries in the Oven?
Yes, you can! Preheat your oven to 425 degrees F and follow the directions in the recipe. Once the avocado slices are coated in breadcrumbs arrange them in a single layer on a parchment-lined baking sheet. Bake for 12 to 15 minutes and flip them halfway thru baking until golden and crispy.
For more simple and delicious recipes like this, subscribe to our newsletter and receive a free e-book and meal suggestions straight in your inbox!
You Might Also Like These Air Fryer Recipes
If you like this recipe, please comment and rate it below!